Rating

4.9

Tradable coins

37+

Fees

0 - 0.10%

Type

Orderbook
Our Review
dYdX is a user-friendly decentralized exchange with over 37 supported cryptocurrencies, including its DYDX token. The platform offers zero deposit or withdrawal fees and competitive trading fees ranging from 0% for makers to a max of 0.1% for takers. DYDX holders can also enjoy up to 50% off transaction costs.
Pros
High-end security and privacy.

User-friendliness.

Mobile version.

Supports lending and borrowing.

Multiple rewards.
Cons
Limited crypto assets supported.

Does not support spot trading.
dYdX Review: Top Features of the Decentralized Exchange (Updated 2023)
TLDR
This dYdX review gives a full picture of the role of the decentralized exchange. The exchange is popular for sophisticated features such as perpetual trading, margin trading, and its large liquidity pool for lending and borrowing.
dYdX supports only about 30 crypto assets for its trading services, hoping to expand its support for more assets. Some features that make dYdX attractive to crypto traders are the high security of the platform, user-friendliness, and the low fees enjoyed.
Deposits and withdrawals are free except for a charge of 0.1% for fast withdrawals. Trading fees depend on the trade volume, with the highest taker fee being 0.1% for transactions under $1,000,000 in the last 30 days. The platform features a governance token, DYDX, which rewards active traders, and token holders can receive up to a 50% discount on trading fees paid.
Why Should You Trade with dYdX?
As a leading decentralized exchange on the Ethereum Blockchain, dYdX facilitates perpetual trading, spot trading, margin trading, lending, and borrowing without an intermediary.
The name dYdX, inspired by the popular mathematical formula for calculating change, embodies the company's role in the crypto market. Antoni Juliano, a former Coinbase engineer, founded dYdX Trading Inc. in 2017.
This decentralized exchange is the second-highest trading volume after Uniswap. One of the strong offerings of dYdX is its perpetual trading feature, which runs on Ethereum smart contracts. It also leverages the layer 2 solutions for a smooth trading experience at low gas costs and fees.
These exchange platform suits traders who want to leverage the perpetual and margin trading features to maximize interest rates on their crypto assets. It is beginner and user-friendly.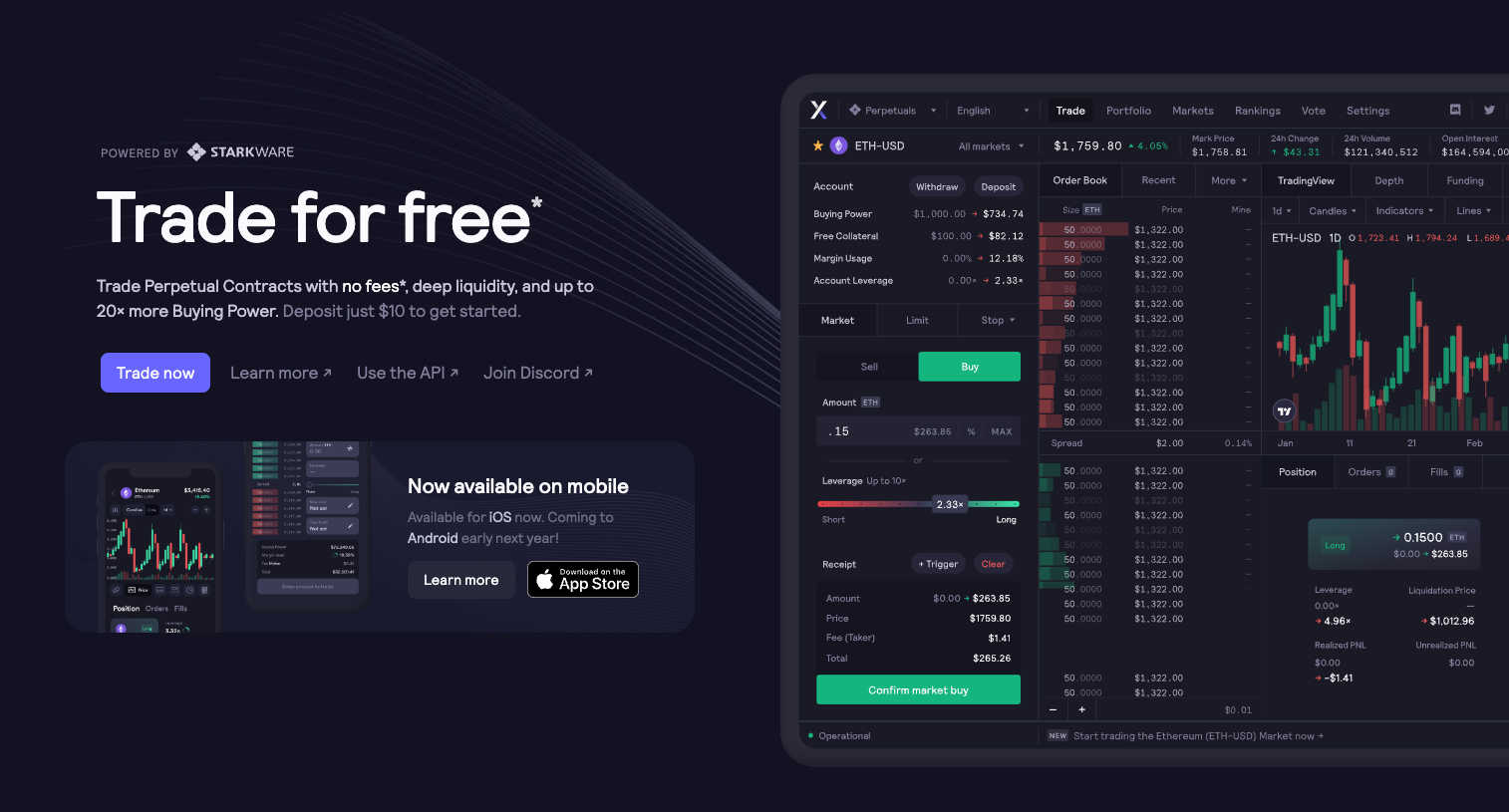 Supported Cryptocurrencies?
dYdX has a bit of a limitation regarding the number of cryptocurrencies it supports. It currently supports about 30 major assets for perpetual contracts, including popular assets like Bitcoin, Ethereum, Litecoin, Dogecoin, Solana, etc.
It has a lesser number for its margin trading feature as it currently only supports Ethereum (ETH), Digital Fiat (DAI), and USD Coin (USDC). There are expectations that dYdX will support more coins in the future.
It is worthy of note that the dYdX platform has its own native currency, the DYDX token. The token rewards traders on the platform with a supply of approximately 250 million units. The reward calculation depends on the trader's fees and the open interest.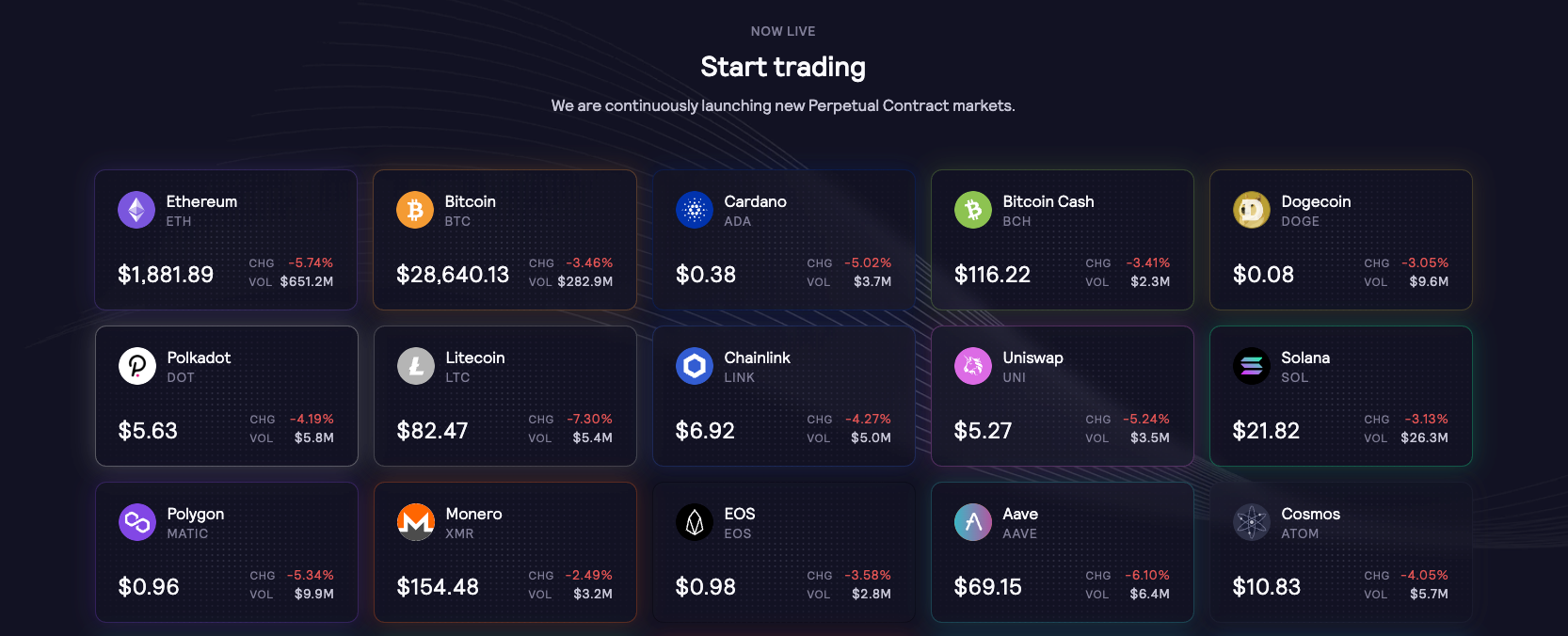 What Makes dYdX a Good Choice?
Secure and Private
One of the top reasons why traders trade on the dYdX exchange is the security and privacy they enjoy on the platform. The DEX is non-custodial, meaning they do not hold users' assets or control users' wallets where the asset is stored.
The security of assets on the platform is a joint effort between dYdX and the user. Users have more control over their assets and can proactively protect them in the settings section.
However, the dYdX security team maintains the sanctity of the smart contracts code, protocol code, and the security of the admin account. The team also went further ahead and conducted intensive internal testing, which prompted the need to use third-party audit firms to ensure comprehensive security.
The following audit firms audited the features:
Perpetuals Protocol on Layer 1: Zeppelin Solutions
Perpetuals Protocol on Layer 2: Peckshield
Margin/Spot/Lending Protocol: Zeppelin Solutions and Bramah Systems
Since its inception, there have been no known successful attacks on the decentralized platform, and neither has there been any report of any trader losing their funds on the exchange.

Mobile friendly
What is the use of a decentralized exchange that is not user-friendly? dYdX exchange does not fall into this category. The exchange platform allows users to navigate all its features without a sweat.
To enhance users' accessibility, the dYdX support team has designed a mobile version of the exchange. The mobile version is currently available for iOS devices, and there are plans to support Android users soon.
The mobile app can easily monitor and track trades even while in transit. The app has a fantastic UI/UX and combines all the features of the web platform to provide high efficiency. We were highly impressed while testing it out.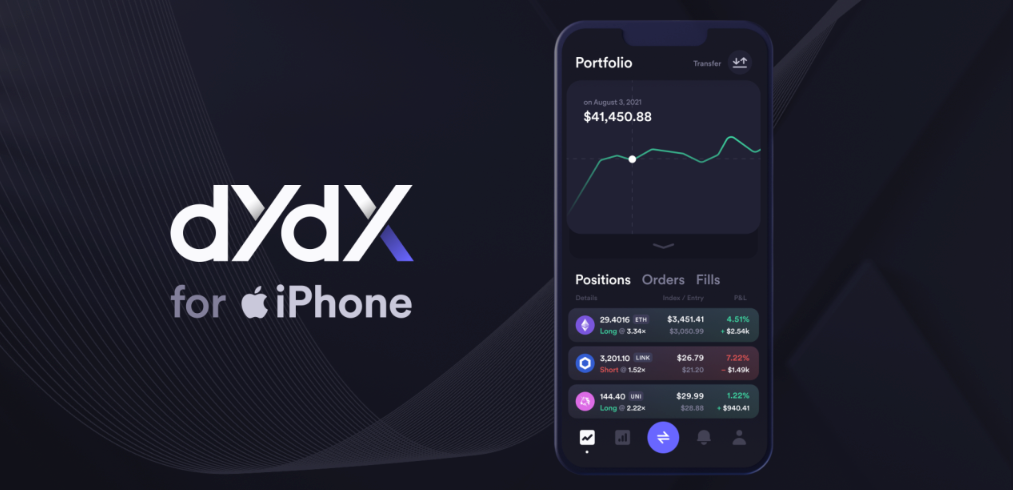 Cross-margin trading
Cross-margin trading is another excellent feature of dYdX that makes it a great choice among traders. This allows traders to make more profit on their assets.
Market makers can use the capital provided on the platform pool to boost their liquidity across multiple markets. Consequentially, it means that every money utilized from the pool will be used to generate more which will be added back to the pool.
Cross-margin trading benefits everyone, including the takers, as the liquidity increases the depth across all markets.
Instantaneous trading
dYdX exchange offers an added feature of processing trades and withdrawals as swiftly as possible. Unlike other platforms with longer trade transaction confirmation times, dYdX executes trades immediately and confirms them on the blockchain network within hours.
Similarly, the platform processes withdrawal requests rapidly, eliminating the need to wait for funds withdrawal from layer 2.
How to Set up a dYdX Account
Step 1: Visit dYdX Website
Visit the official website to get started.
Click the [Trade] button on the top right corner of the homepage.

dYdX is a user-friendly decentralized exchange with over 37 supported cryptocurrencies, including its DYDX token. The platform offers zero deposit or withdrawal fees and competitive trading fees ranging from 0% for makers to a max of 0.1% for takers. DYDX holders can also enjoy up to 50% off transaction costs.
---
High-end security and privacy.

User-friendliness.

Mobile version.

Supports lending and borrowing.

Multiple rewards.
Limited crypto assets supported.

Does not support spot trading.
Step 2: Connect Wallet
The trade icon will direct you to a new page where you can connect your wallet.
Select the [Connect wallet] button to link your wallet to the exchange.

Step 3: Select your Preferred Wallet
Choose any wallet from the list of wallets supported by dYdX. They support Metamask, Trust Wallet, Coinbase Wallet, etc. We recommend Metamask for quick access.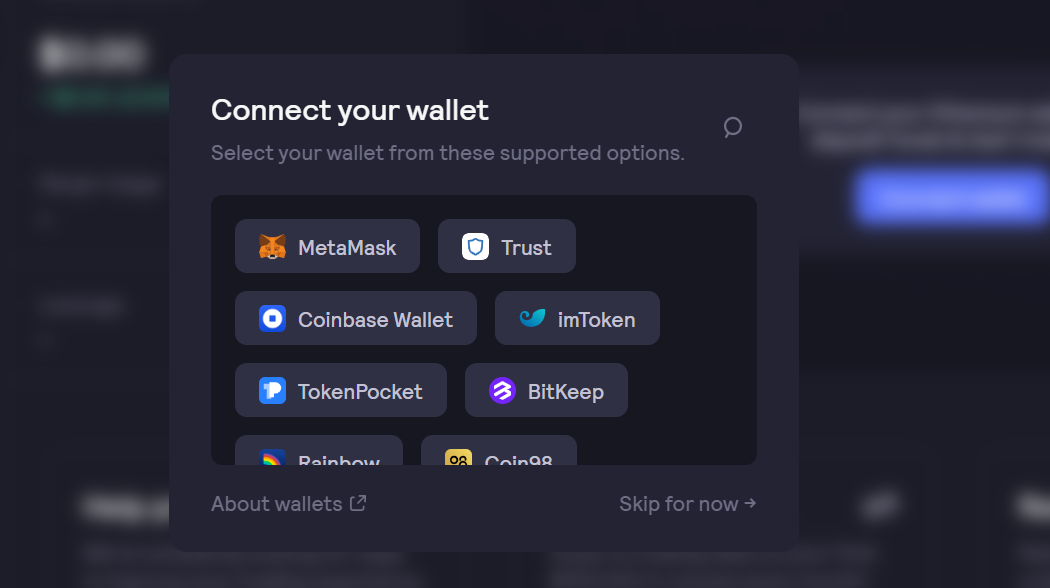 Step 4: Confirm Wallet Ownership
Once you link your wallet, you must sign the verification.
After the verification, select the [Send Requests] to finalize the process.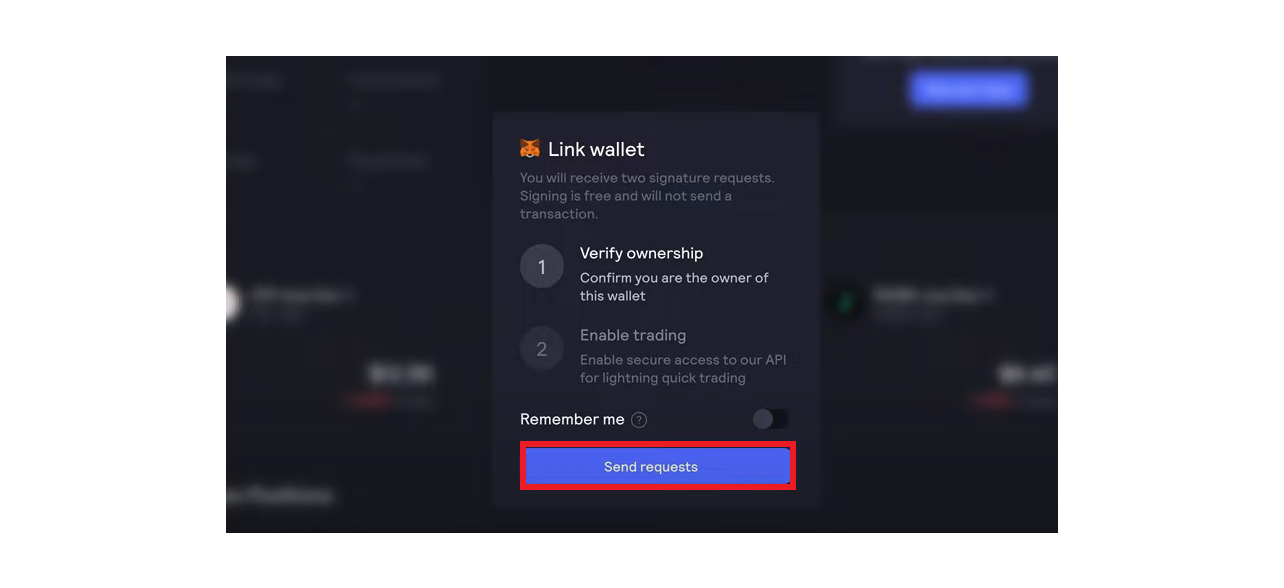 Click the [Sign] button in your Metamask to get connected.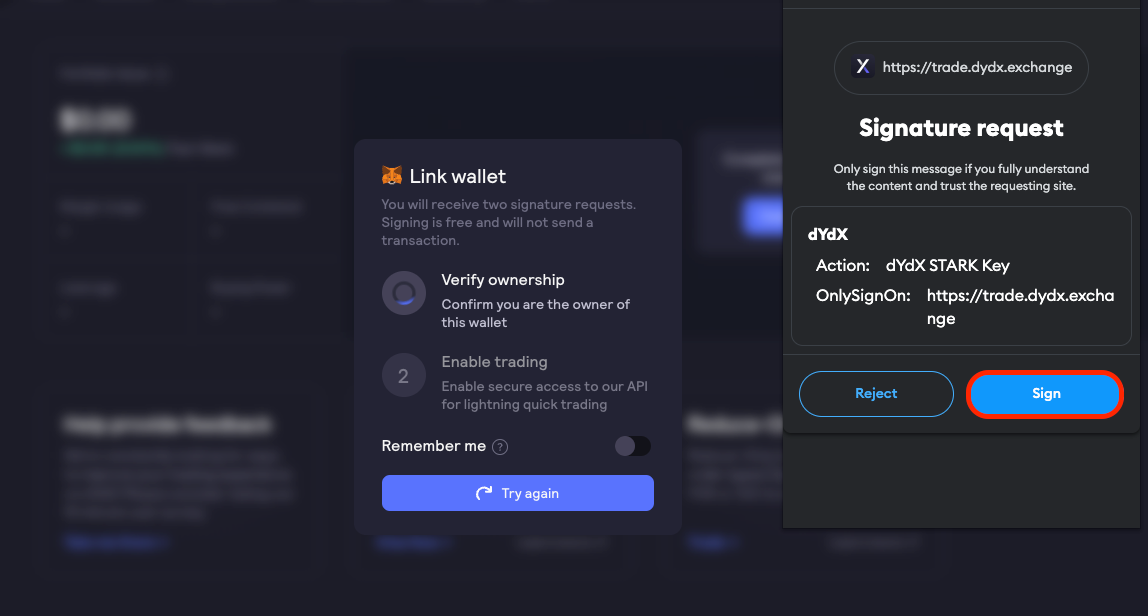 Step 5: Deposit Funds
You will be directed to your dashboard once your wallet is verified.
You can deposit funds from your wallet by clicking the [Deposit Funds] button below.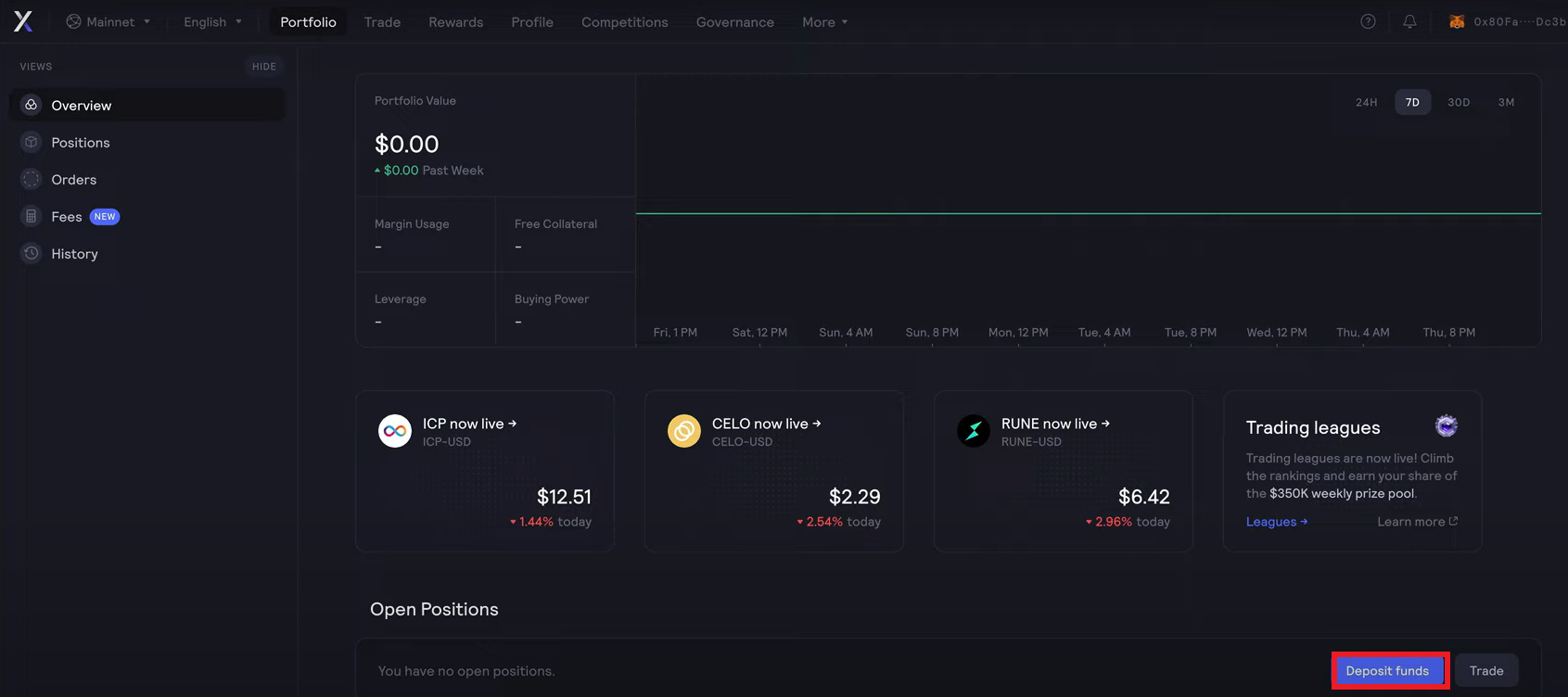 Step 6: Confirm Deposits and Start Trading
Select the [Confirm Deposit] button to verify the amount transferred.
It might take several minutes before the deposit is verified.
Once this is verified, you can start exploring the features of dYdX.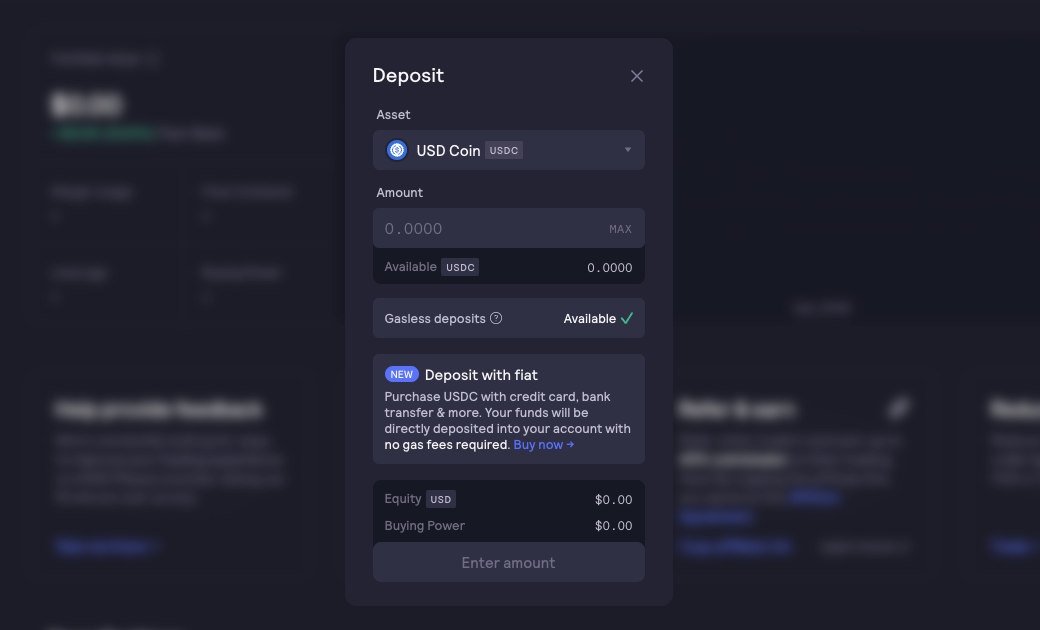 ---
dydx Review: Top Features & Perks
Support and Ease of Use
Undoubtedly, the dYdX exchange offers numerous sophisticated features that may prove complex for first-time or novice crypto users. However, the support team has made the process of using the platform simplified.
One way of making the platform more user-friendly is by providing resourceful articles on the exchange. The articles are well-written and can be easily understood by beginners.
In addition to the resource articles, the team has contact features to enable users to reach out with their concerns. A popular way of reaching the support team is through the in-app help chat feature on the exchange.
There are other ways of reaching the team aside from in-app support. You can also reach the team through social media platforms like Twitter, Discord, LinkedIn, Telegram, WeChat, etc.
Enhanced Infrastructure
Regarding technological advancement, the dYdX exchange is in a class of its own. The trading platform has transcended high technological features to ensure its users get the best services.
It has recently partnered with StarkWare – a foremost Ethereum layer 2 solution. The partnership will result in increased efficiency for users and greatly reduce the cost of gas fees.
Most features on the dYdX platform have transitioned to the layer 2 protocol. Users can now enjoy more trading pair support and instant trade settlement.
Seamless Design and Usability
A fascinating aspect of the dYdX exchange is its fusion of top decentralized trading protocols with centralized exchange features. It offers services such as perpetual and margin trading.
The exchange also has a portfolio tab that gives traders a snapshot of their current trading position. It has free collateral leverage, portfolio value, margin usage, and buying power.
dYdX exchange also uses a global industry average charting interface. The charting screen on the dYdX platform is powered by TradingView. The trading interface has the following:
Price chart
Trade sidebar
Positions balance
dYdX review: Products and Services
Perpetual trading
Perpetual trading is one of the initial products offered on dYdX and allows users to trade on open markets using non-expirable contracts.
The good part about the perpetual trading feature is that it allows you to profit off the market price of assets without owning the underlying asset. For instance, if you order to sell 1 ETH at $60 o00, your order will still be active until ETH reaches the amount you have set.
You can trade up to 25x leverage on different assets. The major strength of dYdX is that it allows trade with a minimum cost of $10, which is one of the cheapest you can get on similar platforms.
The following are needed to start perpetual trading on the dYdX platform:
Deposit into the perpetual account – USDC or any ERC-20 token
Generate a Stark key
Select a market
Open position
Select the preferred leverage ratio
View open positions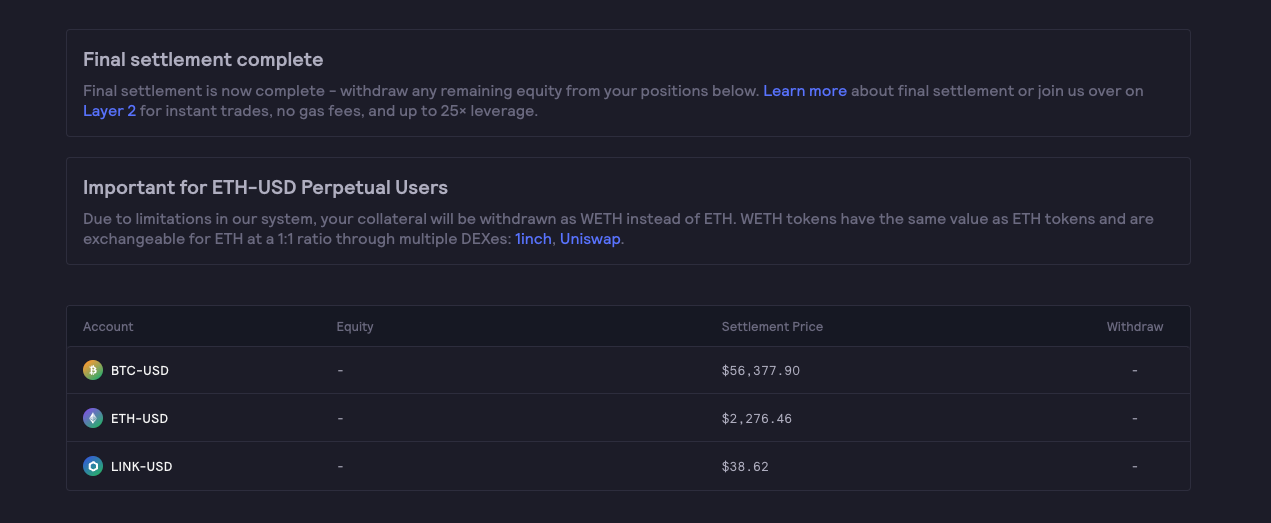 Margin trading
For margin trading on dYdX, you can borrow and trade an asset for another. However, the lender will get an interest alongside the original asset at a pre-arranged date.
In a short sell, investors borrow and sell an asset, profiting when the asset's price decreases and they repurchase it to repay the lender at a lower price than the original.
Conversely, traders lose money when the asset price increases, forcing them to repurchase it at a higher cost than the original price.
For leveraged long trading, the trader borrows money instead to buy an asset. The trader makes a profit if the asset's price increases and makes a loss when it decreases. The realized gain or loss on leveraged positions equals the price change multiplied by the leverage ratio.
There are two types of margin trading; isolated and cross-margin. They both use the Ethereum smart contract to carry out margin trading.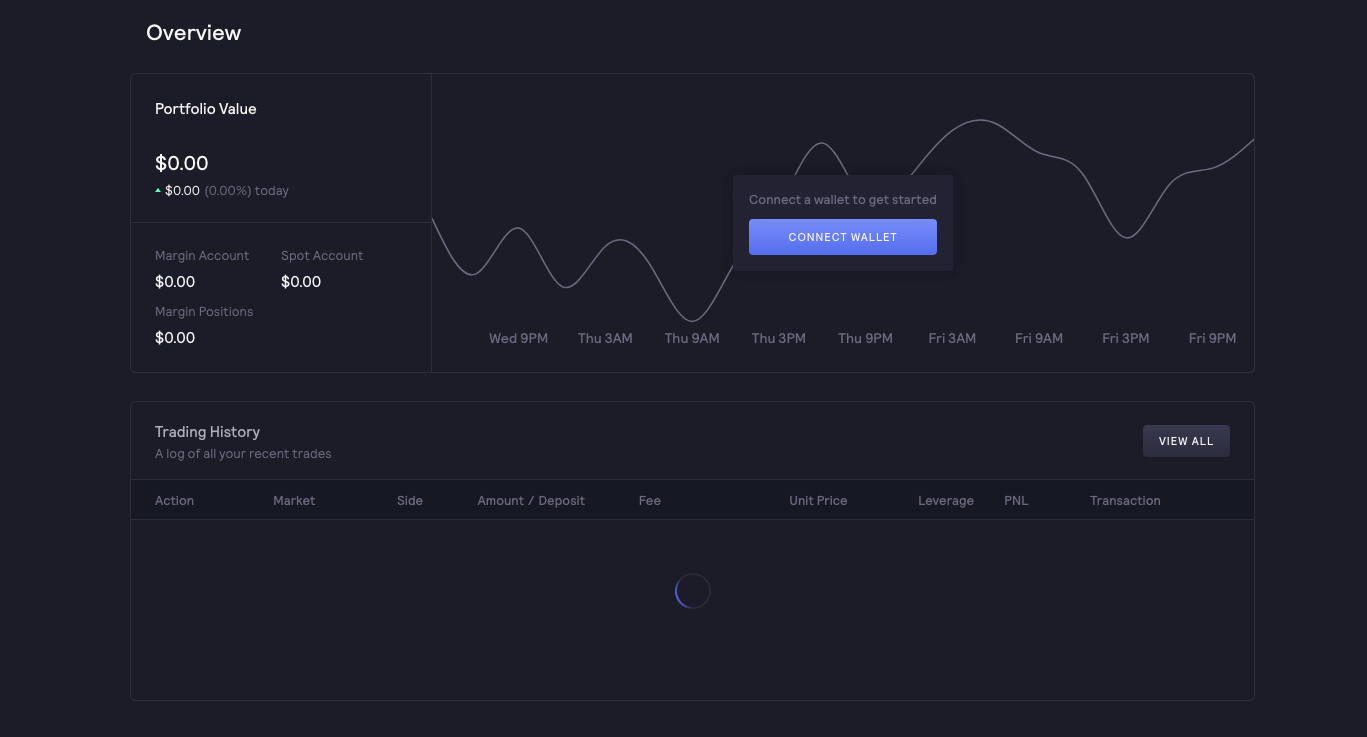 Governance
After one year of launch, the dYdX exchange launched the governance token. DYDX is used as the governance token on the platform and can be earned by users for trading activities.
Another way of earning the governance token is by staking other crypto tokens to earn DYDX. There are two pools offered on the dYdX exchange.
The first pool is the safety pool, created as a safety net for users staking their governance tokens. The point of the pool is to ensure that staked funds get rewarded in proportion to the staked token.
On the other hand, the liquidity pool gives users on the platform the needed liquidity that allows traders to invest on dYdX. The tokens can be used for activities like voting on the platform.
Effectively, the dYdX token's overarching goal is to have a DAO-governed decentralized margin trading protocol eventually.
NFTs
dYdX exchange is also on top of NFTs. The decentralized exchange also offers an NFT collection called Hedgies.
Launched in 2022, the Hedgies Collection features a set of animated hedgehogs. The platform rewards users with Hedgies based on their trading volume and activity on the community page.
Users with the NFT can access different perks, like trading fee discounts. It serves as a badge of achievement for active users.
dYdX Lending and Borrowing
dYdX allows users to lend and borrow on the platform. Users earn interest on their deposited assets, with the interest rate determined by a floating model that varies according to supply and demand. This model results in no fixed interest rate, as the rate depends on the difference between borrowed and supplied amounts.
Smart contracts manage the global lending pool, and lenders and borrowers interact with the global lending pool. Lenders can deposit their assets into the lending pool, where borrowers gain access to borrowing assets. With this model, both can access the lending pool simultaneously.
There is a collateralization ratio when borrowing assets, which cannot be more than 125%. Before traders can borrow more assets, they must clear previous debts or supply additional collateral.
dYdX Token
The ERC-20 governance token used on the dYdX exchange serves multiple purposes, including its use for the governance process and fee discounts for holders.
A total of 1 billion DYDX tokens were minted and scheduled to be released in 5 years starting from 2021. The distribution will be along the category of community treasury, staking pool, rewards, etc.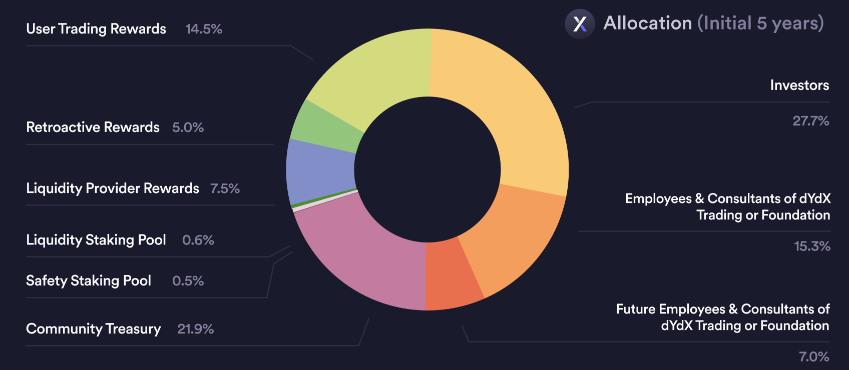 The dYdX tokens will be released across five years, as displayed below.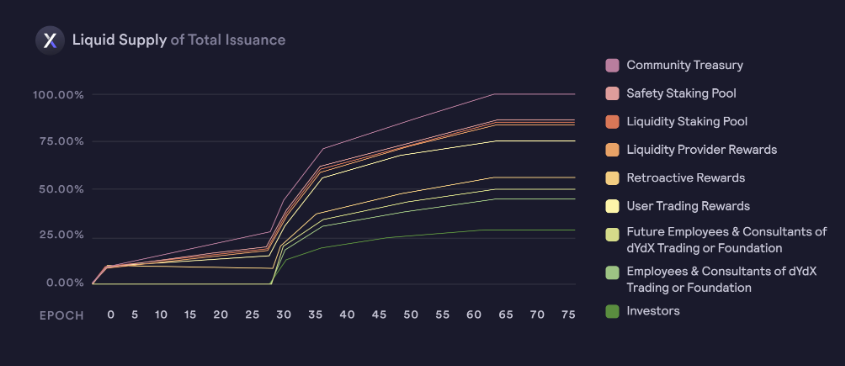 dYdX Rewards
There are multiple classes of rewards available for DYDX token holders:
Trading rewards: This reward type encourages traders, designed to promote token usage and boost the platform's popularity. The awarded amount depends on trading volume and activity levels.
Retroactive mining rewards: Active users trading on the layer 2 protocol also receive mining rewards. This feature is not available for US users.
Liquidity provider rewards: Users with an active ETH address and a minimum of 5% maker volume receive liquidity provider rewards, distributed after 28 days.
Trading fee discounts: Massive discounts are provided for active users who hold the governance token. Holders of DYDX tokens can get up to a 50% reduction In trading fees.
dYdX Fees
Another good news for potential dYdX users is the low or non-existent fees. In contrast to centralized exchanges, decentralized exchanges typically offer lower fees, and dYdX exchange further reduces them. Notably, the platform charges no fees for deposits and withdrawals. The only exception is a charge of 0.1% for fast withdrawals.
dYdX exchange uses a maker-taker fee model to determine its perpetual contracts trading fees. Perpetual contract trading fees are determined by a mechanism considering the trading volume weight over the past 30 days. With this, the highest maker order fee is 0.05% for trading volumes under $1,000,000, while a 0% fee applies to maker orders exceeding $50,000,000 in the same timeframe.
Taker orders follow a similar model but with slightly higher network fees: 0.1% for 30-day trades below $1,000,000 and the lowest fee of 0.06% for trading volumes above $200,000,000 within the same period.
dYdX also offers trading fee discounts for traders that hold its native token. It offers a discount of 3% for holders of 100-999 tokens and as high as 50% for holders of over 5,000,000 tokens.
Lastly, with the planned movement of dYdX to V4 – a StarkWare upgrade. Traders will no longer have to pay gas fees.
Drawbacks of dYdX
Limited Number of Supported Assets
One of the downsides of this decentralized exchange is that it only supports about 30 crypto assets compared to other crypto exchanges.
Restricting the number of tradable assets on the platform limits its appeal. Allowing more assets to be traded and included in the lending pool could increase the DEX's popularity among users.
Removal of Certain Features
Following the infrastructural upgrade on the crypto exchange, some features have been discontinued, with spot trading being one of the most lamented losses.
This has limited the number of users who can use the platform. The support team hopes to continue supporting this after the upgrade to V4.
dydx Review: Our Verdict
dYdX is a decentralized exchange set out to revolutionize the crypto exchange world. It has become the second-highest exchange-based trading volume and is notable among users.
It is notable for its perpetual contracts and margin trading, which is more sophisticated than its competitors. The decentralized trading protocol supports fewer crypto assets and an even smaller number of retail traders for its margin trading feature.
A key factor contributing to dYdX's popularity among traders is its high level of security. The platform regularly conducts and publicly shares security audits.
The platform also has its governance token, used to reward active users and in the liquidity pool for lending and borrowing. Overall, it is a solid and well-recommended exchange.