Rating

4.8

Tradable coins

600+

Fees

~0.3%

Type

AMM
Our Review
Uniswap is a user-friendly cryptocurrency exchange with competitive fees for all trading levels. It enables direct crypto trading from digital wallets, supports options and futures contracts for BTC and ETH, and offers advanced trading features for experienced traders and institutional clients.
Pros
Full transparency and open-source code.

No KYC process.

All ERC20 tokens are supported.

Earn passive rewards by providing liquidity.

Low fees for most transactions (~0.3%).
Cons
No option for fiat-to-crypto transactions.

Challenging for inexperienced crypto traders.

No insurance coverage for lost crypto incidents.

No mobile trading application available.
Uniswap 2023 Review: The Benefits of Decentralized Trading
TLDR
This review will assess the top features of Uniswap, covering its supported cryptocurrencies, fees, trading experience, and security measures.
Uniswap is a decentralized cryptocurrency exchange (DEX) that enables users to trade digital currencies and stake them in liquidity pools for earning rewards. It provides a seamless experience where users can swiftly connect their wallets and swap coins without needing an account or identity verification.
Uniswap is the leading DEX in popularity, facilitating daily trades worth billions of dollars, and supports swapping more than 600 coins. Operating on the Ethereum network, Uniswap supports the exchange of ERC-20 tokens. Additionally, it has recently incorporated the capability to swap tokens on the Polygon blockchain and leverage the Optimism and Arbitrum bridges to reduce network gas fees.
How does Uniswap work?
Uniswap operates as an automated market maker (AMM), a type of decentralized exchange. Unlike centralized exchanges, decentralized exchanges like Uniswap do not rely on a central authority to manage orders.
Instead, they utilize smart contracts, which are blockchain-based programs, to determine prices and execute trades. This enables them to offer decentralized financial services, commonly known as DeFi.
The functionality of AMMs, such as Uniswap, relies on liquidity pools. These pools consist of crypto funds users contribute, locked within a smart contract. Individuals wishing to trade crypto use funds from the liquidity pool. Uniswap collects a small fee from each transaction and redistributes it among the liquidity providers who have contributed their crypto to the pool, creating mutually beneficial relationships.
Moreover, Uniswap can facilitate crypto trading thanks to its liquidity providers, while the providers earn crypto rewards in the form of a share from the exchange's transaction fees.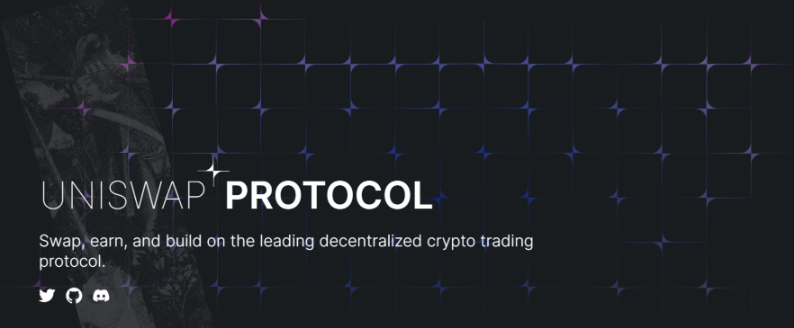 Who should use Uniswap?
For anyone who wants to explore the DeFi space, Uniswap will make an excellent choice. It is designed to cater to diverse needs and does its best to satisfy its customers. Let's explore this in more detail.
For beginners
Uniswap is often recommended as a user-friendly choice for beginners venturing into decentralized exchanges. Its straightforward interface simplifies navigation, making it accessible even to those new to the concept.
The automated market-making system employed by Uniswap eliminates the need for users to grasp the intricacies of order books or the mechanics of traditional exchanges.
With Uniswap, beginners can dive into crypto trading without the complexities commonly associated with conventional exchange platforms.
For professionals
Thanks to its substantial liquidity pools, Uniswap attracts many professional traders, enabling more significant swaps with minimal price impact than smaller pools. Moreover, Uniswap's intelligent router can split trades across multiple pools, ensuring optimal prices.
Uniswap is particularly beneficial for individuals seeking tokens not listed on major centralized exchanges such as Coinbase or Binance. Many project launches introduce tokens exclusively through liquidity pools like those available on Uniswap.
Additionally, Uniswap offers opportunities for earning yields. With just a few clicks, users can provide liquidity on the platform. Uniswap allows for setting a narrow trading range, known as concentrated liquidity, which maximizes earnings while minimizing the risks associated with impermanent loss.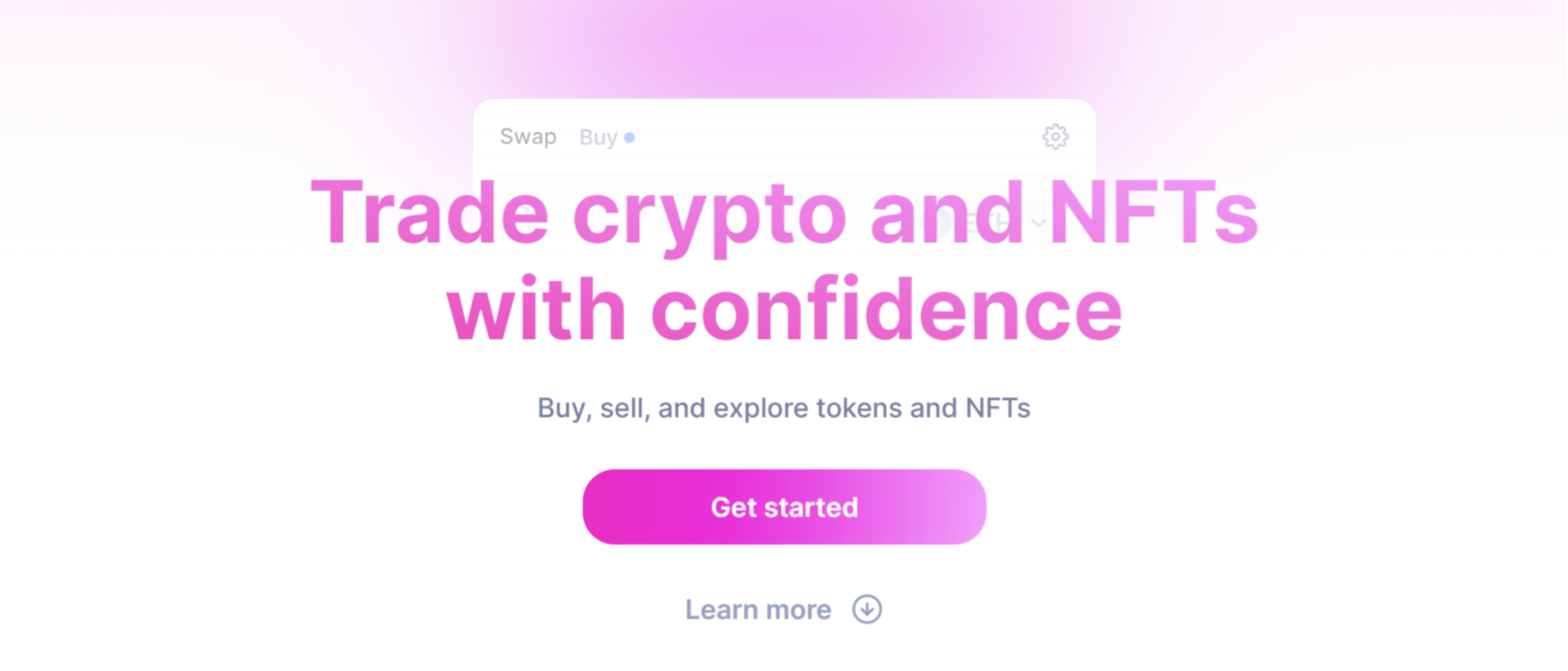 What makes Uniswap an excellent choice?
Here are a few reasons that make Uniswap an excellent decentralized exchange for crypto and blockchain enthusiasts.
User-friendly interface
Uniswap offers users a straightforward interface featuring a basic order form for seamless crypto asset swaps.
To begin trading, traders must connect a digital wallet like Metamask and select the assets they wish to exchange. It is crucial to have at least one supported asset, such as Ethereum (ETH) or USD Coin, in the wallet to facilitate trading and cover network gas fees.
The order form provides an estimated price for the swap and an estimation of network fees. However, these figures may vary due to the volatile nature of crypto prices.
Once an order is submitted, Uniswap diligently routes the transaction as efficiently as possible, leading to potential savings on gas fees and enhanced transaction speed.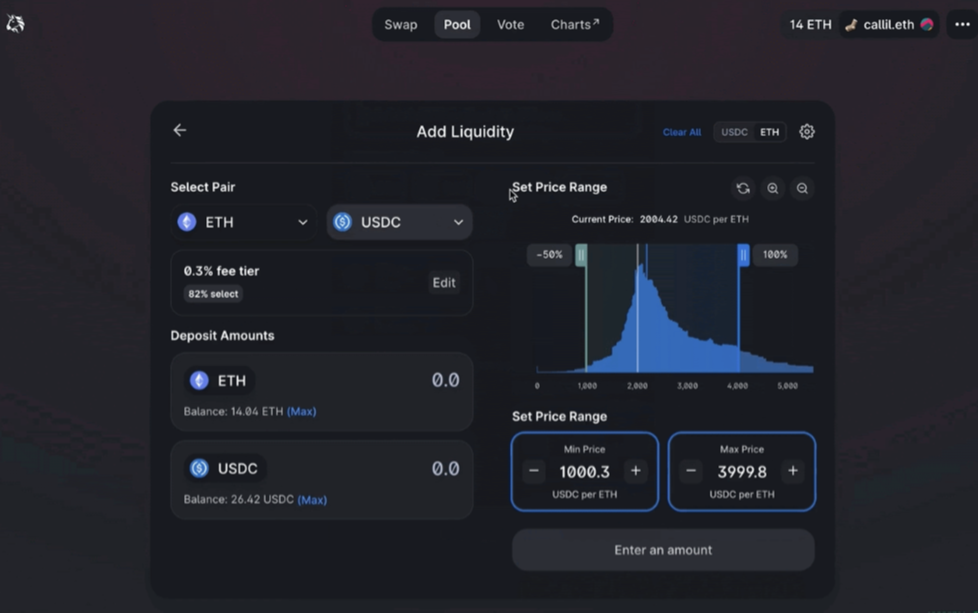 No registration or signup
If you're exhausted by the hectic signup procedures involved in crypto exchanges, Uniswap offers a refreshing change. No personal information or account creation is necessary. To use Uniswap, connect your Ethereum crypto wallet.
It seamlessly integrates with leading wallets like Trust Wallet, MetaMask, and Coinbase Wallet, offering users a wide range of options to access the platform easily.
However, Uniswap's lack of personal information requirements comes with certain downsides. It doesn't support buying crypto with fiat currency, and there could be potential regulatory implications. Nevertheless, in terms of convenience and privacy, Uniswap shines brightly.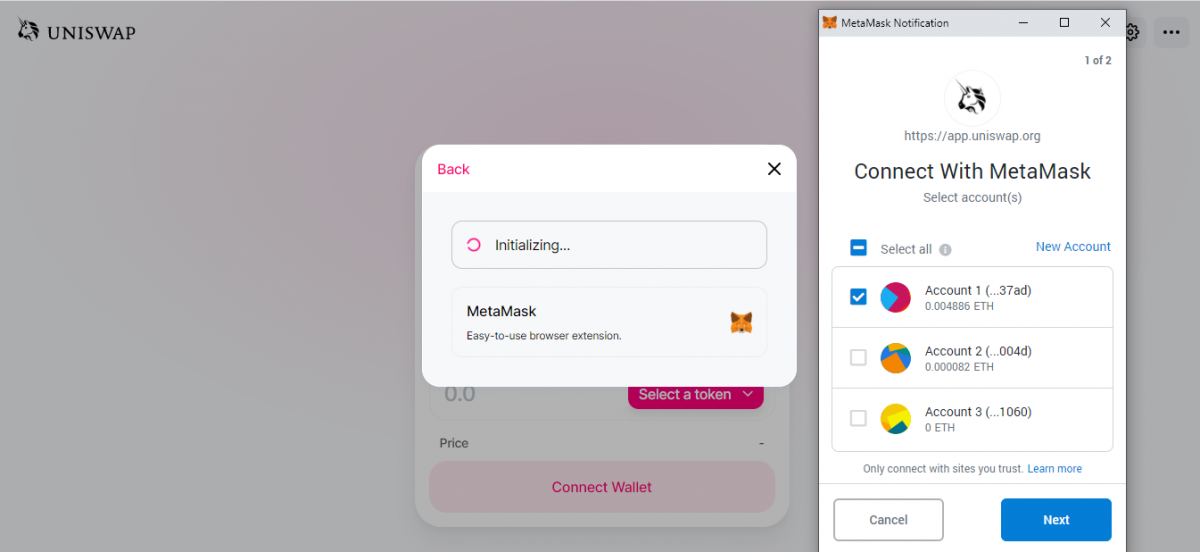 Flat fees
Uniswap provides a competitive flat fee of 0.3% for each crypto swap, offering favorable rates compared to centralized exchanges like Coinbase.
While most trades on Uniswap incur a 0.3% fee, Coinbase Advanced charges 0.6% for market orders when your 30-day trading volume is below $10,000.
Nevertheless, swapping on Uniswap can become expensive when utilizing the Ethereum network, especially during periods of high network usage that cause gas prices to surge. Fortunately, you can select more cost-effective (and quicker) networks such as Polygon.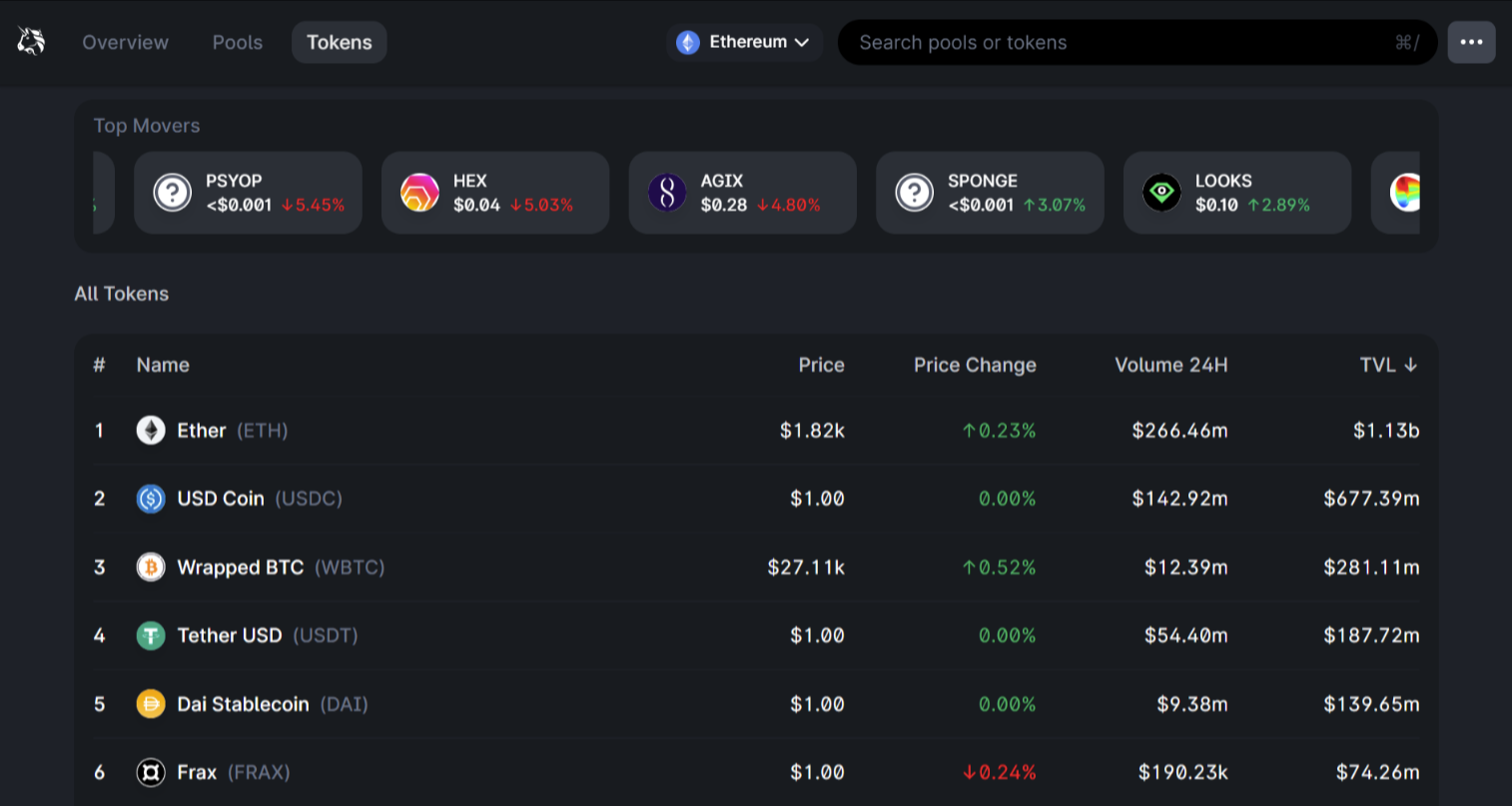 Uniswap Review: Major drawbacks
Even though Uniswap ticks all the right boxes, it still lacks in some departments. Here are some features that surely need improvement for a better user experience.
Doesn't accept fiat money
Uniswap does not facilitate direct crypto purchases using fiat currencies like the U.S. dollar. Instead, users are required to have existing crypto holdings in a connected wallet. However, it can be cumbersome for users, as they need to obtain crypto from another exchange, transfer it to a wallet, and then connect that wallet to Uniswap before engaging in trading activities.
This practice is typical among decentralized crypto exchanges, allowing for a lack of personal information requirements.
Risk of impermanent loss with liquidity mining
Liquidity mining is an enticing feature found in Uniswap and other AMMs that allows users to earn and expand their crypto holdings instead of merely holding them. Certain liquidity pools even offer impressive annual percentage yields (APYs) exceeding 100%.
However, it's essential to consider the trade-off. Liquidity pools come with the risk of impermanent loss, wherein the value of deposited crypto may fluctuate over time, potentially resulting in financial losses.
This risk is amplified with more volatile cryptocurrencies, often offering higher potential rewards. Therefore, it is vital to prioritize selecting solid cryptocurrency investments and assess their suitability for liquidity mining rather than solely focusing on the potential rewards.
High Gas fees
Gas or network fees refer to the transaction costs a blockchain network imposes. Uniswap operates on the Ethereum network, and the gas fees associated with Uniswap transactions fluctuate based on network activity.
Due to Ethereum's widespread adoption, network congestion has occurred, increasing gas fees. This congestion can make utilizing Ethereum-based platforms, including the Uniswap exchange, quite expensive.
However, Uniswap's reputation for high gas fees is only sometimes warranted. Before initiating a transaction, users can review the estimated network fees using Uniswap's trade tool, providing transparency on the potential cost of their transactions.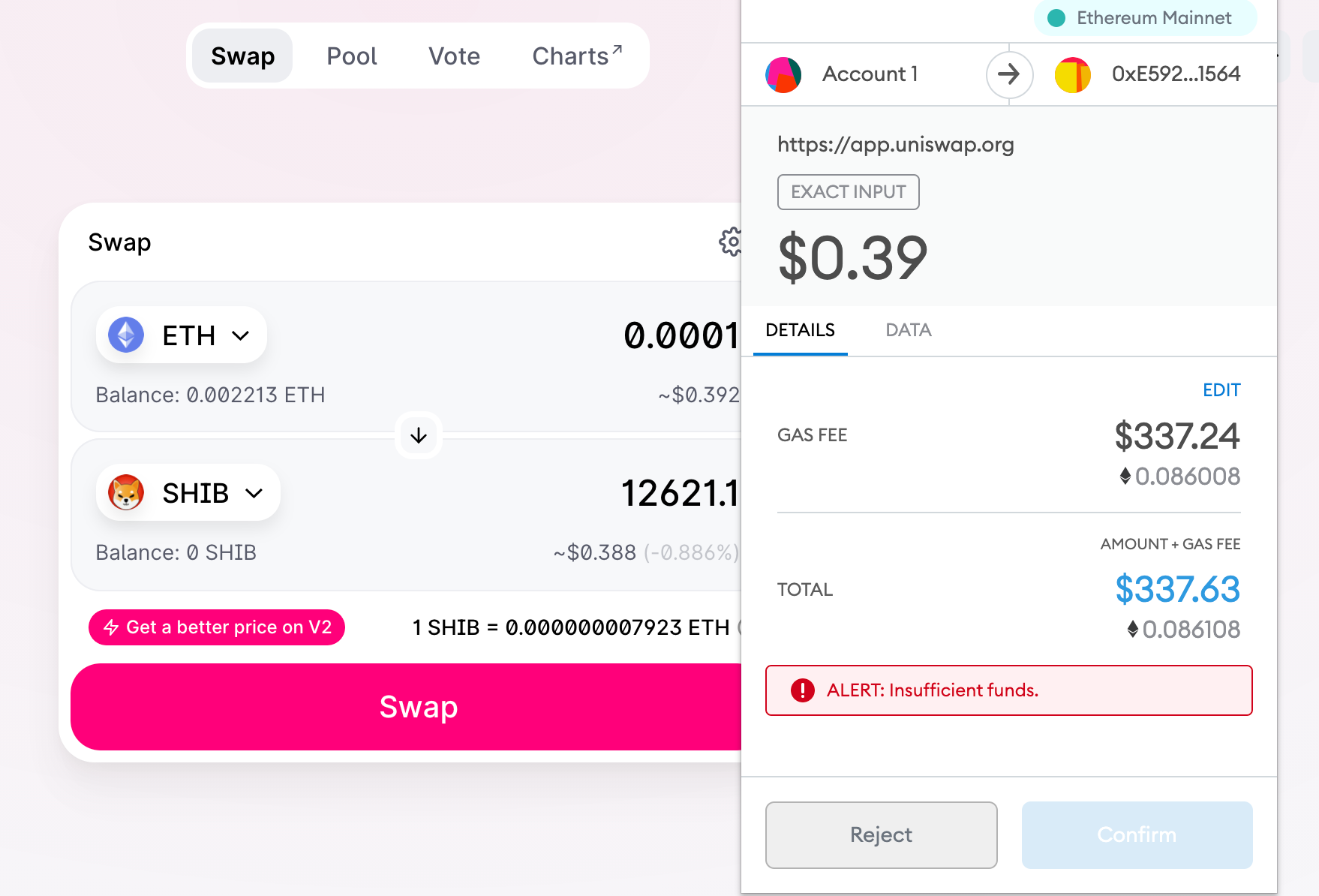 Risks of unlimited token approval on ERC-20
The prevalence of unlimited approval on ERC20 tokens in Ethereum exposes users to substantial risks. With 60% of tokens vulnerable, 22% of users face the possibility of token theft. The lack of clear explanations and control options for approval in popular DApps and wallets compounds this issue.
Unauthorized transfers and malicious actors exploiting the approval mechanism threaten the security and integrity of users' token holdings. That's why we recommend immediate attention and action to address these risks, ensuring the safety of ERC20 token approval on Ethereum and protecting users from potential token theft and misuse.

---
Getting started with Uniswap
Like most DEX apps, you don't need to create an account to use its features. All you need is a decentralized wallet, and you are good to go. Here is a step-by-step process of getting started with Uniswap.
Uniswap is a user-friendly cryptocurrency exchange with competitive fees for all trading levels. It enables direct crypto trading from digital wallets, supports options and futures contracts for BTC and ETH, and offers advanced trading features for experienced traders and institutional clients.
---
Full transparency and open-source code.

No KYC process.

All ERC20 tokens are supported.

Earn passive rewards by providing liquidity.

Low fees for most transactions (~0.3%).
No option for fiat-to-crypto transactions.

Challenging for inexperienced crypto traders.

No insurance coverage for lost crypto incidents.

No mobile trading application available.
Step 1: Launch the Uniswap app
First, visit the Uniswap website and launch the app on any web browser. Click [Launch App] on the top right of the page.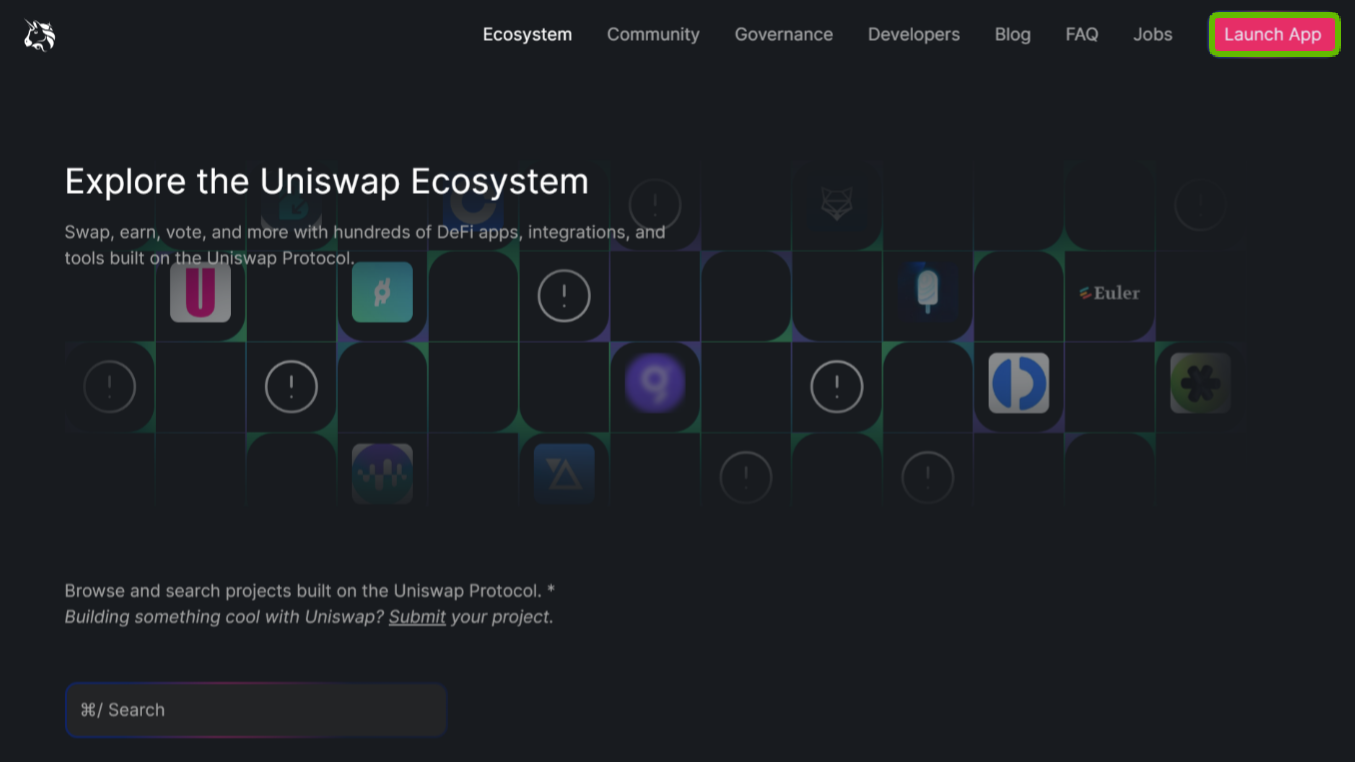 Step 2: Connect the wallet
Once at the app page, click the [Connect] button on the top right to connect your cryptocurrency wallet.
Uniswap supports a wide range of wallets; we recommend using Metamask.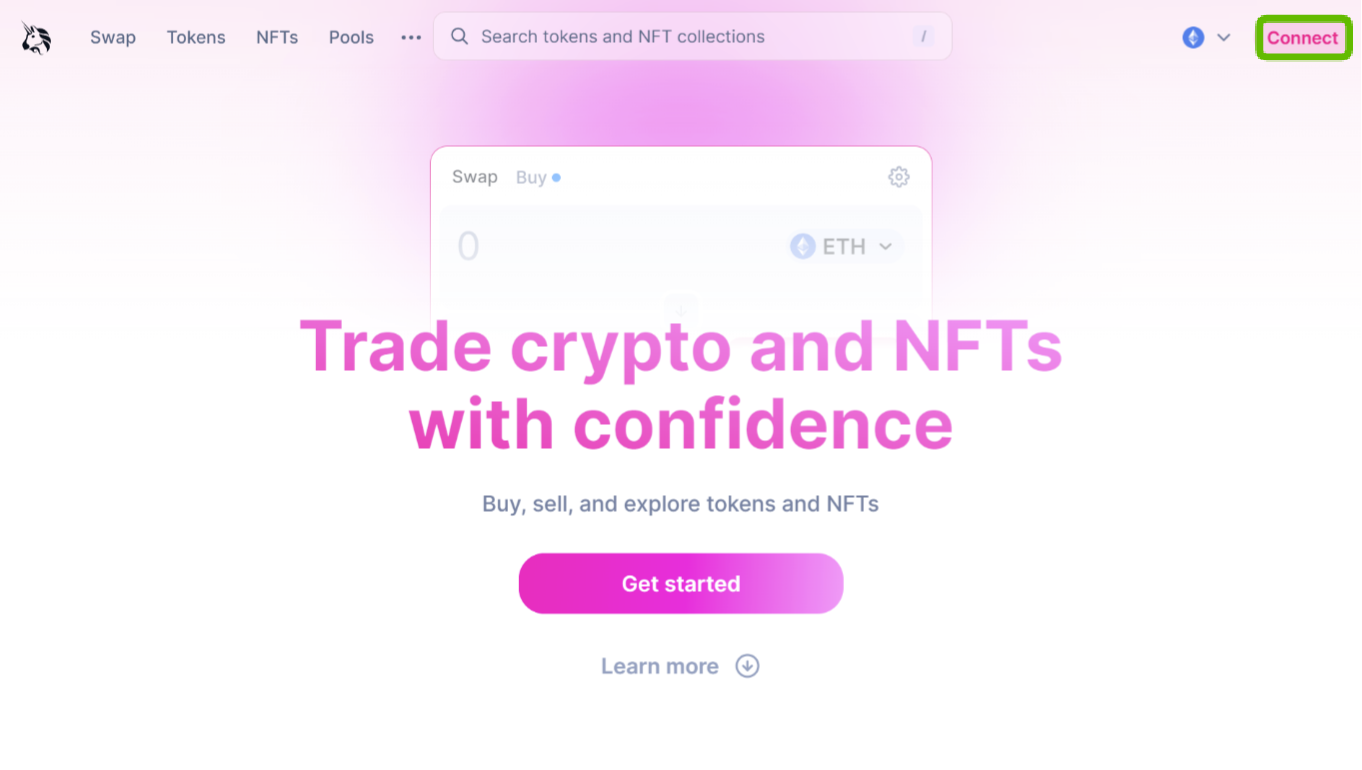 Step 3: Select token
After connecting your wallet, you will be taken to the swap page. You can select your token preferences, review fees, and complete the swap.

Uniswap Review: Unique offerings
Let us now discuss key technical and advanced features that Uniswap offers to its users.
Earn crypto with liquidity mining
Uniswap, an automated market maker (AMM), utilizes crypto funds its users contribute. These funds are stored in liquidity pools, each consisting of a pair of cryptocurrencies.
Liquidity mining allows anyone to deposit their crypto into these pools and become a liquidity provider. Whenever a crypto trade occurs, Uniswap charges a small fee and distributes it among all the liquidity providers in that pool.
To explain this procedure, let's consider an example. Suppose you have both USD Coin (USDC) and Ethereum. By depositing equal amounts of each crypto into Uniswap's USDC/ETH liquidity pool, you would earn crypto rewards every time someone swaps USD Coin and Ethereum on the platform.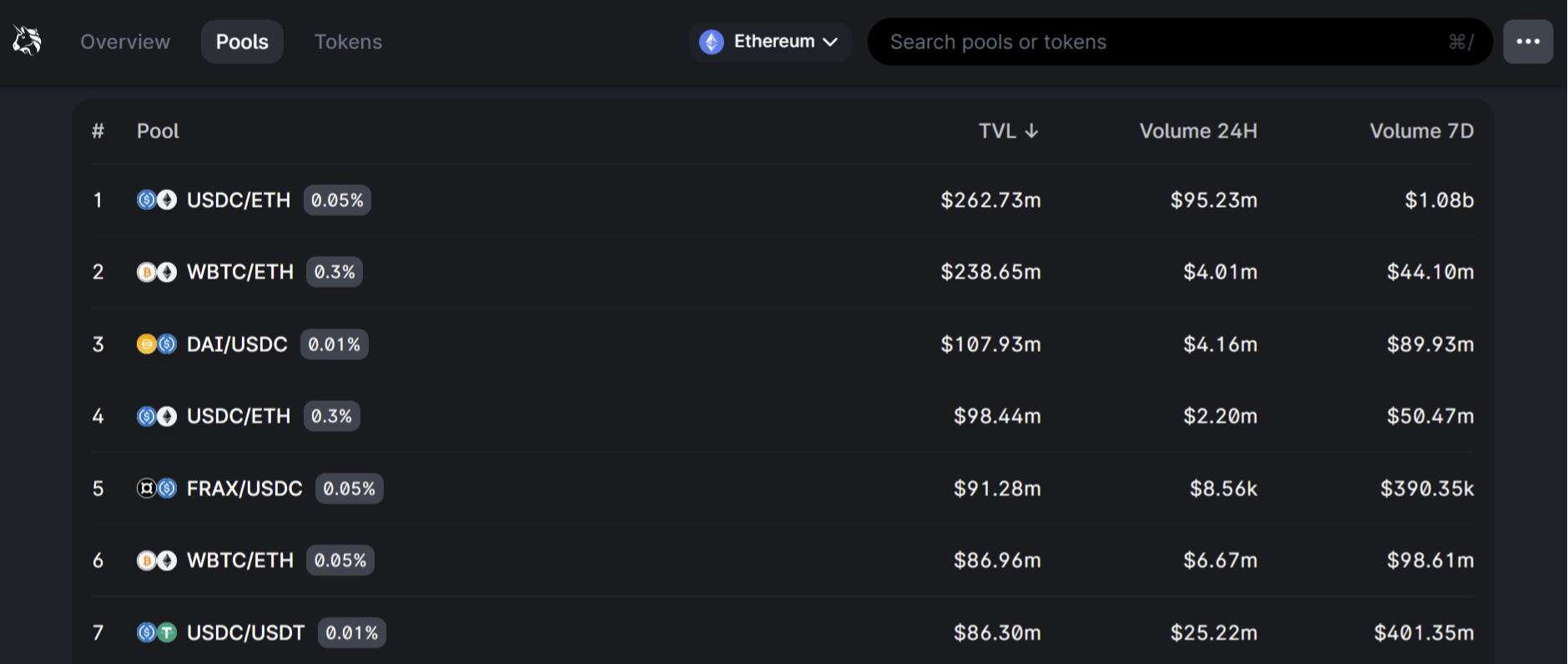 Ample liquidity
When it comes to DEXs, liquidity plays a crucial role. Sufficient crypto funds are essential to facilitate smooth trading operations. A decentralized exchange with limited funds challenges traders and liquidity providers.
Traders may encounter difficulties swapping their desired cryptocurrencies, resulting in fewer trades and reduced fee earnings for liquidity providers.
Offering one of the most effective total value locked (TVL) among decentralized exchanges, Uniswap offers ample crypto funds within its liquidity pools. Whether you aim to trade crypto or participate as a liquidity provider to earn interest, Uniswap will likely provide a seamless experience without encountering significant hurdles.

Cryptocurrency selection
Uniswap facilitates the trading of any ERC20 token. An Ethereum-based token is available on Uniswap or can be added by establishing a liquidity pool and depositing the relevant crypto funds.
Therefore, Uniswap encompasses many cryptocurrencies, ranging from prominent ones to more niche projects. Among the popular tokens, Ethereum and the exchange's native cryptocurrency, Uniswap (UNI), hold a central position.
However, Uniswap does have notable gaps in its lineup due to the absence of several major cryptocurrencies built on other networks. The most significant omission is Bitcoin (BTC). Nonetheless, an alternative option is Wrapped Bitcoin (WBTC), an ERC20 token backed by Bitcoin designed to replicate its value.

Limits and funding
Uniswap operates without user accounts, relying on individual wallets for trading. Consequently, there are no specific minimum or maximum limits on transactions conducted on the platform.
However, there are other potential challenges related to large transactions on the Ethereum network, like high gas fees or the risk of transactions failing if they take too long to process. It's also important to note that the liquidity available within a pool can restrict the execution of orders.
There are two main methods to add crypto assets to your Uniswap-connected wallet. Firstly, you can transfer them from an exchange or another wallet. Alternatively, using a third-party provider, you can purchase assets directly on Uniswap's platform.
For users in the US, Uniswap has partnered with MoonPay, a service that offers support for tokens such as ETH, MATIC, and USDC. It's important to note that the availability of assets through MoonPay may vary depending on the blockchain they are based on.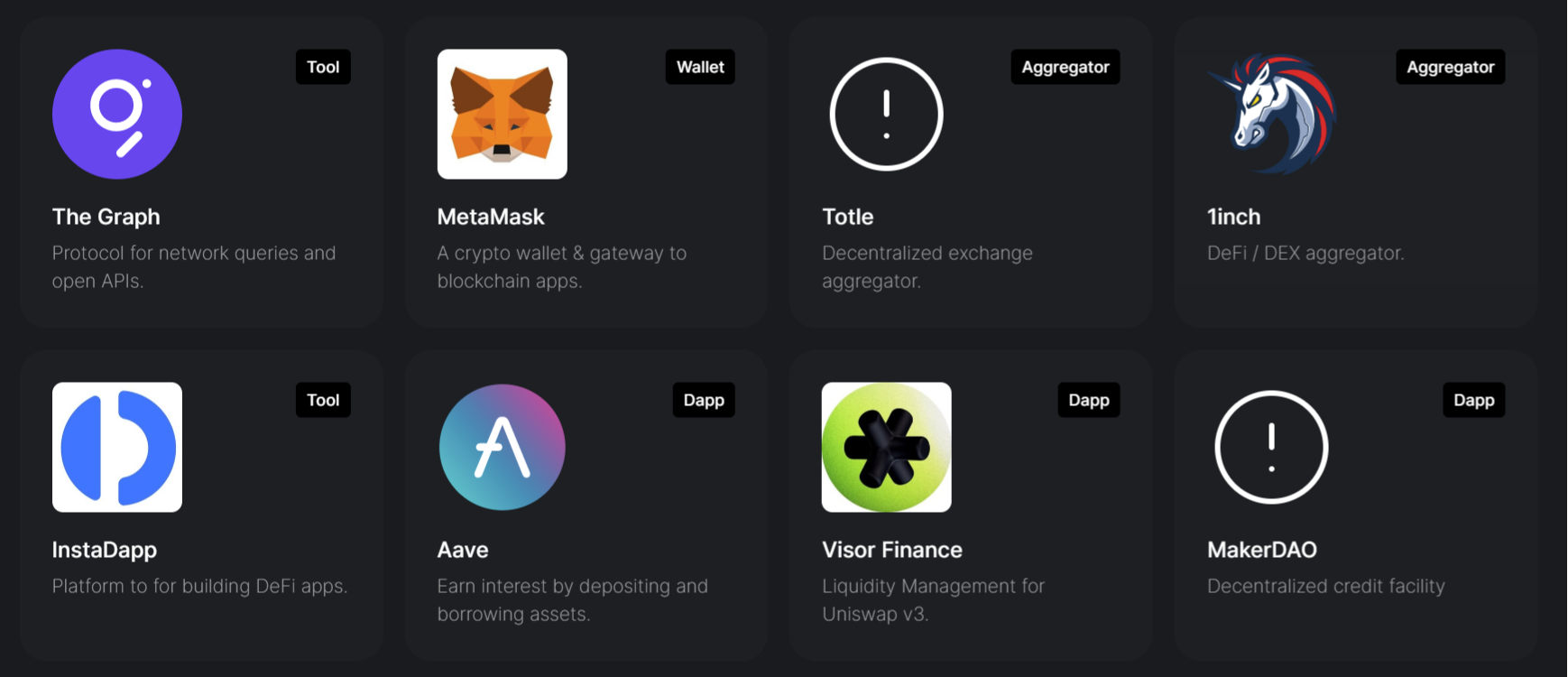 Crypto swaps
Swapping cryptocurrencies on Uniswap is a seamless and user-friendly experience. By connecting your wallet, Uniswap instantly detects your token balances, allowing you to view available tokens as you select your trade.
Swap fees vary based on the cryptocurrencies involved and the costs set by liquidity providers. While Uniswap doesn't explicitly display these numbers, it presents the best price for you.
A drop-down box details the expected output of the trade, indicating how much Token B you'll receive in exchange for Token A. The output may vary if you wait a few seconds, potentially resulting in a higher or lower yield.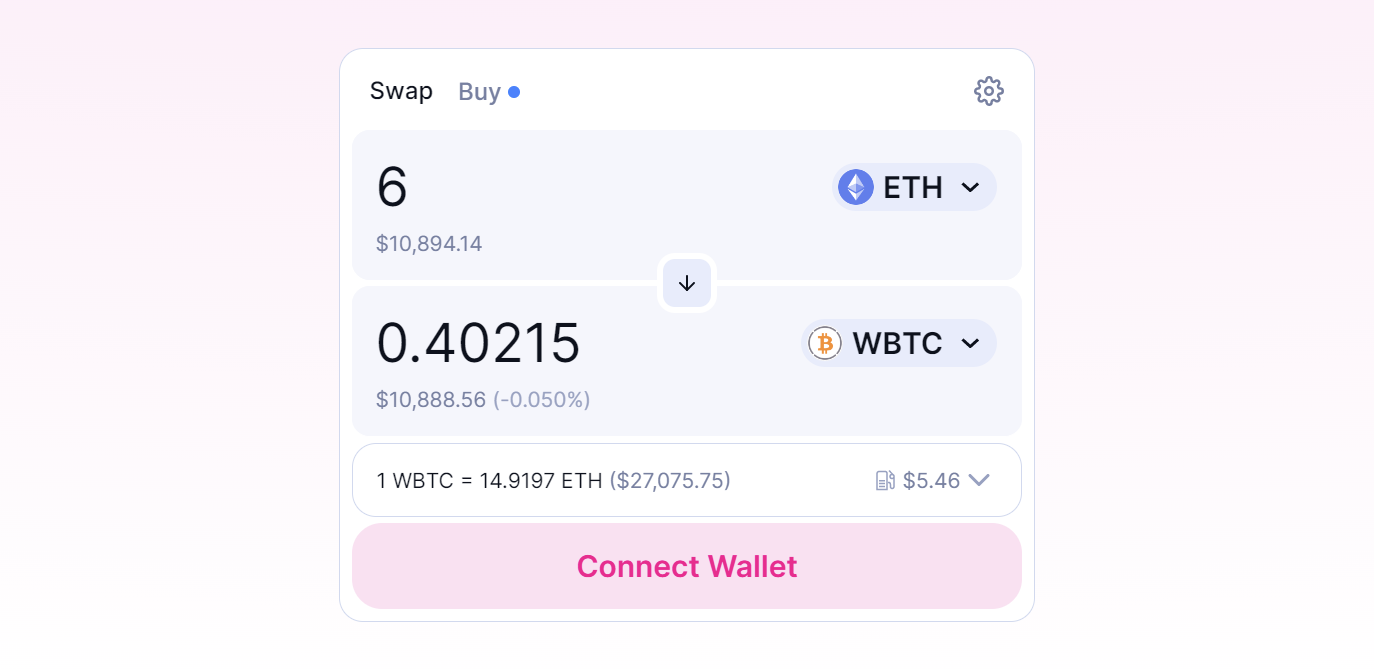 NFTs integration
Uniswap integrates NFTs from various marketplaces, including Opensea, a prominent NFT marketplace. It offers a range of NFTs, including property NFTs for the Decentraland metaverse.
Uniswap Labs acquired Genie, a startup NFT aggregator, in June 2022. By merging Genie's capabilities with Uniswap's core tools, Uniswap enhanced its offerings and delivered added value to its users.
While networks like Polygon are suitable for swaps and liquidity pools, purchasing NFTs on Uniswap necessitates using the Ethereum Mainnet. As of now, Uniswap offers NFTs from the following platforms:
OpenSea
X2Y2
Sudoswap
Larva Labs
X2Y2, Foundation
NFT20
NFTX

Customer service
Uniswap operates differently from centralized exchanges, relying on its community and documentation for support. While Uniswap doesn't have a traditional customer service team, its active user community on platforms like Twitter and Telegram can provide assistance and share experiences.
Besides that, the platform has a comprehensive page on its website, offering detailed guidance and troubleshooting for common issues. If you face any issues or have questions about Uniswap, contacting the community for help is a good option. Additionally, checking the documentation page may provide answers to your queries.
Uniswap's support differs from centralized exchanges. A centralized exchange with dedicated customer support may be a better fit if you prefer more traditional customer service or are a beginner seeking additional assistance.
Safety and Security
Uniswap operates as a non-custodial decentralized exchange, ensuring that user assets remain under their control. The platform's role is to facilitate transactions while the assets are stored in users' digital wallets.
Additionally, the liquidity pools on Uniswap are decentralized, built on the Ethereum blockchain, and fortified by cryptographic measures and redundancy.
Uniswap does not provide insurance coverage for lost assets, and the DEX bears no responsibility for any cryptocurrency losses that may occur during interactions. This lack of centralization is one of the downsides of decentralization, as no legal entity can assist in lost funds, theft, or fraudulent activities.
What needs improvement?
Uniswap does not display the annual percentage rates (APRs) for its liquidity pools within the app. In contrast, other popular AMMs like SushiSwap and PancakeSwap provide up-to-date APR information for their pools. While these rates are subject to frequent changes, having visibility into pool performance helps users gauge potential returns.
Other than that, Uniswap's accountless approach means no KYC process is in place. The absence of KYC can be positive or negative, depending on individual preferences.
For investors seeking privacy, exchanges like Uniswap offer an attractive option. However, the downside is that exchanges without KYC measures may encounter regulatory challenges. While crypto enthusiasts may value anonymous trading, governments, and tax authorities may not share the same sentiment.
Uniswap Review: Our Verdict
Uniswap has gained recognition as a complete decentralized exchange (DEX) that provides users with an intuitive interface, ample liquidity, and a wide selection of ERC-20 cryptocurrencies.
You can swiftly and conveniently swap your preferred coins without creating an account. Additionally, those interested in earning passive income can provide liquidity to the DEX and benefit from earning rewards while on the platform.
However, Uniswap and other decentralized exchanges may not be suitable for crypto beginners. The platform requires a solid understanding of digital wallets, the Ethereum blockchain, and paying gas fees on the network. Individuals new to cryptocurrency should use a centralized cryptocurrency exchange.
---
As with any investment or trading platform, there is a potential for financial losses when using Uniswap. The value of cryptocurrencies can be highly volatile, and risks are associated with impermanent loss in liquidity pools. It's essential to conduct thorough research and understand the risks before participating in any investment activity on Uniswap or any other platform.
Choosing between Uniswap and Coinbase depends on your preferences. Coinbase is a user-friendly, centralized exchange suitable for buying crypto with fiat and offers customer support. Uniswap, a decentralized exchange, prioritizes privacy and decentralization, supporting a more comprehensive range of tokens without user accounts or KYC requirements.
Decentralization, wide token selection, liquidity provision, and DeFi opportunities are key reasons people use Uniswap. It offers users greater control over funds, access to a diverse range of tokens, the ability to earn fees through liquidity provision, and opportunities for yield farming and decentralized finance activities.
Yes, US citizens can use Uniswap. However, the regulatory requirements may apply, and users should comply with relevant laws and regulations, including tax obligations. The decentralized nature of Uniswap means there is no formal KYC process, but individuals are responsible for ensuring they comply with applicable regulations in their jurisdiction.