Rating

5

Tradable Coins

375+

Fees

0.1 - 0.5%

Payment Options

+ 3
Our Verdict
Binance, a leading global crypto exchange, offers a user-friendly interface and low fees for trading a diverse range of coins. Accessible to both institutional and individual investors, it supports advanced trading services, although U.S. options are somewhat limited.
Pros
Industry's lowest trading fees.

Advance trading options like leverage.

350+ trading options, 150+ for theUS.

Lucrative on-site staking options.
Cons
Hiccups in account verification.

Less regulated than some competitors.

The corporate structure is not transparently.
Binance 2023 Review: Closer Look at World's Top Crypto Exchange
TLDR
This concise Binance review explores a leading cryptocurrency exchange, discussing its features, security, fees, and user experience.
Founded in 2017, Binance offers easy signup, card support, low fees, quick transactions, and free deposits, making it popular among traders. However, security concerns and a less user-friendly interface are drawbacks.
Notably, Binance has a unique cross-collateral feature and incentivizes user participation. Account setup is simple, and improvements in customer support, security, interface, and listing speed can boost users' confidence. Let's explore what Binance offers!
Who should use the Binance Exchange?
Binance offers a variety of features designed to make trading easy and profitable. These include low trading fees and a wide selection of coins, including Binance coins that can be traded for fiat currencies. In addition to conversion services to exchange one coin for another and access to information about emerging coins and tokens. Let us see who this exchange is made for.
Experienced Traders
As a professional trader, you can reap the rewards of Binance's powerful tools. These tools include detailed charts and secure custodial services. Furthermore, they provide a decentralized exchange platform- all on one single website!
It is no shock that many traders have chosen Binance as their go-to crypto trading provider due to its versatility. Undoubtedly, the significant shortfall of Binance is that its primary site is unavailable in the USA. But is accessible through Binance.US.
Beginner traders
Binance is ideal for beginner traders. The exchange provides easy access to many currencies, enough for experienced traders who wish for an affordable trading platform with all the bells and whistles covering their needs.
Moreover, unlike other platforms, Binance offers educational and research resources to keep its users informed. In addition to advisory or brokerage services,
As a beginner, Binance is the perfect place to start. It accommodates newcomers with its user-friendly interface and fast market navigation. Additionally, their [Buy Crypto] feature lets users buy crypto directly with debit or credit cards.

Geographical availability
Binance services are accessible worldwide. This is due to their location across 100+ countries in America, Asia, Europe, Africa, and the Middle East. Accessing Binance via mobile app from nearly any place with an internet connection is simple.
Moreover, having multiple servers allows for more rapid response times and heightened dependability. By providing fast and dependable access to customers worldwide, Binance holds a distinct advantage. Consequently, its extensive geographical reach makes it one of the top choices for experienced cryptocurrency traders and beginners.
What makes a Binance good choice
1. Easy signup process
Signing up for Binance only takes a few minutes. You only need to enter your e-mail address and create a secure password.
You can even choose between simplified and advanced versions of the trading platform. This makes Binance one of the most user-friendly exchanges on the market. It is ideal for quick trades, portfolio building, or long-term investing.
Binance offers constantly updated promotional offers, minimal transaction fees, and quick processing times.
2. Support for credit and debit cards
Binance stands out from other trading platforms since it supports credit and debit cards. This makes crypto trading incredibly easy, allowing beginner to advanced traders to either deposit funds or cash via their debit card and exchange within minutes!
For novice cryptocurrency traders, Binance is an ideal choice due to its convenience and ease of use. Transferring between cryptocurrency and other exchanges has never been simpler with this platform!
3. Speedy transactions
In addition to processing deposits and withdrawals quickly, its advanced trading and features also provide exceptional speed.
Binance enables you to conduct transactions swiftly, and the real-time capability to track your investments makes it a perfect choice for experienced investors who demand maximum overview. Such velocity and flexibility place Binance above other exchanges with similar services on the market.
4. Free deposits
Binance stands out from the crowd for cryptocurrency trading due to its zero-fee deposits. Unlike other cryptocurrency exchanges that nickel-and-dime you for deposit fees on each transaction, this exchange allows users to keep more money in their wallets without additional withdrawal fees or charges, enabling them to transact confidently.
Binance provides a significant advantage to its customers by using lower fees and eliminating the need for transaction fees via debit cards.
All the same, it's critical to recognize that Binance offers various other advantages, like low withdrawal fees and costs, lower trading fees, and an expansive variety of cryptocurrency choices. Thanks to these features and no deposit fee, Binance is among today's best-regulated crypto exchanges.
Disadvantages of Binance
1. The exchange has been hacked in the past
Binance has seen its fair share of cyber crimes over the years. A few years back, Binance was hacked for $570M worth of crypto, resulting in irreparable damage to many traders who had stored their funds on the world-leading trading platform.
Further illustrating Binance's susceptibility to malicious activities, another attack occurred later that same year involving hackers manipulating Binance APIs and placing orders that caused a massive dump in SAFU (Secure Asset Fund for Users) tokens.
Although Binance has established multiple security protocols and safeguards to protect its users' digital assets, recent cyberattacks have proven that no one is immune.
2. Lacks a user-friendly interface
While Binance offers many options and features, its user interface can be overwhelming and intimidating for some users.
High-level traders may be able to adjust quickly and learn the interface, while those more accustomed to stock trading systems could end up frustrated by the complexities within the exchange.
Some users have also reported difficulties navigating the site and transferring funds. Without a user-friendly interface, Binance may be difficult for newer traders – or those uncomfortable with computers – to navigate through.
3. No quicker support times
Although Binance offers many benefits, its lackadaisical support system is not one of them. With responses that take far longer than those provided on other top cryptocurrency exchange platforms, users are left waiting patiently when technical issues arise and require immediate attention.
Not only does this impede solving an issue rapidly, but it also takes away from the general user experience. Sure, Binance offers a wide array of beneficial trading services and choices; however, traders must factor in how long they'll need to wait for aid if any issues arise while using this global platform again.
Therefore, faster customer service and cost, usability, and other factors should be considered when deciding which platform to use.
4. No demo account
For inexperienced traders, jumping right into trading with real money can be intimidating. Without gaining experience in a risk-free environment through demo accounts, those new to the trading world may feel overwhelmed and ill-prepared to make successful trades.
Also, Binance US allows traders to make U.S. dollar deposits and withdrawals of fiat currencies via bank transfers and debit cards. Additionally, costly mistakes may be caused by active traders due to a lack of practice and understanding of the platform.
Creating a demo bank account with Binance allows new users to discover its features and tools before investing real funds. This way, they can craft strategies and gain valuable knowledge and confidence in their trading decisions.
Thus, having a demo account is an invaluable tool for beginner crypto traders as they grapple with the complexities of cryptocurrency trading – so not having one presents yet another obstacle.
Binance Review: Top Features & Perks
Biances features are one of the most innovative in the crypto exchange sphere. Let's have a close look at them.
Margin & Leverage Trading
Margin and leverage trading on Binance can be an exciting option for the right user. Skilled traders and investors can use this feature to anticipate price movements with futures contracts while taking advantage of the ability to leverage their positions up to twenty times.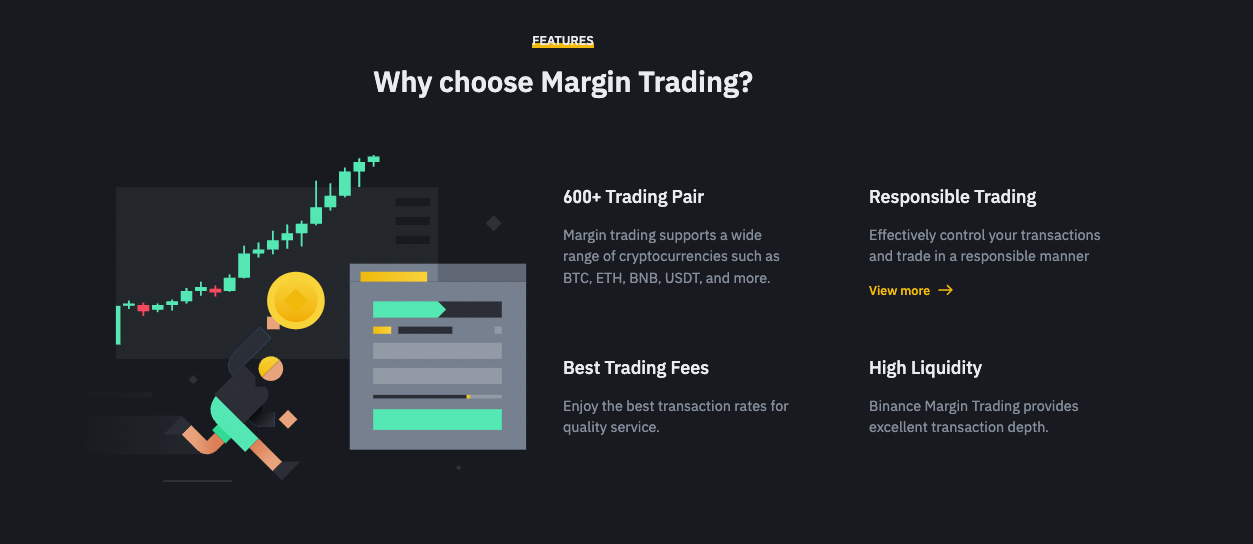 It'sessentialt, however, that these users understand the heightened risk involved in spot trading – with them potentially losing money multiplied by twenty – and therefore have a high-risk tolerance for spot trading. With the right mindset, leverage, margin, and even spot trading on a global platform like Binance, can open up more user possibilities.
Cross collateral
Binance's cross-collateral feature is a cutting-edge solution for crypto holders looking to increase their portfolios without putting up additional funds. It allows users to currency exchange one cryptocurrency asset against another, using the existing funds in their crypto holdings in their Binance accounts as collateral.
Instead of worrying about withdrawing and depositing funds, with this unique feature, users can quickly and easily access different digital assets for trading and speculation. Binance has become the go-to spot for smart traders who want maximum flexibility – thanks in no small part to its cross-collateral feature!
Leaderboard
Trading cryptocurrency is a thrilling experience, and Binance's leaderboard captures that. Unlike social media platforms, the leaderboard offers an exhilarating journey without risks usually associated with digital trading and fiat currency.

Aspiring traders can access real-time analysis from top-ranked traders to develop their futures trading strategies. Following experienced investors and learning from their clinical decisions makes starting in the bustling world of crypto trading more accessible than ever. What sets Binance apart is that users can hone their futures trading skills and compete for prizes alongside professionals.
Leaderboard caters to blockchain newcomers and veterans, making Binance an essential destination for anyone who wants to stay informed about the latest developments in cryptocurrency trading.
Binance Battle
Through its pioneering battle platform, Binance has revolutionized the world of cryptocurrency trading, making it an exciting competition instead of an ordinary chore. Savvy traders can now go head-to-head in thrilling battles for crypto supremacy!
Battle enables users to go head to head with other traders in a struggle for supremacy and offers competitors the ability to prove themselves in periods of as short as one hour or up to one week. With this feature, Binance allows newcomers to compare their progress against expert traders and challenge them further by providing an impressive list of awards and rewards.
Asset Conversion
With the Asset conversion feature on Binance, traders and investors can quickly move from one investment to another efficiently. Not only is it a fast process, but users also don't need to transfer assets through the spot market anymore – allowing them to save time and optimize their financial opportunities!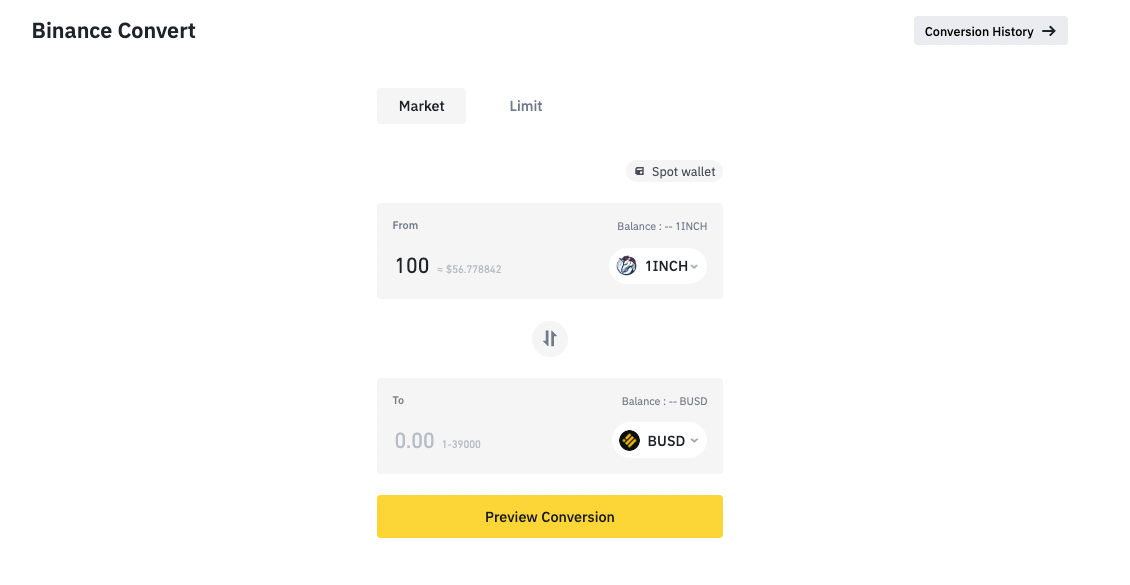 With its simple and intuitive user interface, asset conversion on Binance makes it easy for anyone to negotiate fast-moving markets with minimal hassle. With this unique feature, traders can capitalize on every market opportunity without worrying about missing out due to slow response times. Thanks to Binance's asset conversion, trading has never been easier or more efficient.
Price Protection
Price protection is essential for those wanting to participate in the crypto market. If many orders are made simultaneously, this feature will serve as an extra safeguard against malicious actors and guarantee that the marketplace remains open for everyone. This invaluable security layer gives traders peace of mind in the biggest crypto exchange marketplace.
When both orders are triggered simultaneously, price protection ensures users remain protected from scammers and enjoy a fair and orderly trading experience. The added component of security that this feature provides is invaluable for those looking to dive into cryptocurrency with spirit.
Staking Options
Investors seeking to expand their cryptocurrency portfolio can take advantage of Binance Earn's staking feature, which offers both convenience and a high return on investment. With no trading fee and unparalleled reward potential, this crypto wallet is the perfect opportunity for anyone wanting to make money from their crypto assets.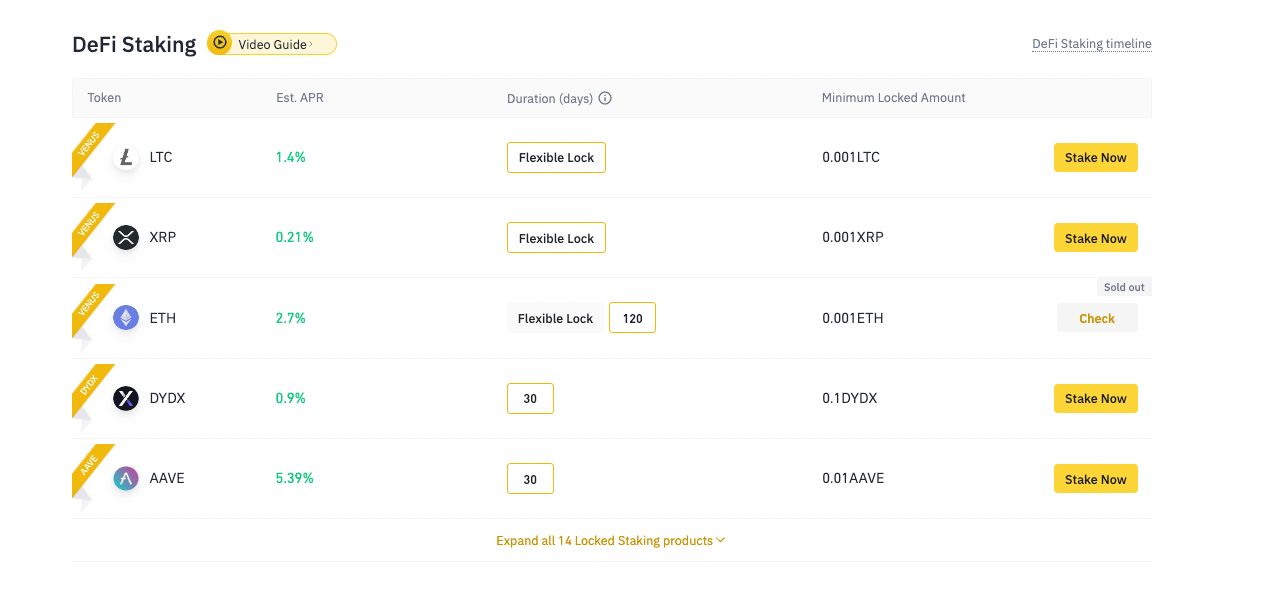 Users can enjoy an APY between 0.5%- 5% depending on the staked asset. Stablecoins, decentralized finance tokens, and other digital assets are eligible for passive income earning.
Binance Swap Farming
If you're looking for an effortless and fast way to trade cryptocurrencies, then Binance wap farming might be the perfect solution. It utilizes the automated market maker (AMM) model, which allows users to immediately pair trading pairs from its liquidity pool while simultaneously determining their swap prices in real-time – so no more waiting around on traditional exchanges!
Not only is it fast and efficient, but also Binance offers highly competitive transaction fees, depending on the payment method, making this one of their most lucrative features.
Furthermore, Swap Farming capitalizes on trust and transparency – all transactions are open-source and viewable so that no third parties can interfere or meddle with your trades.
Opening a Binance account
Binance makes it uncomplicated and easy to create an account. Follow this step-by-step guide to start trading.
Step 1: Visit the Binance website
To get started, visit the Binance official website or click the [Get Started] button:
Binance, a leading global crypto exchange, offers a user-friendly interface and low fees for trading a diverse range of coins. Accessible to both institutional and individual investors, it supports advanced trading services, although U.S. options are somewhat limited.
---
Industry's lowest trading fees.

Advance trading options like leverage.

350+ trading options, 150+ for theUS.

Lucrative on-site staking options.
Hiccups in account verification.

Less regulated than some competitors.

The corporate structure is not transparently.
On the Binance home page, click the [Sign Up] button in the middle of your screen or [Register] in the top right corner.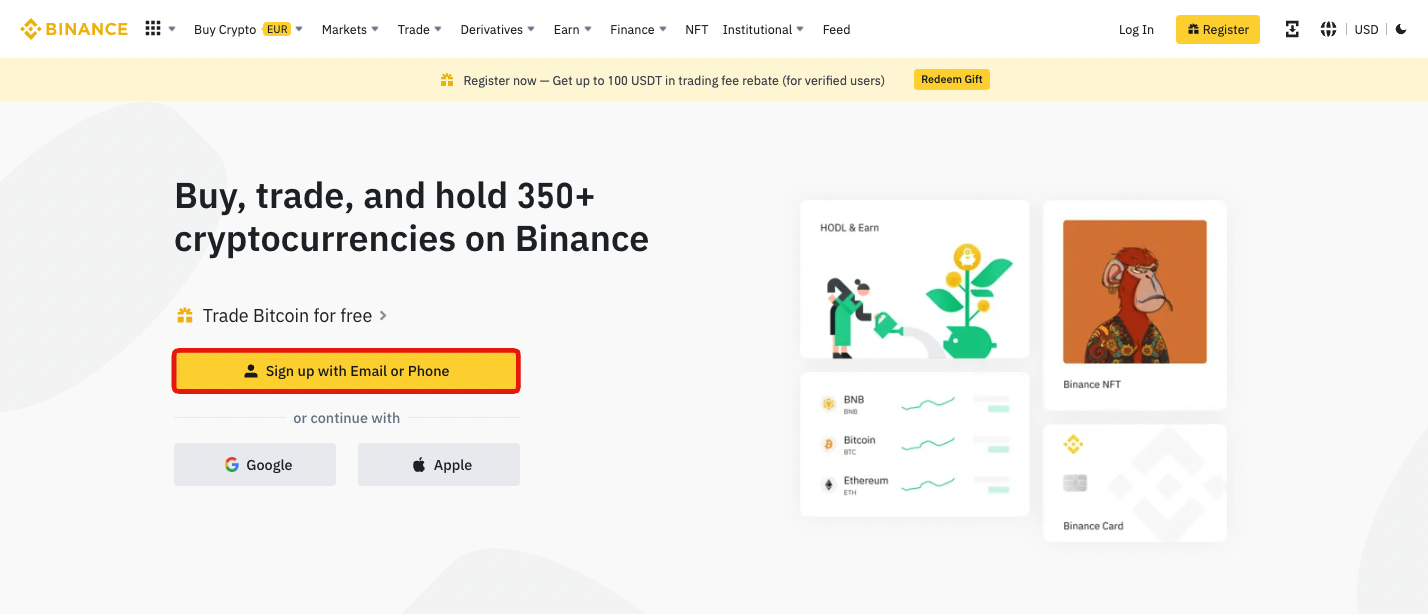 Step 2: Sign up
You can choose to sign up using your phone number or e-mail.
Once you have added the correct information, check off the terms of service and click [Create Personal Account].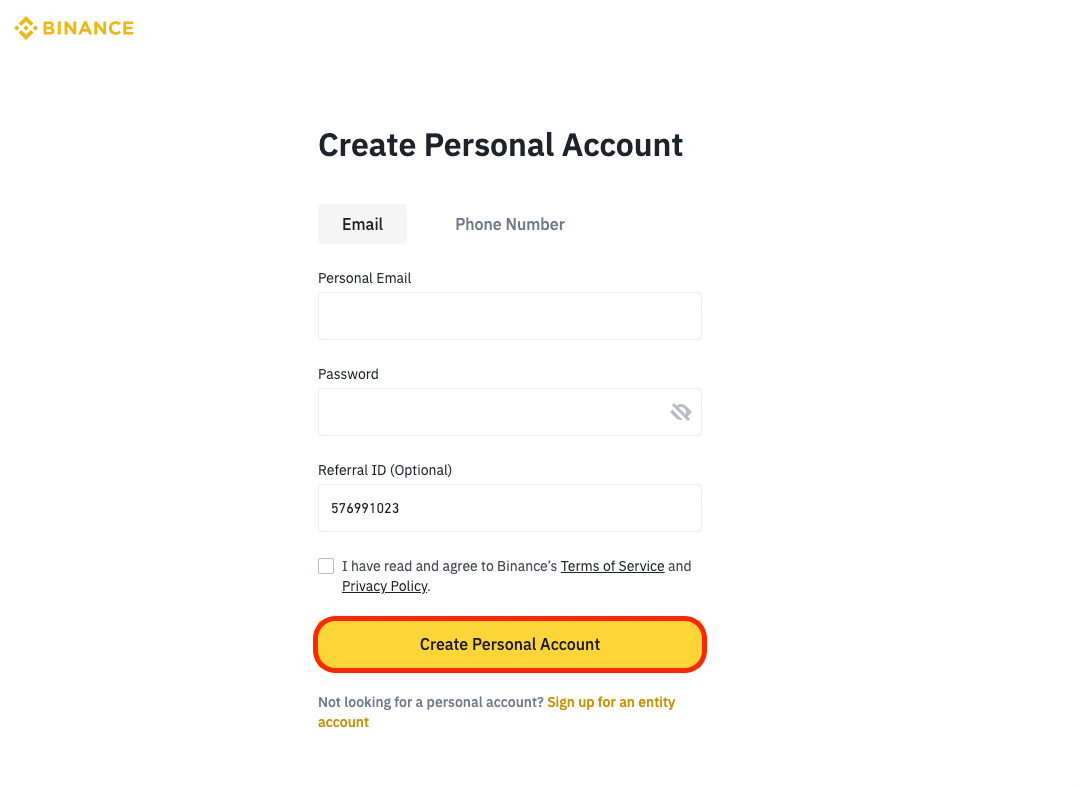 Go through the security verification process.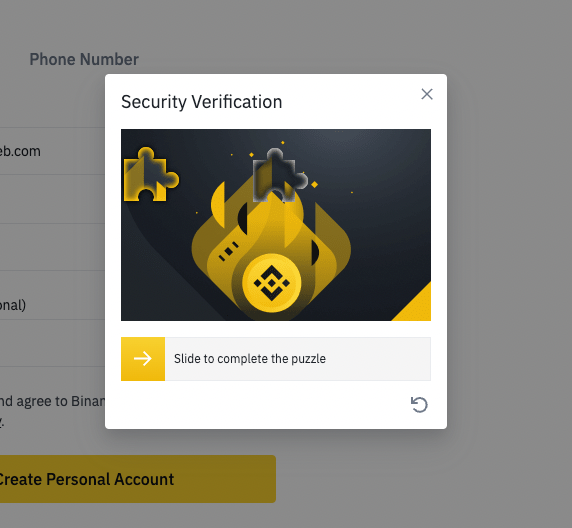 Step 3: Verify your Email and Phone
Enter the 6-digit verification code that was sent to your e-mail. Once added, click [Submit].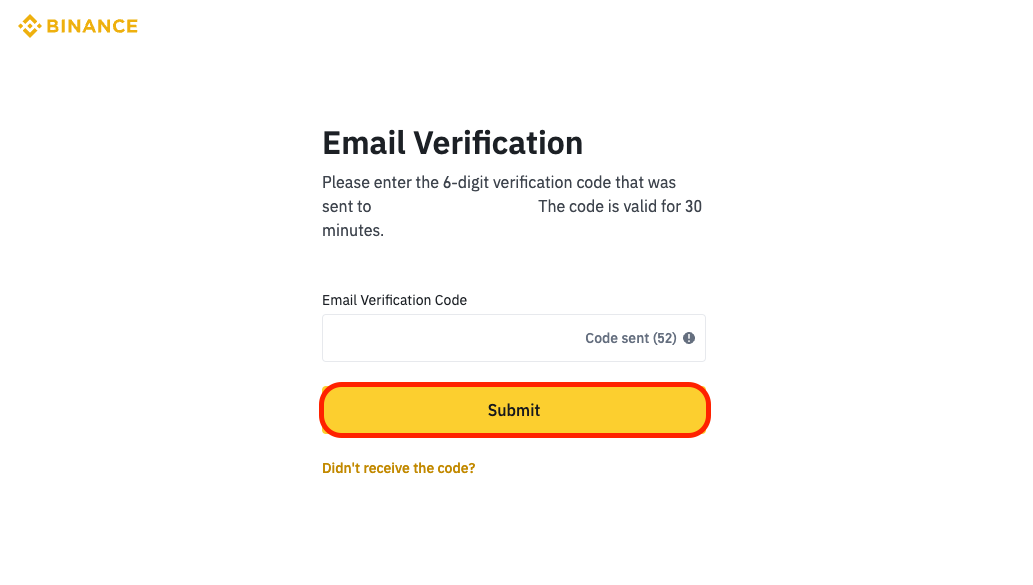 Step 4: Verify your account
To complete your registration, you usually need to go through a KYC process. You must provide personal information, government issues I.D., and proof of address.
The information needed will depend on your country of residence. Click continue.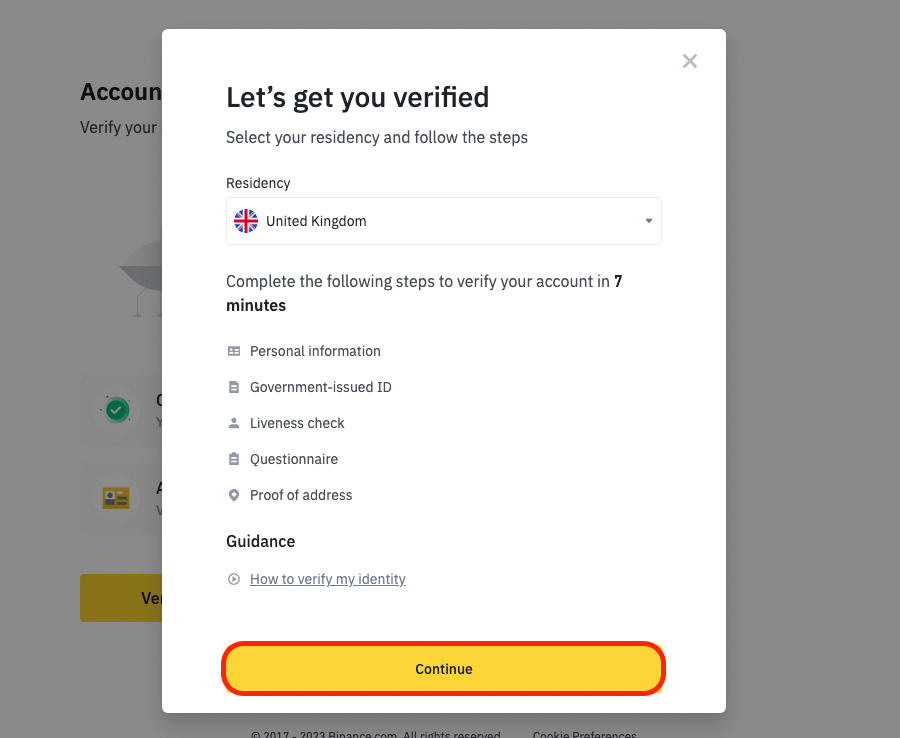 Step 5: Liveness check
To gain access to your account, a quick liveness check may be required. Just click [Continue] and take a live photo to complete the process easily.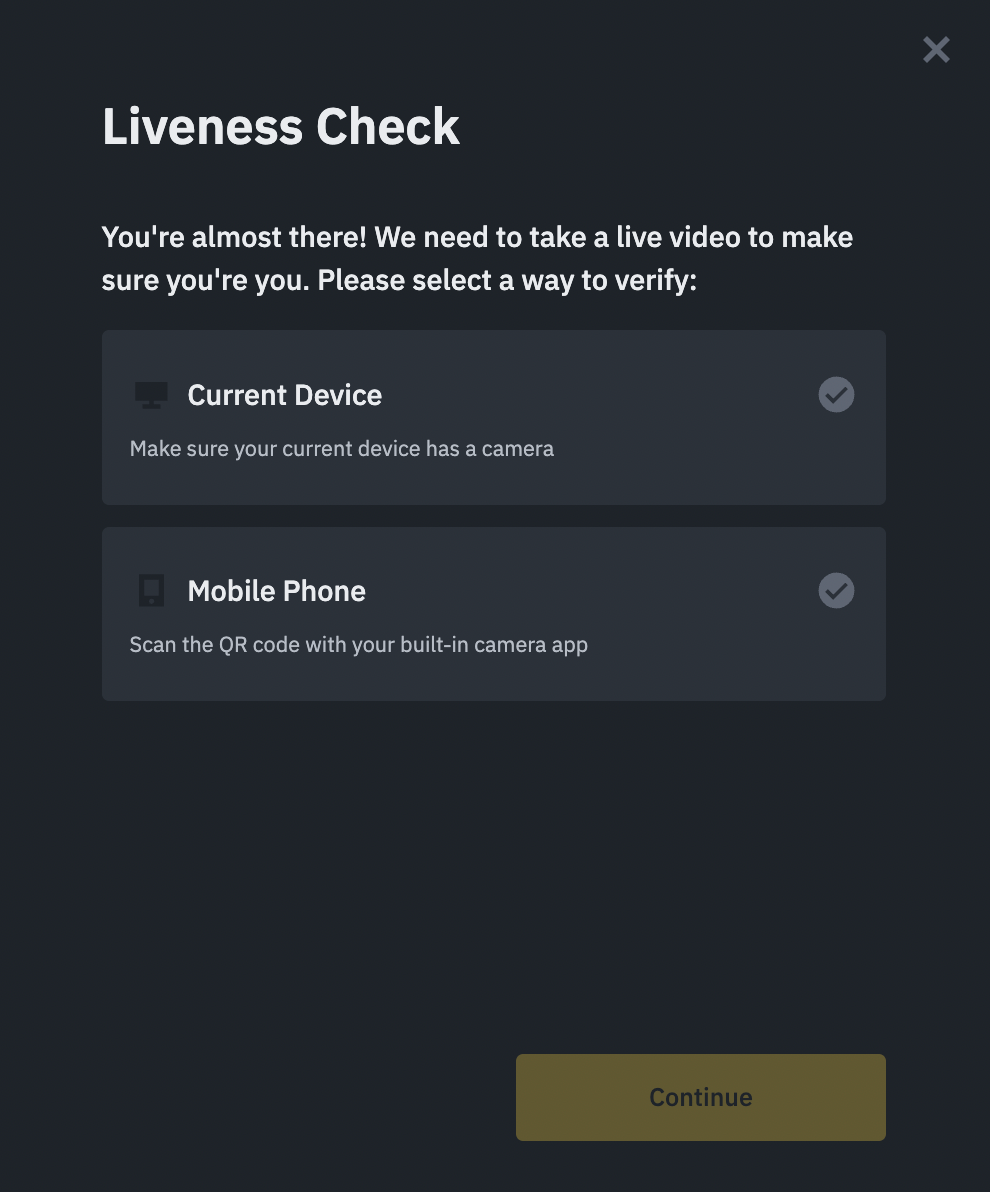 Step 6: Add funds and start trading
Once you've completed the liveness check, your account creation process is done. You can now add funds and start trading on your dashboard.
Congratulations! You have successfully created a Binance account.
Binance Review: Improvements
Customer Service
Binance exchange can be improved by improving customer service. Presently, there are several complaints about the customer support service of Binance, with some mobile app users reporting that they have been waiting for weeks or even months to respond to their inquiries.
By investing in additional customer support service representatives and equipping them with the appropriate training, Binance can optimize its customer support service to meet user needs better.

Security
The recent hacks on the Binance platform have been a significant cause of concern for many users, resulting in losses. To ensure this doesn't happen again and reduce such risks, additional security measures can be incorporated within the system – like storing user funds in cold storage. This will make the platform more secure and provide peace of mind to users who entrust their hard-earned money with Binance.
User Interface
Binance has a steep learning curve, with unclear menus and options that are often difficult to find. With some thoughtful U.I. redesign, they can create a user-friendly and easy-to-understand experience for new users. This would make it easier to use the platform and streamline the onboarding process, so more people can start trading quickly and safely.
With this change, Binance can further establish itself at the forefront of cryptocurrency exchanges regarding reliability and trustworthiness.
Listing process
To regain the confidence of its users, Binance must prioritize quality over quantity and take steps to improve its listing process. Only allowing projects that meet specific criteria onto the exchange platform will ensure that investors are safeguarded from useless or low-quality projects masquerading as legitimate investments.
Improve communication with its users
An ever-growing dissatisfaction among users is seen in response to Binance's lack of communication about changes and updates. To remedy this, it is imperative that Binance quickly establishes reliable channels of information with its customers. Doing so will mend user trust and facilitate a more satisfied customer base.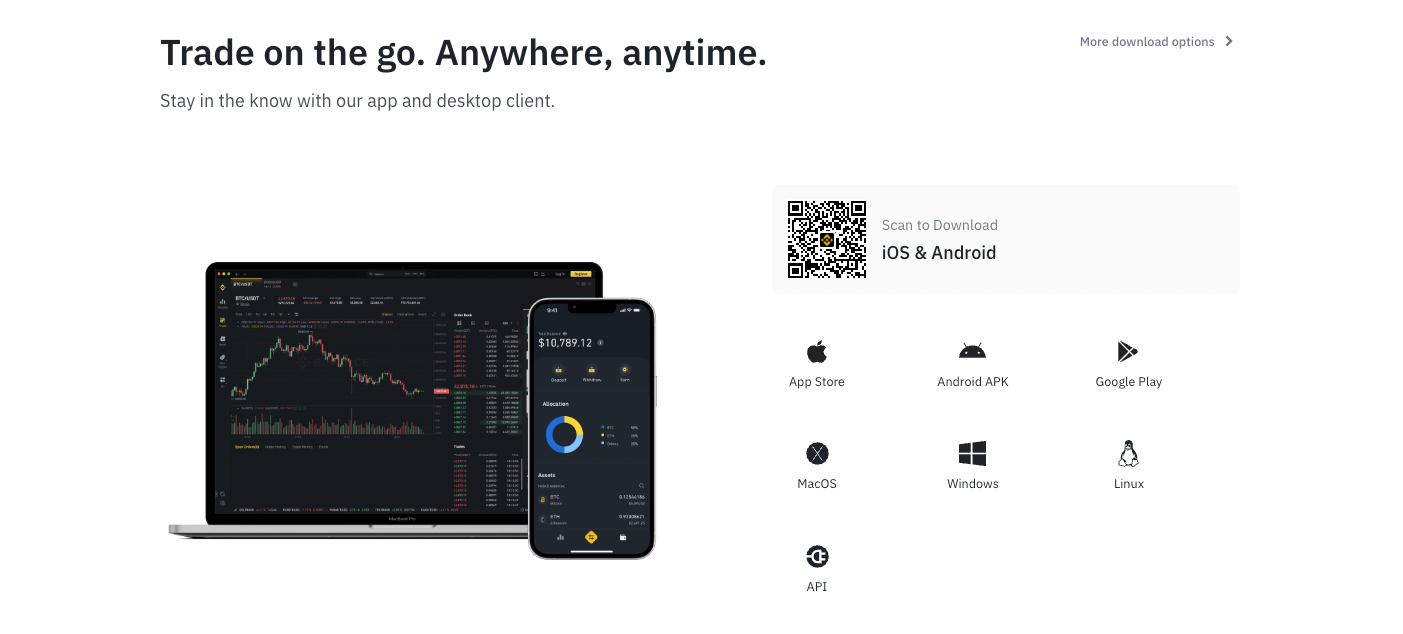 Summary
Binance is excellent if you seek a simple signup process, credit and debit card support, and speedy transactions. However, remember that the exchange has previously been hacked and lacks a user-friendly interface.
Despite its drawbacks, like faster-than-average support times and no demo account, Binance still contains many features that qualify it as a significant investment. These features include cross-collateralization, leaderboard competition battles, and the convenient ability to open an account on their platform. Thus making Binance an attractive option for many Binance users.
---
One disadvantage of Binance is the occasional security concerns and breaches that have been reported in the past. Although the platform has taken steps to improve security, these incidents can undermine user confidence. Additionally, some users have complained about the platform's user interface being less intuitive, making it challenging for beginners to navigate. Limited customer support and restrictions in certain geographical regions are other issues that may detract from the overall user experience on Binance.
What Is Binance Earn? Binance Earn allows users to without requiring much time, effort, and in-depth knowledge. This method of passive income opportunity allows users to profit from not only HODLing but also growing it
Binance (AD) Limited has been granted a Financial Services Permission (FSP) by the Financial Services Regulatory Authority to carry out the Regulated Activity of Providing Custody, in relation to Virtual Assets.