Rating

4.3

Tradable Coins

145 +

Fees

0.04% - 0.10%

Payment Options

+ 3
Our Verdict
Nexo is an advanced and regulated crypto platform that offers a secure, fast way to own 40+ cryptocurrencies. Its users can access highly attractive earning rates on various crypto assets. Nexo also provides easy-to-use loans backed by cryptocurrency. This exchange offers a crypto-backed debit card to make everyday use of crypto a breeze.
Pros
Loyalty earning opportunities.

Up to 16% APY on digital assets.

Swap between 500+ market pairs.

Loan options for users.

Licensed and regulated.
Cons
No benefits without a native token.

No live chat support.

No anonymous option.
Nexo Review 2023: Uncovering the Pros and Cons
TLDR
Our comprehensive Nexo review examines the pros and cons of using Nexo and helps you determine if it's the right platform for your needs.
The Nexo exchange is a great platform for those wanting to access financial services for their crypto asset. With one of the biggest crypto communities, a blog and media center, an ability to access crypto loans and other crypto assets as collateral, a free $25 Bitcoin signup bonus, and transparent security measures, Nexo is a good choice for those looking to increase the value of their digital holdings.
While no anonymous option is available on the platform, and Nexo tokens are required to get the best loan deals, some of its features compensate for these drawbacks. These features include an improved buying experience on the web platform, and smart staking, alongside being able to access your funds quickly via the Nexo debit card or Metamask.
Who should use the Nexo Exchange?
If you're seeking a safe and secure way to trade your favorite digital assets, the Nexo exchange should be at the top. The trading fees on Nexo are low, with 0.02% and 0.10% taker fees and 0.00% and 0.10% maker fees making it more attractive than other exchanges.
Nexo is compliant with and protected against security risks, so users are comfortable using their service. Its added security also makes it easy for novices to get up and running, requiring minimal setup.
A verification process (KYC) is required before the user can access any service. Users must submit documentation, including proof of address, photocopied identification, etc.
This can be difficult or time-consuming for those used to exchanges that don't require such a rigorous procedure. Failure to comply with their regulations will result in customers being unable to benefit from their full range of services.
Beginner traders
The Nexo exchange is designed to be user-friendly and suitable for investors of all experience levels. Beginners don't have to worry about the complexities of trading. The platform provides a simple method of buying, selling, and storing digital assets.
Nexo provides an intuitive interface and many features that are beginner friendly. These include support for more than sixty tradable coins and multilingual support. It is excellent for beginners who are just starting crypto trading. Its customer support service is also outstanding, allowing new users to get answers quickly whenever they need help.
Geographical availability
More investment opportunities are available since new regions are eligible for the platform's services. Nexo operates in France, Italy, Spain, Netherlands, Canada, Ukraine, Switzerland, Portugal, Philippines, UК, etc.
The Nexo exchange also offers its users a wide range of region-locked programs. Which allows them to access crypto platforms in different geographical markets. This aims to make the world of cryptocurrency investing more accessible no matter where you're located.
Also, it's important to note that regional restrictions apply. Certain geographical areas limit what can be bought and sold using Nexo.
What makes Nexo a good choice
Easy and fast borrowing
Borrowing finances quickly and easily is becoming increasingly important for many people today. Nexo has grown in popularity because it provides an easy and fast way to borrow money. By simplifying the process, customers can save the time and energy needed to apply for a traditional loan.
With its lightning-fast approval times and accessible rates, it's no wonder many people choose Nexo when looking for borrowing solutions.
Mobile app
A major benefit of Nexo is the mobile application. It lets users easily manage their accounts from anywhere with an internet connection. You get access to the platform's services and features, like making deposits and withdrawals, checking Nexo interest rates and account balances, transferring funds, and more.
Nexo's application gives customers more control over their decisions, providing convenience, security, and swiftness. This makes Nexo a great option for anyone needing the financial support they offer.
Licensed and registered with maximum security
Nexo offers clients maximum security through licensed and Nexo-regulated services. This ensures complete protection and peace of mind that all clients' funds are securely held. Furthermore, they are monitored and tracked in real time, so there is always up-to-date knowledge of every financial transaction. Such attention to detail makes Nexo a great option if you're looking for maximum financial security.
Such licensed and regulated crypto exchanges exceed the industry standards for safety and security. They conduct stringent identity verification processes and multiple layers of Safety & Security Protocols. This help protect traders against fraud or criminal activities.
Massive community, blog, and media center
The size and scope of the Nexo community are huge. That makes it a great choice for those seeking comprehensive help and resources. Its forum is filled with knowledgeable users that can provide valuable advice. Moreover, the blog provides news and updates, while the media center is packed with tutorials, webinars, and use case studies.
This makes Nexo an excellent choice for those who want to get more out of the experience with the platform. With its community, blog, and media center, Nexo offers an unparalleled level of support as well as guidance to its users.
Access crypto loans and collateral
Accessible crypto loans and collateral make Nexo an attractive choice for investors. With Nexo, users can leverage their cryptocurrencies without cashing out or selling their investments. Thus making it a great way for crypto investors to maximize profits without sacrificing portfolios.
Strategically accessing funds in this way is one of the key benefits of Nexo. It lets users use their digital investments to make new profitable moves in real time. No matter the user's goal or skill level, Nexo provides a hassle-free and secure solution for accessible lending services.
Free $25 Bitcoin signup bonus
Nexo offers a generous signup bonus of $25 worth of Bitcoin. The ease of signing up and the reward make Nexo an attractive alternative to other exchanges.
This bonus can help potential crypto users to overcome the intimidating 'beginner's barrier' with cryptocurrency trading. Getting acquainted with the platform first-hand is possible through it. Furthermore, you can fund your investments once you receive the free Bitcoin. You can also share it with friends interested in starting their crypto journey.
Ultimately, the free $25 Bitcoin signup bonus from Nexo adds a significant extra layer of fun to crypto.
Transparent security measures
Nexo stands out from other currency exchanges due to its commitment to providing transparent security measures. The exchange ensures that all customer transactions and data are securely stored and encrypted with state-of-the-art encryption methods while sharing its results through regular transparency reviews.
Additionally, Nexo offers multi-factor authentication options. In addition to having a security staff of experts to safeguard against malicious actors attempting to access sensitive user data. This sense of security and reliability makes Nexo a great choice.
---
Trusted Partners
5
4.7
4.3
---
Disadvantages of Nexo
No anonymous option
Nexo requires users to authenticate their identity before purchasing or selling products and services. As a result, it is impossible to conduct anonymous transactions on the platform. This is usually a be a deal breaker for those who want more privacy when transacting online.
Prospective customers should know this before registering an account with Nexo. This Nexo review will help to decide if opting into the platform is right for them. While trading without anonymity may not always be ideal, your data is secure under Nexo's tight security protocols.
Holds Nexo tokens for receiving the best loans
Nexo is a decentralized borrowing and lending platform. Although it solves many people's financial woes with instant cash loans, you don't get the full benefit. The crypto lending platform requires users to hold Nexo tokens to offer its users the best loan and savings rate.
For those unfamiliar with digital currency, this may be an intimidating requirement that damages the overall appeal of using crypto collateral or Nexo for their financial needs. Additionally, holding onto Nexo tokens inherently comes with some risk due to having to sell or sell their fluctuating market value.
Lender interest rates are a bit higher
Lender interest rates tend to be higher than borrower rates, making it difficult for those looking to borrow funds to earn passive income. That said, Nexo still offers an attractive option for those with pressing financial needs who don't want to sell their crypto assets and would rather borrow cash and use them as collateral.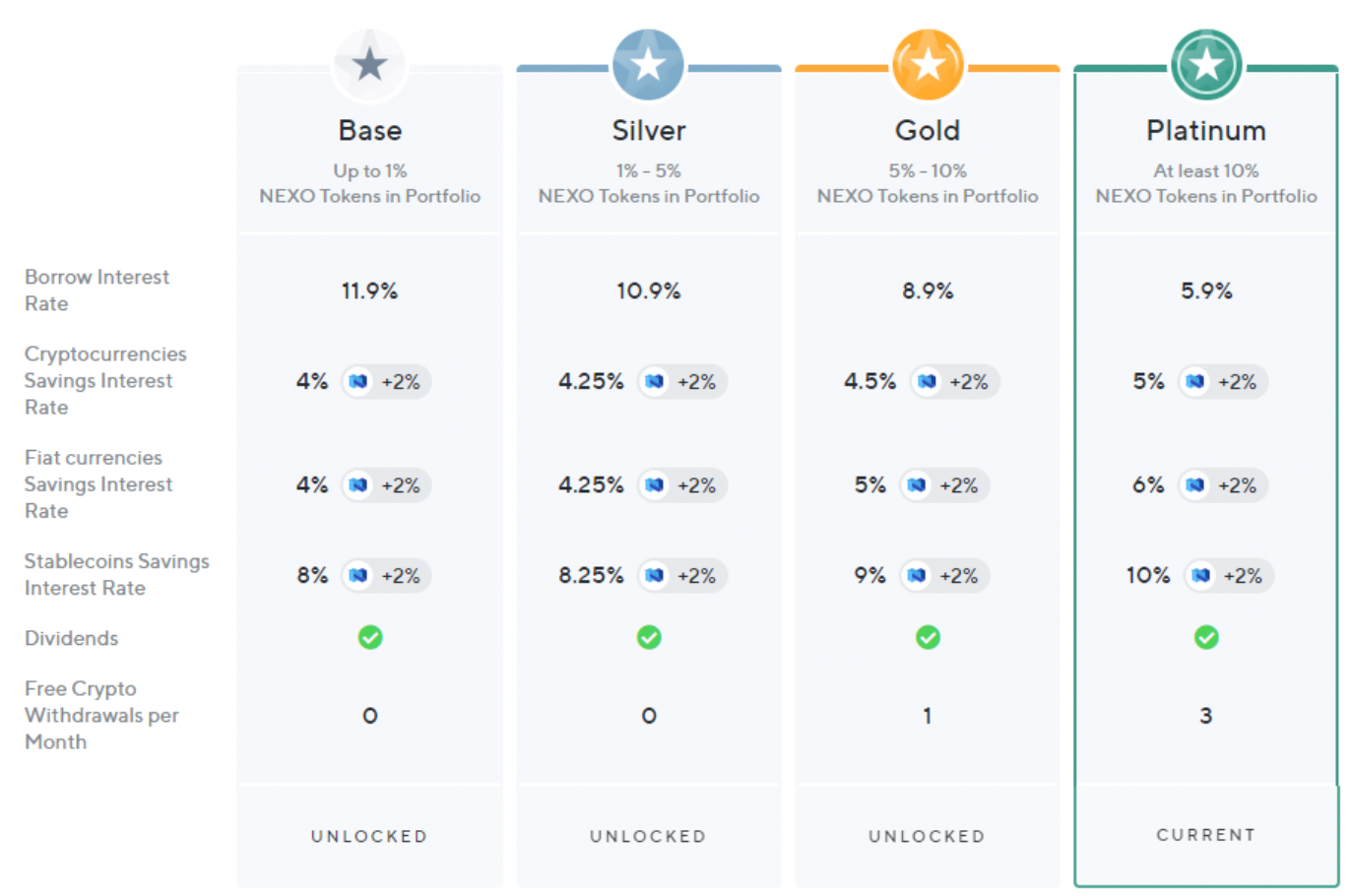 Furthermore, the process and fees associated with using the Nexo platform are advantageous. Despite the higher lender rates, Nexo is worth considering for anyone who wants quick access to digital funds without sacrificing long-term wealth creation.
A lot of competition in the lending/borrowing crypto world
The expanding crypto lending market has attracted increased competition among crypto lending platforms and borrowers, and Nexo is no exception. One of the unfortunate effects of the competition is that other companies with flashier offers can dwarf Nexo's attractive options.
In addition, barriers to entry have become fairly low, meaning many competitors are vying for customers. Despite the myriad competitors in this industry, Nexo continues to thrive thanks to its highly competitive rates and excellent services.
Its unbeatable features make it a practical choice for any customer looking for an optimal solution.
There is a risk of loss in lending during bear markets
When the prices of digital assets or currency plunge drastically, it can devastate those who borrowed them as they experience considerable losses. Precautionary measures must be taken to deflect this potential disaster, such as establishing stop-loss orders to safeguard borrowers when market values fall below a prearranged limit.
Nonetheless, there remains a fair degree of uncertainty about the reliability of this protection against bear market conditions, leaving lenders vulnerable to potentially significant financial losses if circumstances turn out less favorably than anticipated.
There are problems and limitations to withdrawals
Although measures are in place to protect against hackers, these security protocols can also make it difficult for customers looking to access their funds quickly and easily.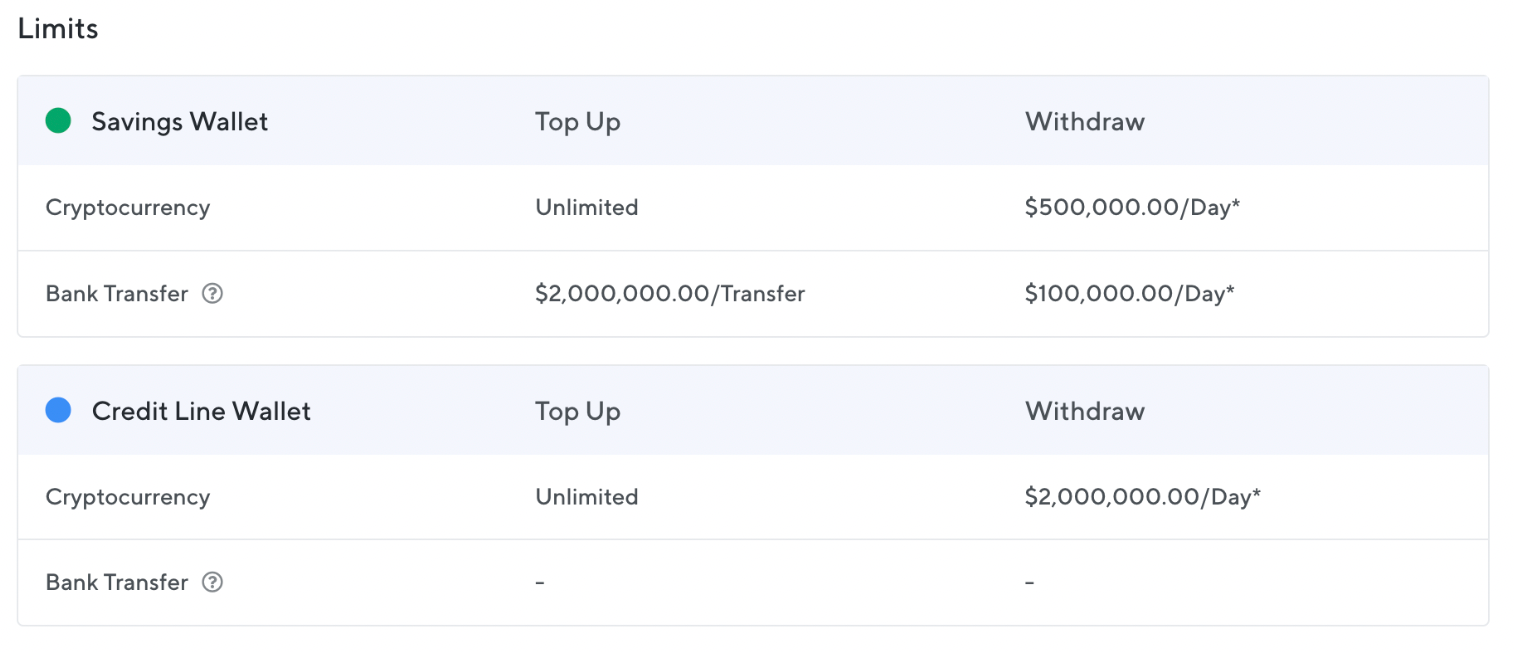 This has been an incredibly disappointing experience for Nexo customers used to effortless withdrawals via online wallets. This extensive inconvenience has caused great distress among them.
Withdrawal issues have ranged from delays in processing to complete rejection due to confusion surrounding the complexities. Such problems have greatly reduced user satisfaction and left potential customers wary of trusting their assets to this service. Whether Nexo can address these issues and restore faith in its platform remains to be seen.
Some competitors offer better interest rates
Though Nexo is a great way to set up a loan lineup that best fits your individual needs, competitors have better interest rates on offer. This means shopping for different lending options may be necessary to get the best rate and terms for yourself or your business.
If you're patient and willing to spend some time doing research, you can most likely find a loan package that works best for your situation. Fortunately, Nexo remains one of the most popular digital loan providers, so you'll have many choices.
Users must hold a NEXO token to receive the best rates
This can discourage users who don't know much about digital assets and crypto trading, as they may not want to branch out from what they're familiar with.
Although there are various benefits to holding NEXO tokens, such as discounts on loan interest and automatic borrowing rights for bank transfers, those lacking the time or willingness to do so may have difficulty taking advantage of them without selling them.
Consequently, individuals must thoughtfully examine the benefits and drawbacks of using Nexo with or without holding NEXO tokens before making any economic choices.
Nexo Features
Better buying experience on the Nexo web platform
Nexo is constantly striving to improve the user experience of its web platform, and its latest updates prove it. Using the markets page or Nexo Booster lets you complete crypto transactions quickly! No more waiting for hours, as any transaction will be done within seconds.
And if that wasn't enough, Nexo makes sure these quick transactions are available regardless of whether you're using the Nexo app or website. Thanks to Nexo, the goal of improving your buying experience has never been more obvious than it is right now.
Ethereum smart staking
Ethereum smart staking is an approach to generating profits through blockchain technology. By participating in a 4-step staking process, investors can earn rewards for their cryptocurrency holdings without worrying about the complexity of managing and transferring funds.
You can easily stake your Ethereum with Nexo and enjoy a stress-free reward. All you have to do is make an exchange transaction. Exchange your ETH for Nexo Staked Ethereum (NETH) at a 1:1 ratio. With this simple step, you join the validation process of the Ethereum network through Nexo's validator node and watch as rewards start rolling in.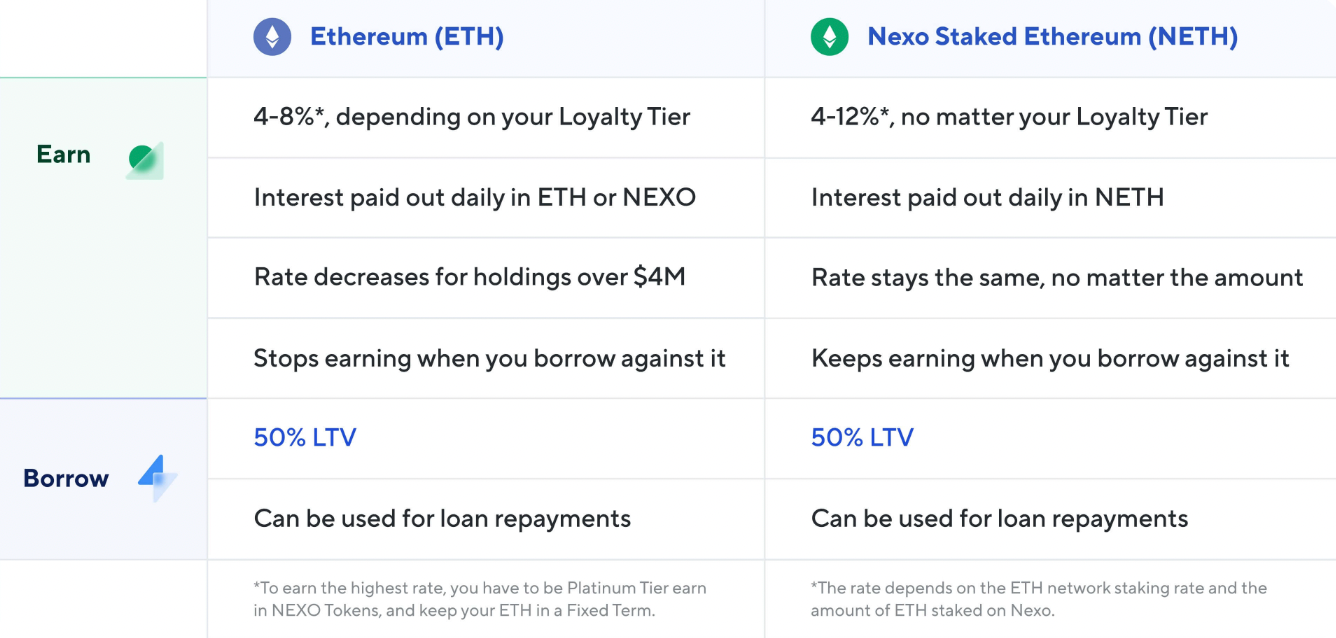 With Nexo, you can have the best of both worlds: passive income without spending time and energy. Staking has never been easier!
Nexo debit card makes it easy to access and spend your funds
The Nexo debit card makes spending your crypto funds easier than ever before. This helpful feature of the Nexo platform allows users to easily access their crypto asset holdings, whether they need cash or want to pay for goods and services.
With the ability to instantly exchange your crypto holdings into fiat currency, the Nexo debit card is the perfect way to make all sorts of payments easily. Users never have to worry about conversion rates or fluctuating crypto market prices, as the Nexo platform provides convenience and reliability in one powerful package.
Users can use Metamask directly on Nexo
The Nexo platform utilizes MetaMask wallets to enhance user experience, providing a frictionless and direct connection between a user's on-chain Nexo wallet and the assets supported by Nexo.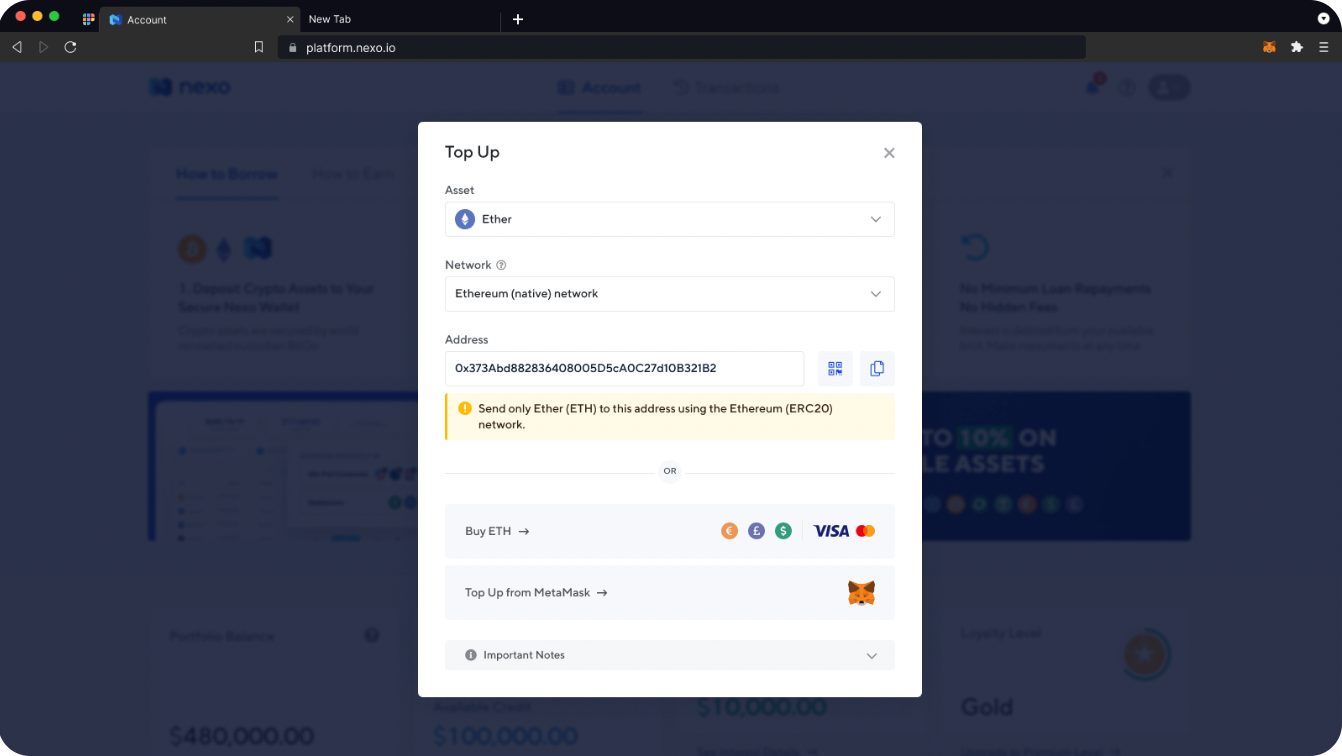 By integrating MetaMask wallets into our platform, Nexo is further pushing for seamless interoperability and increased usability. Moreover, this integration helps eliminate errors in the transaction process and creates an intuitive on/off ramp for cryptocurrencies.
Nexo is bridging the Ethereum Mainnet with Polygon, bringing users closer to the decentralized world and streamlining their interactions with our products.
Through this enhanced integration of MetaMask wallets into our platform, the exchange aims to ensure that it remains at the forefront of cutting-edge blockchain technology.
Nexo card rewards
The Nexo card rewards turn the traditional credit card approach on its head by giving crypto rewards. When using the Nexo Card, users don't need to convert their idle crypto assets into fiat currency, avoiding potential profits or losses from the transaction and exchange rate. Instead, their idle crypto assets remain secure in a portfolio, serving as collateral for purchases.
With this card, HODLers can reap the benefits of their investments unprecedentedly! As they use it to make payments at millions of locations worldwide that accept Mastercard, customers will receive rewards for any appreciation in the value of their crypto holdings.
It's a dream come true for anyone serious about cryptocurrency, far more than many other crypto-backed loans and debt solutions.
Opening a Nexo Account
Step 1: Go to the website & click 'Get Started.'
Go to their website and click the [Get Started] button in the top right corner.
You'll then be walked through the process of providing basic personal details and start trading digital assets on the Nexo exchange.

Step 2: Enter your e-mail and password
The second step is to enter your e-mail and password. Not only will this be used as a point of authentication so you can securely access your bank account in the future, but also as a means of communication between the exchange and yourself, so you're always kept in the loop.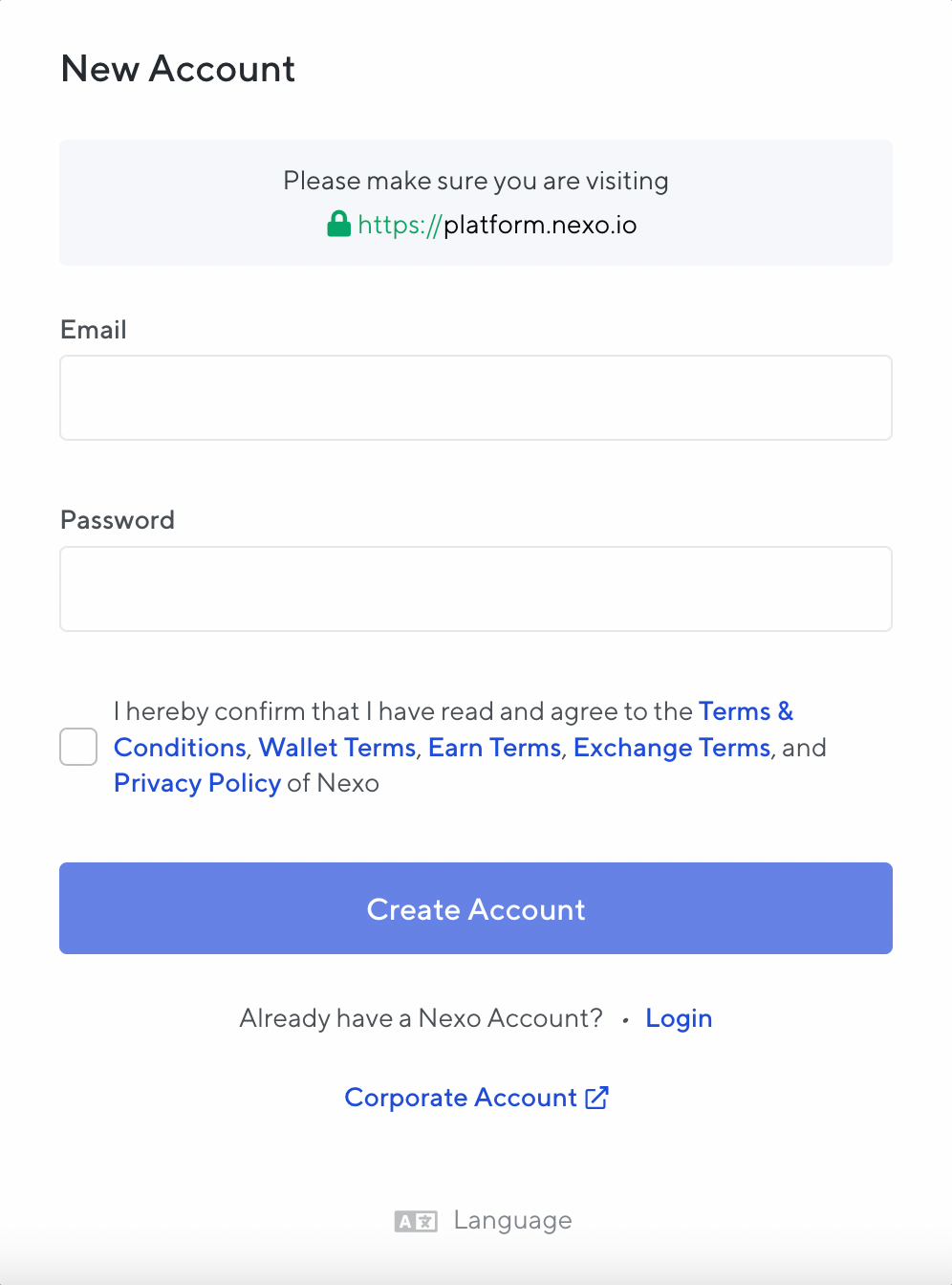 You'll also need to click on terms and conditions before clicking 'create an account.'
Step 3: Verify your e-mail
Check the e-mail address you provided when signing up for your Nexo exchange account.
Click the verification link to activate your account fully.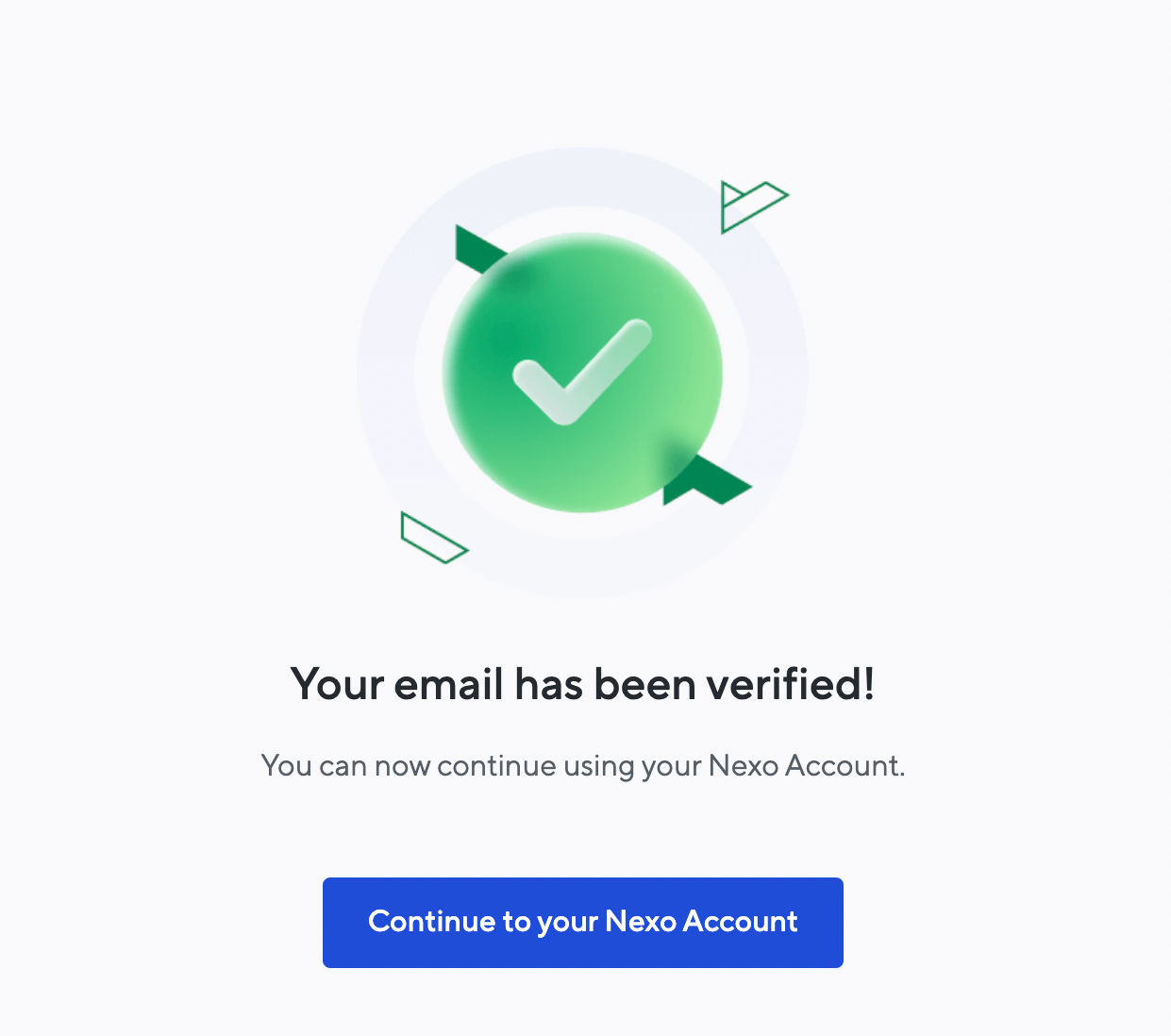 Step 4: Start trading
After you've verified your e-mail, you'll be taken to the dashboard of your new account.
You'll find all the accessible features in your account, including buying and selling cryptocurrencies.
However, before you start trading, you'll be required to verify your identity through an easy verification process to ensure higher security standards. After this, you can top-up your account and start trading.
Improvements
Fewer altcoins compared to competitors
The crypto industry has boomed, and the demand for various altcoins and tokens is at an all-time high. As it stands, Nexo exchange offers a great platform to trade cryptocurrencies, but with an extended range of coins available, it could become one of the best exchanges in the world.
By broadening its coin selection, users can locate even more digital assets that meet their requirements on this accessible exchange – offering boundless potential opportunities. Investors are always looking for ways to diversify their portfolios, so having multiple fiat currencies readily available would make them more likely to trust the exchange.
Offering new coins can encourage people without previously owned cryptocurrencies to try the service. Reaching out to these potential customers can significantly widen Nexo's customer base and lead to profits in no time.
Not as high interest as competitors'
One area where Nexo needs to gain an edge against competitors is its interest rates. Although their current rate remains competitive, it still lags behind other crypto lending platforms providing customers with up to 12% annual interest.
By boosting the interest rates for its loan products, Nexo will be able to attract more customers and increase its customer base. Furthermore, increases in the interest rate will persuade existing customers to stay as they find Nexo's services even more attractive.
You can earn interest off only stablecoins
At Nexo, users can earn interest on cryptocurrencies like stablecoins. However, the platform could be improved by allowing users to earn interest on their earnings from other non-stablecoin cryptocurrencies.
This would extend the benefits of Nexo to an ever broader range of digital assets, giving users a secure and easy way to grow their crypto portfolio with an interest payout and minimal risk. Enhancing their potential for earning interest through a range of digital currencies would open up more access to the world of virtual finance for all crypto holders.
Nexo could further advance its status as an industry leader in cutting-edge banking solutions by improving this feature, allowing them to stay ahead in the ever-changing realm of digital banking.
Nexo card is not as widely accepted as a VISA card
The Nexo Card is an essential platform aspect, granting users seamless access to their funds. Unfortunately, it only utilizes a Mastercard, not VISA, limiting consumers' options. Nevertheless, the Nexo card remains invaluable as part of the larger ecosystem through its ease of use and convenience.
By increasing acceptance and diversifying fintech products, such as adding features like contactless payments and rewards programs, Nexo can further improve the user experience of using the card. Doing so will help extend reach to new markets and open doors for future collaborations to enhance what is already available.
Summary
Nexo is a good choice for anyone who wants a swift and simple way to trade cryptocurrency and borrow some fiat currency or money. The mobile app makes accessing your bank account information and requesting loans even more convenient. Of course, the only downside of using Nexo is that you must possess their tokens if you'd like to obtain the most favorable loan rates.
We recommend Nexo as a good choice for anyone looking for an authentic and trustworthy platform.
Can you trust Nexo? Nexo has earned a reputation as a reliable and legitimate crypto savings and lending provider. With regulation and licensing in over 200 countries, Nexo also offers $100 million insurance against theft, thanks to its custodian, BitGo.
Stake your cryptocurrency in Nexo to earn interest and create passive income. With an average rating, the Nexo Crypto Wallet app allows you to earn interest on your staked crypto. Depending on the type and amount of crypto coin you stake, you can earn up to 20% interest.
Withdrawing Nexo:

1. Go to your Wallet and click the "Withdraw" button.
2. Choose the Nexo wallet in the "Withdraw from" field.
3. Select an existing withdrawal address or add a new one.
4. Input the amount of Nexo you want to withdraw.
5. Click the "Review Withdraw" button.
6. A confirmation screen will appear.
Nexo Finance, headquartered and registered in Zug, Switzerland, operates under the leadership of three Managing Partners. The company has always been transparent about this public information and gladly shares it with clients.