Rating

4.5

Tradable Coins

100+ (BTC, ERC20)

Payment Options

Yes

Fees

1%
Our Review
With Coinbase Wallet, you can access a mobile app and browser extension, enabling seamless support for numerous cryptocurrencies. Moreover, it offers built-in functionality to interact with decentralized applications, allowing you to participate in staking, yield farming, and non-fungible tokens (NFTs). This wallet caters to existing Coinbase customers and crypto investors seeking a user-friendly digital wallet option.
Pros
Seamless fund transfers from Coinbase exchange.

Extensive range of supported cryptocurrencies.

Access DApps, staking, and NFT marketplaces.
Cons
No cold storage integration.

Lacks educational material.

Limited NFT support.
Coinbase Wallet Review 2023: Is It The Best Hot Wallet?
TLDR
This Coinbase wallet review will explore its features like solid security measures, ease of use, and appealing design, making it a reliable choice for trading cryptocurrencies.
Coinbase Wallet stands out among competitors with its comprehensive support for Bitcoin, Litecoin, and 100+ digital assets, offering a more comprehensive range of options when managing crypto. However, these additional coins are exclusively accessible through the mobile wallet.
For seamless sending, receiving, and effortless swaps, a mobile wallet is a solid option, while the Coinbase Chrome extension provides a reliable means of engaging with Web3 applications on desktop devices.
How to use the Coinbase wallet?
Coinbase Wallet enables the seamless sending and receiving of crypto assets on the blockchain. Here are a few reasons why and who should use it as a default wallet:
For beginners
For newcomers entering the world of cryptocurrencies and digital assets, Coinbase Wallet stands out as an ideal choice. This crypto wallet allows users to hold many cryptocurrencies securely, non-fungible tokens (NFTs), and other digital assets.
What sets Coinbase apart is its commitment to education. The platform offers extensive learning modules designed to guide beginners in understanding cryptocurrencies and digital investments.
Furthermore, eligible users can earn rewards for completing online courses and training modules, making Coinbase Wallet an excellent option for those just starting in crypto.

For existing Coinbase exchange users
If you're an existing Coinbase exchange user and use it for trading and storing your tokens, look no further than the Coinbase wallet. It seamlessly integrates with the Coinbase trading platform, ensuring a smooth user experience and advanced features.
On top of that, you can enjoy lower trading fees by quickly moving funds between your Coinbase wallet and Coinbase account, with diverse crypto support, including popular options like Ethereum, Solana, and Zora. All in all, Coinbase Wallet is a reliable storage option for individuals with diversified crypto portfolios.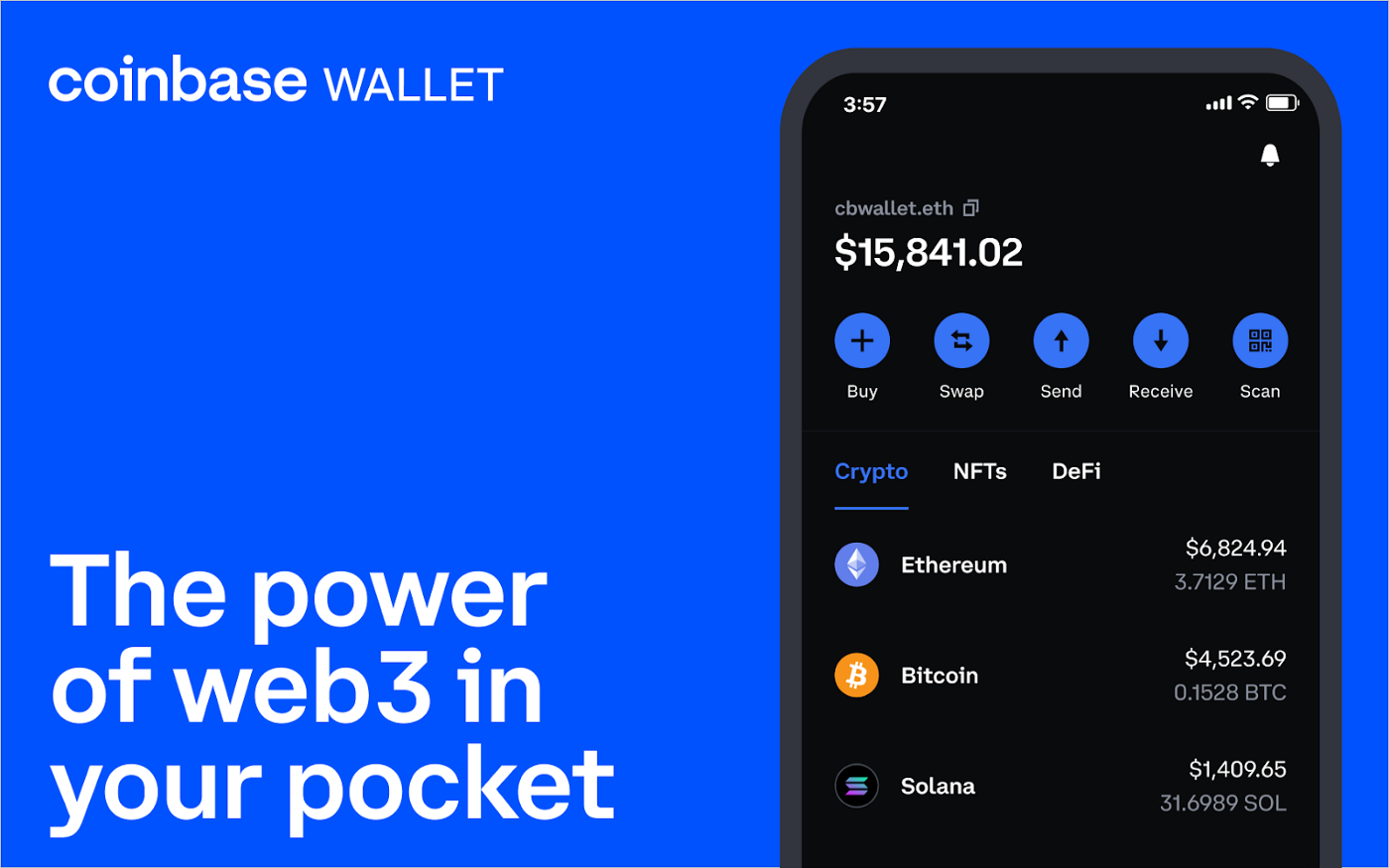 Restricted countries
Coinbase is a globally available platform, operating in over 100 countries across North, Central, and South America, Europe, Asia, Africa, and the Middle East. Still, it has to comply with the US and international laws to ensure smooth operations. Currently, its operations are prohibited in some regions. Here are a few names:
China
Russia
Iran
North Korea
Pakistan
What makes Coinbase Wallet a good choice?
Finding the perfect wallet that fits your needs can be a hectic task. But this review will make it easy to make an informed decision. Here are a few reasons that make Coinbase wallet a decent choice for crypto enthusiasts.
User-friendly design
Coinbase wallet's intuitive interface is especially advantageous for newcomers, offering clear, step-by-step instructions throughout the setup process. The desktop version offers essential functionalities for users to trade, swap, and explore decentralized finance conveniently.
However, the wallet interface does not open in full screen, making navigation between items slightly challenging.
On the other hand, Coinbase Wallet on mobile phones provides a seamless and user-friendly experience. The asset section is the home screen, allowing users to effortlessly buy, sell, or swap their assets.
To access decentralized applications (dApps), tap on the browser option at the bottom of the screen. The mobile app is designed for speed and smooth navigation across different sections. In short, the Coinbase Wallet app is particularly suitable for beginners, as it utilizes straightforward and concise language to outline its various features.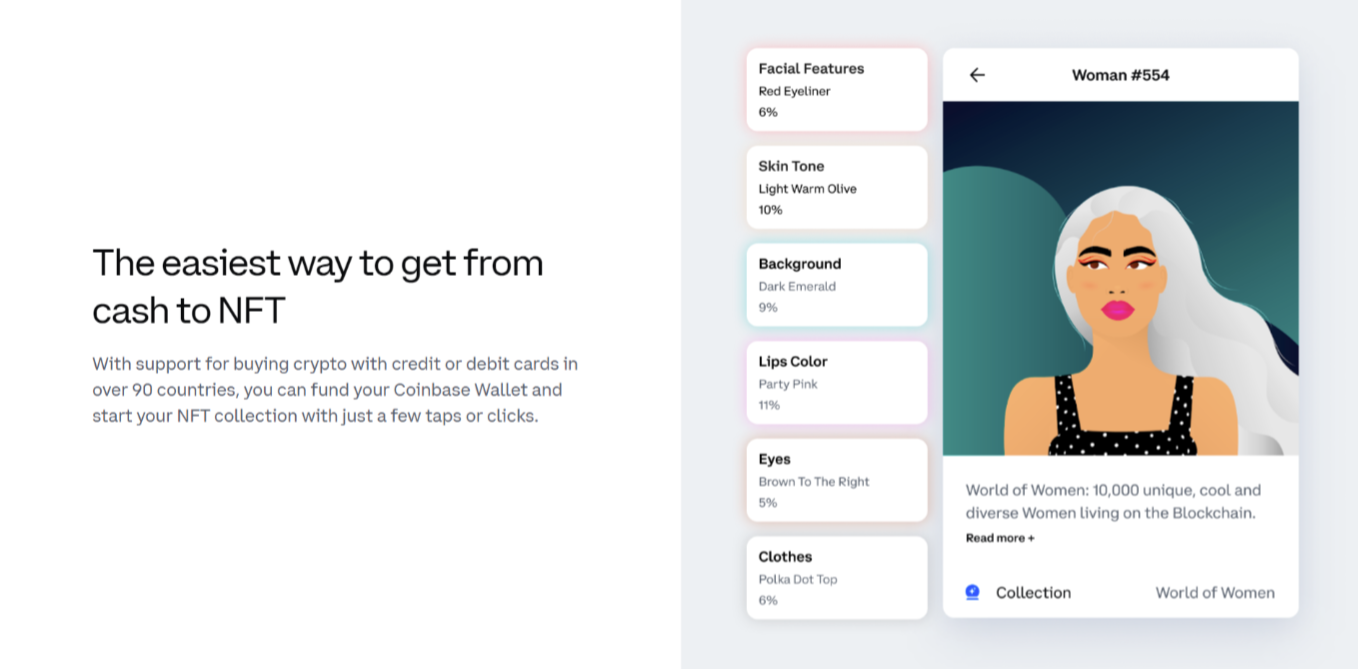 Free crypto wallet
You can download the Coinbase wallet app for free to access the dApps or store crypto, regardless of whether you're an existing Coinbase customer. Interestingly, it does not charge fees for storing many cryptocurrencies and NFTs.
But for sending and receiving cryptocurrency, transaction fees do apply to users. These fees are required for the transaction validators on the cryptocurrency's respective blockchain.
Moreover, the wallet follows strict Know Your Customer (KYC) regulations as part of its policies. Individuals with a less favorable credit history may find this wallet less suitable. However, the wallet's impressive features and comprehensive support services are bound to be appreciated by all users.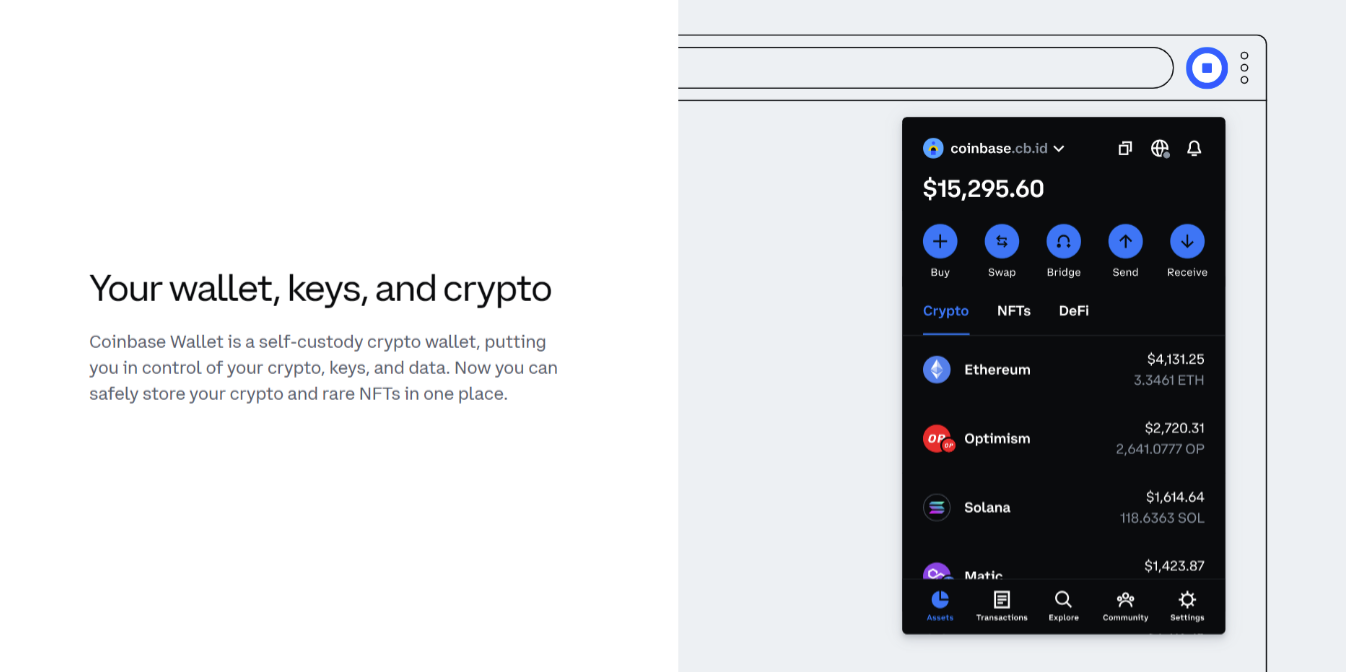 Supports fiat and Crypto
A centralized storage solution for a diverse crypto portfolio is convenient, and Coinbase Wallet offers just that. The wallet supports various cryptocurrencies, encompassing all ERC-20 tokens and tokens built on EVM-compatible blockchains.
With Coinbase Wallet, users can store and manage their digital assets in a single location effortlessly. The wallet includes a range of cryptocurrencies, such as:
Bitcoin (BTC)
Ethereum (ETH)
Bitcoin Cash (BCH)
Litecoin (LTC)
Ethereum Classic (ETC)
Ethereum
US-dollar Ethereum (USDC)
Basic Attention Token (BAT)
Chainlink (LINK)
Zcash (ZEC)
Augur (REP)
Ripple (XRP)
Lumen (XLM)
Electro-Optical System token (EOS)
Dai (DAI)
In addition to cryptocurrencies, Coinbase Wallet supports various fiat currencies worldwide. Users from different countries can conveniently add funds to their wallets using over 50 fiat currencies, including the US Dollar (USD), Canadian Dollar (CAD), Australian Dollar (AUD), Euro (EUR), and more.

Built-in dApp browser
Coinbase Wallet features a convenient built-in browser for exploring decentralized applications (dApps). Users can seamlessly interact with various types of dApps within this browser, including decentralized crypto exchanges, crypto lending platforms, games, and digital collectibles.
It's important to note that the dApp browser integrated into Coinbase Wallet is developed by a third party and is not directly owned by the Coinbase platform. Like Trust Wallet, Coinbase Wallet's dApp browser provides a simple API that facilitates the integration of wallet services into dApps.
This enables dApp developers to create multi-chain Coinbase applications, leveraging the capabilities of the Coinbase API. Presently, the Coinbase API supports functionalities such as enabling a Coinbase wallet account and facilitating the signing of crypto transactions on iOS and Android mobile devices.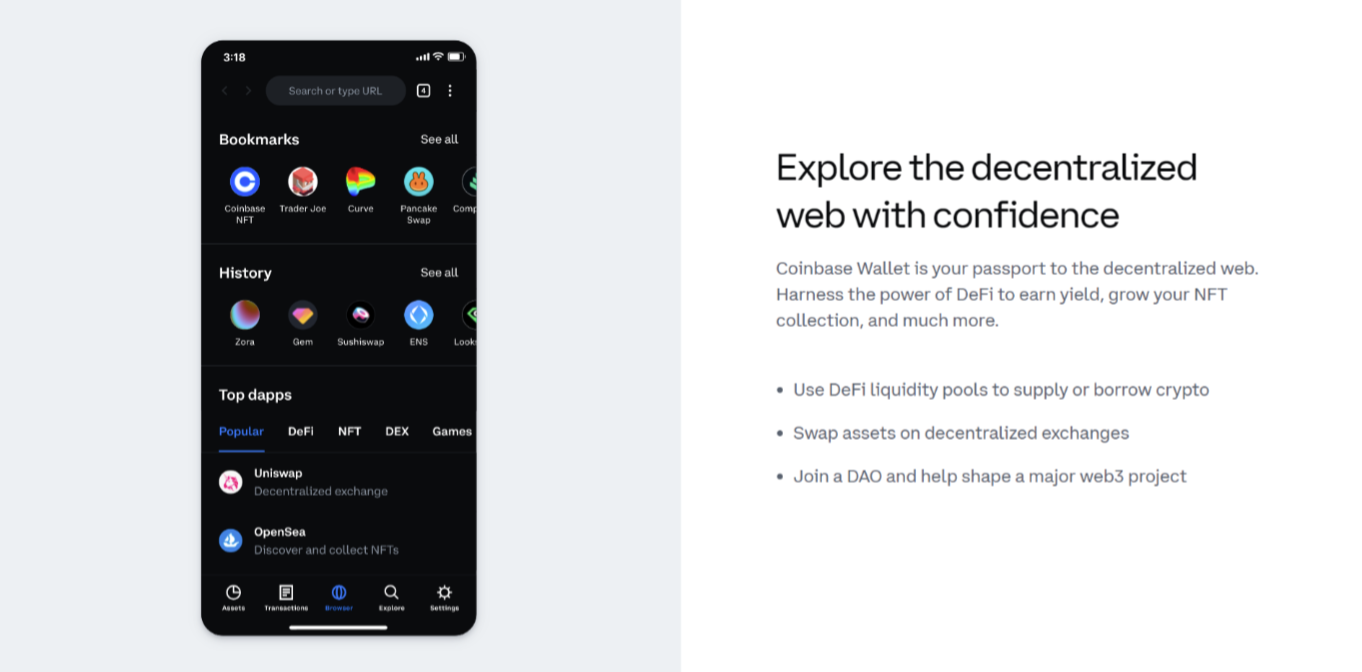 ---
Registering your wallet with Coinbase
Coinbase wallet is tailored explicitly for newcomers to the cryptocurrency world, ensuring a user-friendly experience for beginners. Its intuitive design makes it easy for first-timers to navigate without complications.
With Coinbase Wallet, you can access a mobile app and browser extension, enabling seamless support for numerous cryptocurrencies. Moreover, it offers built-in functionality to interact with decentralized applications, allowing you to participate in staking, yield farming, and non-fungible tokens (NFTs). This wallet caters to existing Coinbase customers and crypto investors seeking a user-friendly digital wallet option.
---
Seamless fund transfers from Coinbase exchange.

Extensive range of supported cryptocurrencies.

Access DApps, staking, and NFT marketplaces.
No cold storage integration.

Lacks educational material.

Limited NFT support.
To begin your journey with the Coinbase wallet, follow these three straightforward steps in this review:
Step 1: Download the app
You must download and install the app to start setting up your wallet. Go to the website and select the right app for your operating system. When done, click [Download].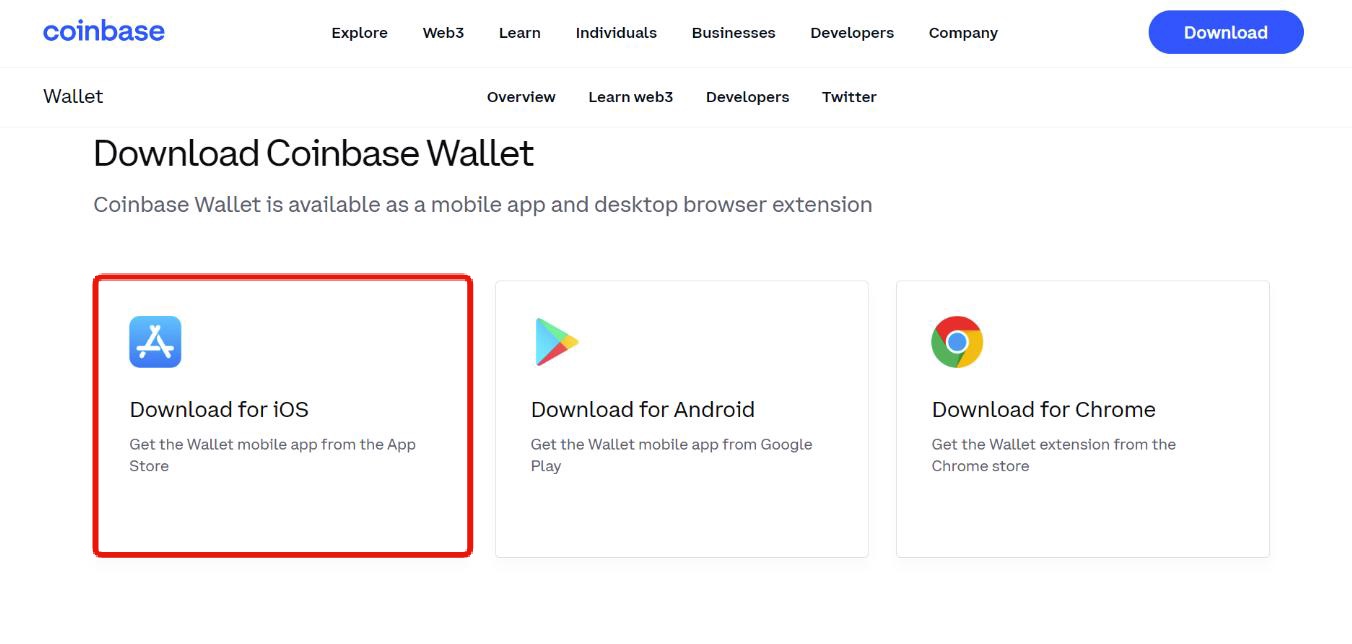 Step 2: Open the app
Once you have downloaded the app, please open it and follow the prompts.
After that, you will be asked to choose if you already have a wallet or are setting up a new one. Select [Create New Wallet].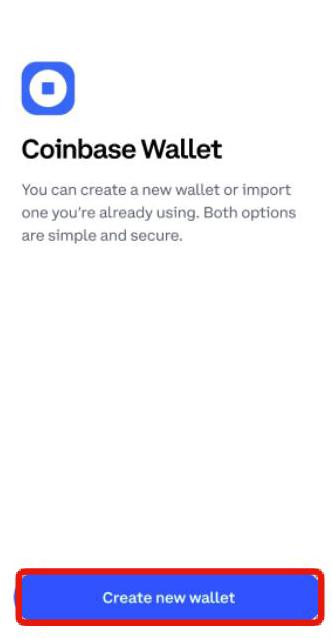 Step 3: Enter details
On the next screen, type in the username you will use to receive and send digital assets to your wallet. Click [Submit] when done.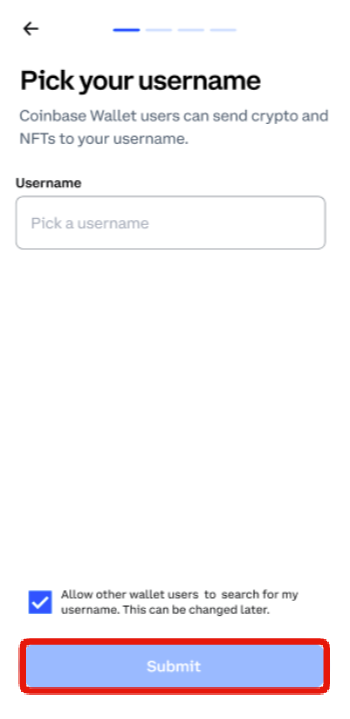 Step 4: Confirm the recovery phrase
Once you have a username, it's time to back up your recovery phrase. You can copy your recovery phrase and paste it somewhere safe or save it on your Google Drive or Cloud.
After that, click [Continue].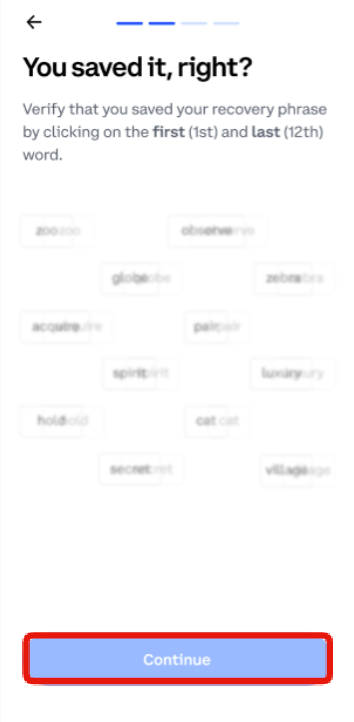 Congratulations! You are now all set to start exploring.
Coinbase Wallet Review: Top Features
In this Coinbase Wallet Review, you see some advanced features that set Coinbase Wallet apart from its competitors:
Robust security
Coinbase recognized as one of the leading crypto exchanges, maintains a strong reputation for its robust security measures. With no history of hacks or data breaches, Coinbase's commitment to security serves as a positive indication of the reliability and safety of Coinbase Wallet, despite being separate products.
While Coinbase Wallet places you in complete control of your funds, it's crucial to prioritize safeguarding your devices, passcodes, and recovery phrases. Sharing your passcode or recovery phrase can expose you to scams and the risk of crypto theft.
The Secure Enclave feature is critical in instilling trust in this hot wallet. Coinbase leverages Secure Enclave technology to store users' private keys, securely ensuring secure protection. Access control is implemented through various authentication options, including 2FA.
Users can access the wallet through SMS authentication linked to verified phone numbers. In exceptional cases, Google Authenticator is also employed.
Additionally, the Coinbase wallet app provides an extra layer of security with a four-digit security PIN. This PIN serves as a means to unlock the wallet on the mobile app and authorize transactions, further bolstering the wallet's security.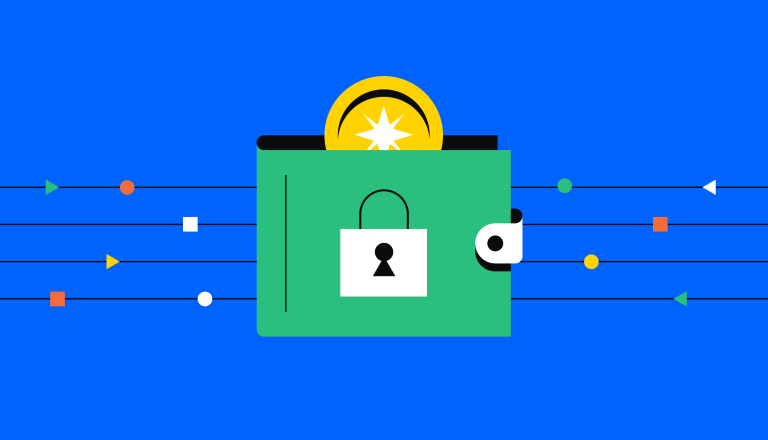 Anonymity and data protection
Coinbase Wallet prioritizes anonymity and data protection by implementing robust security measures. All traffic within the wallet is processed through web-based, multi-layered SSL encryption, using HTTPS to ensure a secure connection.
Users can confidently store sensitive user data, as the wallet employs AES-256 encryption to safeguard their information. Coinbase Wallet generates backups stored on FIPS-140 USB drives to enhance data redundancy and protection.
These drives are then securely stored in physical deposit boxes and safety vaults distributed across various global locations. It's fascinating how this distributed storage system provides an extra layer of security, ultimately reducing the possibility of losing or compromising data.
With these stringent security measures in place, Coinbase Wallet provides users with peace of mind regarding the anonymity and protection of their data.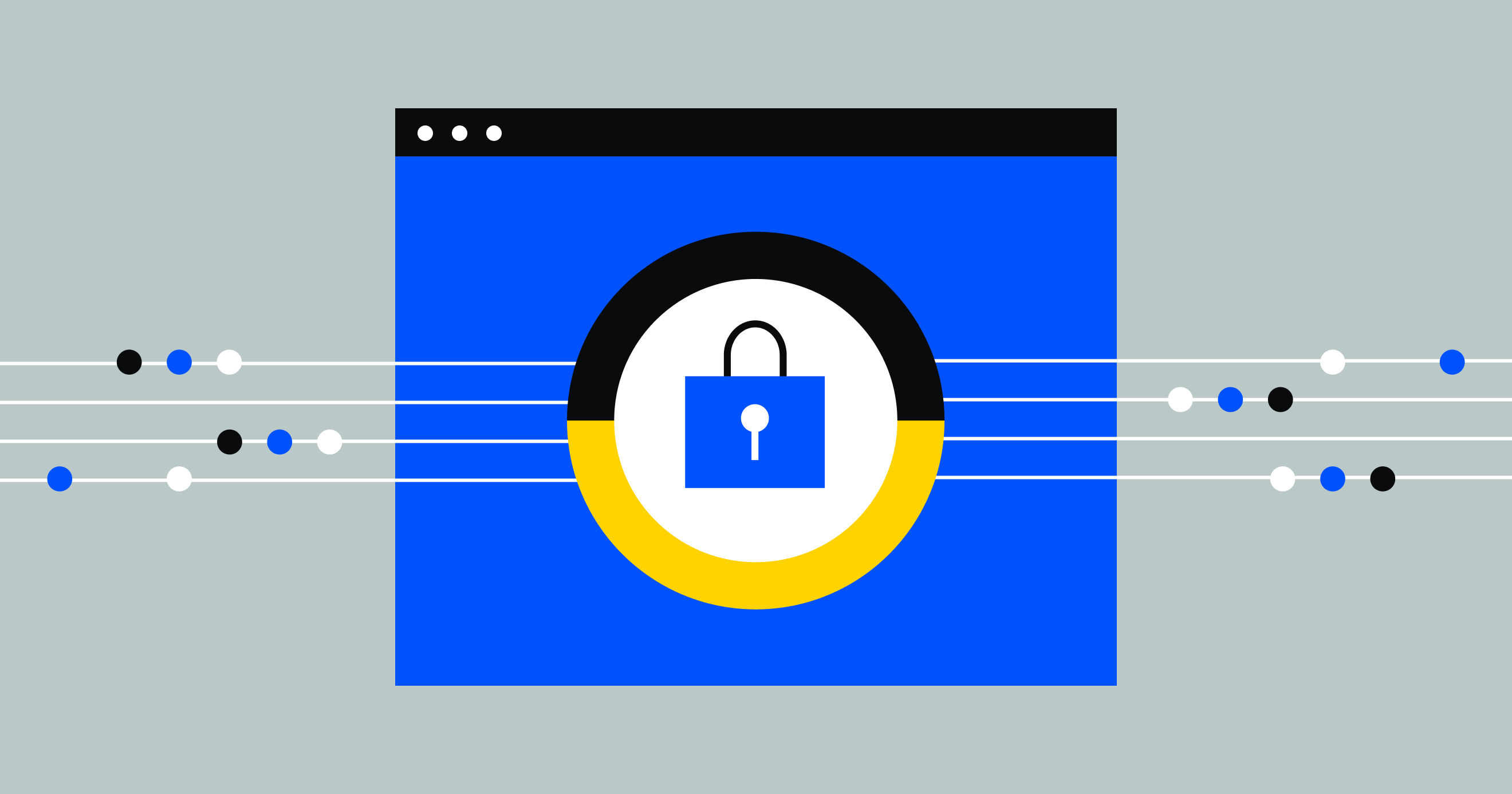 Hassle-free wallet setup
The registration process for Coinbase Wallet is quick and straightforward and follows a familiar pattern seen in other crypto wallets. You must download the app on your Android or iOS device, as the wallet is primarily mobile-based.
A standout aspect mentioned in customer feedback is Coinbase's implementation of two-factor authentication (2-FA), which provides additional protection. This guarantees the security of your cryptocurrency.
Additionally, the interface design of Coinbase Wallet deserves praise for its sleek and clean appearance. This adds to the wallet's simplicity, making it easy to navigate different functions and access your funds without confusion.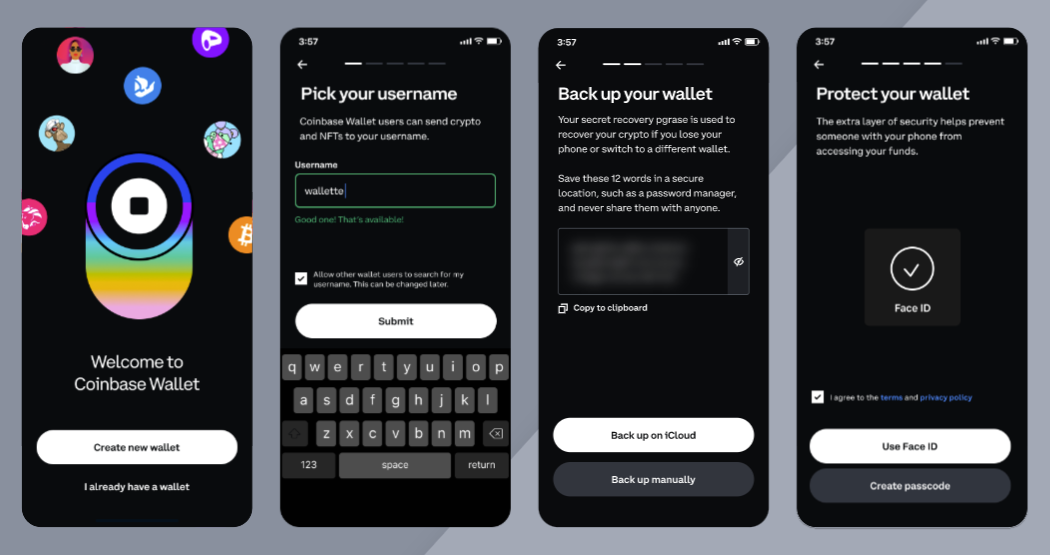 Reasonable Costs & Fees
While Coinbase Wallet and exchange services involve transaction fees, there are specific cases where fees may be waived. For instance, transferring Bitcoin Cash (BCH) between Coinbase wallets incurs no transaction fees. However, users may still need to cover network fees when transacting with other crypto wallets.
Trading on the Coinbase platform is subject to variable fees based on the payment method, user location, and trade order mode (standard or instant). These fees range from 1.49% to 3.99% of the total amount.
Coinbase also offers crypto debit cards at an issuance fee of £4.95. These cards allow for free domestic usage, with monthly cash withdrawals of up to £200. Transactions exceeding this limit are subject to a 1% transaction fee.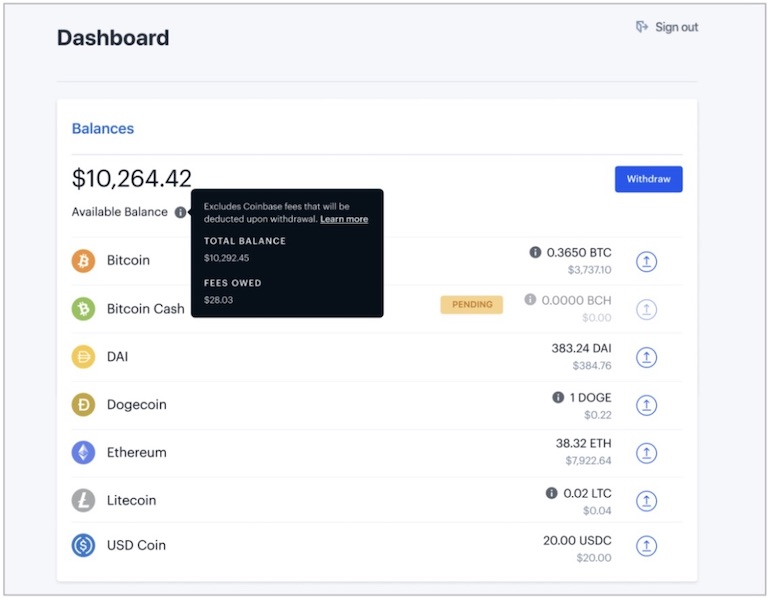 Other In-App features
Coinbase Wallet supports networks such as Bitcoin, Ethereum, Binance Smart Chain, Dogecoin, Litecoin, Polygon, Stellar, and Ripple. It also extends support to Ethereum Layer-2 solutions like Arbitrum and Optimism.
The wallet's decentralized exchange feature lets users directly swap Ethereum and Polygon assets within the app. Non-Ethereum and Polygon assets can be conveniently purchased using the in-app crypto buying option.
Additionally, Coinbase Wallet allows you to earn interest on crypto assets through staking. And finally, displaying and storing NFTs on the Ethereum and Polygon blockchains is seamless and free.
Customer Service
Coinbase values customer satisfaction and offers various means of support. Coinbase customers can contact their dedicated support representatives through phone, e-mail, and Twitter.
By logging into the Coinbase website, users can access a convenient e-mail support form to submit their inquiries. The form also includes a phone number for direct communication.
Submitting the online form ensures users receive the best possible customer support tailored to their needs. Coinbase is committed to providing prompt assistance and resolving users' concerns about their wallet experience.
What could be improved?
While Coinbase Wallet provides convenience and ease of use, implementing additional security measures could further enhance user trust. Exploring options for integrating cold storage solutions or incorporating multi-factor authentication could bolster the overall security of the wallet.
Introducing the option for cold storage, such as hardware wallet integration, would provide users with an added layer of security. By enabling offline storage for cryptocurrencies, Coinbase Wallet can give peace of mind to those prioritizing maximum digital asset security.
Moreover, Coinbase Wallet offers a user-friendly app and browser extension for Google Chrome; broadening compatibility to other popular browsers would cater to a broader range of users' preferences and provide greater accessibility.
While the Wallet offers access to various decentralized applications, continuously expanding the range of supported DApps would offer users a more diverse ecosystem to explore. Specifically, incorporating additional staking tools and NFT marketplaces would further enrich the user experience within the wallet.
Coinbase Wallet Review: Final Verdict
We showed you in this review that the Coinbase wallet stands out as an exceptional choice among cryptocurrency wallets. It is poised to continue advancing security and efficiency for crypto transactions soon. While the wallet's support for digital currencies may be limited, it compensates by accommodating other wallets and fiat currencies.
This well-tested wallet is an excellent companion for experienced digital currency enthusiasts and beginners. With its strong emphasis on rigorous security measures and an untarnished track record free from any hacks, Coinbase Wallet instills confidence and peace of mind.
Undoubtedly one of the most accessible cryptocurrency wallets to navigate on the market, Coinbase is a top choice for global crypto enthusiasts due to its trustworthy reputation.
---
Coinbase Wallet supports a wide range of cryptocurrencies, such as Bitcoin (BTC), Ethereum (ETH), Bitcoin Cash (BCH), Litecoin (LTC), Ethereum Classic (ETC), and additional options. It supports numerous fiat currencies and payment methods, including Apple Pay and Google Pay.
Yes, Coinbase Wallet is considered safe, offering industry-leading security measures like Secure Enclave technology and authentication options like 2FA, biometrics, and passcodes.
Coinbase Wallet does not mandate KYC (Know Your Customer) verification. Hence, it is accessible to all without any compulsion of identity verification.
Yes, Coinbase Wallet is free to use. There are no charges for creating and using a Coinbase Wallet account. However, there are fees for transactions that vary depending on the blockchain and payment methods.