How to Buy Bitcoin on eToro: A Quick Guide For 2023
TDLR
This step-by-step guide solves the "How to buy Bitcoin on eToro?" question.
The basic steps are the following:
Step 1: Visit the eToro official website.
Step 2: Register on the site.
Step 3: Verify your email address and KYC.
Step 4: Transfer funds to your crypto wallet.
Step 5: Buy BTC.
If you already have an eToro account, skip to the "How to buy Bitcoin" section. Let us dig in.
Create An Account On eToro
To register with eToro, you can follow the steps below. The process is similar to that of most popular exchanges.
eToro is a popular online trading platform for crypto assets, stocks, and ETFs, featuring low fees and a user-friendly interface. With a free eToro wallet and social features like messaging boards, users can copy experienced traders and access numerous assets. Take a look at what makes this platform perfect for starting your trading journey.
---
Provides an attractive, communal atmosphere.

Offers zero commission on ETFs.

Extensive selection of educational resources.

Mobile app with trading features.

Smooth account opening and bank transfer.
Limited number of cryptocurrencies.

Limited customer support.

No crypto-to-crypto trading pairs.
Step 1: Visit The eToro Website
First, download the eToro mobile app or visit the official exchange website. After logging in, click the [Get Started] button on the main page.
Step 2: Register Your Account
You have two registration options:
Register using your email or
Continue linking your Facebook or Google account.
Step 3: Verify Your Email Address
After clicking the green [Create Account] button, you will receive a confirmation mail to your e-mail.
Type the 6-digit number in the required place on the popular platform, and click the [Activate Now] button.
If you are experiencing problems with receiving emails, we suggest contacting the customer service team for assistance.
Step 4: Verify Your eToro Account
To verify your account and comply with money laundering, you must conduct KYC (Know Your Customer) before buying Bitcoin. This is a standard procedure all major exchanges do to be compliant.
Rest assured that your data and Bitcoin purchases will be encrypted.
Upload the relevant documents:
Proof of Identity (POI) and Proof of Address (POA).
First, upload your ID. Make sure that the front and back of your ID are visible. The approval and verification process is fast, as the checking process is performed by artificial intelligence.
After confirming your identity, upload a document that includes your address. This can be in the form of a Tax Letter, Credit Card Statement, Bank Statement, Phone Bill, or Internet Bill.
Congratulations, you have completed all the necessary steps to purchase Bitcoin. You can now trade Bitcoin directly from the eToro app or website.
---
How To Buy Bitcoin On eToro?
Now that you have an account on eToro, let's go through the process of purchasing Bitcoin.
Step 1: Visit the eToro Website
Log in to the eToro account.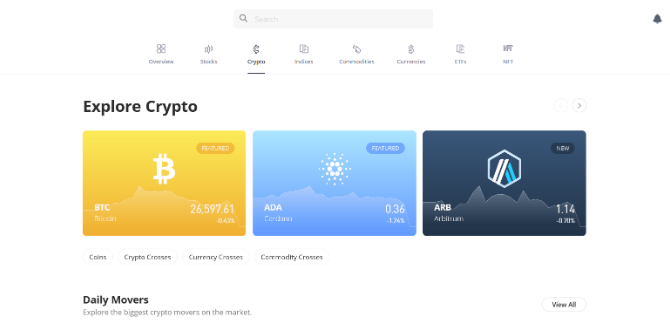 Step 2: Search for Bitcoin
Navigate to the top of the site and click the [Search Box].
Type [Bitcoin] and click on the [BTC] market on the first line.
Step 3: Start To Invest
On the top right corner of the page, click the green box with the word [Invest]. You will be navigated to the buying page.
Step 4: Fund your account
Lastly, fund your account with the preferred amount for purchasing Bitcoin. Add your card number, name, expiry date, and CVV.
To buy with your credit or debit card, click the [Deposit] button. Remember that the minimum deposit to purchase Bitcoin is $10.
Step 5: Specify Trade Details
Within the trade window, you must define the specifics of your Bitcoin purchase. Select how much Bitcoin you wish to buy (you may also input this value in your local currency).
You can determine a price for executing the trade (if needed) and, if desired, incorporate any stop-loss or take-profit measures.
Step 6: Review and confirm the trade
Check the trade details to see if they're correct. Make sure you have enough money in your account to buy what you want. If everything looks good, click the [Open Trade] or [Buy] button to finish your purchase.
Congratulations! You received a Bitcoin transfer to your wallet. You can hold onto this amount or sell it at your discretion.
Here are some other platforms where you can send or buy Bitcoin:
Demo Account
A demo account is vital for seasoned investors or those without experience in crypto because you can learn how to trade cryptocurrency on the market with an unreal balance.
On the eToro platform, every user is given a pretend balance of $100,000. We suggest using this balance to become proficient in trading. Take time to navigate the interface, click different buttons, and learn about eToro's features.
Click your wallet's [Virtual Portfolio] button to create a demo account.
Is eToro a Safe Exchange to Buy Bitcoin?
After explaining how you can buy and sell Bitcoin on eToro, we'll describe why eToro is a good choice to start trading for crypto trading now.
What is eToro?
eToro, which operates in over 140 countries, was established in 2007 by Yoni Assia, Ronen Assia, and David Ring. The company is based in Tel Aviv, Israel, with branch offices in various countries such as the USA, UK, Cyprus, and Australia.
eToro allows you to trade over 80 cryptocurrencies and invest in stocks simultaneously. The most popular companies you can invest in are Applied Materials (AMAT), Meta Platforms (META), Pfizer (PFE), Electronic Arts (EA), and EOG Resources (EOG).
Another feature of the eToro exchange is that it offers high security to traders. Apart from the Know Your Customer (KYC) security procedure, your trading assets are always stored in a cold wallet. For traders who don't know what this means, a hacker can never access traders' assets, even if the attack is successful.
Is My Money Safe in eToro?
Considered the world's most trusted bank to deposit funds, KfW Germany has almost similar security measures as eToro. FDIC-insured, KYC procedure, cold wallet, and 2FA verification system, eToro has the security steps that investors would expect to exist.
There were accusations in 2020 that the eToro team had taken personal data without permission, but these claims were never proven. As a result, eToro has become one of the most dedicated crypto exchanges when it comes to ensuring security.
What Is Bitcoin? How Does It Work?
Bitcoin was created as a reaction to the management of currencies by major institutions. Bitcoin is the original digital currency project. Its "Peer-to-Peer" payment method and network ensure no single team can control or approve transactions.
When you transfer any of your investments to a different wallet, the intermediary company called "Middlemen" mostly charges a commission selling fee. With Bitcoin, you don't have any middlemen, and you pay only a small amount of transaction fees depending on the density of the blockchain network.
To explain how Bitcoin works from a user perspective, BTC may look no different from an ordinary Bitcoin wallet provider or mobile app. The foundation of new cryptocurrencies for generations to come lies in the secure database of digital assets shared across a network of participants known as the "blockchain."
Not only does this digital ledger allow investors to approve crypto transfers between themselves without any intermediaries automatically, but the non-existent Bitcoin team transfers a certain amount of BTC to the user's account as a reward. This process is called "mining."
What are the risks of Bitcoin?
Unfortunately, Bitcoin has no traditional investment history like gold and silver. Additionally, approximately 65% of current investors hesitate to invest in an asset they cannot physically possess. For investors we call baby boomers, it is challenging to change this perception.
In the section below, we have summarized the possible risks of Bitcoin in sub-headings. There are many risks even outside the topics we have mentioned. We recommend that you find these risks through your own thorough research.
Is Bitcoin Regulated?
It is essential to exercise caution when investing in Bitcoin because certain countries, including Qatar, Saudi Arabia, and China, have entirely prohibited its sale.
If you invest in cryptocurrencies with the basket trade system, you will avoid Bitcoin risks to a minimum extent. This cryptocurrency trading method involves investing in a minimum of 5 different crypto assets.
This trading method is favored by traders who want to be unaffected by the rise and fall of just one cryptocurrency. Sounds logical, right?
Expensive and Complex
If you are a new investor considering investing in Bitcoin, you must agree on a long-term investment plan. The main reason is the low volatility of millions of users investing in Bitcoin.
With a low potential to go from $30,000 to $60,000 in market price in a single night, some investors may turn to altcoins instead of Bitcoin (BTC).
Long-Term Investment
As briefly mentioned in the previous heading, viewing Bitcoin as a long-term investment is advisable. This cryptocurrency suits novice and experienced traders or investors with a long-term investment strategy. This is mainly because selling Bitcoin for a profit in the short term is unlikely.
Keeping BTC in a cold crypto wallet and not trading anything for many years can be boring or may not fit into your investment plan. If you are an action and market risk-seeking investor, you can invest in altcoins with high potential.
Bitcoin Mining
Bitcoin mining is a valid process for verifying traders' blockchain transactions. The task of each trader who mines Bitcoin is to determine the correct target hash by generating a random number. The target hash "0x1705c739" is made up of letters and numbers, and if you correctly identify the target hash, you will receive a share of BTC from the Bitcoin mining pool.
You can contribute to the blockchain by mining with any compatible device around the clock. However, it's important to note that Bitcoin mining consumes a considerable amount of energy, is viewed as a drawback of Proof-of-Work, and can result in high electricity and utility expenses.
Let us inform you that users are prevented from mining in the eToro account, which is the exchange we have included in our article, just because it is a process harmful to nature.
Bitcoin traders recommend things that investors need to mine BTC:
Bitcoin crypto wallet
Mining Equipment (Optional)
Power supplies for ASICs
A computer (Windows/Linux/Mac OS)
Bitcoin: About Satoshi Nakamoto
Do you think that the owner of Bitcoin, which adds a new dimension to the Internet, has a known billionaire life? If you think so, you are unfortunately wrong. The person named Satoshi Nakamoto is either anonymous or deceased.
We know nothing about his past or whether he created Bitcoin alone. At 94, a person named "Dorian Nakamoto," who only cares for his mother at home, was claimed to be the founder of Bitcoin in the past years, but he denied these allegations.
It is believed by some traders that waiting for the founder and team behind Bitcoin to reveal themselves before investing is a mistake. Experienced traders suggest that if Satoshi Nakamoto were to reveal himself, it could potentially harm Bitcoin's popularity since the mystery surrounding its creation has helped contribute to its success.
Another issue is how much BTC Nakamoto holds in the Bitcoin wallet. Usually, transactions with Bitcoin can be identified by which wallet they belong. Still, it is impossible to determine if the Bitcoins are stored in a cold wallet, which is how Nakamoto may be holding them.
As Coinweb editors, we recommend that investors focus on Bitcoin's infrastructure to become successful traders in crypto instead of focusing on this mystery. eToro briefly explains each cryptocurrency. You can log in to your eToro account and browse the details.
Conclusions
This guide explains how to purchase Bitcoin using the eToro platform and provides a step-by-step guide to creating an eToro account.
We've provided our readers with an unbiased perspective on Bitcoin, highlighting its benefits and potential drawbacks. If you're interested in transferring Bitcoin on eToro's trading platform, you can find more information on their investment platform.
---
Buying Bitcoin is perhaps the most reliable cryptocurrency investment and whether it is good or bad depends on what kind of investment purpose you have to store or purchase bitcoin as an investment choice.
As the oldest cryptocurrency, Bitcoin is a 100% reliable asset, but make sure you're using a trading platform like eToro, Binance, Crypto.com, etc.
The biggest weakness of Bitcoin is that it is environmentally damaging because it uses the Proof-of-Work consensus mechanism.
As we can understand that many people have the mentality of "Buy Bitcoin and hold it", BTC is expected to be offered to investors at higher prices in the coming years.
You should buy Bitcoin on eToro because eToro has never upset its investors for many years and its rates are very competitive in technical issues such as minimum withdrawal, deposit fees, and selling fees.