Rating

4.5

Tradable Coins

350+

Fees

0.1%

Payment Options

+ 6
Our Verdict
OKX crypto exchange supports over 300 digital assets and over 80 fiat currencies. It is accessible in over 100 countries and territories across the world. It has one of the highest trading volumes in the crypto world and is a fantastic mobile app that offers all services on the go. The trading fees are very low. Its major drawback is its unavailability in certain countries.
Pros
Supports numerous tokens.

Great Mobile app.

Extensive educational resources.

Provision of multi-lingual services.
Cons
Geographical limitation.

KYC limitations.
OKX 2023 Review: Is OKX a Good Crypto Exchange?
TLDR
Our comprehensive OKX review examines the pros and cons of using OKX and helps you determine if it's the right platform for your needs.
OKX is more than just a crypto trading platform. It is popular because of its spot trading, which has a daily trading volume of over a billion dollars. Aside from this, it offers trading features such as margin trading, futures trading, and perpetual swaps.
With the support of more than 300 cryptocurrencies alongside 80+ fiats, it is a solid choice. OKX users partake in initial coin offerings via its OKX jumpstart. OKX staking allows users to accrue interest on their tokens.
Signing up on OKX is fast and easy. New users on OKX can trade up to $100 worth of crypto without completing KYC.
Who Should Use OKX
Overview
OKX cryptocurrency exchange is a leading crypto exchange. It ranks among the top 4 exchanges based on trading volume. Its wallet can accommodate over 300 digital assets.
Additionally, many traders take advantage of its diverse trading options. The options include spot trading, margin trading, perpetual swaps, futures trading, and trading bot.
Besides, OKX cryptocurrency exchange is a leading platform because of its low trading fees. OKX fees are competitive compared to other crypto exchanges. The fee structures favor users with a fee as low as 0.05%.
For New Users
OKX exchange is the right exchange for new crypto users. After the recent facelift that changed the name from OKEx exchange to OKX, it has successfully added more features to its existing spot trading and futures trading. It has also added NFTs, Metaverse, DeFi products, and games to its platform.
The all-around features available on OKX make it resourceful to a new crypto user. OKX trading platform also provides quality resources to learn basic trading techniques to start as a crypto trader. Most experienced traders have found many OKX insights into trades useful for decision-making.
This OKX review has discovered it is also a good choice because of its low exchange fees. Its competitive trading fees sets it apart from other exchanges. Overall, the OKX exchange allows a new user to experience the versatility of the crypto ecosystem in one place.
Geographical Availability
OKX started in Hong Kong in 2016 and expanded to Malta in 2018. It is currently headquartered in Seychelles.
OKX exchange has customers in at least 100 countries. It is available in almost every country except a few regions. OKX is presently unavailable in Hong Kong, Malta, and the United States of America.
The website is available in over 10 languages. It is translated into English, Russian, Chinese, etc. OKX supports various fiat currencies such as USD, GBP, CAD, AUD, and EUR.
Biggest Drawbacks
The major drawback of OKX is its unavailability in various countries and territories. For an exchange with a wide coverage of crypto assets, its services not being available worldwide is a big drawback. It is currently unavailable in the United States and a large part of Asia.
What Makes OKX a Good Choice?
Low Trading Fees
OKX's fee structure is among the lowest compared to other cryptocurrency exchanges. The fee is based on whether a trader is a market maker or a market taker. However, most crypto traders are market takers due to the significant number of securities and high equity required to become a market maker.
For traders with less than 500 OKB tokens in equity, the OKX exchange sets the maximum fee for spot trading at 0.10%. Traders with higher equity, greater than 2,000 OKB tokens, in their cryptocurrency wallet enjoy a maker fee of 0.06% and a taker fee of 0.08%.
Futures and perpetual markets enjoy even lower maker and taker fees which are as low as 0.02% and 0.05%, respectively. OKX fee structure accommodates traders with a high volume of trade in a 30-day duration. They are entitled to rebates and cutbacks on trading fees.
High Staking Opportunities
Staking in cryptocurrency is holding a digital asset in a cryptocurrency exchange over a period because of earning rewards. Staking is a very innovative way to earn passive income from crypto. It is a credible alternative to trading to earn cryptocurrency.
Staking is possible because the blockchain puts the staked cryptocurrency to work. The accumulated rewards, paid in the staked token, can be converted to fiat currency and withdrawn by the holder.
OKX offers a wide range of staking opportunities. It supports over 80 cryptocurrencies, the largest staking support among cryptocurrency exchanges.
OKX allows staking different durations, such as 15, 30, 60, 90, and 120 days. The staking interest range from 1.5% to 72%. The amount of reward received on staking depends on the asset and the duration of staking.
Supports Multiple Currencies
One of the most important features of any innovative cryptocurrency exchange is its ability to support various currencies.
OKX app allows deposits and withdrawals in over 80 fiat currencies. It supports USD, AUD, NZD, THB, CAD, EUR, and GBP funding.
With OKX, it is possible to withdraw or buy crypto from any of the 80 currencies. OKX encourages these transactions with its low deposit and withdrawal fees.
Security
OKX stores only 5% of its crypto assets in hot wallets, safely away from hackers, keeping the larger percentage of 95% in cold wallets. A cold wallet is, most times, a hardware wallet. The 5% in the hot wallet is used to serve customers' withdrawals and deposit demands.
On the user end, OKX has added multi-level security protocols such as two-factor authentication, e-mail verification, and mobile verification showing their commitment to the security of funds even from the user's end. It is worth mentioning that OKX has never experienced any previous hack compared to our other exchange reviews.
---
Trusted Partners
5.0
4.7
4.3
---
How to Set up an OKX Account?
Step 1: Sign up on OKX
To set up your OKX account, visit the OKX sign-up page. Click the 'sign up' button.

Step 2: Enter a Valid E-mail
Next, you'll be asked to enter a valid email and a referral code if you have one. A verification link will be sent to the email address you provide.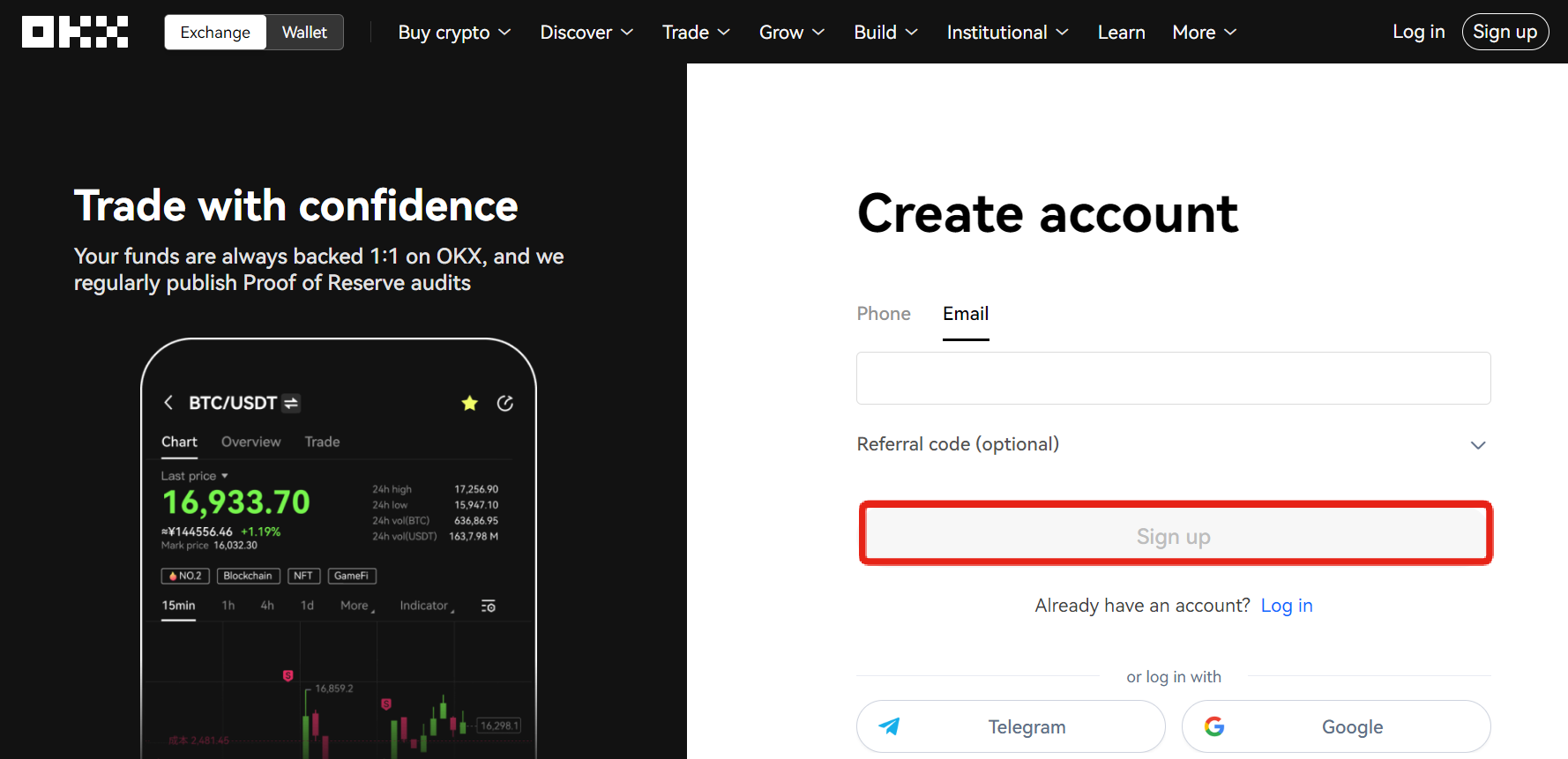 Step 3: Create a Password
After verifying your e-mail, create a password for your account and click the 'Next' button.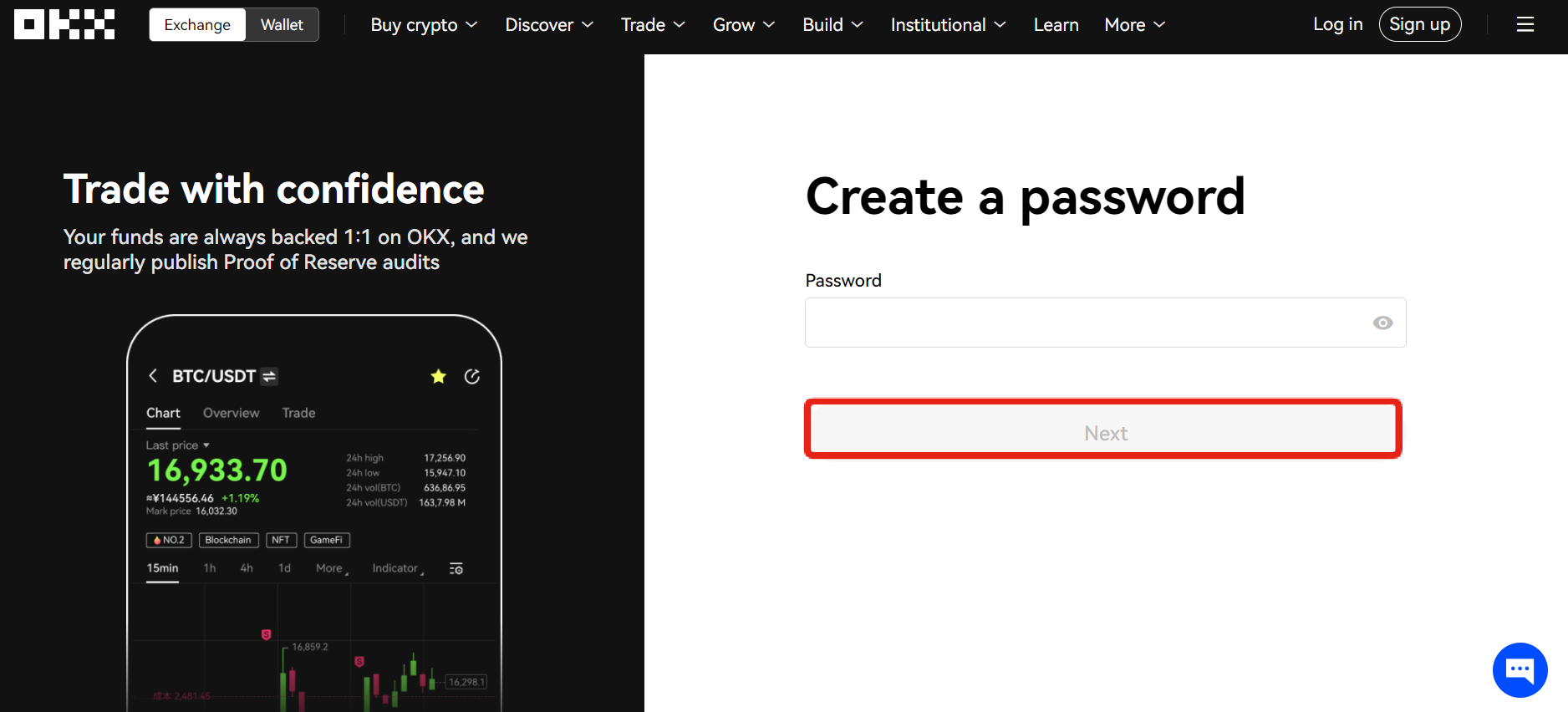 Step 4: Fund your Account
Once you have created a password, it takes you straight to the dashboard.
The next step is to fund your account and start trading. You can fund your account by using a debit card or depositing crypto from another platform/wallet to your OKX account. Also, OKX supports account funding through bank account transfer, Apple Pay, and Google Pay with no itch.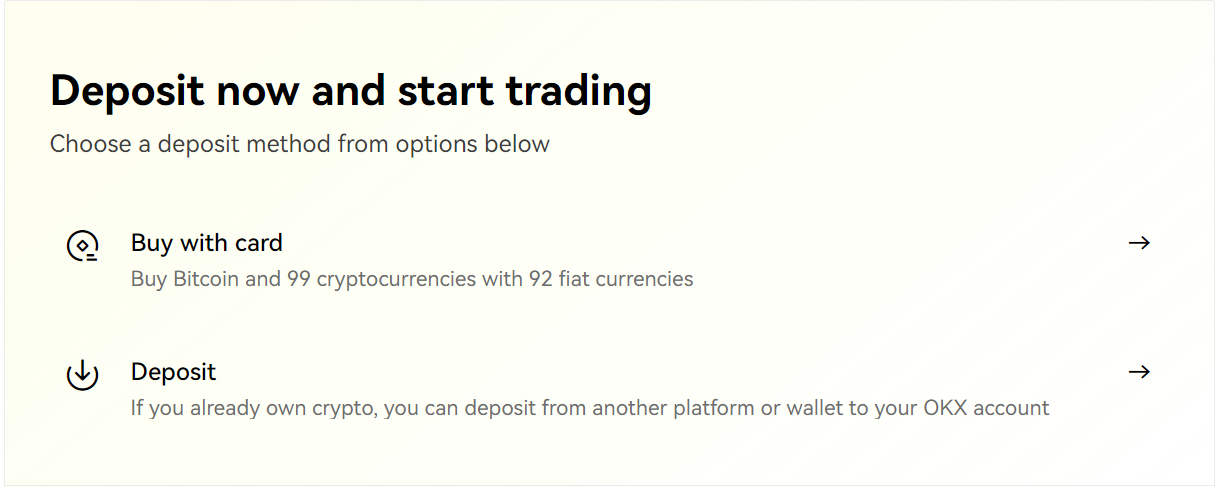 Features of OKX
Access to Loans
OKX offers quality crypto loans, which are available in over 20 cryptocurrencies. The loans offer flexible structures and low fees, making them user-friendly for customers. To get an OKX crypto loan, you must submit collateral alongside the loan request.
OKX accepts BTC, USDT, and USDC as collateral. Users can use the loans for staking and receive them as crypto assets like Bitcoin Cash, Ethereum, and more.
Educational Resources
OKX provides quality resources that help newbies how to trade cryptocurrencies. These insights are published on the website as answers to questions. The detailed resources provided on the platform help users make informed decisions about trading.
OKX Jumpstart
OKX jumpstart feature is another innovative way of boosting your crypto portfolio. It allows users to buy tokens from crypto projects before they are launched.
Historically, being a front-runner in acquiring tokens from the project before launch is a sure way to boost cryptocurrency portfolio performance. For example, when a project has an ICO price of $10 before launch, and a user participates through OKX Jumpstart, they become entitled to extra benefits, allowing them to sell the token at a higher market value.
Many advanced traders have taken advantage of this OKX offer to be ahead of competitors.
OKX Token
In 2017, OKX introduced its blockchain token, OKB. It is the native currency of the OKX chain. It was created primarily as a payment method for reading fees on the blockchain.
OKB allows OKC blockchain natives to participate in platform governance and development through voting. Being a deflationary coin, OKB is expected to increase in value in the next few years.
OKX exchange buys back and burns some of its tokens every 3 months. Because of this, the amount of OKB available has diminished over time from the 300 million tokens available at the initial coin offering (ICO).
OKX supports the staking of its token. OKB holders are rewarded for holding the token in the crypto exchange. They enjoy up to 40% transaction discounts on their transactions.
OKB staking attracts interest as high as 70%, depending on the duration of staking. Staking OKB is one way of supporting the OKX ecosystem, thereby ensuring liquidity.
Drawbacks of OKX
OKX is a great exchange with features that makes it stand out from many exchanges. Yet it has a few drawbacks. Here are a few drawbacks detailed in this OKX review
KYC Policy
OKX is one of the few exchanges that allow crypto trading without completing the KYC procedure. But, the platform only allows this to a limited transaction of $100 in BTC.
A trader who wants to carry out a higher transaction must complete the KYC to carry out the transaction.
Geographical Limitation
OKX is available in numerous countries, but sadly its services are not accessible in major crypto hotspots such as the United States and Hong Kong. This is due to various economic regulations that are not favorable to crypto.
OKX Crypto Staking
OKX Crypto Staking Options
One of the key features of OKX is its crypto-staking services.
OKX supports crypto staking in over 80 digital assets. By staking their coin, coin holders contribute to the security and efficiency of the native blockchain of the coin. This makes the blockchain resistant to attacks and better at processing transactions.
Staking Rewards
Coin Staked is rewarded handsomely for supporting its blockchain. On OKX, rewards on staking could be as high as 72%, depending on the duration of time. The least duration available on OKX is 15 days.
OKX trading products
OKX offers different opportunities for cryptocurrency trading. The available options are spot trading, margin trading, perpetual swaps, and OKX trading bot.
Spot trading
Spot trading is the most straightforward trading feature on oKX. A funded OKX spot trading account enables users to trade over 350 cryptocurrency pairs and settle transactions based on the current market value. Professional traders can utilize order types such as market, limit, and trail orders.
Margin trading
Margin trading allows traders to borrow money from the exchange to boost their trade significantly. The amount of margin allowed depends on the leverage taken on the trade.
Margin trading increases the profit actualized on a trade significantly but could be the opposite in the case of a loss.
Perpetual Swaps
Perpetual swaps have an interface similar to futures but do not have an expiry time. It is important to carefully consider the position tier and margin requirements, especially at higher tier limits, as they differ slightly.
OKX Trading Bot
OKX has a trading bot designed to execute trading strategies automatically. The trader trains these bots using existing market conditions and parameters to preset the execution of the trade. Trading bots are best suited for experienced traders because they might be complex for a novice.
OKX Fees
Trading Fees
As a leading crypto trading platform, OKX offers a unique trading fee structure compared to other exchanges. It offers a maximum of 0.15% for spot trading, and traders who hold OKB tokens or with higher trading volumes decrease the fees.
OKX serves most advanced traders well, as they get rebates and discounts on $100,000 worth of trading volumes.
OKX categorizes regular users based on their OKB holdings, while VIP users are categorized according to their trading volume over the past 30 days. This categorization determines the number of rebates and discounts that each user enjoys. These discounts are displayed as maker fees and taker fees, respectively.
Deposit and Withdrawal fees.
OKX does not charge any fee on deposits into its crypto wallet. However, it charges a small fee to withdraw funds. The charges are dependent on the blockchain load of each digital asset. The fee is approximately 0.0005 BTC for Bitcoin, 0.01 for Ethereum, and 0.15 for Ripple.
For deposits, OKX allows funding via the OKX app. It can be funded through debit card payment, Google Pay, Apple Pay, and bank transfer.
OKX Mining Pool
OKX mining pools allow users to mine Proof of Work(PoW) coins such as Bitcoin, Litecoin, and Ethereum. The mining pools accommodate Proof of Stake (PoS) assets like CRO. OKX mining is safe and secure and available worldwide thanks to the multi-node.
Customer support
Many crypto platforms are known to have poor customer service. OKX exchange offers quality customer service from when traders begin trading to failed bank transfers, debit card funding, etc. The customer support team is always available via social media platforms and e-mail.
Conclusion
OKX is an innovative crypto platform that offers a wide range of services. It is a leading futures trading platform with a daily trading volume of over $1.2 billion BTC. It also offers other trading options, such as spot trading, margin trading, and perpetual swaps.
More traders are embracing the trading bot feature, which allows them to make automated trades. The trading bot can be preset to take trades without the trader.
OKX supports funding through bank transfer, Apple Pay, Google Pay, and debit and credit card payments. OKX seamlessly converts crypto to fiat currency paid to the respective bank accounts.
Also, OKX mobile app is backed by the best customer support in the crypto industry. The customer support service is available 24/7 regardless of location across the world. Overall, OKX is a great crypto trading platform and more.
---
OKX is a crypto exchange and can be used to buy, hold and carry out trading of various cryptocurrencies at the best market price.
OKX is a non-custodial decentralized crypto wallet that allows being fully in charge of their crypto assets through private keys.
Yes, you can buy BTC on OKX. The platform lets you buy your crypto asset using a debit or credit card. You can also pay through digital means like Google and Apple pay.
OKX has one of the lowest trading fees among other cryptocurrency exchanges. It charges a low trading fee of 0.1% for market makers and 0.15% for market takers.