Rating

4.7

Tradable Coins

60+

Fees

0.25% - 1%

Payment Options
Our Review
SwissBorg is a crypto-investing app that offers over 60 cryptocurrencies for buying, selling, and storing. With transparent fees ranging from 0.25% to 1%, they assure users of always providing the best price without deductions. SwissBorg Earn also allows you to earn interest on over 20 crypto assets, a valuable feature.
Pros
Easy to use and intuitive.

Attractive yields.

A robust SwissBorg community.

Innovative products and services.

Good customer support.
Cons
Not available to US customers.

Custodial service.

Higher tiers are unattainable for average users.
SwissBorg Review 2023: Pros, Cons and How It Compares
TL;DR
This SwissBorg review will discuss the blockchain-based Crypto Wealth Management app. In short, it automates your journey to financial freedom.
Purchase cryptocurrencies at the most competitive prices from five leading order books: Binance, Kraken, Bitfinex, LMAX, and HitBTC.
Get the highest reward for DeFi yields and staking opportunities.
Invest in specialized crypto themes, similar to "ETFs," focusing on the most promising blockchains (including top layer 0, 1, and 2 tokens).
Opt for a dynamic "Golden" theme that uses algorithms to adjust your investments based on market highs and lows.
All the above can be done with a few taps on your phone. It supports fiat currencies for deposits and withdrawals, with bank account deposits with as little as 0.10% fees. Its unique offerings include a referral program, a rewards program, and a user-participation governance model.
If you're into hands-off investing, SwissBorg's got your back by automating your DCA – it's easy, user-friendly, and designed with the best UX in the industry. Let us dig in!
Company Overview
Founded by Cyrus Fazel and Anthony Lesoismer, the SwissBorg project secured an initial funding of $53 million and launched during the peak of the 2017 cryptocurrency rally in December.
With its headquarters in Switzerland, SwissBorg has garnered popularity as a prominent European crypto exchange. Its diverse and multicultural team comprises thousands of employees from over 20 countries, bringing together a wealth of expertise and backgrounds in the crypto industry.
A couple of years later, in 2017, SwissBorg emerged as one of Europe's leading crypto exchanges, experiencing impressive growth. This rise also pushed their native CHSB token to a market cap milestone of $1 billion, achieving Unicorn status.
SwissBorg is much more than just a crypto exchange than traditional crypto exchanges. The platform was created to address the complexities and lack of standardization in the cryptocurrency landscape.
SwissBorg aims to assist users in navigating this new financial field by providing an easy-to-use solution. It is a powerful, multi-utility crypto investing platform that equips users with all the tools for investing and effortlessly managing crypto portfolios.
The SwissBorg Exchange at Glance
| | |
| --- | --- |
| Launched | 2017 |
| Regulated By | Estonia & France |
| Cryptocurrencies | 50+ (USDT, USDC, ETH, BTC, and XRP) |
| Fees | 0.25% To 1% |
| Thematic Fees | 0.35% Per Month |
| Key Features | Thematic, AI Analysis Tool, and Earn |
| Rewards | EUR 1 To EUR 100 |
| Payment Methods | Cryptocurrencies, Fiat, and Bank |
| Restricted Countries | US, Turkey, and others |
SwissBorg is a crypto-investing app that offers over 60 cryptocurrencies for buying, selling, and storing. With transparent fees ranging from 0.25% to 1%, they assure users of always providing the best price without deductions. SwissBorg Earn also allows you to earn interest on over 20 crypto assets, a valuable feature.
---
Easy to use and intuitive.

Attractive yields.

A robust SwissBorg community.

Innovative products and services.

Good customer support.
Not available to US customers.

Custodial service.

Higher tiers are unattainable for average users.
Who's SwissBorg good for?
Even though SwissBorg caters to a wide range of users, let's explore what it offers to beginner and savvy traders.
Beginner-level traders
For beginner-level traders, SwissBorg offers a simple and user-friendly experience, making it easy to navigate and understand.
The platform provides a sleek interface, intuitive features, and comprehensive token descriptions. It also offers educational resources and analysis tools to assist beginners in making informed investment decisions.
Savvy traders and investors
SwissBorg offers advanced features such as the Smart Engine for savvy traders and investors, which ensures access to the best liquidity and exchange rates.
The platform offers hourly asset analysis, including sentiment and technical analysis metrics for cryptocurrencies. It also allows for staking CHSB tokens and offers premium membership benefits, yielding opportunities, and the ability to participate in referendums for shaping the platform's financial future.
Country Restrictions
Swissborg has a global presence in more than 115 countries, spanning Africa, Europe, Asia, North America, and South America. However, certain countries, such as the US and Turkey, have restrictions and are not supported by the platform.
Where does SwissBorg stand out from other crypto exchanges?
Here are a few reasons that outrank SwissBorg from its competition:
SwissBorg app Usability and interface
The dashboard on SwissBorg's app is both intuitive and robust. It caters to beginners with its user-friendly layout, making cryptocurrency investing hassle-free.
Token descriptions on the app are well-crafted, providing detailed explanations, analysis of each crypto and its associated project, and even eco-friendliness. This allows crypto investors to gather crucial information before making investment decisions.
SwissBorg's focus on ease of use and beginner-friendliness is a significant draw for users. The app's intuitive interface is a testament to effective UI/UX design, which is vital in mass adoption.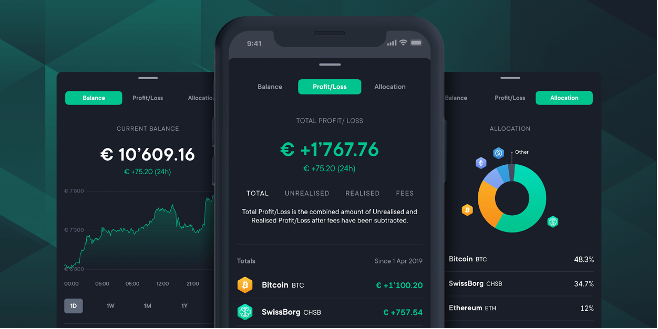 Exchange AI portfolio analytics for advanced trading
The SwissBorg uses deep learning algorithms to provide valuable insights into user portfolios and supported tokens. It analyzes overall performance, including personal ROI for unrealized and realized gains.
In addition, the app offers hourly asset analysis for traders, presenting sentiment and technical analysis metrics. This information is derived from SwissBorg's Cyborg Predictor, the SwissBorg indicator, community sentiment, and resistance levels.
Moreover, the Cyborg Predictor employs machine learning and historical data to forecast asset movements. Also, the SwissBorg indicator combines popular technical indicators to assess market strength at a glance.
Lastly, the Community Sentiment indicator reflects transaction volume on the SwissBorg app within 24 hours, while the support and resistance indicator highlights significant levels to monitor.
SwissBorg rewards program
The SwissBorg wealth app Rewards Program is a referral program that allows users to invite friends to earn CHSB tokens. Successful invites result in the user and their friend receiving reward tickets valued from €1 to €100 in SwissBorg tokens.
The process is simple:
Share your invitation link from the Rewards Tab in the SwissBorg App.
Your friend downloads the app and deposits €50 or more (or equivalent in their currency).
Both you and your friend receive a rewards ticket to claim your CHSB reward. Keep sharing to earn more tickets and rewards.
SwissBorg Fees and tier plans for users
Like other advanced investment platforms, SwissBorg implements two types of trading fees: exchange fees and thematics fees. The fees vary based on the user's account status. Plus, the Exchange fees range from 1% to 0.25%, depending on whether the account is Standard or Genesis.
Besides that, the thematics fees range from 0.35%/Month for Genesis accounts. These fees are relatively quite competitive, especially considering the limited range of products and services provided by SwissBorg.
SwissBorg implements a tiered membership structure similar to exchanges like Binance and KuCoin. Users' membership plans depend on how much SwissBorg Tokens (CHSB) they stake. More staked tokens result in higher yields and lower fees.
To upgrade the plan, users must purchase and hold the required amount of CHSB for 12 months. The tokens are locked during this period and cannot be exchanged or withdrawn. After the initial 12 months, users can withdraw or exchange their tokens to adjust their plan.
SwissBorg Review: Key Features
Let's explore key features of SwissBorg that set it apart from its competitors.
Crypto portfolio bundles for traders
SwissBorg's Crypto portfolio bundles or Thematics are revolutionary for several reasons. In traditional finance, active portfolio management is typically limited to the wealthy, handled by Portfolio Managers and Financial Planners.
But with Thematics, you let it do the guesswork without paying thousands. It is an investment product exclusively available on SwissBorg's platform.
These expert-designed crypto bundles provide diversified exposure to different crypto themes, which is crucial for any crypto investor. With Thematics, investors can choose from various themes related to Web3 trends.
By selecting a theme they believe in for the long term, the SwissBorg app automatically offers exposure to the top projects in that specific niche.
The best part is that the Thematics portfolio regularly adjusts and rebalances its allocation based on the crypto market and conditions. This ensures consistent diversification and exposure, adapting to the ever-changing crypto market landscape.
SwissBorg's first Thematic is the Web3 bundle, providing investment allocation to projects like Ethereum (ETH), Matic, Polkadot, Mina, Secret, and more.
KYC and account certification for enhanced security
SwissBorg follows KYC and AML regulations, and their account verification process involves different levels with varying transaction limits. Here are the account levels:
Level 1: Proof of Identity – EUR 5,000 deposit limit, EUR 5,000 withdrawal limit.
Level 2: Proof of Residence – EUR 50,000 deposit limit, EUR 1,000,000 withdrawal limit.
Level 3: Proof of Funds – Unlimited deposits and withdrawals.
To complete the KYC process, follow these steps in the SwissBorg app:
Tap the profile icon in the top-left corner.
Go to Account Level.
Click the Verify button.
Submit the required documents for verification.
For Level 1, identity documents like a passport, government-issued ID card, residence card, or driver's license are accepted. Account verification is typically automatic and takes about two minutes.
Most accounts (over 60%) are automatically approved within minutes, while manual KYC verification sometimes takes 24-48 hours.
A special smart yield account
The Smart Yield accounts are a significant highlight of the SwissBorg platform, allowing users to earn passive income on their crypto holdings. These accounts leverage DeFi protocols behind the scenes to generate competitive APYs.
It's a convenient way for average crypto users to benefit from DeFi without the complexities of understanding various protocols.
SwissBorg offers over 20 assets for yield earning, with rates ranging from 0.05% for Bitcoin, 2.5-5% for ETH, up to 2% for SushiSwap, and the highest APY of 18.28% for SwissBorg Token. You can check the current rates on the SwissBorg Smart Yield Rates page.
Earn with SwissBorg
SwissBorg expanded its app's Smart Yields section by introducing SwissBorg Earn. This feature takes care of staking, lending, and yield farming.
SwissBorg Earn offers a diversified approach to passive crypto earnings. It provides users access to a range of products with different interest rates and risks, catering to various risk appetites.
You can engage in DeFi protocols like Aave and Curve Finance, participate in liquid staking through Lido, or simply stake and lend. If you need help determining which Earn product suits you best, SwissBorg's Cyborg Mood can assist in finding a suitable balance between risk and reward.
The Earn products are categorized into three groups:
Core: Considered more reliable and safer, the Core strategy is the foundation for your funds.
Adventurous: Designed for those seeking more excitement, the Adventurous strategy involves higher risk for potentially higher APYs.
Brave: Falling outside the conservative Smart Yield and Core strategies, Brave, similar to Adventurous but more intense, allows investors to allocate 5-10% of their funds to higher-risk strategies.
SwissBorg launchpad for ICOs
The SwissBorg Launchpad aims to level the playing field in wealth and asset management companies. It provides retail investors with opportunities traditionally reserved for the wealthy elite or those with privileged connections.
This move could revolutionize investing and create a fair platform for early-round investments. Besides, they launched their Series A Equity round on the Launchpad, allowing SwissBorg users to invest and share in the company's future success.
SwissBorg users access exclusive investment opportunities through the Launchpad, including private equity raises, IDOs, and ICOs.
Participating in such opportunities can be challenging, but having a simple platform that offers multiple options is fantastic.
SwissBorg's state-of-the-art security
SwissBorg places the utmost importance on platform security and the protection of user funds. They have invested significantly in security measures, such as MPC cryptography, platform stress tests, and advanced security software.
MPC, or Multi-Party Computation, is a keyless technology known for its high level of security. It eliminates the need for a private key, making it impervious to compromise.
Additionally, removing a single point of failure enhances the platform's security. MPC involves multiple parties performing computations jointly without revealing their individual information.
This is where Fireblocks comes into play. SwissBorg has partnered with Fireblocks, a widely respected and highly secure platform that utilizes multiparty computation technology to safeguard digital assets.
With this partnership, the SwissBorg Wealth App remains stable, robust, and protected against hackers and bugs, ensuring the safety of user funds.
Multiple deposit and withdrawal methods
Investors with SwissBorg can fund their accounts using the following payment methods:
UK bank transfer (via FPS)
SWIFT wire transfer
Debit & Credit Card
Crypto transfer
To ensure security, clients can only deposit funds from their personal bank account, and the name on the bank account must match the name in the SwissBorg App.
Deposits from third-party bank accounts are not accepted and will be returned, resulting in the payment of a withdrawal fee. While there are no deposit fees, SwissBorg does charge an average fee of 0.10% for withdrawals in BTC, ETH, CHSB, and supported fiat currencies.
The SwissBorg platform offers flexibility by supporting fiat currencies for funding accounts, including USD, EUR, and GBP. Withdrawals are convenient and quick due to banking partners being part of the SEPA and Faster Payments network. Bank transfers can be completed in as little as 5 minutes.
Lastly, the platform supports bank transfers (SEPA/ACH), bank cards, and crypto deposits/withdrawals. Although SwissBorg doesn't charge deposit fees, clients may incur bank charges depending on their banking institution.
A quick and interactive customer support
Getting help within 24 hours is generally reasonable in the crypto space, as waiting days or weeks for a response is expected. The SwissBorg Support team has received positive reviews for their prompt and helpful assistance.
Users can submit questions or issues through the request form on the website or use the in-app chat function, which is the preferred method.
Finally, SwissBorg offers a comprehensive help center with guides and tutorials to address many user questions.
SwissBorg native token
The CHSB token is used on the SwissBorg platform. It's an ERC-20 token with a total supply of 1 billion. Just under 30% of CHSB circulating supply is currently staked, with over 55% of CHSB tokens currently held in Yield accounts, significantly impacting supply.
Besides that, SwissBorg has implemented demand drivers for CHSB, including yield earning and staking. They buy back and burn CHSB tokens regularly. Plus, holders can participate in referendums and access future wealth management products.
CHSB had significant growth during the 2021 bull market but experienced a correction. It has held up comparatively well in the bear market. CHSB is available on SwissBorg, Uniswap, and Bitfinex exchanges.
Benefits of holding CHSB include exclusive access, premium membership, voting rights, and rewards within the SwissBorg ecosystem.
Supported crypto assets in the SwissBorg ecosystem
SwissBorg currently supports more than 60 cryptocurrencies, including:
Bitcoin (BTC)
USD Coin (USDC)
Binance Coin (BNB)
Ripple (XRP)
Polygon (MATIC)
Pax Gold (PAXG)
Compound (COMP)
Exchange smart engine
SwissBorg's Smart Engine ensures users can access the crypto market's best liquidity and exchange rates. The app offers zero spreads and transparent fees, reinvested into the SwissBorg ecosystem.
By connecting to major exchanges like Binance, Kraken, and Bitfinex, the Smart Engine quickly analyzes hundreds of trading pairs.
It finds the optimal route to execute orders in milliseconds, providing the best rates for buying or selling supported cryptocurrencies and fiat. It eliminates the need for users to search for very competitive exchange rates, saving them time and effort.
Creating a SwissBorg account
SwissBorg is a crypto-investing app that offers over 60 cryptocurrencies for buying, selling, and storing. With transparent fees ranging from 0.25% to 1%, they assure users of always providing the best price without deductions. SwissBorg Earn also allows you to earn interest on over 20 crypto assets, a valuable feature.
---
Easy to use and intuitive.

Attractive yields.

A robust SwissBorg community.

Innovative products and services.

Good customer support.
Not available to US customers.

Custodial service.

Higher tiers are unattainable for average users.
To create an account at Swissborg, you can visit the Swissborg website to download the app from there or search for it in your Apple or Google Play store.
Open the SwissBorg app and tap Get Started.
Enter your mobile number, including the correct country code. Tap [Next].
You will receive an SMS with a 6-digit code. Enter the code into the app. After that, choose a 4-digit PIN to secure the app.
Next, tap the toggle button to agree to the SwissBorg Terms of Use and Privacy Policy. You can read these by tapping on the links. Tap [Next].
Then, enter your legal name as it appears on your identity document, date of birth, and nationality, then tap [Next]. If you select a country that might use non-Latin characters, you will be asked to confirm that your details have been entered correctly.
Enter your email address, then tap [Next].
You will receive a verification email. Tap the displayed buttons to open the relevant email app, or open your email in your browser to open the verification email. Once you open the email, click the button to [Verify] your email address.
When done, return to the SwissBorg app and follow the prompts on the screen to enter your residential address.
Answer the investment-related questions and tap [Next].
Next, you must verify your identity before using the SwissBorg app. Simply select the identity verification document you would like to use and take a photo of it. The SwissBorg team will review it to confirm it matches your submitted details.
If you sign up for notifications, you will receive a notification once your identity has been verified. If not, you can return to the SwissBorg app to check your verification status.
What can SwissBorg do to improve
Although the SwissBorg trading platform excels in almost all departments, here are a few potential drawbacks that could be improved for a better user experience.
Accessibility to platform benefits
While SwissBorg has introduced new tiers to address this concern, the requirements for reaching higher tiers can still be steep.
Having to lock CHSB tokens for a year without earning a yield on those tokens may deter many users. Comparatively, platforms like Crypto.com have a similar tier structure with shorter lockup periods and the ability to earn APY on locked tokens, providing more incentives for users to reach higher tiers.
New cryptocurrency broker with a limited track record
SwissBorg is a relatively new player in the cryptocurrency brokerage space. As a result, its track record and experience may not be as extensive as more established brokers. However, it has made significant progress quickly, and user feedback has generally been positive.
Charges withdrawal fees on all currencies
One area of concern is that SwissBorg imposes withdrawal fees on all currencies. While fees are common in the crypto industry, some users may find this less favorable than platforms offering fee-free withdrawals.
Requires CHSB token staking for premium features
Access to premium account features on SwissBorg requires staking SwissBorg Token (CHSB). However, the lengthy lockup period of one year and the inability to earn a yield on the staked tokens may be perceived as restrictive by some users.
SwissBorg Review: Our Verdict
SwissBorg provides a user-friendly experience for beginners and pros with its sleek and modern interface. Still, the platform has a limited selection of 60 cryptocurrencies and is only accessible through mobile devices.
In addition to that, KYC is required for all users, and the signup process may take longer than other exchanges. Despite these, SwissBorg offers varying trading fees, ranging from 1% to 0.25% for exchange fees and 2% to 1% for thematic fees based on account status.
Interestingly, it supports deposits through free bank accounts, but card deposits have a minimum fee of 5 EUR. Withdrawal fees are percentage-based, resulting in higher fees for larger withdrawals.
---
The fees on SwissBorg include exchange fees ranging from 1% to 0.25% and thematic fees ranging from 2% to 1%, depending on the user's bank account matching and status.
SwissBorg is good because it offers a user-friendly experience, a sleek interface, and a transparent fee structure. It provides access to various investment options, including cryptocurrencies, yield accounts, thematic bundles, and the most sophisticated analytical tools.
SwissBorg works by providing a blockchain-based platform for cryptocurrency investments. It offers features such as buying, selling, and storing cryptocurrencies, earning through yield accounts, participating in referendums, and accessing investment products and services.
On SwissBorg, users can earn through various ways, such as participating in the Smart Yield accounts to earn a competitive APY, staking SwissBorg tokens (CHSB) for access to premium account features, and referring friends through the Rewards Program to earn CHSB rewards.