Rating

4.4

Tradable Coins

40+

Fees

0.05%

Payment Options
Our Review
PrimeXBT is a comprehensive cryptocurrency exchange providing up to 100x leverage in margin trading! It also features unique trading tools, such as the "covering" feature, enhancing the security of trades and "turbo" trading option for its users. Despite these advantages, it's worth noting that PrimeXBT's unavailability in 14 countries that affects its overall market position.
Pros
Simple Sign Up, requires no KYC.

Lower trading fees than competitors.

Effective analysis tools and charts for trading.

Supports 15 languages for diverse audience.
Cons
Does not operate in the U.S. and Canada.

No spot trading.

No demo accounts to its new customers.
PrimeXBT Review 2023: Is It Still A Top Crypto Trading Platform?
TLDR
This PrimeXBT Review will give you everything you need to know about this platform as a beginner or a pro trader. With over 40 supported cryptos, the exchange offers competitive fees and practical trading tools.
You can also trade foreign currencies, commodities, and equities using their mobile applications. The platform also allows daily withdrawals of up to $20,000 without KYC and enables users to increase the limit with simple account verification.
Moreover, the state-of-the-art security feature ensures your assets are safe from cyberattacks. This platform is an excellent choice for passive income streams and informed trading.
Who should use Prime XBT?
Overview
PrimeXBT is an online exchange that facilitates trading cryptocurrencies, commodities, forex, and stock indices.
Established in 2018 and based in Seychelles, the platform supports the trading of major cryptocurrencies such as Bitcoin (BTC), EOS (EOS), Ethereum (ETH), Litecoin (LTC), and Ripple's XRP (XRP).
The crypto exchange also allows users to trade crypto and fiat pairings. You can trade on commodities and equity markets like NASDAQ and S&P 500.
The exchange is user-friendly and suitable for novice and experienced traders. It offers leverage on multiple asset classes and the ability to trade long/short. Please refer to the platform's website for a complete list of available asset classes.
PrimeXBT is a registered CFD exchange that operates from Seychelles and has offices in St. Vincent and the Grenadines.
It offers a diverse range of markets for users to trade in, including cryptocurrencies, Forex, Indices, and commodities, with the added advantage of Bitcoin collateral.

Referral program
PrimeXBT designed its referral system with a four-tier payout model that enables users to earn rewards not only from their direct referrals but also from the referrals that their referrals bring in, and so on.
This creates a multi-level marketing structure that can significantly increase the passive income generated from the trading fees of the referral network. Users must utilize their unique referral link to invite others to the platform.
To maximize rewards, you should motivate your referrals to invite more people to join the network.
One of the main limitations of using PrimeXBT is the inability to deposit or withdraw fiat currencies. Instead, the platform requires users to deposit using one of the following cryptocurrencies: Bitcoin, Ethereum, or USD stablecoins.
If a user doesn't have any Bitcoin but still wants to use PrimeXBT, they can purchase Bitcoin directly using a third-party payment provider with SEPA or credit card options. Nevertheless, it's worth noting that users won't be able to withdraw any fiat currency from the platform.
Geographical availability
PrimeXBT offers services in more than 150 countries and aims to expand its operations in other parts of the world. The platform's services are still unavailable in these countries:
United States of America
Canada
Ecuador
Japan
Cuba
Algeria
Iran
Syria
Israel
etc.
Prime XBT supports 15+ languages, including English, Italian, French, and Hindi, to make the platform more inclusive.
---
Trusted Partners
5.0
4.7
4.3
---
PrimeXBT Review: Top Features & Perks
Interface
PrimeXBT is a trading platform offering a user-friendly experience for novice and advanced traders.
It offers a wide range of trading chart types and analysis tools, with over 50 technical indicators.
The platform allows for full interface customization and multiple execution methods. You can view trading histories, and visualization tools, making it an excellent choice for traders at any skill level.
PrimeXBT caters to advanced crypto traders, offering many chart options not typically on beginner-friendly crypto-trading exchanges. This makes it an ideal platform for conducting technical analysis.
With PrimeXBT, you can create various orders, including market orders, limit orders, stop losses, take-profits, and OCO (one-cancels-the-other) orders.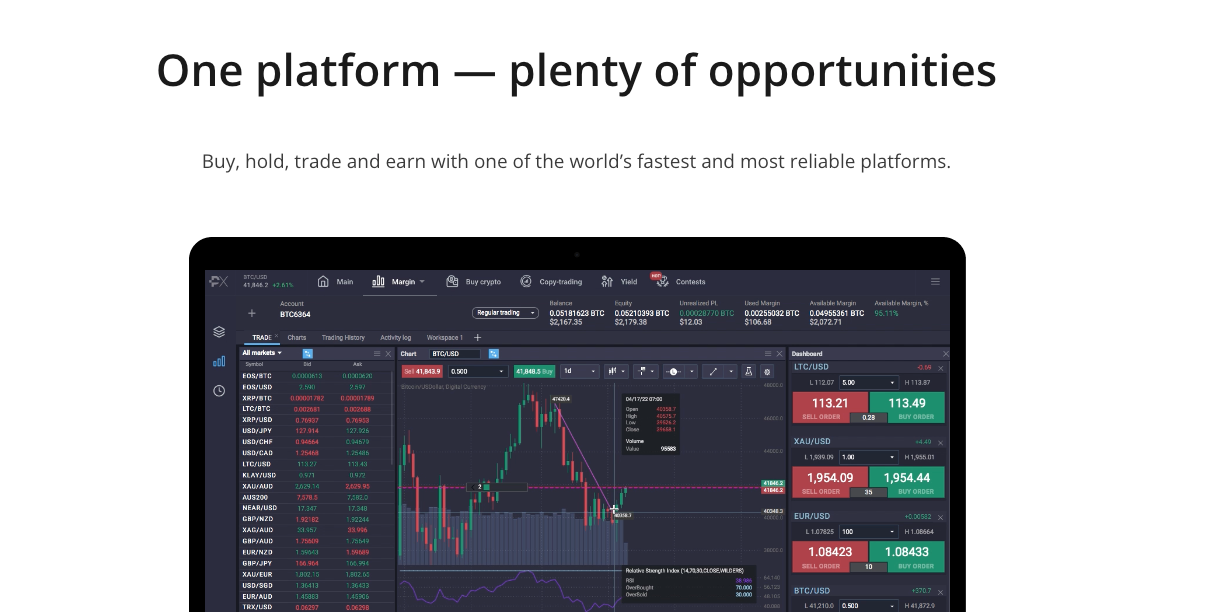 Withdrawal and deposit methods
Per the PrimeXBT review, the platform exclusively accepts Bitcoin as a payment currency, positioning it as a crypto-to-crypto brokerage or exchange and influencing how users acquire and transfer funds.
To deposit funds, users can purchase Bitcoin through a credit or debit card via a widget in the deposit section or transfer their existing Bitcoins to their account using a unique deposit address.
Withdrawals are also straightforward, requiring users to specify the amount and provide a personal Bitcoin address. PrimeXBT provides address allow listing for withdrawals, allowing users to use preset addresses, and charges a withdrawal fee of 0.0005 BTC.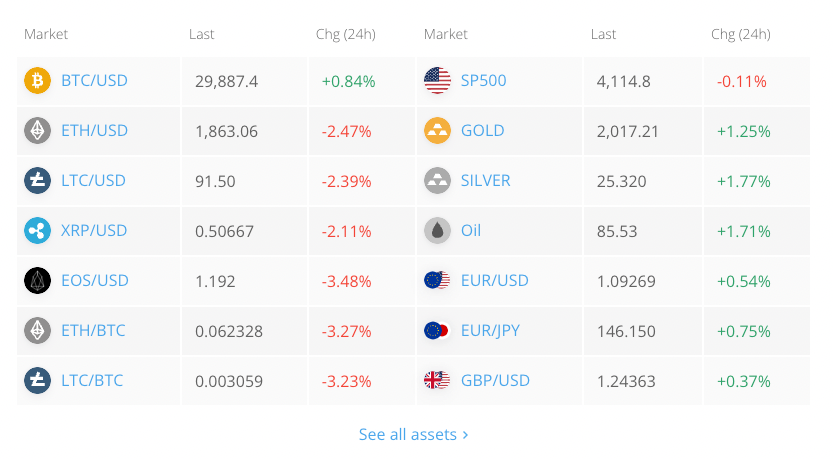 Live support
PrimeXBT provides exceptional customer service, which is highly beneficial for its users. They offer various support options, including an extensive Help Center, e-mail, and 24/7 live chat support.
It has no automated bot that users have to deal with before connecting with a live agent, which makes the experience hassle-free.
The support agents are knowledgeable and able to answer all the questions, further demonstrating the quality of their customer service.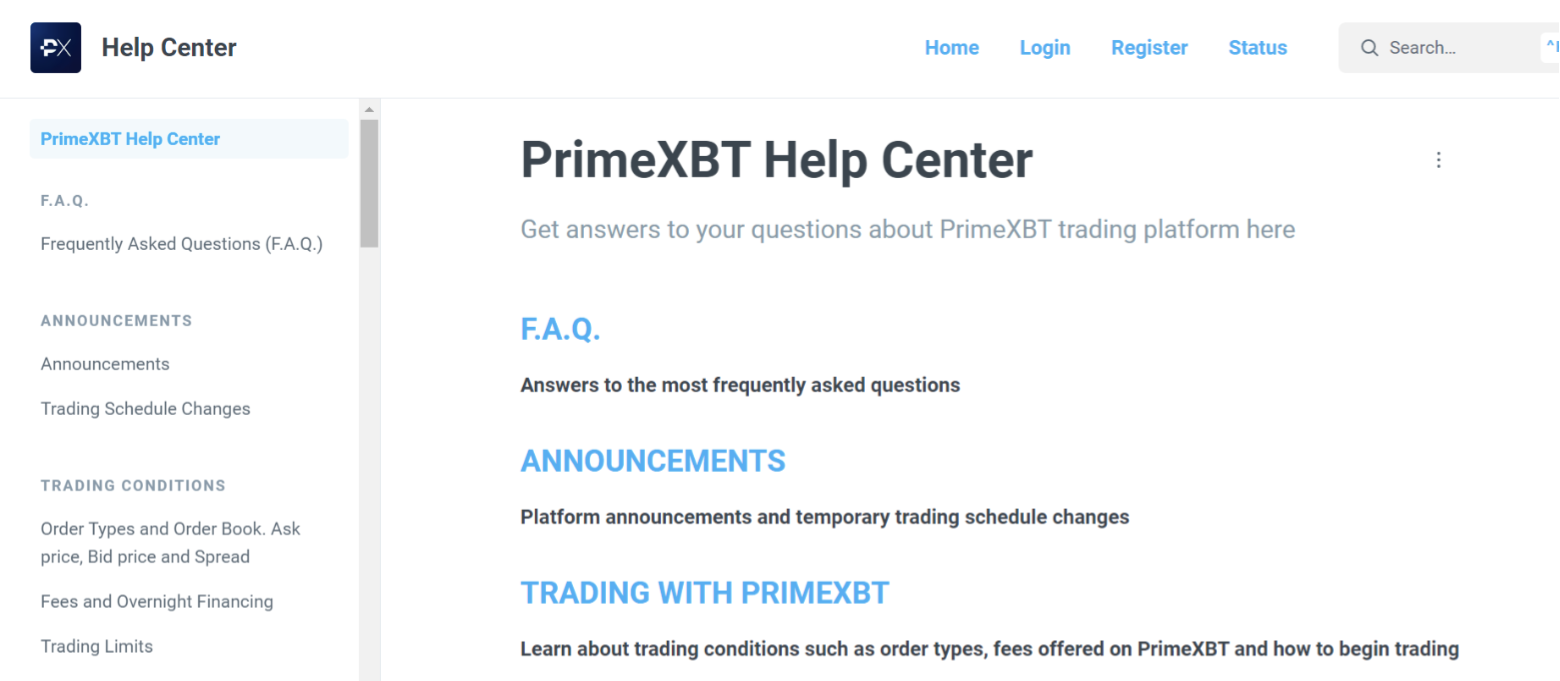 Mobile app
The platform provides a mobile app that can be downloaded from the Google Play Store. The app includes two-factor authentication, which requires authorization via Google Authenticator on your phone before logging in.
While it's not mandatory to enable 2FA, it is highly recommended, and you can easily do so through your account's security settings. The mobile app has received favorable reviews, and thousands of users have downloaded it.
After creating a new account via the app, the user can trade over 30 assets in forex, cryptocurrencies, commodities, and indices.
The app's user interface aims to be user-friendly, facilitating easy navigation and providing access to advanced charting tools. Moreover, users can handle their accounts and perform same-day deposits and withdrawals.

Security
PrimeXBT prioritizes providing the utmost security to its users through a comprehensive and multi-layered cybersecurity framework, ensuring the implementation of strict measures and practices to safeguard customer assets against cyber threats and attacks.
The platform conducts random stress tests and security audits to maintain its network's security.
PrimeXBT enforces specific security measures, including two-factor authentication via Google to prevent unauthorized access to users' accounts, encrypted SSL to encode and protect website traffic, encrypted passwords using the bcrypt hashing function, and Cloudflare to prevent potential DDoS attacks.
Additionally, ongoing I.T. security assessments are run to stay current with new potential vulnerabilities.
PrimeXBT's environment is hosted on Amazon Web Services (AWS), with a proven track record of providing industry-leading digital and physical security.
Competitive fees
PrimeXBT is known for having one of the most straightforward fee structures among trading platforms. There are only two types of fees: trading fees and overnight financing fees.
When a leveraged position is held overnight and carried over to the next trading day, overnight financing fees apply.
Depending on the trade type, these fees are a percentage of the open trade, ranging from 0.00277% to 0.1389%. Trades closed before the start of the next trading day (00:00 UTC) are not subject to these fees.
PrimeXBT doesn't charge fees for account deposits, and the withdrawal fee is fixed regardless of the withdrawn amount.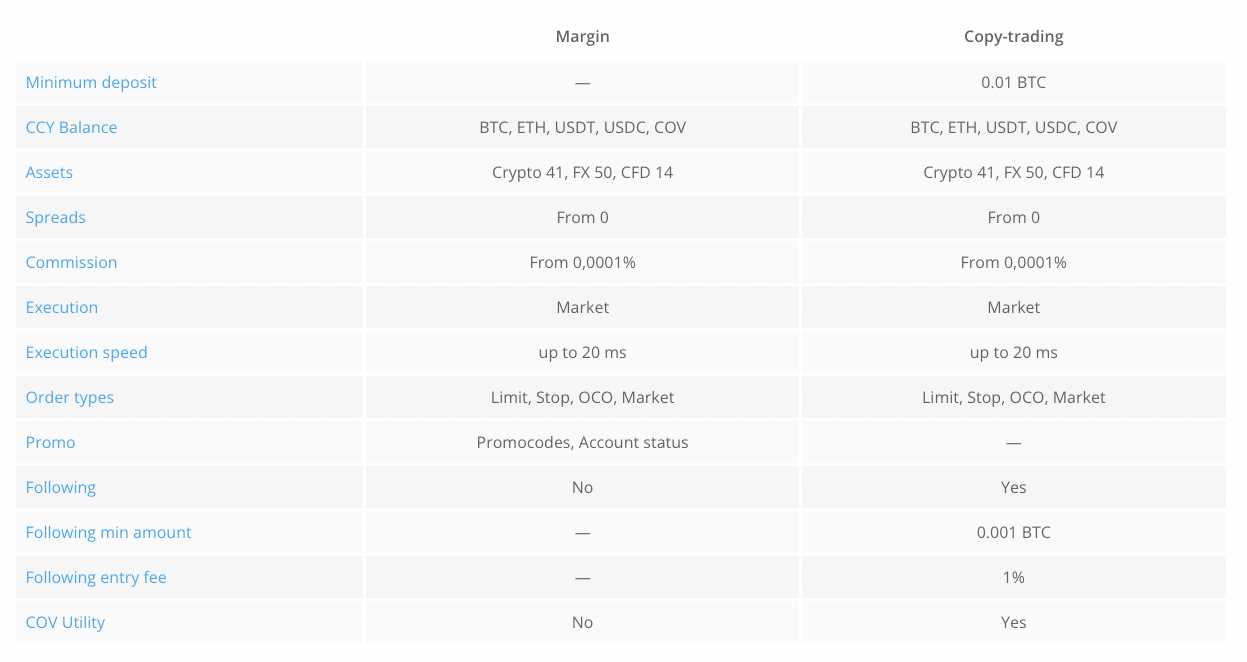 Staking
Staking idle cryptos is an excellent way for users to increase their earnings. The Annual Percentage Yield (APY) can vary depending on the yield account type, staking duration, and chosen cryptocurrency.
For instance, PrimeXBT offers a 2.43% APY to Elite yield account holders who stake USD Coin (USDC) for five years. On the other hand, a Standard Yield account holder would receive only 0.47% APY.
Users can stake USDC, USDT, and ETH on the PrimeXBT platform. Furthermore, those who stake COV can benefit from a yield boost.
PrimeXBT Turbo
The PrimeXBT Turbo is an intriguing functionality that allows users to potentially gain over a 70% return on their investment in just a few minutes.
The concept is to anticipate brief-term price fluctuations of different assets, including Bitcoin, Gold, S&P 500, Oil, and EUR/USD.
If the prediction is incorrect, the loss corresponds to the pledged amount chosen at the beginning of the prediction. Finally, the Turbo option predetermined the potential profit for a correct estimate.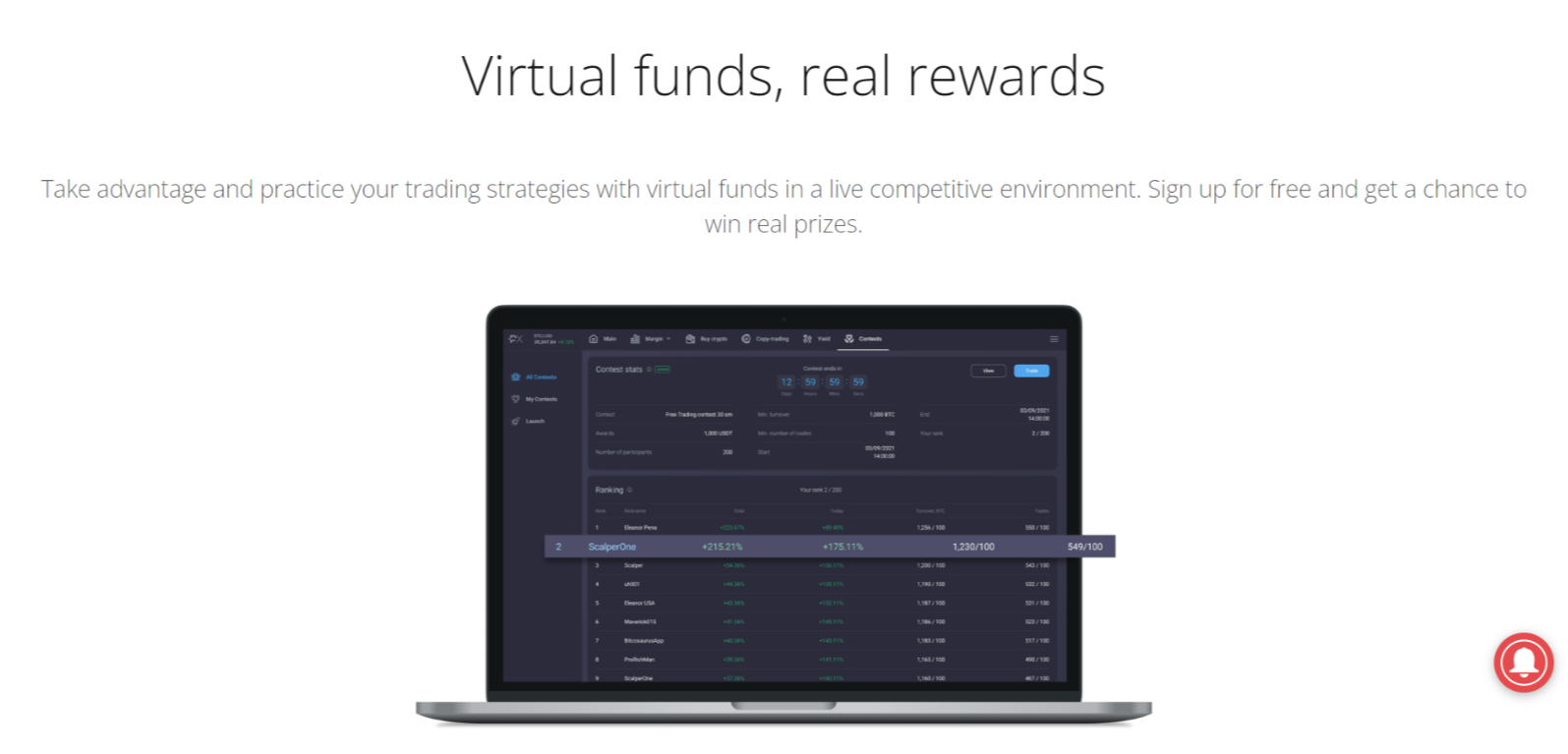 Mirror trading and Covesting
The PrimeXBT website offers Covesting as a feature that allows users to view and imitate the top traders on the platform.
Covesting is an exceptional means of earning passive income for those not knowledgeable about trading. The Covesting feature enables users to mirror the trading decisions of expert and prosperous traders.
Expert traders can also establish their own portfolios and trading strategy that others can follow. The minimum personal funds required to be a Covesting leader depend on the currency used, which are:
0.05 BTC
1.2500 ETH
2,500 USDT
2,500 USDC
Wallet and transfers
PrimeXBT operates with embedded wallets within the exchange for each of the five specific cryptocurrencies supported: BTC, ETH, USDT, USDC, and COV. These embedded wallets are the only wallets designated for trading on the platform.
Two options for transferring cryptocurrency to the platform for trading: direct deposits from personal crypto wallets to the PrimeXBT account or through third-party services like Paxful, Coinify, Xanpool, and CEX.io that facilitate buying crypto with a bank card.
Direct crypto transfers are currently the only deposit method accepted, as PrimeXBT does not support bank or credit card deposits.
The account management section of the platform enables users to manage their multi-currency wallets, track their balances, and make deposits or withdrawals.
Additionally, users can access margin trading, turbo predictions, and covering strategy features from the same platform section.
Trading tools
PrimeXBT operates on the Tradingview platform, with various technical analysis tools, including popular indicators such as moving averages and strength index.
Additionally, over 50 intelligent drawing tools enable an in-depth market analysis and educational resources on popular trading concepts.
These charts can assist traders in identifying price trends for the assets they monitor, ultimately leading to more profitable trades and avoiding potential losses.
As a bonus tip, starting with a few funds is recommended if you're new to trading until you have become familiar with the platform and gained some experience.
---
Opening an account on PrimeXBT
Follow this easy step-by-step process to open up a PrimeXBT account.
Step 1: Visit the PrimeXBT website
To sign up, visit the main website. The site can be opened using a desktop, laptop, or mobile phone.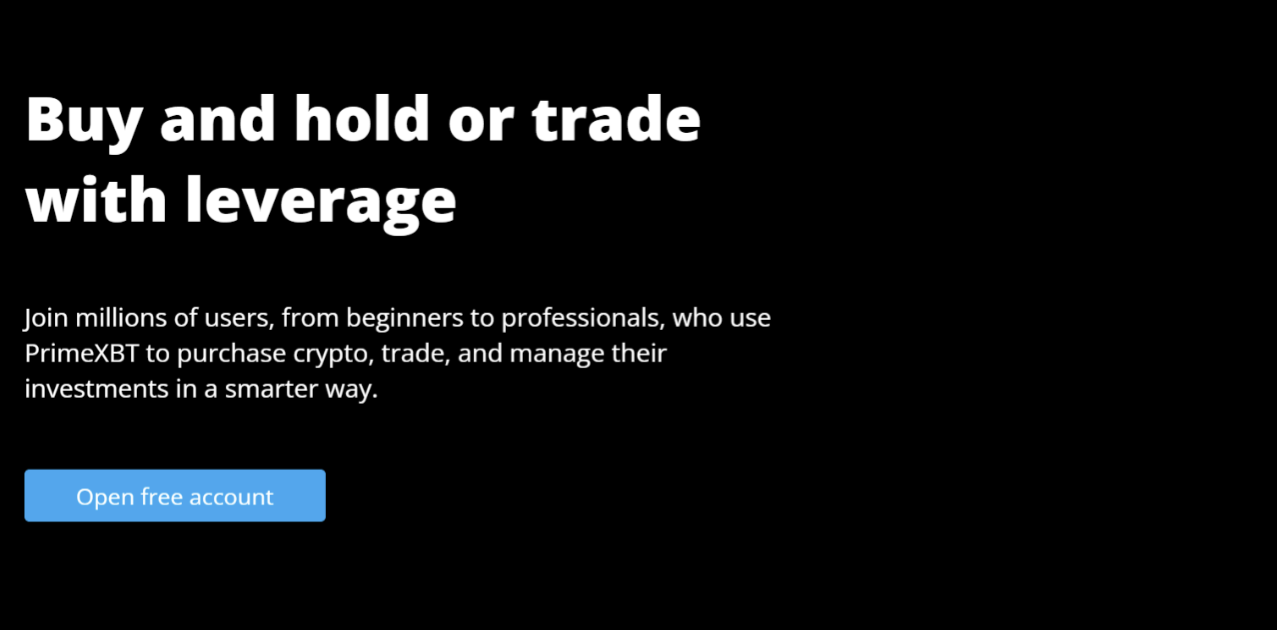 Step 2: Click Register
Click the blue [Register] button at the top right of the main landing page.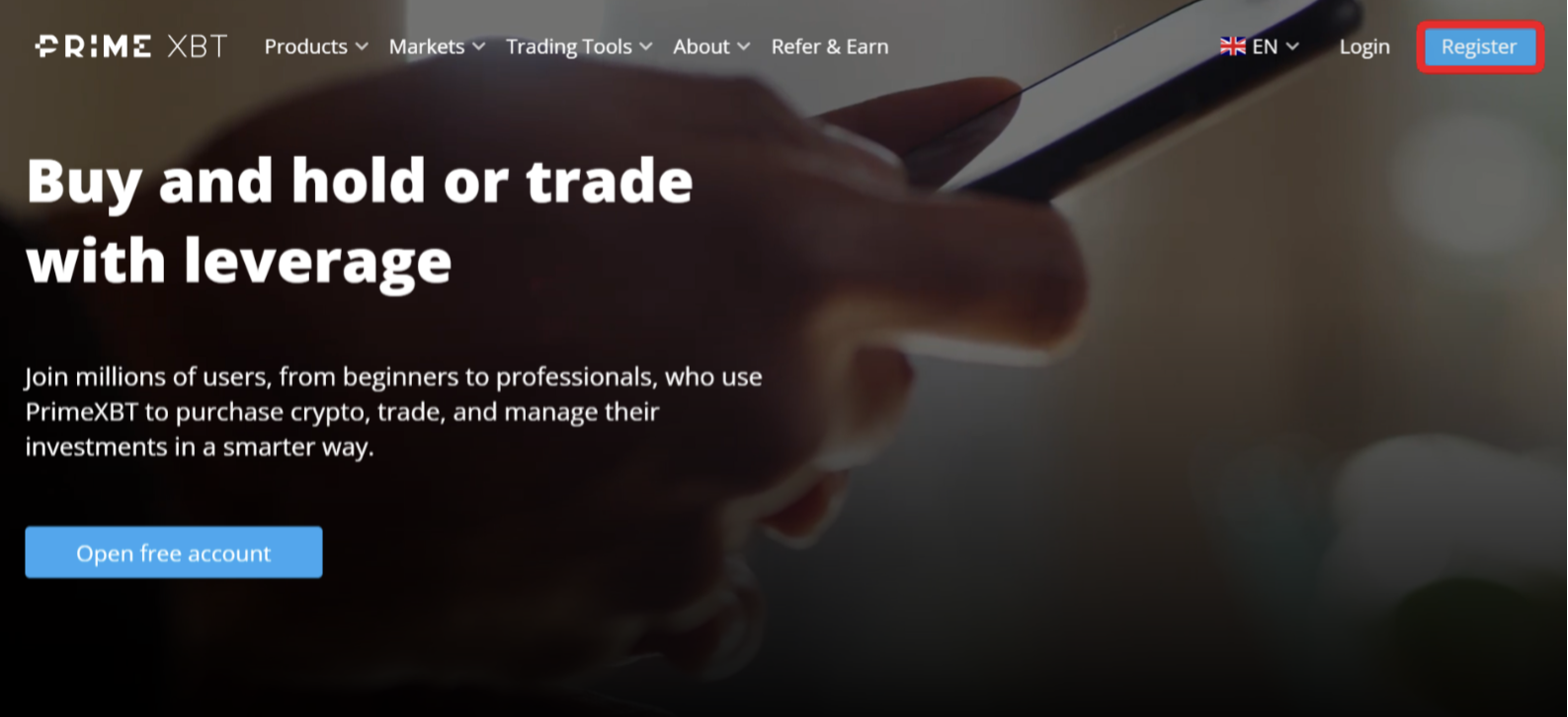 Step 3: Enter details
After clicking the register page, you will be taken to a new page where you will be asked to enter your e-mail and password. Once done, check the terms and conditions. Following that, click [Register].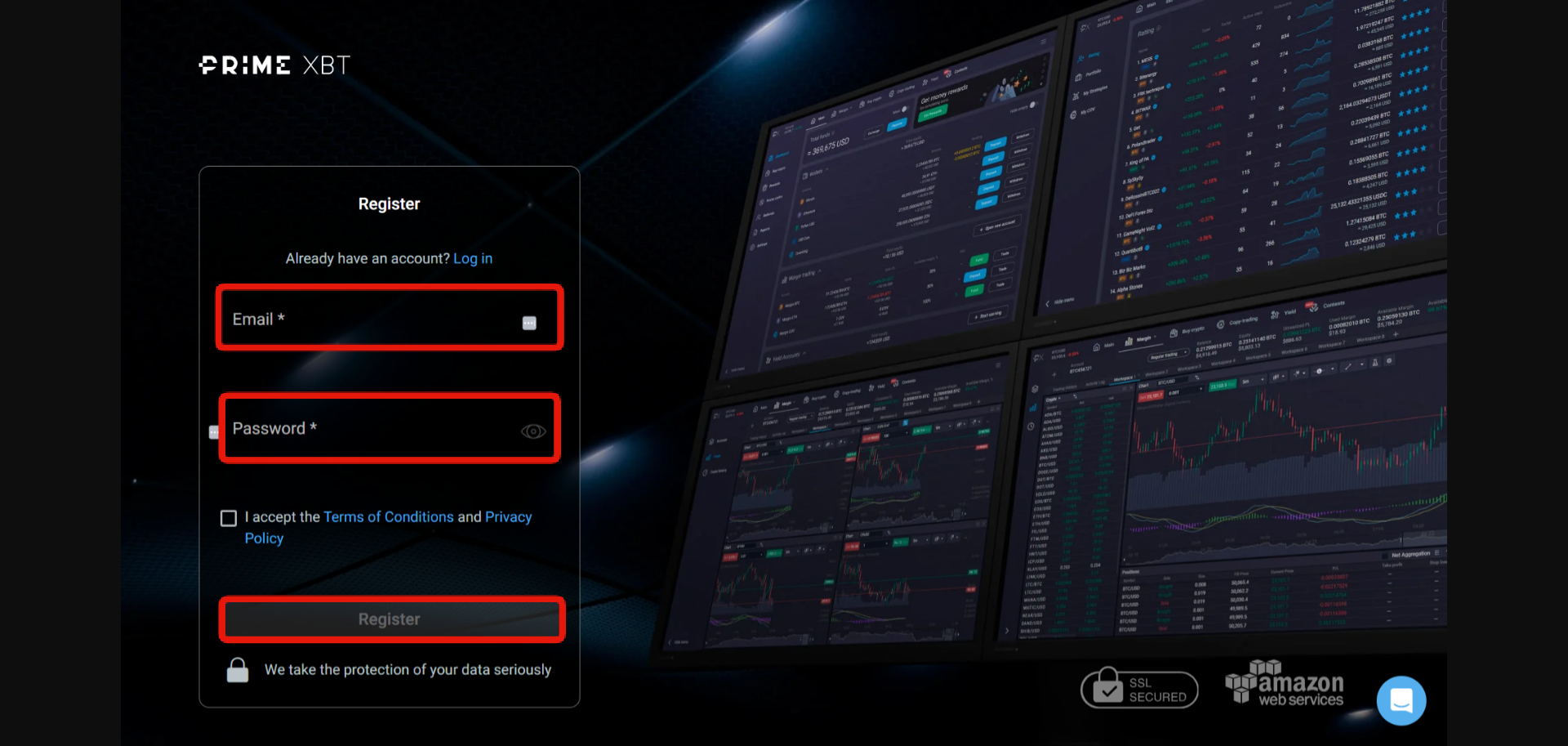 Step 4: Verify e-mail
After clicking register, you will be asked to confirm your e-mail address by verifying the pin you received through an e-mail from the platform.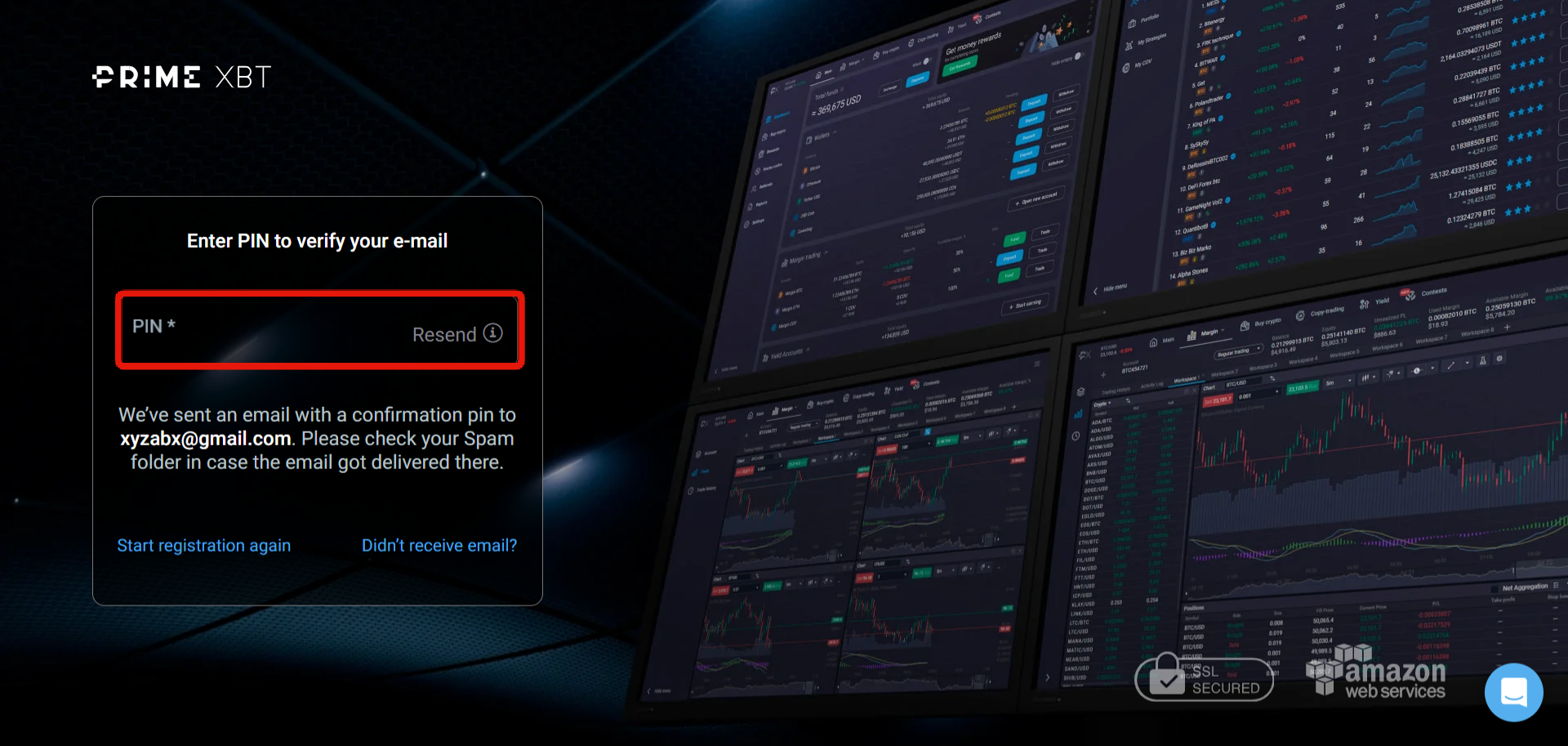 Congratulations! You have successfully registered an account, and after exploring all the features, you can start trading.
---
PrimeXBT Review: Improvements
Trading pairs
The selection of trading pairs on PrimeXBT is limited compared to other global exchanges, with only seven options available.
The exchange's policy of exclusively accepting crypto transfers from external wallets or other exchanges seems peculiar, as it does not allow reserve currency deposits from bank accounts or credit cards.
These are the available trading pairs on the platform:
Bitcoin (BTC)
Tether (USDT)
USD Coin (USDC)
Covesting (COV).
This limited selection of crypto trading options is uncommon, as most digital exchanges offer users a wider range of assets to trade. Lastly, the reasons for PrimeXBT's decision to offer such a restricted choice of trading pairs remain unclear.
Better borrowing and lending
With the increasing demand for lending services in cryptocurrency, many exchanges have started offering interest-bearing accounts, especially with the rise of decentralized finance (DeFi).
However, PrimeXBT currently does not provide such services. Although the exchange has announced plans to roll out interest-earning options, it remains unclear which coins or tokens will be eligible.
Moreover, to access this service, users must join a waitlist, and the launch is not expected until at least late summer 2021.
While PrimeXBT offers a 'Staking' option under its covering module, it is not designed for interest earning. Instead, it is a three-tiered membership program that unlocks additional perks as users spend more upfront.
This differs from the staking definition used by other exchanges, and the exchange's use of the term can confuse or mislead users.
Our Verdict
PrimeXBT is an ideal platform for margin traders trading various investment instruments, such as cryptocurrency, forex, commodities, and stock indices, using Bitcoin, Ethereum, or a USD stablecoin as their base currency. It offers Copy Trading, low trading fees, and leverage up to 1000x, depending on the asset. However, PrimeXBT may not be suitable for everyone.
It lacks spot trading functionality, has fixed leverage options, and trades are all CFDs, which means that users do not own any cryptocurrency on PrimeXBT. Additionally, the platform does not support fiat currency deposits or withdrawals. For those looking for a comparable trading platform, Bybit is another excellent option, as it offers derivatives, perpetual, futures trading, and spot trading.
---
Withdrawals at PrimeXBT are processed once a day, between 12:00 and 14:00 UTC, with same-day processing for withdrawal requests made before 12:00 UTC and next-day processing for requests made after.
In comparison to other exchanges, PrimeXBT's trading fees are low, ranging from 0.01% to 0.05%.
PrimeXBT offers multiple standout features, including the ability to go long or short and leverage of up to 1:100. Its user-friendly interface is fully customizable and supports multiple monitors. The trading platform excels in terms of safety, reliability, and speed, making it a best-in-class option.