Rating

4.7

Tradable Coins

160+

Fees

0.04 - 0.06%

Payment Options

+ 2
Our Review
BitForex provides an extensive selection of cryptocurrencies with high trading volumes at low fees. It offers a user-friendly trading terminal, a mobile application for trading, and the option to trade through MT5. The platform caters to beginners with a demo account and experienced traders with leverage trading and tradable perpetual contracts.
Pros
Low fees and high liquidity options for users.

User-friendly mobile app.

300 trading pairs and diverse digital assets.

Offers leverage up to 100x.

High-security, including 2FA and cold wallets.
Cons
Slow customer support than other platforms.

Lacks transparency.

Some outdated features.
Bitforex 2023 Review: Trading Tools, Liquidity, and Asset Variety
TLDR
This detailed Bitforex review will analyze all its features and services, including the pros and cons, trading fees, safety, and other essential aspects. We will also guide you through all steps to register on the exchange to start trading.
BitForex is a popular cryptocurrency and NFT trading platform among crypto enthusiasts. It offers a variety of innovative trading tools like spot trading with over 300 trading pairs, margin trading, perpetual trading, BitForex Earn, and Crypto Loans.
With comparatively low fees, high liquidity, and state-of-the-art security features, BitForex outranks its competitors in multiple aspects.
What makes Bitforex an ideal choice?
Users interface for new traders
The charting design is key when selecting a cryptocurrency exchange for investment. Fortunately, BitForex exchange offers a well-organized and simple trading platform that makes it easy for new and old users to navigate different features.
BitForex has designed its platform to provide traders with unparalleled ease of trading. The trading pairs are conveniently listed, enabling traders to switch between different asset classes effortlessly, making the trading experience more seamless. Pro traders will find BitForex's crypto live price charting interface smooth, intuitive, and clean charts.
In addition, this exchange provides traders with advanced trading tools and indicators to enhance their trading edge and maximize profits while minimizing risks. TradingView charts have a broad range of time frames and tools to draw trend lines, add indicators and chart patterns, and time trade orders using market, limit, or stop orders.
BitForex's trading interface offers all the advanced trading tools, including an extensive suite of chart indicators like Simple Moving Averages, Relative Strength Index, Ichimoku, Bollinger Bands, and Average True Range.

Supported Countries and Coins
BitForex has a policy of no geographic restrictions, allowing traders to trade from anywhere theoretically. The exchange officially operates in 163 countries.
The platform provides access to 163 major cryptocurrencies and altcoins, such as BTC, ETH, BCH, DOGE, MATIC, XRP, and GRIN, offering 300 trading pairs for its users. BitForex also supports payments in USD and EUR, providing flexibility to traders for their transactions.
BitForex imposes a daily withdrawal limit of 0.0001 BTC as a minimum and 100 BTC as a maximum. But if you want to withdraw a higher amount, you will be asked to complete the two-factor authentication (2FA) before the transaction.

Customer Support team
Despite this crypto platform being new in the business, BitForex has established an excellent reputation for its customer support service in the industry. We found Bitforex customer support very courteous and responsive in resolving customer service issues.
Traders can resolve their issues through a ticketing system or contact the support team from the website. One interesting aspect is that the well-trained team at BitForex promptly responds to customers' queries. In addition to their expertise, the support team is accessible through live chat service or email, ensuring quick and convenient communication channels for users.
To make the platform user-friendly, BitForex's FAQ section is a comprehensive resource that offers information on exchange fees, coin withdrawals, deposits, tokens, and more.
Plus, any complaints or questions sent via e-mail receive a response from the support team within hours. For a quick response, we recommend users provide all the details about the problems or other issues they may have encountered with any product.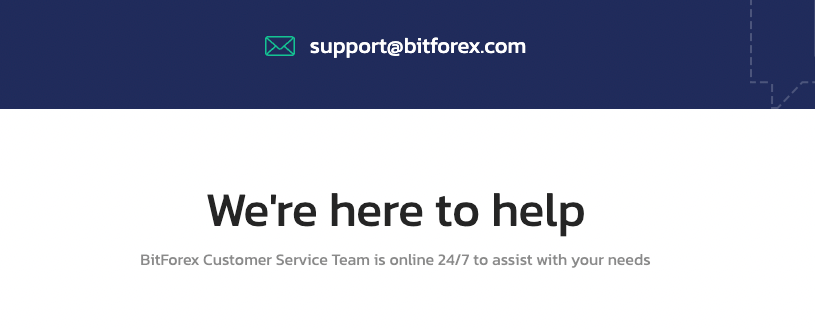 Security and safety
Our detailed review of the BitForex exchange has detected no data breaches, coin theft, or cyber-attacks. It tells a lot about how much it emphasizes user safety and asset protection. To make the platform secure, the site utilizes a hardware wallet to ensure the security of traders' accounts and funds.
BitForex says 98% of user funds are stored in an offline or cold wallet. Multiple members of BitForex's globally dispersed management team must provide permission to withdraw funds from this wallet. In addition to the cold wallet, BitForex also uses a hot wallet to fulfill withdrawals in the queue as needed.
In addition, BitForex ensures protection against Distributed Denial of Service (DDoS) attacks through real-time harmful traffic detection software that automatically blocks server requests.
The crypto exchange also offers two-factor authentication (2FA) to add an extra security layer. This feature requires users to provide authentication before successfully logging in.

Bitforex's leverage trading
BitForex exchange allows users to leverage up to 100x on perpetual contracts, which can be a valuable tool in cryptocurrency trading. Utilizing leverage allows you to amplify their positions and increase profits by capitalizing on small market fluctuations.
Traders only need to put down a portion of the total trade value. At the same time, the exchange provides the remaining deposit for a more substantial position size without tying up all of its capital. But it's worth mentioning that leverage can also increase potential losses.
To prevent the liquidation of large positions that could adversely affect market liquidity, BitForex uses a Tiered Margin Ratio System. Besides, this system provides lower leverage to larger positions, requiring a higher Initial Margin Ratio.
This feature is particularly useful for new traders interested in shorting Bitcoin or other crypto assets using borrowed funds.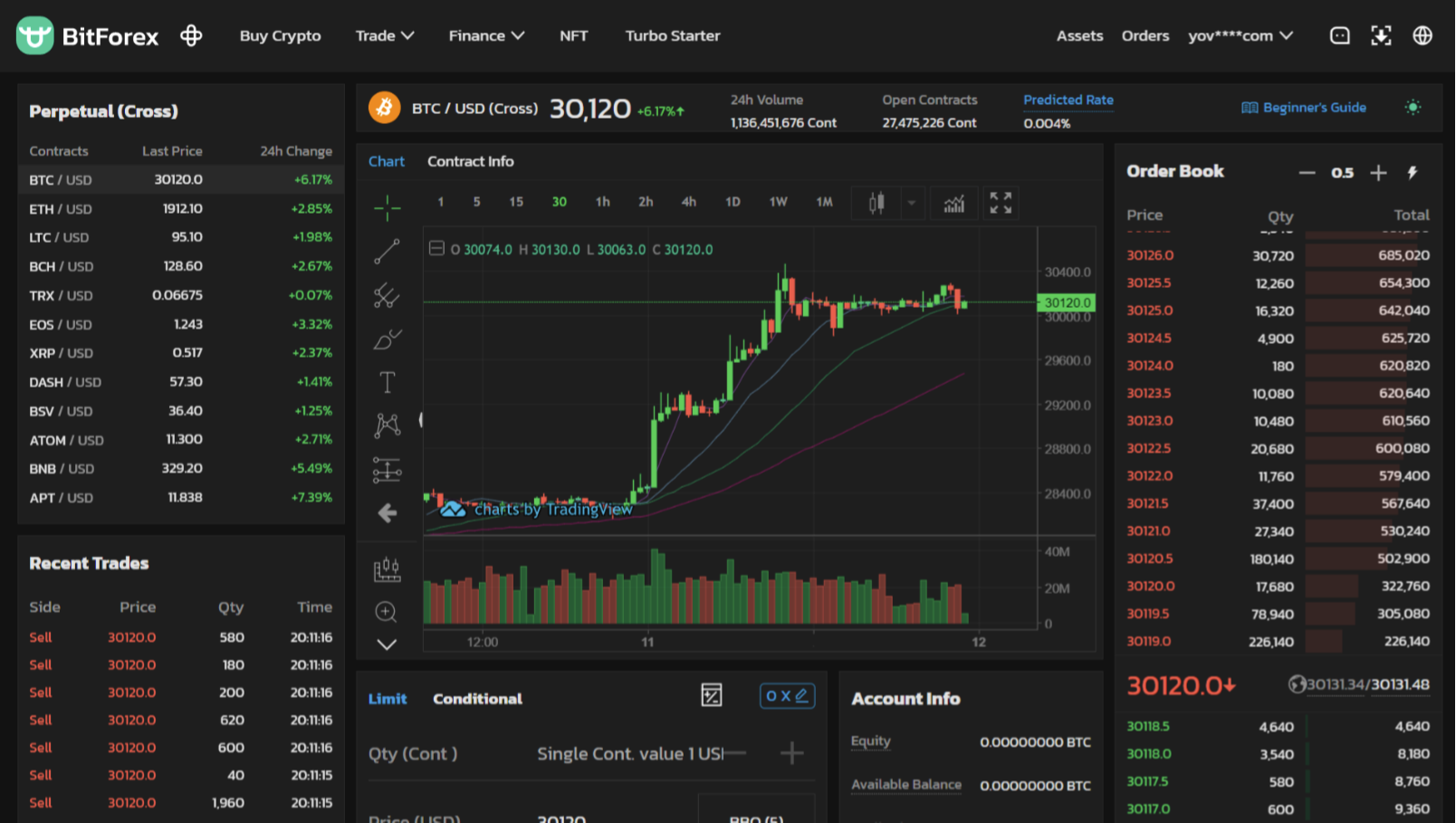 Bitforex fees
For spot trading on BitForex, the fee is a flat 0.01%, which is considered reasonable compared to other platforms. Also, there are no deposit or withdrawal fees except the standard blockchain network fee.
Fees are undoubtedly one of the most critical factors when choosing a cryptocurrency exchange for trading. This is especially true if you plan on trading large amounts or using cryptocurrency leverage trading, where you pay fees on positions much more significant than your margin.
BitForex charges a Trading Fee for every order you make, and it's calculated based on your Realized P&L. The fee structure is based on whether you're adding or removing liquidity from the exchange. It's called a spot trading fee or a maker & taker fee.
---
How to sign up on Bitforex?
Creating a Bitforex account is simple as taking a walk. There are no KYC requirements, simple UI, and easy access to the trading platform. Follow this step-by-step process to get started trading on Bitforex today.
For an easy account set up on the Bitforex Exchange, click the [Get Started] button.
BitForex provides an extensive selection of cryptocurrencies with high trading volumes at low fees. It offers a user-friendly trading terminal, a mobile application for trading, and the option to trade through MT5. The platform caters to beginners with a demo account and experienced traders with leverage trading and tradable perpetual contracts.
---
Low fees and high liquidity options for users.

User-friendly mobile app.

300 trading pairs and diverse digital assets.

Offers leverage up to 100x.

High-security, including 2FA and cold wallets.
Slow customer support than other platforms.

Lacks transparency.

Some outdated features.
Step 1: Visit BitForex's website
Start off by visiting the Bitforex website on your desktop or mobile phone app using any web browser.

Step 2: Get started with sign-up
The main landing page will have a green [Register] button. Click it to get started.

Step 3: Enter details
After you click sign up, a create an account pop-up will appear on your screen. enter your e-mail and a strong password. Once done, click [Create Account].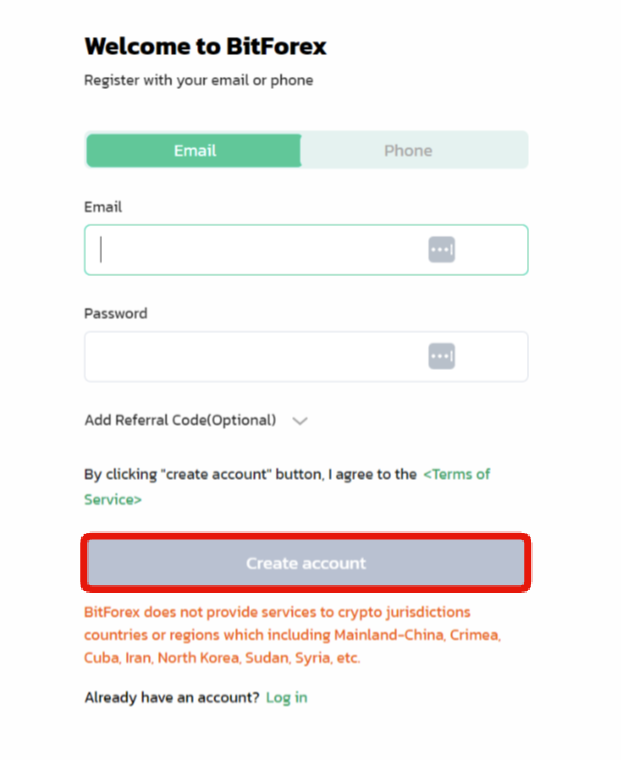 Step 4: Deposit and start trading
Congratulations! You have successfully registered an account. Now, explore all its features and start trading safely.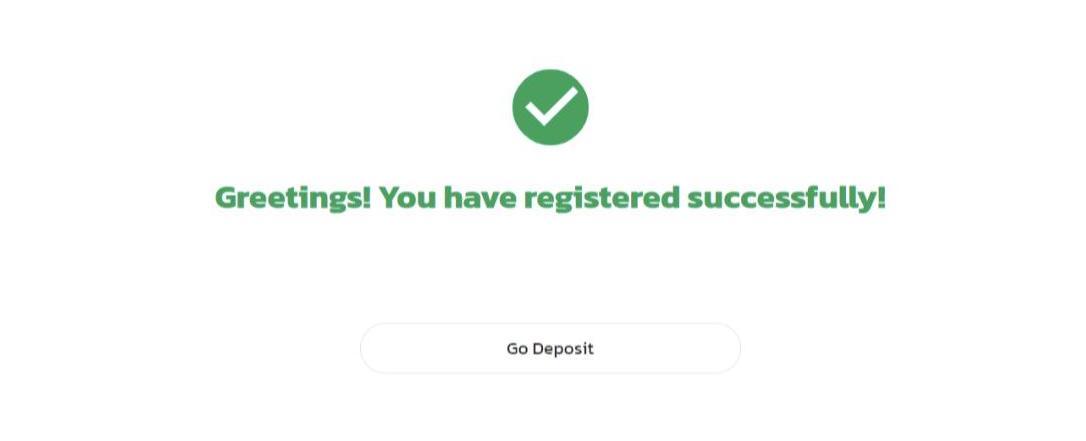 ---
Bitforex Review: Top Features & Perks
Let's look at the top features of the Bitforex exchange.
Spot Trading
Spot trading on BitForex is a simple and user-friendly way of purchasing cryptocurrencies. The interface for spot trading is easy to navigate. You can find all trading pairs, price charts, order books, and asset buy and sell options well-organized and easy to access.
To start spot trading, go to the [Spot] trade page in the main menu of the BitForex website. Enter the order size and price for the trading pair you want to trade and confirm.
Immediately after a successful order, the platform swiftly credits the funds to your crypto wallet. Simultaneously, the order is seamlessly transferred to the order history tab, ensuring a smooth and organized transaction process.
Mobile app
BitForex Exchange has a dedicated mobile app for iOS and Android devices. This app is ideal for cryptocurrency traders on the go. Moreover, the mobile-responsive design is easy to use and intuitive.
Furthermore, the platform's web version is mobile-friendly, allowing users to access it via smartphones and trade while on the move, maximizing flexibility in managing their accounts.
Whether on a mobile device or a desktop computer, BitForex provides its users with a seamless trading experience across all devices.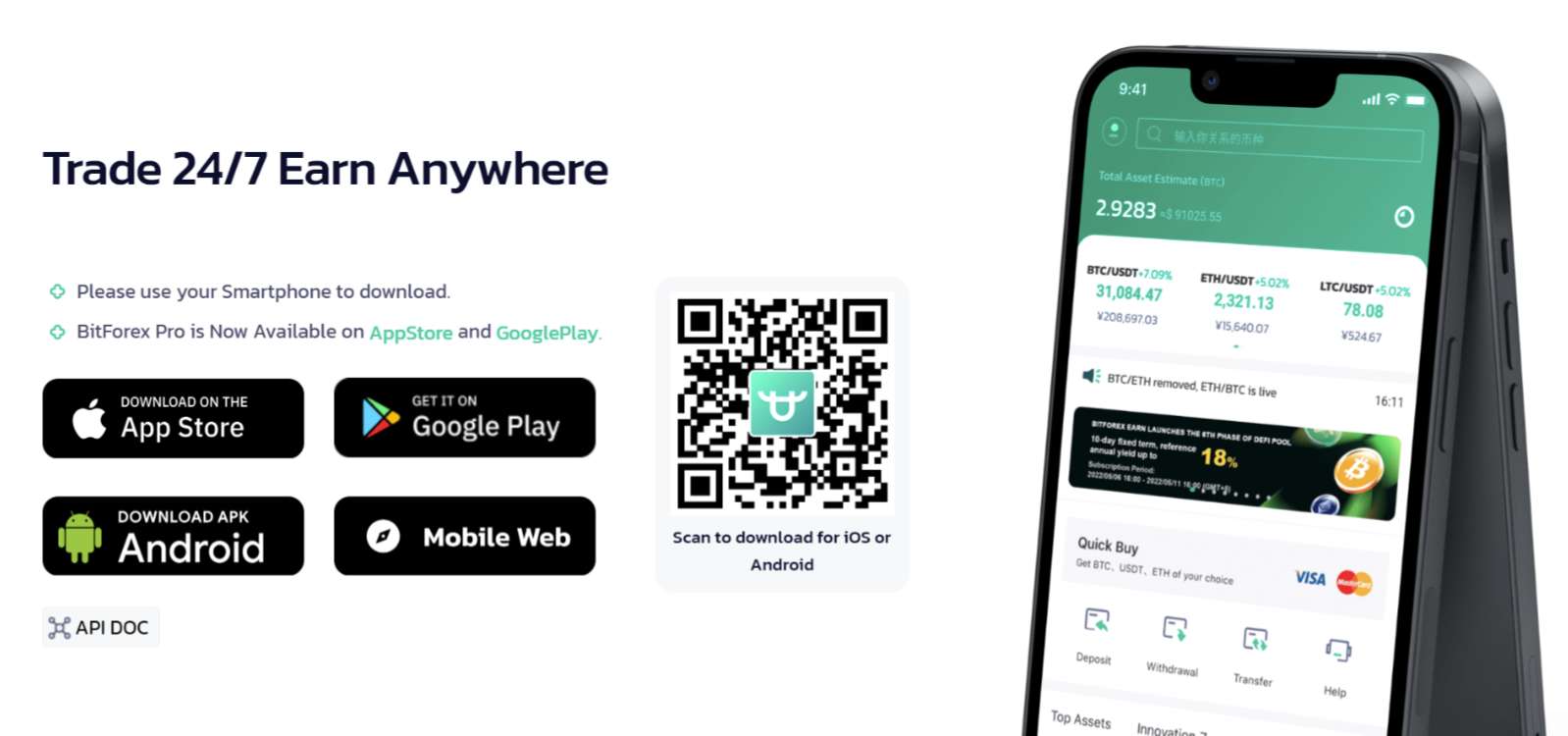 TradingView
For traders who rely on technical analysis to improve their trading edge and gain a competitive advantage, TradingView offers an excellent charting interface.
This chart provides live prices and a wide range of trading tools and indicators and allows traders to draw trend lines and arrows and add chart patterns. Additionally, TradingView assists in setting limits or stopping orders.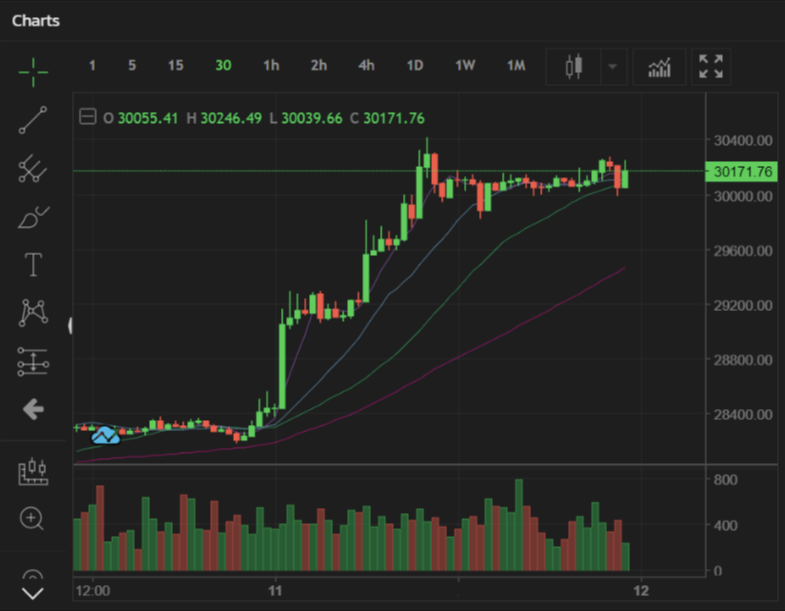 CApp Town for linking DApps
CApp Town links digital currency traders to multiple blockchain apps such as CoinGecko, Twitch, Paxful, and Matrixport. It is an open platform based on the BitForex Exchange, aiming to eliminate inconsistencies between various blockchain protocols.
CApp Town is an essential feature of BitForex that facilitates connecting digital currency traders and DeFi apps.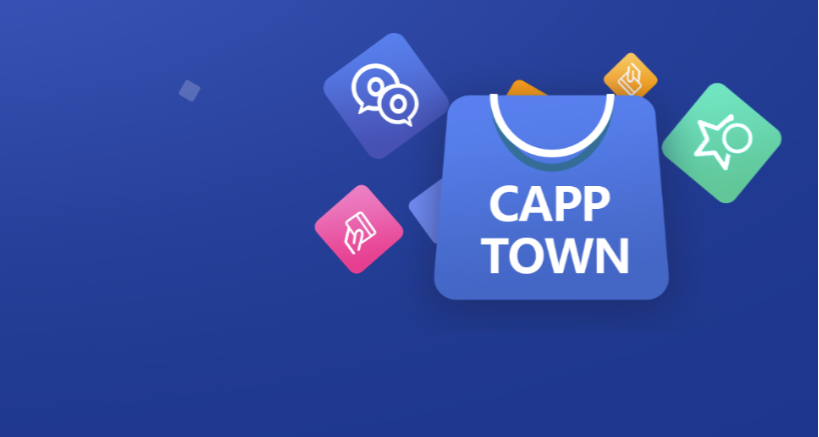 EazySwap
EazySwap is a decentralized exchange that operates on the ERC20 standard. It provides over 980 different ERC20 tokens to choose from, and trading is gas-free, with low slippage and fast matching. Liquidity pool providers can earn up to 100% of the pool's trading fees.
Mainnet token trading support will be added soon, and there are fewer listing criteria compared to other DEXs. EazySwap is an excellent choice for users who want to list a token.
Ethereum 2.0 Staking
BitForex allows users to stake Ethereum tokens using Ethereum 2.0 Staking. Users can start staking with a minimum of 0.1 ETH and keep or exchange staked ETH whenever they want.
By staking ETH on BitForex, users can earn staking incentives and platform fees. The staked ETH will become ETH2, which can be immediately traded.
BitForex Sector
The BF or BitForex sector is the DeFi zone on the BitForex exchange. Here, users can access a variety of DeFi tokens. Clicking on a trading pair under [Spot] will take the user to the spot exchange, where they can stake any listed tokens.
The BF sector offers DeFi enthusiasts access to various DeFi assets and services, enabling them to explore various opportunities in the decentralized finance sector.

MetaTrader 5
Another noteworthy feature is MetaTrader 5, which allows users to trade traditional financial products and assets with additional opportunities without leaving the platform.
MT5 aims to broaden the economic scope of the cryptocurrency sector, and it currently supports BTC, ETH, USDT, and XRP currencies. Users can directly transfer funds from their wallets to fund their MT5 account.
Perpetual contracts
BitForex offers perpetual contracts, which are futures contracts with no specific expiration date, allowing traders to hold leveraged positions indefinitely. This feature enables traders to hold assets for as long as they want, subject to sufficient margin.
One of the most attractive features of BitForex's perpetual contracts is the high leverage, which can boost your position to 100x.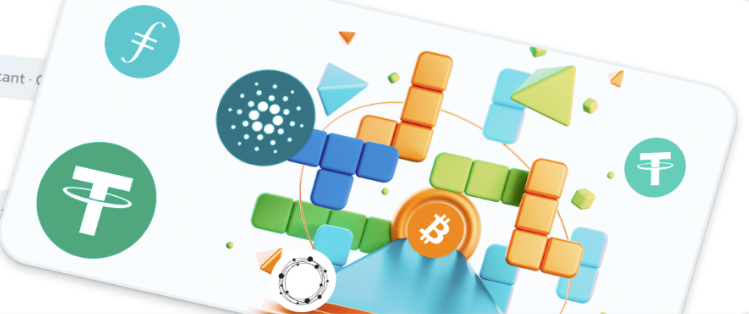 The BitForex Token
BitForex Token is produced through trade mining, community participation, and mutual development of the ecosystem.
As a result of its buy-back program, the exchange uses 80% of its trading fees to generate BitForex Tokens, which holders can use to vote on platform growth and community management.
BitForex Turbo
Some IEO projects have had no monetary value in the last few years. Thankfully, BitForex offers a valuable opportunity for promising IEO projects in this competitive industry.
BitForex Turbo is a listing platform designed for high-quality IEO listings worldwide. Users can view various information, such as trade pairings, total allocation, start/end times, etc.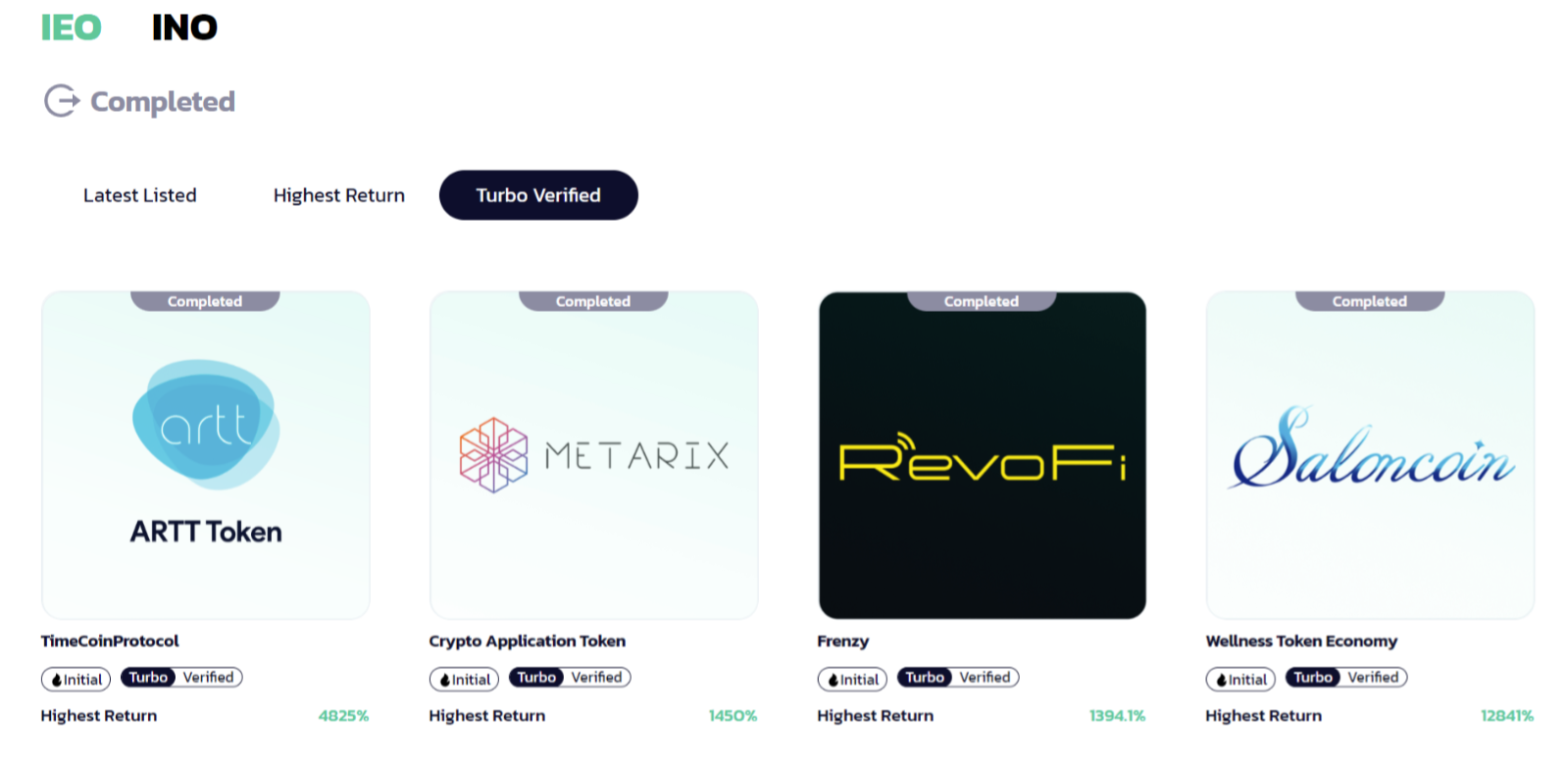 Bitforex Review: Improvements
One area for improvement for BitForex is the lack of a demo trading account. This omission makes it challenging for beginners who wish to learn how to trade Bitcoin without risking their capital. As a result, BitForex should consider creating a demo trading account to allow users to practice trading strategies and become familiar with the platform's features without risking their funds.
This surely helps attract more new traders to the cryptocurrency exchange industry and assists them in gaining the confidence needed to start trading. By providing a risk-free trading mechanism, BitForex could further differentiate itself from competitors and position itself as a go-to destination for beginner and experienced traders.
Bitforex Review: Our Verdict
In conclusion, BitForex is a promising platform for those seeking a complete cryptocurrency experience. With a wide range of altcoins and their perpetual futures contracts, contracts, spot trading, and safe coins staking, BitForex provides a complete package of products and services.
The platform's competitive fees, intuitive interface, and lack of KYC processes make it an attractive destination for crypto enthusiasts. Additionally, BitForex's security measures, including holding 98% of client funds in cold storage wallets, have effectively prevented scams and hacks.
While the exchange's newness and lack of transparency regarding its establishment and team members may be concerning, BitForex's innovative products and services, such as CApp Town and Eazy Swap, provide a positive outlook for the platform's future.
---
Yes, BitForex is a safe and legitimate platform for trading cryptocurrencies. The exchange takes fund security seriously and offers robust measures to ensure the safety of user funds. Additionally, BitForex provides a user-friendly trading experience with various innovative products and features.
No, you don't need to go through any ID verification or KYC procedures to start trading with BitForex. With an e-mail or mobile number, you can instantly create a Bitforex account, start crypto trades, and explore other features.
Yes, BitForex has a mobile app for Android and iOS devices. It's user-friendly and adaptable, allowing traders to access the platform on the go. It provides all the features of the desktop version, making it a convenient tool for trading and monitoring portfolios on the move.
No, as of now BitForex only supports cryptocurrency and NFT traders on its platform. There are chances that the company might devise plans to innovate its services and include forex trading.