Rating

4.7

Tradable Coins

100+

Fees

0.01 - 0.2 %

Payment Options

+ 1
Our Review
CoinW is fast becoming a popular crypto exchange platform among traders. The exchange is available in over 3 continents and 120 countries. It also supports more than 100 cryptocurrencies and fiat currency. It has zero fees for spot trading and charges 0.02% as a maker and taker fee for futures trading.
Pros
Zero spot trading fees.

Futures trading & ETF.

Huge global presence.

High security.
Cons
Low trading pairs.

Poor customer service.
CoinW 2023 Review: Best Platform for Your Future Trading Needs?
TLDR
This CoinW Review gives you the good, bad, and ugly about if this is the best Futures trading exchange for your needs.
Coinw exchange is one of the modern trading platforms where users can trade Bitcoin and other leading crypto assets. The company is headquartered in the British Virgin Islands and extends its operations to over 120 countries.
It supports over 100 cryptocurrencies and fiat currencies. The website also allows translations into multiple languages, especially English, Chinese, and Korean.
CoinW offers low fees for futures and ETF trading and zero fees for spot trading. There is also no charge for depositing funds. The exchange allows staking and has a robust rewards program, especially for new users.
The drawbacks of Coinw include its poor customer service and unclear legal and regulatory status in several countries.
What is Coinw?
Coinw is regarded as a world-class cryptocurrency exchange. It offers users numerous trading opportunities, including spot and futures trading. The exchange trading platform was founded in 2017 and is headquartered in the British Virgin Islands.
Coinw coverage is vast, operates in 120 countries, and has translations in multiple languages, including English and Chinese. It also supports fiat deposits in currencies, including USD, Chinese Yuans, Korean Wones, and Vietnamese Dongs.
The digital asset trading platform has become prominent and lists over 7 million active users with thousands of app downloads from Google Play Store.
Who Should Use Coinw?
This section reviews the category of users who should use Coinw, including the geographical availability of the exchange providing global users.
For New Users
Coinw is user-friendly for beginners as the interface is not too complicated for users to navigate. The exchange also provides various benefits for new users.
One of the rewards for new global users is the 500 USDT bonus given for registration and trading. New users can get up to 15 USDT when registering and trading Exchange-Traded Funds (ETFs) on the platform.
Geographical Availability
Coinw is available in over 3 continents and 120 countries with millions of users. It also supports its diverse users with multiple languages and different currencies.
However, the digital asset trading platform is banned in many countries, especially those that have frowned on cryptocurrencies. These countries include China, Bangladesh, Egypt, Morocco, Qatar, and Tunisia.
Some other countries also restrict some of the trading features that can be made available. It is important to know the legal status of Coinw in your country before using it.
Cryptocurrency Supported
Coinw exchange supports over 100 major cryptocurrencies, including Bitcoin (BTC), Ethereum (ETH), Dogecoin, and other less popular coins.
The list of supported cryptocurrencies is available on the official website. The exchange lists new projects on its platforms that traders can buy and trade.
What Makes CoinW a Good Choice?
Huge Global Presence
A top reason why most users select an exchange is its wide geographical availability and coverage. Coinw exchange delivers on this end as it has an amazing global presence in hundreds of countries.
It has localized trading service centers in 13 countries to keep a global compliance layout and further solidify its global presence. The global exchange also supports various languages, currencies, and payment methods to meet the need of its global users.
Trading Futures and ETF
Users can trade not only coins but also futures for cryptocurrencies and ETFs. CoinW is an advanced platform introducing dynamic futures trading and ETF features.
One of the prime features is the ability to split and merge positions, giving the users an enhanced level of customization in managing the trades. This is in addition to CoinW's trailing stop-loss/take-profit feature that allows users to adjust surplus, giving an extra edge to any trading strategy.
The one-click inversion feature is another key offering. This enables traders to quickly capitalize on changing market momentum by inverting their trades effortlessly with just one click.
CoinW has another stand-alone feature allowing you to maintain multiple long-short positions. This is well connected with their front-loaded stop-loss/take-profit feature. Lastly, Coinw brings an instant closure feature that enables traders to quickly implement their exit strategies and close all their positions with a single click.
Spot Trading Zero Fee
One of the most competitive edges for Coinw is zero fees for all spot trading on the exchange. This super cool feature makes it more attractive when compared with other exchanges that charge a higher price or fee for the same feature.
The lack of transaction fees for spot trading allows more traders to profit from their transactions without paying huge fees. Also, the trading platform does not charge users for depositing funds in their accounts.

High-Security
Coinw shines again in the area of protecting users' assets. The exchange focuses heavily on security to create a secure platform where users can trade without fear of funds completely missing.
The exchange combines different security features, including the use of cold storage. This means about 98% of digital assets are stored offline, leaving only 2% of assets to facilitate trading. Coinw also holds an insurance policy that protects users from loss.
In addition to the storage method, Coinw also provides other financial securities industry standards. Users are expected to complete a 2-Factor Authentication process before trading. It also complies with other financial regulatory licenses like the anti-money laundering regulations.
Drawbacks of Coinw exchange
Most global exchanges usually have one or two drawbacks, and the Coinw exchange is no exception.
Terrible Customer Support
The area of customer support is one of the downsides of Coinw, as the exchange has extremely slow and limited communication channels with its users. The trading platform has no call center or e-mail support person and can only be reached through Telegram, Twitter, or Live Chat.
Poor User Reviews
Most users of Coinw have given low ratings and negative reviews about the crypto exchange. The major complaints of the users are about delays and challenges of withdrawing from the platform. The exchange's unclear regulation status and poor customer service do not help.
---
How To Set Up a Coinw Account?
Follow this step-by-step guide to kick-start your journey with CoinW:
CoinW is fast becoming a popular crypto exchange platform among traders. The exchange is available in over 3 continents and 120 countries. It also supports more than 100 cryptocurrencies and fiat currency. It has zero fees for spot trading and charges 0.02% as a maker and taker fee for futures trading.
---
Zero spot trading fees.

Futures trading & ETF.

Huge global presence.

High security.
Low trading pairs.

Poor customer service.
Step 1: Visit the CoinW Website
To get started, visit the official website for Coinw. You have to click the [Sign Up] button at the top right corner of the website.

Step 2: Enter Personal Details
The sign-up button leads you to the next page, where the platform requires you to enter personal details.
You have the option of either registering using your phone number or e-mail. Irrespective of your method, you will be sent a verification code.
When you are done, select the [Sign Up] button at the end of the form.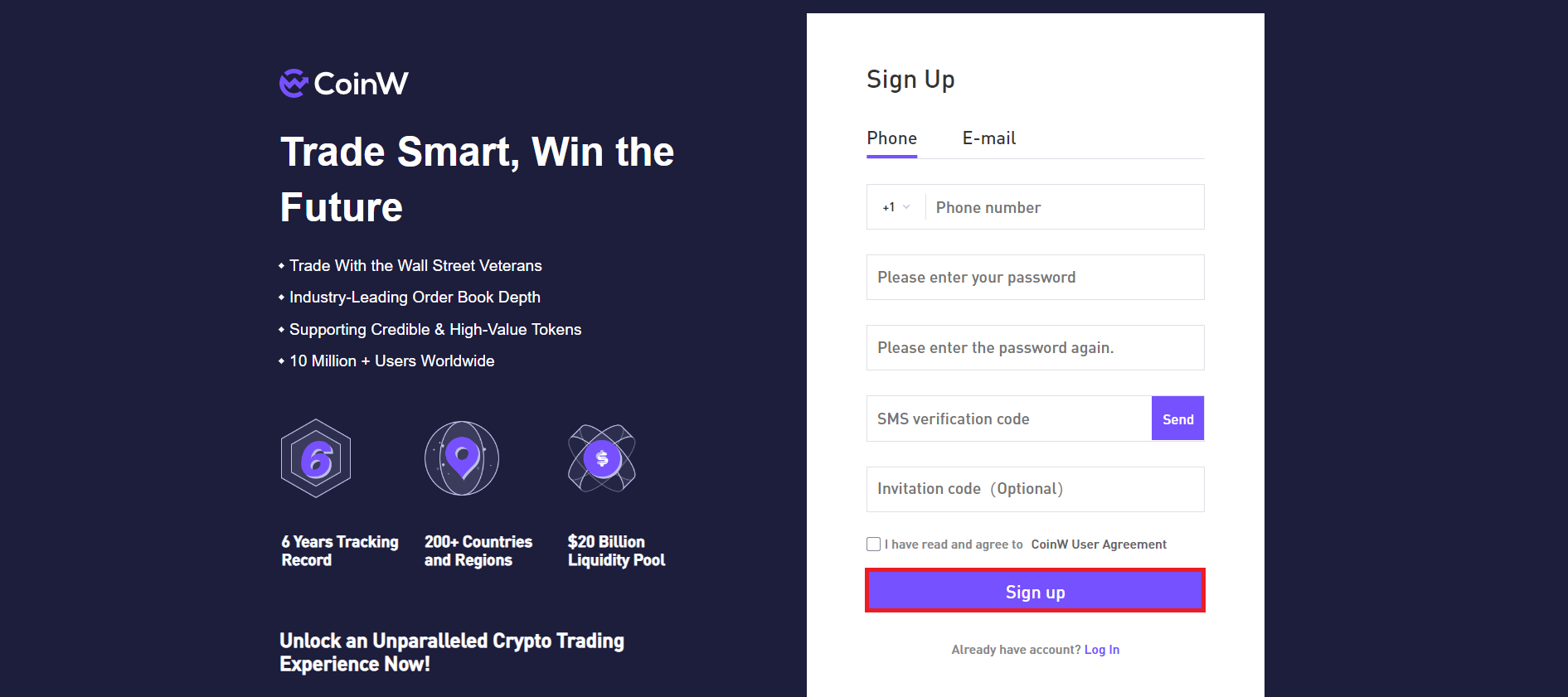 Step 3: Get your Welcome Bonus
Once you successfully submit the registration form, you immediately get your CoinW account. As a first-time user, you also get a welcome bonus of 500 USDT to start trading.

Coinw Review: Top Perks and Features
Here are some of the top reasons you might consider using Coinw exchange.
Advanced Trading
Coinw allows users to participate in advanced trading on the platform, including using leveraged ETFs. This feature is an excellent way of amplifying asset gains based on market movement.
Asides from ETFs, it also has copy trading features whereby users can copy leading trading strategies of experienced traders. Social copy trading helps new users reduce their risk of trading losses.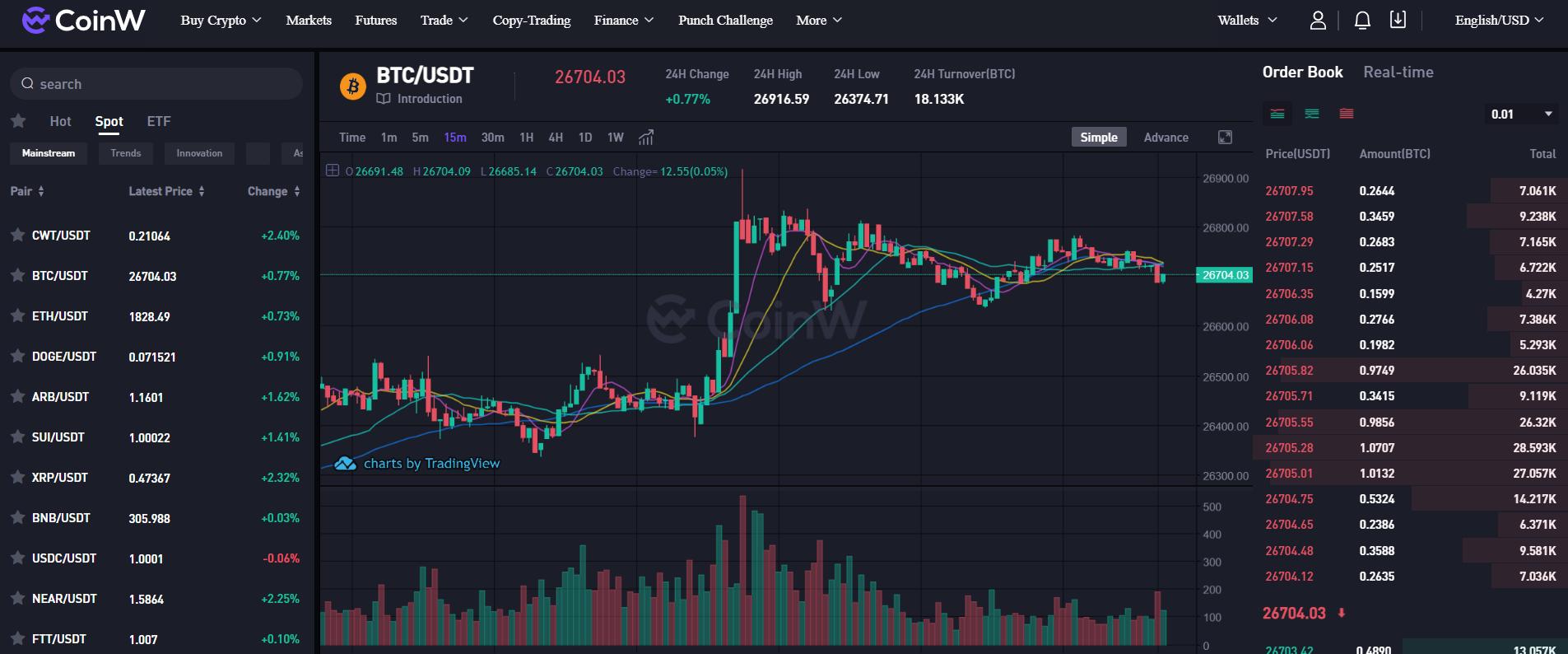 Mobile Application
Mobile applications are one way of keeping more traders engaged as they can continue trading anywhere, anytime. Coinw has an amazing mobile application that allows users to trade conveniently.
The mobile application is available on the App Store and Google Play Store. It supports both iOS and Android devices.
Coinw Fees
As reported earlier, Coinw does not charge deposit and spot trading fees. However, the other fees charged are quite moderate. The platform charges a flat fee of 0.2% without owning any CWT using a maker-and-taker model.
The fee can also be reduced to as low as 0.01% when users reach certain VIP levels on the platform through active trading and holding CWT tokens. All of these provide traders with lesser fees.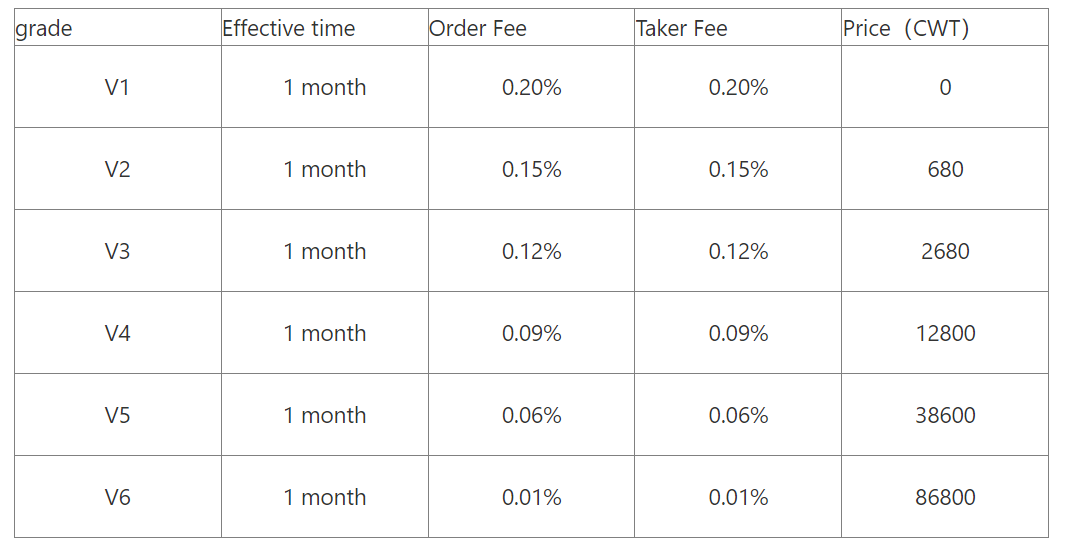 Coinw Staking
Staking is a direct contrast and alternative to mining. The process also does not require large computing power and energy consumption.
For staking on Coinw, investors add their funds to the staking pool and earn interest when others borrow from the staked pool. The investor gets rewarded for the investment based on the interest paid alongside the original capital.
Coinw's Affiliate Program
Another easy way for Coinw users to get rewarded is through their affiliate program. You can get rewarded for inviting new users to the platform. The amazing part of the affiliate program is that both the inviter and the invited gets a rewards bonus.
New users on the platform can get as high as 500 USDT, while the inviter gets 1 USDT for each transaction the referral makes. Active users also get rewarded from time to time by the exchange.
Improvements
There are numerous areas whereby Coinw can improve to make it a world-class exchange truly.
Customer support and communication: The exchange needs to open up more communication channels for users, including but not limited to having a phone call center and an official e-mail. The channels of communication will also assist Coinw to be able to get real-time feedback and complaints from its users and also be able to improve its pain point.
Registration status: There are several countries where the registration and legal status of Coinw is unclear, and many have tagged it as a scam exchange. It will be great if the exchange can clear its legal status in several jurisdictions and make users more confident in its legality.
Conclusion
Overall, Coinw has proven to be a promising exchange that can deliver a great trading experience for many users, especially with its spot and advanced trading options.
It is an attractive exchange due to the zero transaction fee on spot trading, allowing traders to enjoy maximum investment returns.
You can also trade futures with very low fees and plenty of discounts when you hold the CW token. However, there are still plenty of drawbacks and areas of improvement for the exchange. Coinw needs to provide more communication channels and work on its legal status to give more traders confidence in the platform.
---
The founder and CEO of CoinW are Bai Mingguo, and they have committed to making the exchange a top platform that will continue promoting quality crypto projects.
CoinW has three major languages to enhance users' experience. This includes English, Chinese, and Korean.
Yes, CoinW is an advanced platform introducing dynamic futures trading and ETF features.