Rating

4.7

Free

Yes

Fees

N/A

Cash back

2%
Our Nexo Card Review
The Nexo card is a unique crypto-backed credit card that lets you access loans without selling your crypto. The card is free to order and gives you up to a 2% cashback reward on purchases made with the card, and the loan has no minimum monthly repayments.
Pros
Instant loans for users.

Multiple earning opportunities.

Tax relief.

Highly secured transactions

Partnership with Mastercard
Cons
Only available for Nexo users.

Geographical limitation.
Nexo Card Review 2023: A Great Way to Spend Crypto
TLDR
Nexo card can come as either a physical or virtual card, and you can use it like any other card, including for ATM withdrawals and online purchases. Nexo card allows you to keep your long-term crypto, use that as collateral, and still have access to loans. Isn't that great?
Nexo card users have perks and bonuses, including a 2% cashback reward from purchases. The card is a Mastercard, and users can make payments with the card over multiple payment platforms that accept Mastercards.
However, you must have a Nexo account and App to use the card, which is only available for individuals in European economic areas.
Who should use the Nexo card?
If you are a highly invested crypto enthusiast who wants to 'HODL' your crypto assets for an extended period yet need access to quick money, then a Nexo card might just be the magic you need.
What is the Nexo card? The Nexo card is seen as an extended service of the Nexo platform. The card lets Nexo users spend fiat currency without selling their crypto assets.
If you have any emergency need for cash and don't have to sell your cryptocurrency, you can get a credit line from Nexo. This way, you can fund your account and use the card while your crypto is collateral. Genius!
The Nexo card works as a crypto-backed credit line and can be used to back crypto and blockchain products and make purchases on multiple payment channels and merchants like any other credit card form. One competitive edge of the card against other crypto credit cards is that it does not have to sell off your digital assets in exchange for an open credit line.
Nexo Card Review: Geographical Availability
The Nexo card is only available for residents and citizens of European Economic Areas (EEA). That includes:
Austria
Belgium
Bulgaria
Croatia
The Republic of Cyprus
The Czech Republic
Denmark
Estonia
Finland
France
Germany
Greece
Hungary
Ireland
Italy
Latvia
Lithuania
Luxembourg
Malta
Netherlands
Poland
Portugal
Romania
Slovakia
Slovenia
Spain
Sweden
Iceland
Liechtenstein
Norway
That means Nexo services are not available in countries like the United States of America. This is a drawback since most crypto users are in the U.S.
To complete registration, you must enter an eligible phone number belonging to one of the EEA regions where a Nexo card is available.
What makes the Nexo card a good choice?
Instant loan for users
If you hold crypto assets and require a loan, Nexo offers you an instant credit loan without selling your crypto assets. The loan given can be used to purchase goods and services while your portfolio balance of cryptocurrency stands as collateral till you return the loan.
Nexo allows you to use 45 types of cryptocurrencies as collateral crypto-backed loans, including the most popular ones like BTC, ETH, NETH, XRP, LTC, etc. This gives investors more flexibility while catering to their immediate financial needs. The loans can be paid using cryptocurrency or fiat currency through wire transfers.
Multiple earning opportunities
Aside from providing credit to its users to spend, Nexo also offers multiple earning opportunities, like a 2% cashback reward on all purchases made with a Nexo card.
Irrespective of your card spending, 2% of the total amount will be credited to your account as either Bitcoin or Nexo tokens. This serves as a motivation for continual crypto investment.
Nexo also allows users to get crypto rewards and increase their earnings by setting up multiple loyalty tiers. The higher your loyalty tier. The more amount of money you can earn as cashback. To be part of the loyalty tier system, you must hold at least 10% of your crypto assets in Nexo.

Tax relief
Contrary to how traditional credit cards and other crypto cards operate, Nexo cards offer you a tax break. When you sell your crypto in exchange for fiat value and you make a profit, you are expected to pay capital gain taxes in most countries.
However, using digital assets with the Nexo card offers tax benefits to its users; since your digital assets are not sold while accessing the card tab or the crypto credit line, you do not have to pay or report any tax.
Highly secured transactions
Nexo flexes security by having one of the best "state of art" security facilities on its cards and financial transactions. It combines security protocols, including Know-Your-Customers (KYC) verification, high-grade 256-bit encryption, data protection, and advanced cybersecurity measures. Nexo also benefits from a $775m insurance for theft, loss of private keys, or hacks.
In addition, simple yet enhanced security measures are available on the Nexo app, such as the feature to freeze a card if it is lost or stolen. You can also monitor your transactions through instant notifications.
Partnership with Mastercard
In 2022, Nexo partnered with Mastercard and DiPocket to launch the crypto-backed virtual Nexo card. This partnership with Mastercard makes the Nexo card even more efficient; the crypto-backed card works just like a regular Mastercard and provides access to payment to multiple virtual cards and payment platforms.
Like every Mastercard's head, you can use the card with millions of other merchants worldwide and globally. The cards are physical and virtual Nexo cards, and you can have both. The virtual card offers a seamless payment pathway and protects your online payment.
---
How to get a Nexo Crypto Card
Getting the Nexo card is a hassle-free process. Follow these simple steps for registration in a couple of minutes.
The Nexo card is a unique crypto-backed credit card that lets you access loans without selling your crypto. The card is free to order and gives you up to a 2% cashback reward on purchases made with the card, and the loan has no minimum monthly repayments.
---
Instant loans for users.

Multiple earning opportunities.

Tax relief.

Highly secured transactions

Partnership with Mastercard
Only available for Nexo users.

Geographical limitation.
Step 1: Create a Nexo account
To create an account, you need to visit the Nexo website. Visit the sign-up page and enter a valid e-mail and password.
Select the [Create Account] button once you have entered these details.

Step 2: Get the Nexo App
Download the Nexo App to get started. The App can be downloaded from the Apple Store or Google Play for Android and iOS versions.
Once you have downloaded the App, open it and select the [Card] button below.
Step 3: Activate the crypto card
The next stage to get started is the activation of the crypto card. You will find an [Activate Nexo card] button below; select this to get your Nexo crypto card.
As part of your card activation process, you must confirm your phone number through 3DS verification. This number must be correct as you will need it anytime you purchase.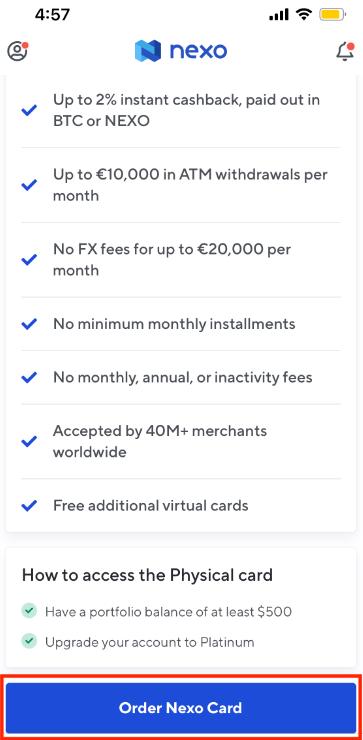 Step 3: Select Currency
Select the currency of your Nexo card.
NB: Once you select a currency, you cannot change the card currency.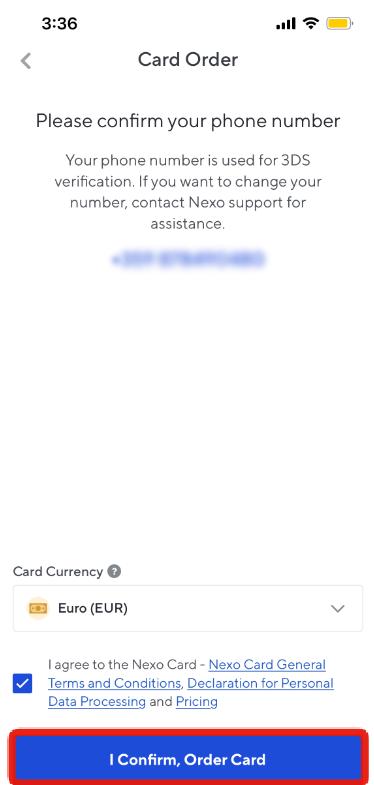 Step 4: Order card
Once you have confirmed your phone number and currency, tap the [I confirm, order card] to proceed. When this is done, your card is ready for use!
You can also link your Nexo card to Apple Pay and Google Pay to make your online experience even more unique.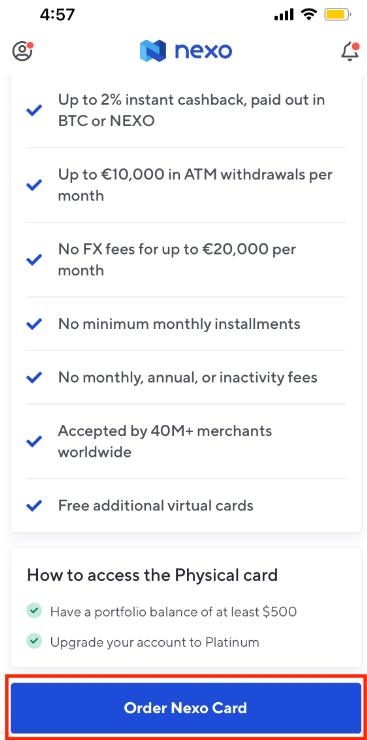 ---
Nexo Card Review: Top Features & Perks
Let us look at the top features of the Nexo card.
Smart Nexo App
The Nexo card is well-linked with all the features of the native Nexo platform and gives you complete control over your card via the intuitive Nexo app. You can easily create additional virtual cards on the App for online shopping.
The Nexo App has a feature that lets you freeze and unfreeze your card using a single tap. This is handy when you feel your card details have been compromised or stolen.
Nexo Card fees
The Nexo card offers you spending without incurring additional fees. The interest rate and fees charged on the crypto-backed loan are fully imposed on the credit line.
However, a monthly free limit is available to users, and this can be up to 10 free withdrawals per month, depending on your loyalty tier. Once this limit is exceeded, you will be charged 1.99 per withdrawal.
The card also allows foreign transaction fees of 0.5% after the free foreign transactions of 20,000 per month have been exceeded.
Customer Support
You also get easy customer support from the Nexo care team if you have any challenges with your card. A live chat feature is provided on the Nexo card page to chat with an expert. You can also send a mail to the help center.
Disadvantages of Nexo Credit Card
Not everything is bloom and gloom; there are some drawbacks.
Only available for non-Nexo users
One of the downsides of the Nexo credit card is its attachment to the Nexo platform. You must be an existing Nexo platform user to use the debit card. However, opening a Nexo account is not difficult; it also provides more options for using the Nexo debit card.
Limited geographical location
There is also the challenge of geographical limitation when using the Nexo card. Currently, the card is only made available for the European economic area, although there are plans for expansion into other geographical regions.
Our Verdict
The Nexo card is one of a kind and is highly sought by crypto users who want to HODL their digital assets while still having access to money. Nexo gives you access to fiat currencies against your crypto credit line without selling your holdings.
The card allows users to spend and still receive crypto rewards of up to 2% cashback. Due to the nature of the card, you do not have to pay any tax in the form of capital gains since you are not selling assets. This makes the card more enticing to long-term crypto investors.
The card's downside is that it requires limited coverage of its card services within certain European regions. However, with its partnership with Mastercard, you can transact with millions of other million merchants worldwide.
---
If you've ever desired a credit card that rewards you with crypto and overlooks your credit history, the Nexo card is the perfect choice. By staking collateral, the risk of default is minimized, making the card accessible for use. Furthermore, you have the flexibility to repay your "loan" in either fiat or crypto.
Nexo has established itself as the most secure crypto lending platform in the industry. This distinction comes in the wake of liquidity issues faced by Celsius and BlockFi in 2022, which resulted in the freezing of customer funds and bankruptcy filings. Nexo, on the other hand, operates as a regulated and compliant-friendly platform, earning its reputation as the most reputable lending platform in the industry.
Operating as a credit card, the Nexo Card is directly linked to Nexo's Instant Crypto Credit Lines. Every purchase made with the card is automatically deducted from your Available Credit, leveraging your digital assets as collateral for the loan.