Coinbase vs. Coinbase Pro: What Suits Your Trading Style?
TLDR
The comparison guide on Coinbase vs. Coinbase Pro overviews the two popular digital asset services. Coinbase best suits casual crypto users, offering a desktop wallet, activity dashboard, and simple portfolio analysis. Coinbase Pro offers additional features like insurance-backed storage and API support that provide more security to traders.
For cryptocurrency traders looking to save on fees, Coinbase Pro is the premier choice. Not only are its trading fees lower than those of Coinbase. It also provides a broader range of features, cryptocurrencies, and various buying options. Ultimately, both services offer different levels of protection and convenience, depending on the user's needs.
Introduction
Crypto exchanges and cryptocurrency exchange platforms play a crucial role in the digital currency industry. They grant users access to buy, sell, and exchange numerous cryptos such as Bitcoin or Ethereum.
Each trade center provides various tailored services and advanced features suitable for different types of customers. The best exchange or service that fulfills your needs is essential for your experience.
Users should assess each account based on its fees, security standards, payment methods available, and other criteria before signing up. The vast availability of offerings gives traditional financiers instant access to the market while satisfying the needs of experienced traders.
Coinbase and Coinbase Pro belong to Coinbase Global. They were founded in 2012 as a digital asset broker and custodian of trade digital assets. Thus making it one of the most extended-standing crypto exchange platforms.
Coinbase is a good option for beginners as they can buy crypto with both PayPal and a bank account. Additionally, Coinbase Pro is great for professional investors. They have enhanced services such as margin trading, smoother tax reporting methods, and more sophisticated order types.
Coinbase is a leader in the cryptocurrency exchange industry through its user-friendly platforms and interfaces. When it comes to security, Coinbase is king. It guarantees users peace of mind, knowing their assets are safe with them under all circumstances.
Is Coinbase shutting down Coinbase Pro?
Coinbase Pro is being phased out in favor of the new Advanced Trade platform, further enhancing the crypto investing experience as part of its commitment to serving professional clients. However, it has not been implemented yet, so that we will review both separately.
Coinbase vs. Coinbase Pro: Comparison
Fee structure
Coinbase's fees are generally quite high, while Coinbase Pro's fees are significantly lower due to its volume-based discount structure. This makes it much more economical for traders who make frequent transactions with large amounts of money.
*Coinbase Pro account charges a minimum fee of a mere $0.6 for taker fees, while the fee for simple trade on Coinbase is between 1%-1.5%.
| | | |
| --- | --- | --- |
| Fees | Coinbase | Coinbase Pro |
| Bank account transfer | Varies | 0 |
| Debit/credit cards | 2.49% | 0 |
| ACH transfer | Free | Free |
| Crypto conversion Fees | 0.50% to 2% | 0.50% to 2% |
| Trading Fees | $0.50 | $0 to $0.50 |
| Purchases Fee | 0% to 0.50% | 0% to 0.50% |
Coinbase vs. Coinbase Pro fee comparison.
Selection of cryptocurrencies
Another point of comparison between the two services is their selection of cryptocurrencies; Coinbase supports 107 coins while Coinbase Pro has 250+ cryptocurrencies. Here are the most popular ones you can trade:
Bitcoin (BTC)
Ethereum (ETH)
Cardano (ADA)
Solana (SOL)
Polkadot (DOT)
Providing safety protocols
Both accounts offer robust security protocols for safety measures that protect user accounts from malicious attempts or thefts.
For maximum security and to protect users from suspicious activity, like most cryptocurrency exchanges, these services also employ multi-factor authentication and other measures like e-mail notifications when unusual behavior is noticed on an account or when a new device is connected.
Convenience of trading
Coinbase and Coinbase Pro make buying, selling, sending, receiving, and exchanging cryptocurrencies effortless with their user-friendly apps. Enjoy peace of mind knowing that your crypto transactions are secure through these convenient platforms.
However, while Coinbase offers these basic transactions, Coinbase Pro takes it one step further with more advanced order types such as stop order, time in force order, and limit order which offers a higher level of customization.
Trading amount
Regarding trading volumes, Coinbase and Coinbase Pro couldn't be more contrasting. While the former has a cap on how much you can buy or sell per transaction (not forgetting daily/monthly limits), there are no similar restrictions when using the latter – allowing for smoother transactions of significantly higher amounts than its counterpart.
Wallets
Coinbase and Coinbase Pro typically store your cryptocurrency in custodial wallets, with a third party holding your private keys. Users on both platforms have two separate custodial wallets, and transfers between them are feeless.
SEE MORE OPTIONS: Check out our list of the Best Crypto Wallets
Furthermore, Coinbase offers a free hot wallet, the Coinbase Wallet, that can be downloaded as an app onto your device. This allows for full control over your cryptocurrencies. There are also other commendable crypto wallets available for use.
---
Trusted Partners
5.0
4.7
4.3
---
Coinbase Features
Let's look at the top features and perks of Coinbase.
1. Desktop Wallets
Coinbase's desktop wallet is a great way to store your cryptocurrency securely. It is a self-custody solution, meaning you always control your crypto assets without relying on a third party to ensure their safety.
You can create multiple individual wallets, which are convenient for tracking specific investments or transactions, keeping the provided private keys safe.
The wallet is designed to be quickly and seamlessly integrated into the Coinbase platform, so the user's account information can now be easily accessed in one convenient spot.
Coinbase wallet offers a secure and trustworthy way of tracking your cryptocurrency assets. Thanks to its advanced security measures like two-factor authentication and customizable settings, this is done. It provides the utmost peace of mind regarding safeguarding digital funds from malicious attack or theft – so you can rest assured that your investments are safe.
2. Activity Dashboard
Coinbase's Activity Dashboard is an excellent feature that anyone who is into trading cryptocurrencies should take advantage of. It provides easy access to real-time market information and interactive charts, allowing users to keep up with the ever-changing exchange rate of major cryptos like Bitcoin and Ethereum.
Investors also benefit from order books and live trade history available through the Advanced Trade View, giving them a better understanding of trends in the market. With so many advanced trading features and tools, Coinbase's Activity Dashboard empowers users with more confidence in trading cryptocurrencies.
3. Portfolio Analysis
Coinbase's Portfolio Analysis is the perfect tool for traders who want to craft a trading strategy or run multiple managed accounts. It gives users the insight they need to make informed decisions and optimize their portfolios efficiently.
This feature lets you quickly identify trends and opportunities to maximize your returns. With the help of this comprehensive tracking platform, traders are equipped with all the basic features and leverage they need to strive towards higher success in their investments.
As well as allowing traders to manage multi-asset accounts conveniently, Portfolio Analysis offers an excellent means of assessing individual performance, providing insights into areas needing improvement, and highlighting successful moves that can be replicated. Ultimately, this makes it a powerful tool for anyone involved in cryptocurrency trading.
4. Real-Time Data
Coinbase's real-time data feature is a significant part of this reputation. Subscribers benefit from the latest prices based on current market conditions every 60 seconds and from detailed technical analysis to help them make informed investment decisions.
Coinbase is the perfect place to start your journey into cryptocurrency. For investors looking to invest in digital assets, they offer a complete platform with robust user protection tools and effortless wallet management. Their real-time data keeps users informed of all changes in the market, so you never miss an opportunity.
Coinbase ensures that anyone interested in cryptocurrency will have everything they need to trade cryptocurrency at their fingertips.
5. Trend Analysis
Trend analysis is a great feature that Coinbase provides its users through various indicators. Candlestick charts offer an easy way to visualize price movements and determine overall patterns in the market. Support and resistance allow users to identify turning points in any stock, index, or currency.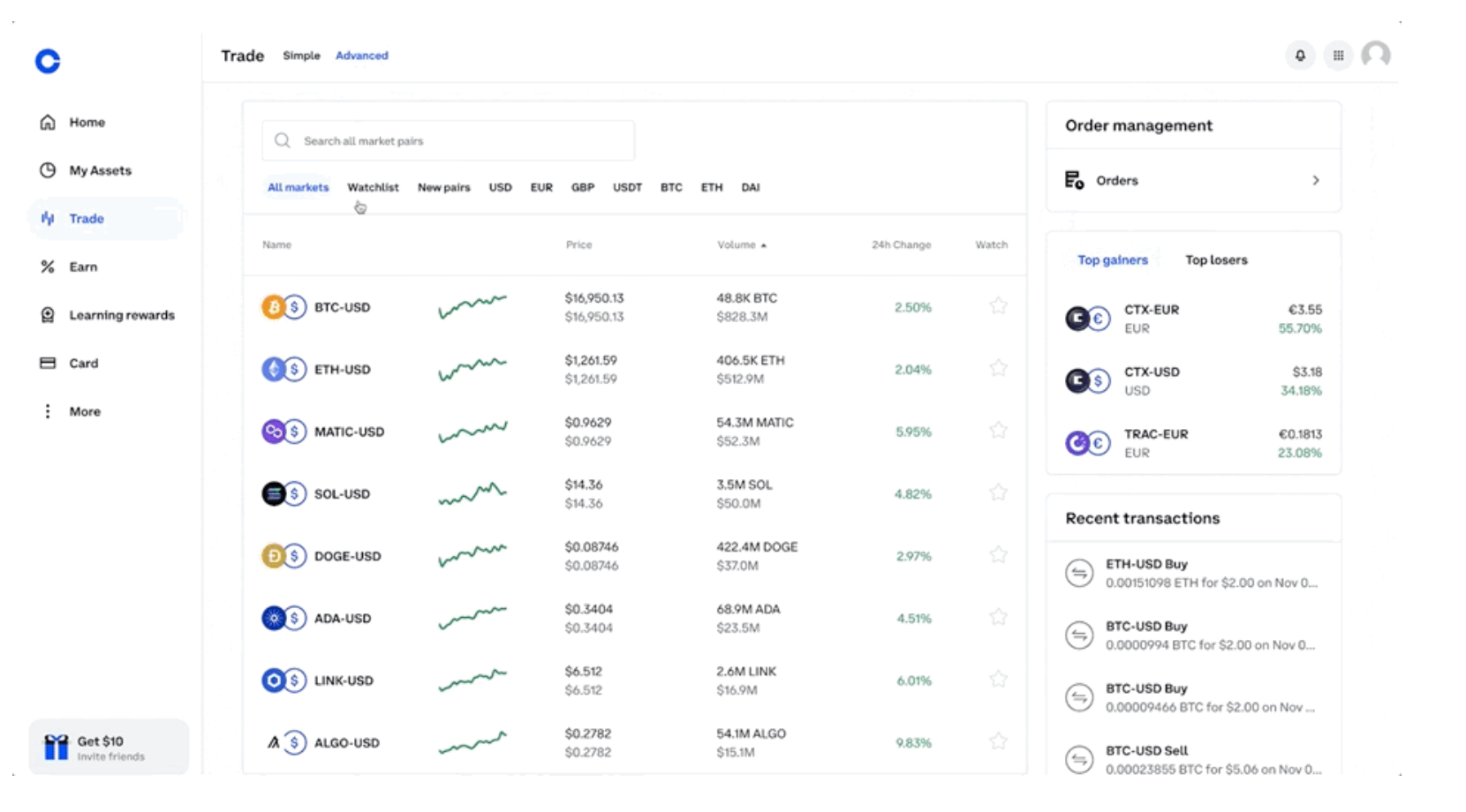 Further, Trend Lines allows us to visualize the bigger picture or longer-term movements to interpret the asset's behavior better. Relative Strength Index (RSI) is one of the most critical indicators for trend analysis since it allows individual investors and day traders to compare price changes in a stock over time and more aptly recognize whether an asset is overbought or oversold.
6. Data Security
Some dangers might come with using new technology, but Coinbase ensures that all of its customers' money is safe. Their comprehensive security system stands firm in the face of threats, using multiple layers of protection to maintain user peace of mind.
Coinbase ensures the ultimate protection for its users, featuring two-factor authentication, hardware wallets, and more to keep their confidential details and digital assets secure.
Coinbase's insurance policy emphasizes regulatory compliance, which helps ensure our data is handled correctly – something that all cryptocurrency users should look for when selecting an exchange or wallet provider.
Considering the many threats, having access to a secure platform such as Coinbase certainly gives one more assurance and confidence in their digital transactions.
---
For easy setup for Coinbase and Coinbase Pro, click the [Get started] button.
Coinbase is one of the largest crypto exchanges in the world and a widely-used platform for buying, selling, and trading over 200 cryptocurrencies. It offers trading solutions for beginner, advanced, and institutional traders alike. Take a look at what makes it an excellent option for individual traders looking to trade in cryptocurrencies and beyond.
---
A wide-selection of coin offerings.

Most secure online crypto platforms.

Top-rated mobile app.

Easy interface and user-friendly.
Expensive and complex fee structure for beginners

Higher fees as compared to other cryptocurrency exchanges.

Slow customer support.
---
Features of Coinbase Pro
1. Coinbase Markets
For Coinbase Pro users, investing in cryptocurrency funds in the Coinbase Markets is an excellent way to diversify your crypto portfolio and potentially increase profits. They can benefit from many cryptocurrency markets and Coinbase's safe and convenient buy/sell services.
With Coinbase, crypto traders can make profitable decisions with access to real-time market data, insightful analytics, and key trends.
2. Insurance-backed
Coinbase Pro is a platform that provides investors with extra security and assurance thanks to its insurance-backed protection.
Users of Coinbase Pro can rest easy knowing that their investments are secure from any malicious cyberattacks or data breaches, even if their username and password become compromised.
Its built-in fraud detection tools also quickly alert users if something is amiss with their accounts. This level of protection allows more investors to pursue opportunities on Coinbase Pro without worry, making it a valuable resource for anyone looking for peace of mind while investing online.
3. API support
Coinbase Pro is the go-to cryptocurrency sophisticated trading platform designed with an innovative API support system to guarantee user comfort and convenience. Its API allows developers to interact with the platform programmatically, granting users access to innovative trading techniques, automated trades, and sequential order executions in real-time.

Coinbase Pro is the go-to choice for savvy crypto investors. It boasts a wide selection of analytical tools to aid users in making well-informed decisions. It provides them with up-to-date market intelligence and guidance to become successful traders.
4. Advanced charting
The advanced charting feature in Coinbase Pro helps traders make more intelligent choices with their investments as they get detailed visualization and technical analysis of everything related to their portfolios.
It lets users look at price movements over time, helping them stay updated with what's happening in the markets and decide when the right time is to enter or exit the trade market.
5. Crypto-to-crypto trading pairs
By allowing users to use advanced crypto trading due to crypto trading pairs, Coinbase Pro makes more active traders exponentially. It expands their prospects for gaining exposure to a broad range of cryptocurrencies.
In the past, users had to go through a complicated process to acquire a unique token or coin base exchange, but nowadays, with only a few clicks, that same task can be achieved quickly. This makes Coinbase Pro convenient and efficient, enabling users to make informed decisions when making trades quickly and easily.
Conclusion
Coinbase and Coinbase Pro are two services with different purposes. Both have advantages and disadvantages, so it is ultimately up to the user to decide which suits their needs better. When comparing the two services, it is essential to consider factors such as fees, security features, transaction types, supported currencies, and cryptocurrencies.
Coinbase fees are a one-size-fits-all for all transactions, whereas Coinbase Pro has tiered prices that depend on the trading volume. Both accounts have 2FA and use similar data encryption and protocols to ensure safety. Furthermore, Coinbase offers more fiat currency support than its counterpart does.
---
Coinbase and Coinbase Pro have similar low transaction fees. Previously, Coinbase applied flat or variable fees based on the payment method and transaction value. Now, both platforms use a maker-taker fee structure with rates between 0.05% to 0.60% for takers and 0.00% to 0.40% for makers.
As part of their commitment to serving professional clients, Coinbase Pro is being phased out in favor of the new Advanced Trade platform, further enhancing the crypto investing experience.
As for transfers between Coinbase and Coinbase Pro, yes, they are possible. You can move any portion of your portfolio from Coinbase to Coinbase Pro at any time without additional charges, regardless of whether you are a newbie or seasoned crypto investor.