Where to Buy XRP? Finding The Top Exchange in 2023
TLDR
You can buy Ripple XRP from exchanges that support XRP on their platforms and are also available in your region.
eToro is an example of an exchange to buy XRP. Follow these simple steps:
Step 1: Create an eToro account.
Step 2: Verify your account.
Step 3: Sign in to your account.
Step 4: Fund your eToro account.
Step 5: Buy XRP.
Introduction
In today's modern world, cryptocurrency is rapidly becoming part of our day-to-day financial transactions. The use of cryptocurrency has become acceptable in many financial institutions globally.
One of the top leading cryptocurrencies is the XRP, the native token of Ripple. XRP has become widely adopted across many crypto exchanges, and financial institutions use it for cross-border payments.
If you have picked up the buzz of XRP and looking for the best exchanges to buy your XRP, this post will guide you to know the different types of exchanges available and also what factors to consider before making a choice.
How to buy XRP on eToro Exchange
To buy XRP on eToro, click the [Get Started] button for easy account creation.
eToro is a popular online trading platform for crypto assets, stocks, and ETFs, featuring low fees and a user-friendly interface. With a free eToro wallet and social features like messaging boards, users can copy experienced traders and access numerous assets. Take a look at what makes this platform perfect for starting your trading journey.
---
Provides an attractive, communal atmosphere.

Offers zero commission on ETFs.

Extensive selection of educational resources.

Mobile app with trading features.

Smooth account opening and bank transfer.
Limited number of cryptocurrencies.

Limited customer support.

No crypto-to-crypto trading pairs.
Here is a simple step-by-step guide to buying XRP on eToro.
Step 1: Open an account on eToro
Visit the official eToro website and click [Start investing]. eToro allows users to open a free account easily on the platform.
The platform requires you to provide basic personal details such as name, e-mail, and password.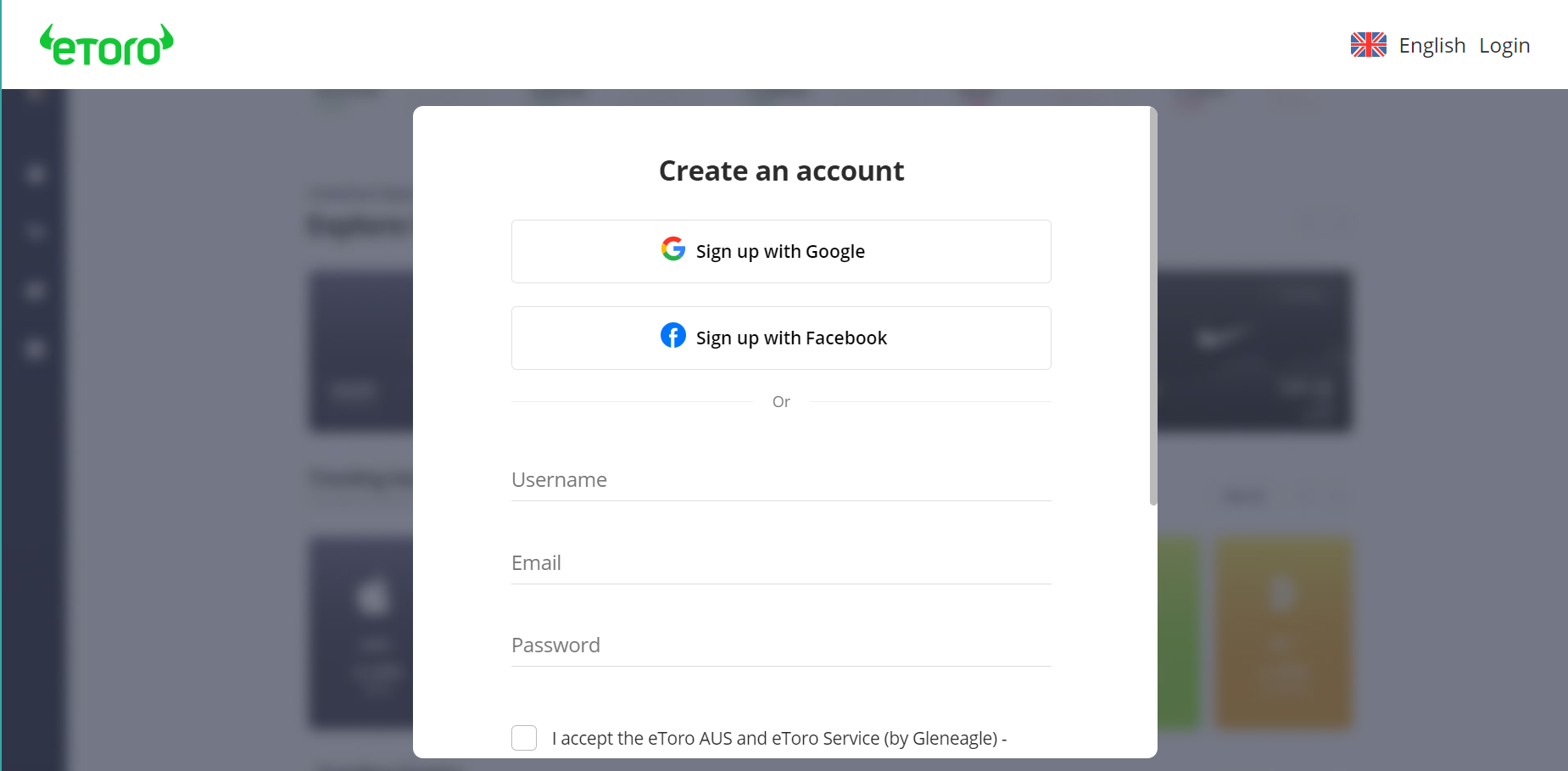 Once the account is created, you also need to verify your account by providing a few documents, such as a government-issued ID card and a clear photograph.
Once your account is verified, you are ready to begin trading.
Step 2: Deposit funds into your account
To start trading XRP, you need to get your account funded. eToro gives multiple account funding options, including using a debit card. The deposit transaction is made swiftly and also secured on the platform.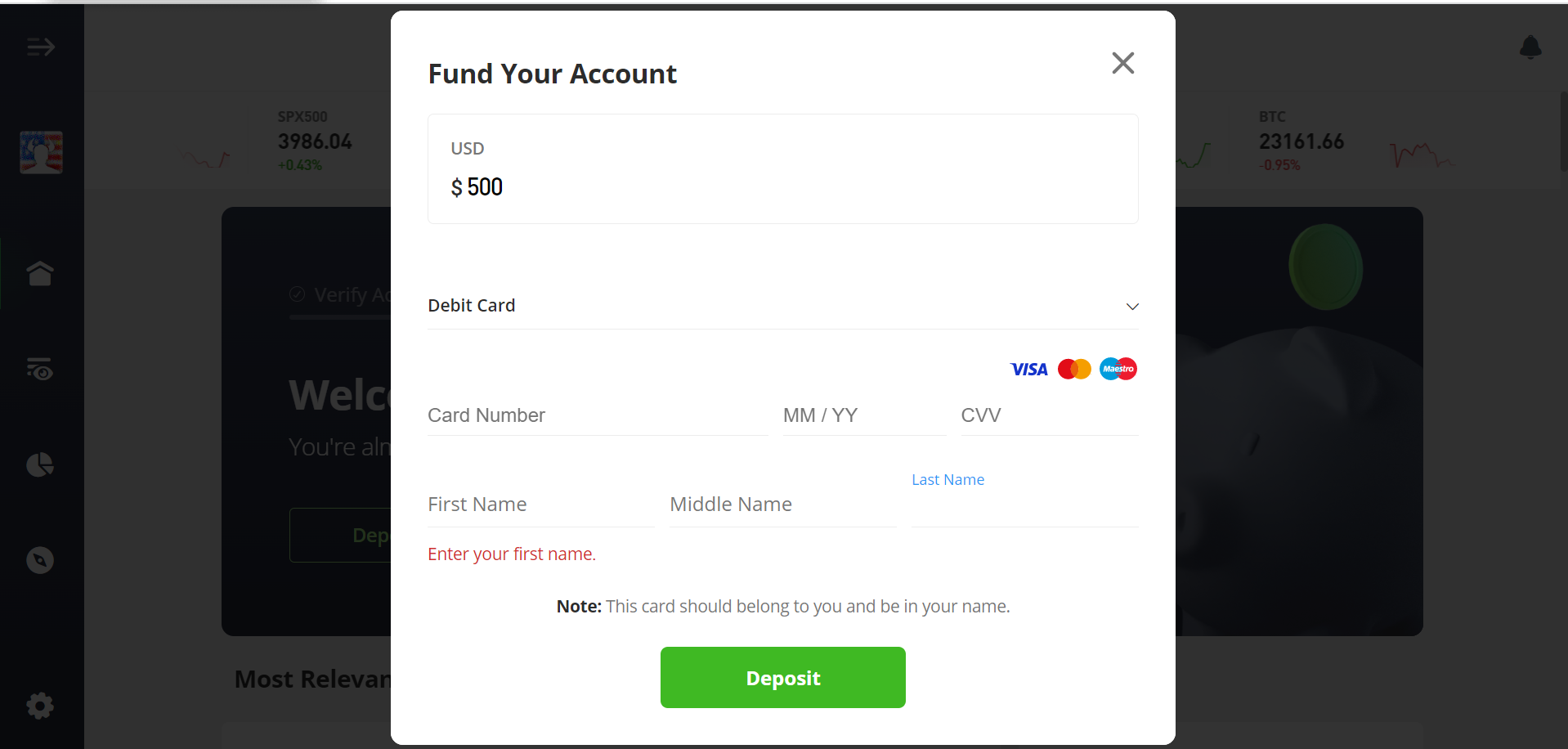 Step 3: Buy Ripple XRP
Cryptocurrencies are listed under the [Market] section of eToro. Select the market tab to see the full list of cryptocurrencies supported on the exchange.
Input the amount of XRP you want to purchase and click [Buy] against the XRP coin.
Once this is done, XRP is credited to your account, and you can choose to trade or hold XRP in your wallet.
Overview of XRP and XRP Ledger
XRP was created in 2012, and its sole aim was to assist financial institutions in making easy payments worldwide, irrespective of the currency being transferred. XRP is given more credence with the support of the Ripple network, which utilizes the coin in its operation.
Ripple uses the XRP ledger to facilitate payment, a concept similar to Bitcoin's. The uniqueness of the XRP ledger is its consensus mechanism in validating transactions on the blockchain technology network. The consensus is determined by independent validators, about 150 of them, to ensure the network is widely distributed.
XRP has constantly remained in the top cryptocurrency market due to its numerous features and capitalization. One of the main attributes of XRP is that it is eco-friendly and consumes less energy, unlike other cryptos.
Overview of Exchanges
In simple terms, crypto exchanges are platforms where you can sell and buy XRP. The function of cryptocurrency exchange goes beyond for you to purchase XRP alone. It also allows you to monitor trade activity. Most exchanges sometimes serve as a crypto wallet where you can store your digital assets after purchase.
The presence of crypto exchange platforms is an evolution from the era when mining is the only way to own a digital asset. In today's modern era, you do not have to concern yourself with mining as you can easily purchase crypto from the numerous available exchanges.
Despite the wide array of crypto exchanges available, several factors guide the choice of exchange. You must consider whether the exchange supports the digital assets you want to purchase and whether the exchange is available and legal in your region or country.
How do Crypto Exchanges Operate?
Whenever you think about the operation of crypto exchanges, picture brokerage services. The exchanges connect buyers and sellers and give you the tools to facilitate crypto buying and selling.
These exchanges make cryptocurrencies available on the platform, and you need to create an account to access the available crypto. There are multiple options provided to buy crypto. You can exchange one type of crypto for another or purchase your choice of crypto using fiat currency.
The crypto platform lets you make debit card purchases or digital services like Google Pay and Apple Pay. You can equally also trade your crypto back in exchange for fiat currency.
Best Exchanges to Buy XRP in 2023
There are three broad classifications of cryptocurrency exchange platforms where you can buy XRP. They include:
The exchanges are highlighted below and will guide you in choosing an exchange to buy Ripple.
Centralized Exchanges (CEXs)
Centralized crypto exchanges function as intermediaries between a crypto buyer and seller. The third party is involved in this exchange referred to as the exchange operator.
The operator's role is to ensure that the trading process goes smoothly, and in return, the operator gets a commission from the transaction. Most exchanges allow you to purchase XRP using fiat currencies or other crypto tokens easily. You can link your bank account or debit card to the platform.
Based on the involvement of a third party in a centralized exchange system, you are required to complete a Know-Your-Customer (KYC) verification exercise. This means you are not completely anonymous on the platform and might face stricter regulations.
Pros of Centralized Exchanges
Fast and Reliable
Exchanges that operate on a centralized mechanism are generally faster than their counterparts and provide a higher level of security for transactions. Due to the verification exercise completed on the platform, there is a reduced level of fraud, and the third party speedily processes transactions.
User-friendliness
Whether you are a long-time crypto investor or fall among crypto enthusiasts, centralized exchanges offer an easy-to-use interface for everyone. You do not need crypto wallets or other complex mechanisms for this exchange to trade your crypto asset.
The platform supports XRP buying and selling without going through a complex peer-to-peer transaction method.
Leverage
Another advantage of trading on centralized exchanges is that they offer features beyond just buying and selling. For instance, you can leverage the margin trade feature on the exchange to increase your investment returns by using borrowed money offered on the platform.
Cons of Centralized Exchanges
Higher transaction fees
Although you can make instant purchases on the exchange, it comes at a price. Unlike the peer-to-peer transaction model, you must pay a relatively high transaction fee when trading crypto on the platforms. These charges cover the third party's fee for the hassle-free transaction you enjoy on the exchange.
Cybersecurity
Cybersecurity is a threat to almost all forms of cryptocurrency. However, the risk seems significantly higher for centralized exchanges. These exchanges manage the assets of a large customer base, thereby making them a juicy target for hackers and other unscrupulous entities.
There have been many reports and cases of thefts from centralized exchanges, and the increased security breach on these platforms has become worrisome.
Lack of custody of the digital asset
Centralized exchanges do not allow customers to store their private keys in a digital wallet. Instead, they hold all the digital currencies in their wallet. Although this method facilitates easy trading, it also puts all the customers at risk in the event of security breaches.
Decentralized exchanges (DEXs)
It is easy to say that decentralized exchange is the opposite of centralized exchange, as it takes away the fundamental nature of centralized transactions. The decentralized exchange does not require an intermediary or third party to conduct transactions. Instead, it promotes peer-to-peer transactions from one digital wallet to another.
In replacing third parties, decentralized exchanges use smart contracts – several lines of code on the blockchain network. The upside of using this exchange form is that it provides more privacy and anonymity, as you do not need to complete any KYC verification.
Due to the sophistication of the decentralized exchange, it requires a user to have the technical know-how and be responsible for protecting their crypto asset.
Pros of Decentralized Exchanges
Full Ownership
Unlike centralized exchanges, you have full ownership of your cryptocurrency assets. You do not have to send it to any third party; you can make all your transactions yourself. Also, there is no shared risk if the exchange is hacked since your cryptocurrency will be stored in your wallet.
Anonymity
Decentralized exchanges do not require KYC verification or other forms of scrutiny, which means all of your transactions are fully anonymous. Based on this alone, more altcoins are available on decentralized exchanges, including XRP, which allows you to increase your investment portfolio.
Lower transaction fee
The cost of a third party is eliminated from this exchange method. This removal means you are charged a lesser transaction fee when you trade XRP or other cryptos. You can easily maximize your returns when you trade since the trading fees are greatly reduced.
Higher security
Each user is responsible for the security of their assets, and you do not have to lose your assets to malicious hackers or thieves. You can increase the security of your wallet by using a private key and any other security means you deem fit.
Cons of Decentralized Exchanges
Complex system
As enticing as the decentralized option is, it can also be difficult to use. The interface of most of these exchanges is not user-friendly, and you need to be familiar with the system to be able to use the system.
Also, if you forget your password or private keys, your assets can be forever lost and will not be recovered. In most cases, this type of exchange is not recommended for beginners as it is ideal for long-term crypto investors.
Incompatible Payment Method
There are limited ways of getting XRP on this exchange form as it only supports crypto exchanges. It does not allow fiat currency, including transactions through bank transfers, wire transfers, debit card purchases, etc. This payment method is only suitable for people who already hold crypto on other crypto platforms and want to trade XRP.
Low Trading Volume
During certain times, there might be low trading volumes. Since most crypto transactions are hosted on centralized exchanges, decentralized platforms find getting a buyer or seller harder.
Hybrid Exchanges (HEXs)
The hybrid exchange is the newest among all the forms of exchanges available. The hybrid exchange was set up to be the compromise between decentralized and centralized exchanges. It accommodates the positive features of both exchanges and delivers a better experience to users.
The development of the hybrid exchange gives an entirely new experience to crypto trading as it offers flexibility and other features such as faster payments and allows users to deposit funds from a bank account.
Pros of Hybrid Exchanges
Advanced Security
By combining the security attributes of the two preceding exchanges, the hybrid exchange can offer its users advanced security features to protect their assets. This feature makes the hybrid exchange a top choice among professional financial investors and other crypto holders concerned about their assets' security.
Increased Flexibility
With the hybrid exchange, you control your crypto wallets more. The exchange does not make use of third parties to facilitate trade. You can easily carry out your trade while still enjoying the user-friendliness of the hybrid exchange.
In addition to the flexibility, there is also an increased cost-effectiveness due to the removal of the third party during trade, which is similar to the feature of decentralized exchanges.
Accept Multiple Payment Methods
You must not be restricted to the single payment method available for CEXs and DEXs. Start buying XRP using bank transfers or credit card purchases. The exchange also supports buying XRP using other crypto assets in exchange.
Cons of Hybrid Exchanges
Newness to the Market
Due to the newness of the hybrid exchanges, most crypto traders take a wary approach towards its usage. The exchange also takes on the feature of non-KYC verification and might be a turn-off for crypto investors who want to minimize risk.
Factors to Consider when Choosing an Exchange to Buy XRP
Supported Crypto Assets
One of the major factors determining the choice of exchange to use is the type of assets supported by the crypto platform. In this case, the choice of exchange has to support XRP as a digital currency and allow you to trade using blockchain technology.
In addition to listing XRP on these exchanges, you must consider if it is available in your region or country. For instance, popular exchanges like Coinbase no longer support users to trade XRP due to the legal battle Ripple network faces with the Security Exchange Commission (SEC) in the US.
Security
The importance of security for crypto assets cannot be over-emphasized, and every crypto user must diligently protect their assets. When shopping for an exchange to buy XRP, this should be foremost in your criteria.
Security breaches are becoming more rampant on exchanges, and it is highly recommended to opt for exchanges that provide maximum security for cryptos stored or traded on their platform.
Transaction Fees
A high transaction fee is one of the greatest challenges investors face, and the charges become more significant when trading high cryptocurrency volumes. Many exchanges aside from CEXs offer lower transaction fees when a third party is removed from the transaction.
It would be best to research any exchange you plan to use and be sure of the rate such exchange charges. Considering this, you can also eliminate exchanges with hidden transaction fees.
Payment Methods
The payment method available on an exchange determines the ease of buying crypto. Some exchanges allow only one form of payment, while multiple payment options are available for others, including wire transfers. A versatile exchange should be able to allow payment through bank transfer, cryptocurrency swap, and other digital payment options.
Reputation
Customer and public reviews of an exchange are just as important as the features provided by the exchange. Judging the exchange based on past performance and credible news stories about recent activities would be best. The exchange's reputation influences the trust of users and its future performance.
Customer Service
The feature of customer service or customer support is not available for all exchanges, especially those without KYC. If you are new to crypto or require technical assistance, it is always best to go with an exchange offering customer support.
Final Thought
XRP has gained massive global momentum and is a highly sought-after cryptocurrency. The buying and selling of XRP are done on exchanges, and there are multiple types of exchanges depending on your needs and preferences.
This post has listed the different types of exchanges available, including the pros and cons of each exchange. The information provided here includes the factors to consider when choosing an exchange. Some major factors to consider when selecting the best exchange include security, low transaction fees, and acceptable payment methods.
---
Etoro has rapidly emerged as the premier platform to purchase XRP. To make a purchase on Etoro, simply establish an account and then link a bank account or debit card. Many crypto traders and investors favor Etoro for its strong emphasis on security.
XRP is a digital currency designed for facilitating transactions. Its primary goals are to accelerate transaction times and eliminate the necessity for a central mediator. To incorporate XRP into your MetaMask wallet, you'll require the XRP contract address.