How To Use CoinMarketCap: Ultimate 2023 Guide
TLDR
CoinMarketCap is a popular platform for analyzing and comparing crypto assets. It provides essential data on prices, market cap, trading volumes, and more. Users can access detailed info on specific cryptocurrencies, find tools for trading, and use the CoinMarketCap API for market data. This valuable resource is crucial for making informed decisions, whether you're a beginner or an experienced trader.
Introduction
Are you considering getting into cryptocurrency? You need a tool to help you analyze the different cryptocurrencies and a reliable and convenient platform. CoinMarketCap is a platform, and many people use this site to analyze and compare cryptocurrencies. If you find it difficult to understand how to use CoinMarketCap, don't worry; keep reading.
What is Coinmarketcap?
CoinMarketCap is a leading data aggregator website that provides information about various cryptocurrencies. This data includes their prices, trading volumes, market cap, and other vital metrics. The website has become an essential tool for anyone interested in investing in cryptocurrencies or curious about the latest developments.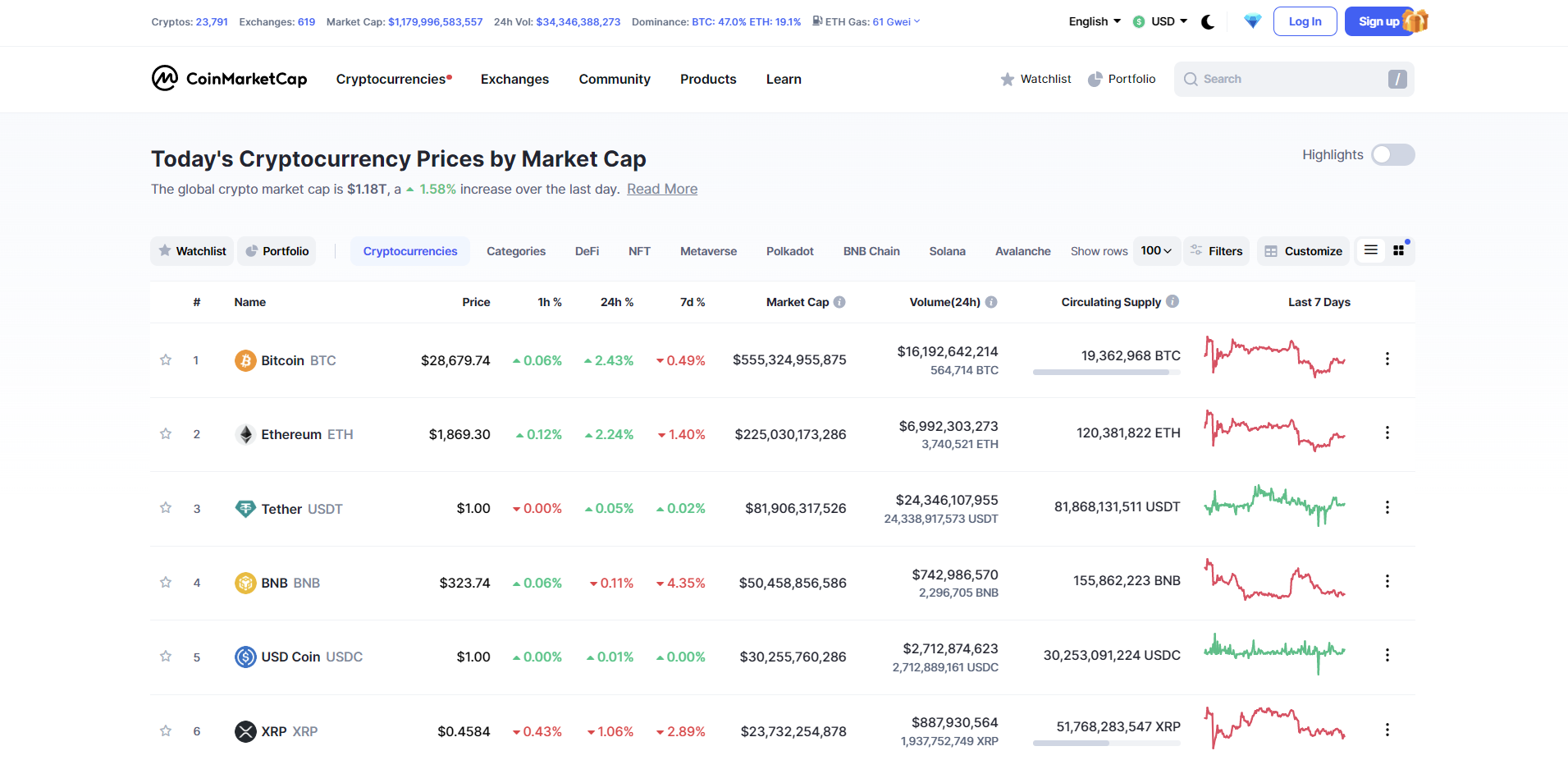 To use CoinMarketCap, you must visit Coinmarketcap and explore its data. The website's main page lists the top 100 cryptocurrencies by market cap. You can sort the list by clicking on each column header.
The information in each row of the list includes the cryptocurrency name, price, 24-hour volume, number of coins/tokens in circulation, and the percentage change in price over the last 24 hours.
You can access more detailed information about a specific cryptocurrency by clicking on its name in the list. This will bring up a page that overviews the cryptocurrency, including its current price, market cap, trading volume, etc. The page also includes charts that display the price history of the cryptocurrency and its trading volume over time.
Coinmarketcap Tools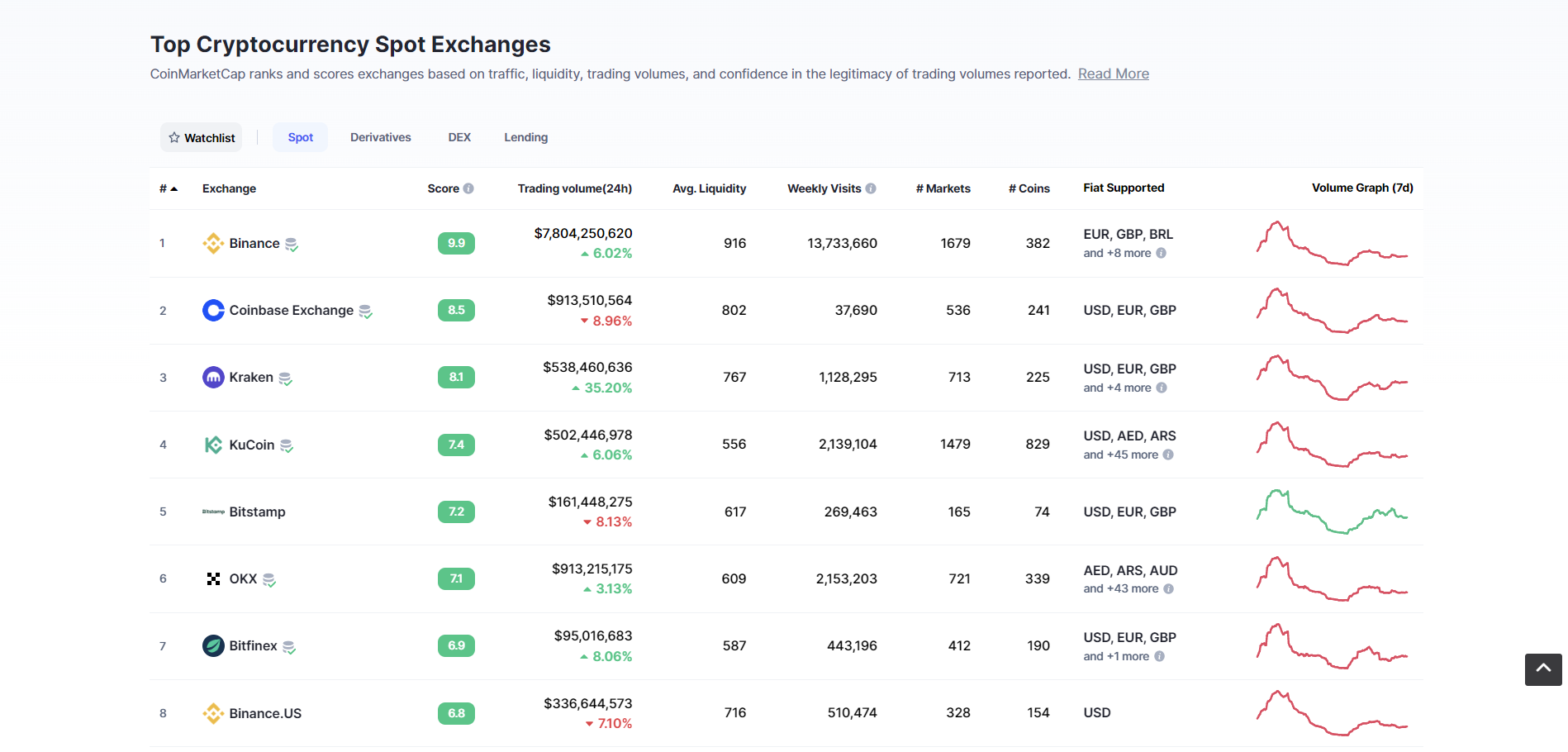 CoinMarketCap also provides a variety of tools and resources for those who are interested in trading cryptocurrencies. For example, you can use the [Exchanges] tab to see a list of cryptocurrency exchanges that trade a specific currency. This information can be helpful if you want to compare the prices and trading volumes across different exchanges.
Coinmarketcap API
CoinMarketCap API is a data interface that provides real-time market information about cryptocurrency assets. The API offers extensive data on the prices, market capitalization, trading volume, and other essential metrics of thousands of digital assets. With the CoinMarketCap API, developers can build financial applications, trading bots, or other tools requiring market data. The API provides both RESTful and WebSocket endpoints, giving developers a choice of which protocol they want to use.

The CoinMarketCap API is a paid service with different pricing plans depending on the data required, the frequency of data updates, and the volume of requests. The API provides data on more than 10,000 cryptocurrencies, including historical data and real-time pricing information. It also offers data on exchanges, global and regional market trends, and other relevant information.
Conclusion
In conclusion, CoinMarketCap is a valuable resource for anyone interested in cryptocurrencies. It provides a wealth of information to help you make informed decisions about investing in this exciting and rapidly evolving market. Whether you are a beginner or an experienced trader, CoinMarketCap is a must-visit website to stay up-to-date on the latest developments in cryptocurrencies.
CoinMarketCap is a data aggregator and analysis platform, not an exchange or wallet service. You need to use a crypto wallet or an exchange where you hold your cryptocurrencies to withdraw money.
CoinMarketCap itself doesn't offer ways to make money. Instead, it provides information and tools for analyzing crypto assets, helping users make informed decisions about trading or investing in the crypto world.
CoinMarketCap doesn't offer buying or selling services. To sell coins, use a cryptocurrency exchange or a peer-to-peer platform that supports the specific crypto asset you want to sell.
Yes, CoinMarketCap is free to use. The website provides information and analysis on cryptocurrencies, exchanges, and market trends without any cost. However, the CoinMarketCap API, which offers real-time market data for developers, is a paid service with different pricing plans.