Rating

4.2

Currencies

7,000+

IOS/Android App

No

Purchase Cost

$49
Our Review
Unlike other hardware wallets, KeepKey prioritizes design in addition to security. While it may be larger than other wallets, it is still worth considering due to its user-friendly features. Moreover, it covers more than 40 cryptocurrencies and increasingly supporting more. If you're looking to invest in a hardware wallet with a sleek design, easy to use, and a solid hardware wallet, KeepKey is an excellent option.
Pros
Offers multi-Currency support.

Sleek design and easy user interface.

Highly secure wallet.
Cons
Reduced portability due to its bigger size.

Supports few coins.

Has no battery.
KeepKey Review 2023: Is It Secure Enough for Your Crypto?
TLDR
This comprehensive KeepKey Review will give you everything you need to decide whether this is the right hardware wallet! The KeepKey is a great hardware wallet but is not the most feature-packed option. While it lacks premium features like a touchscreen interface and Bluetooth connectivity, it does have a built-in exchange function through its ShapeShift integration.
However, one of the downsides of KeepKey is its limited support for cryptocurrencies. If you have a diverse portfolio that includes privacy coins or less prominent cryptocurrencies, KeepKey may not be your best choice. That said, if you're looking for a simple, straightforward hardware wallet with exchange functionality, the KeepKey might fit the bill.
Who should use the KeepKey wallet?
With the rise of cyber-attacks and phishing scams in the crypto market, you might look forward to alternative, decentralized, and secure ways to store your digital assets. In that case, a hardware wallet might be just the right solution.
Users holding cryptocurrency in paper wallets should consider using a hardware wallet like KeepKey. It is the safest and most secure way to store and manage digital assets.
Unlike software wallets and online hot wallets, this hardware cold wallet is immune to hacking attempts and security breaches, making them an ideal choice for your digital assets.
It is important to note that a hardware wallet is best used for storing the majority of your cryptocurrency and is used for large or necessary transactions. However, if you need to access your funds while away from your KeepKey device, a software or online wallet may be an excellent addition to a hardware wallet.
For new users
If you store more than $1000 worth of cryptocurrency, you know the importance of keeping your investments safe. When it comes to security, hardware wallets are your best bet. With so many options on the market, how do you choose the right one?
The KeepKey hardware wallet is designed to be user-friendly, making it an ideal choice for those new to cryptocurrencies. Unlike other wallets, the device is more prominent and easier to handle, with an intuitive interface that is simple to navigate.
When connected to a computer, the wallet interface is sleek and straightforward. It feels like an IOS device operating your iPhone. This makes it a great option for new users looking for a secure, uncomplicated way to manage their digital assets.
Major drawback
One of the significant drawbacks of KeepKey is the number of cryptocurrencies it supports. If you prefer investing in "hidden gems, " it may be challenging.
Unfortunately, KeepKey has limited support for only 40 cryptocurrencies and covers the most popular ones. It's good to note that 90% of crypto traders do not hold the lesser coins, so that will cover your basic needs.

What makes KeepKey a good choice?
Security
Hardware wallets, such as KeepKey, are widely regarded as one of the most secure methods for storing and managing cryptocurrencies. The device employs advanced security measures to protect against virtual and physical theft.
Since the wallet is not connected to the internet, it is resistant to viruses, malware, and hacking attempts. To access your crypto funds, you must physically unlock the KeepKey device by entering a secure PIN.
This makes it virtually impossible for anyone else to access your assets without your knowledge and authorization.
Practical display screen
The display screen on a hardware wallet is a critical component that ensures the visibility of users
KeepKey's display screen is particularly noteworthy as it allows users to unlock their device using a PIN and displays essential information such as the mnemonic recovery seed phrase and transactional details.
This feature adds an extra layer of security to the device by ensuring that all crucial information is only accessible to the device's owner.
Sleek design
The KeepKey wallet's premium appearance is noteworthy among other hardware wallets. Its construction features a durable anodized aluminum case complemented by a clear polycarbonate display screen.
It may appear larger than some other wallets, but this larger size contributes to an enhanced user experience. In short, the KeepKey wallet is an excellent example of a well-designed and high-quality hardware wallet.
Hack protection
In the recovery phase, it's essential to understand that if anyone finds out those specific 24 words, that person can restore your wallet and access all your assets. That being said, you should keep your recovery seed phrase safely hidden.
Even though it's doubtful, thanks to KeepKey's innovative features, if a hacker manages to access your wallet online or software wallet somehow and aims to steal your assets, there's a button on the device that you must press and hold to confirm the transaction.
How to buy a KeepKey wallet?
Getting the KeepKey hardware wallet would be your best choice to keep your crypto safe. We recommend that all our users buy it directly from the KeepKey website.
Step 1: Visit the KeepKey website
Navigate to the KeepKey website using any mobile phone, laptop, or desktop browser.
Step 2: Click Buy now
Scroll down to the middle of the page and click the [Buy Now] button.
Step 3: Add the product to the cart
Once you click the 'Buy Now' button, the purchase page will prompt you to complete your transaction.
From there, you add it to the cart. For that, click [Add To Cart].

Step 4: Checkout
You will be taken to your cart when you click [Add To Cart].
At the bottom, click the [Check Out] button to get to your shipping details page.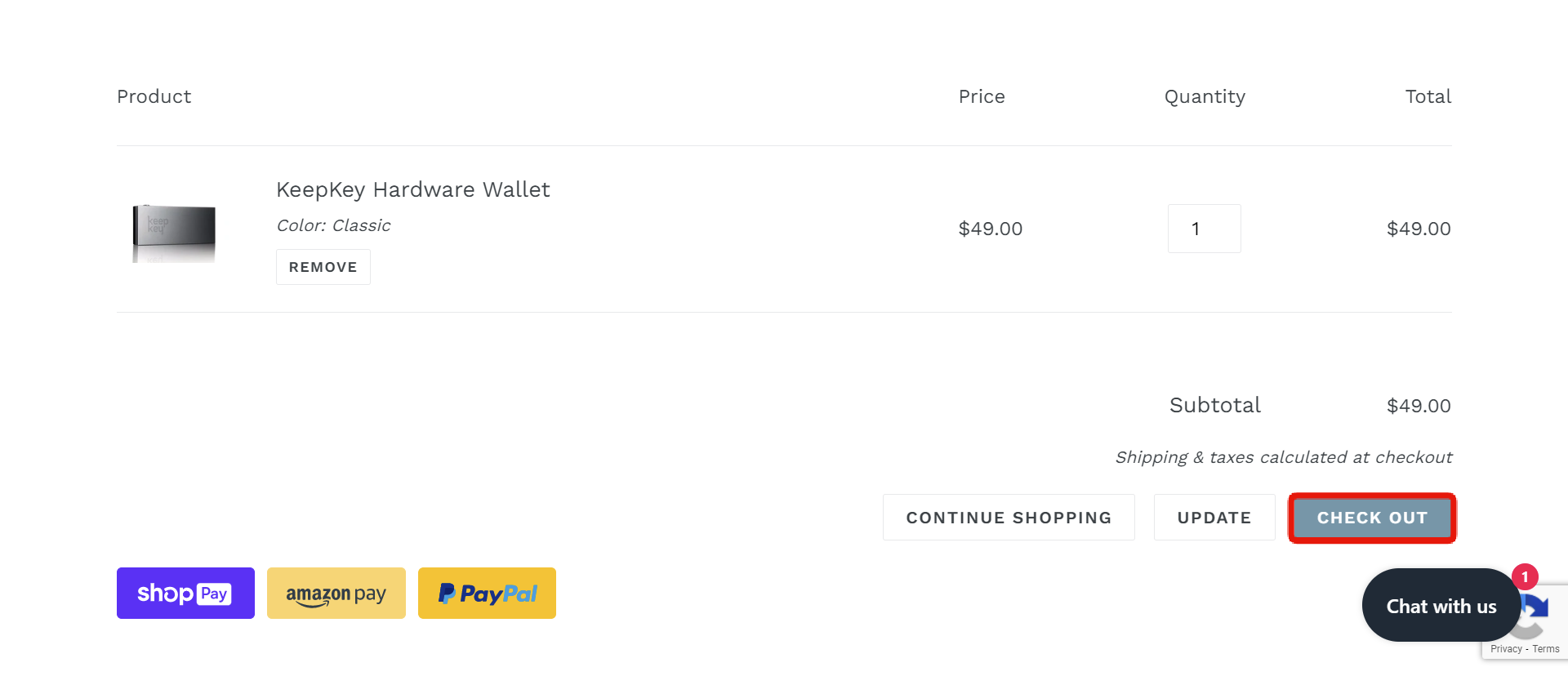 Step 5: Enter shipping details
Here you will be asked to enter the delivery address and name. Enter the relevant information and ensure everything is correct to receive your KeepKey.

Step 6: Select the preferred payment method
After providing all the necessary information, select your preferred payment method, and confirm the details. You can also use ShopPay, Amazon Pay, and PayPal.

Congratulations! Your KeepKey is on the way!
Counterfeit hardware wallets can compromise the security of your cryptocurrency holdings, so it's important to verify the device's authenticity before making a purchase.
---
Trusted Partners
5.0
4.7
4.3
---
KeepKey Features Review
Let's review the top features of KeepKey.
Storage space
The KeepKey hardware wallet can hold over 40 cryptocurrencies and store up to 500 private keys.
This capacity should suffice for most users; however, remember that the actual storage space may vary depending on the cryptocurrencies and private keys you intend to store.
Additionally, KeepKey may not support certain less common cryptocurrencies, which could affect its overall storage capacity.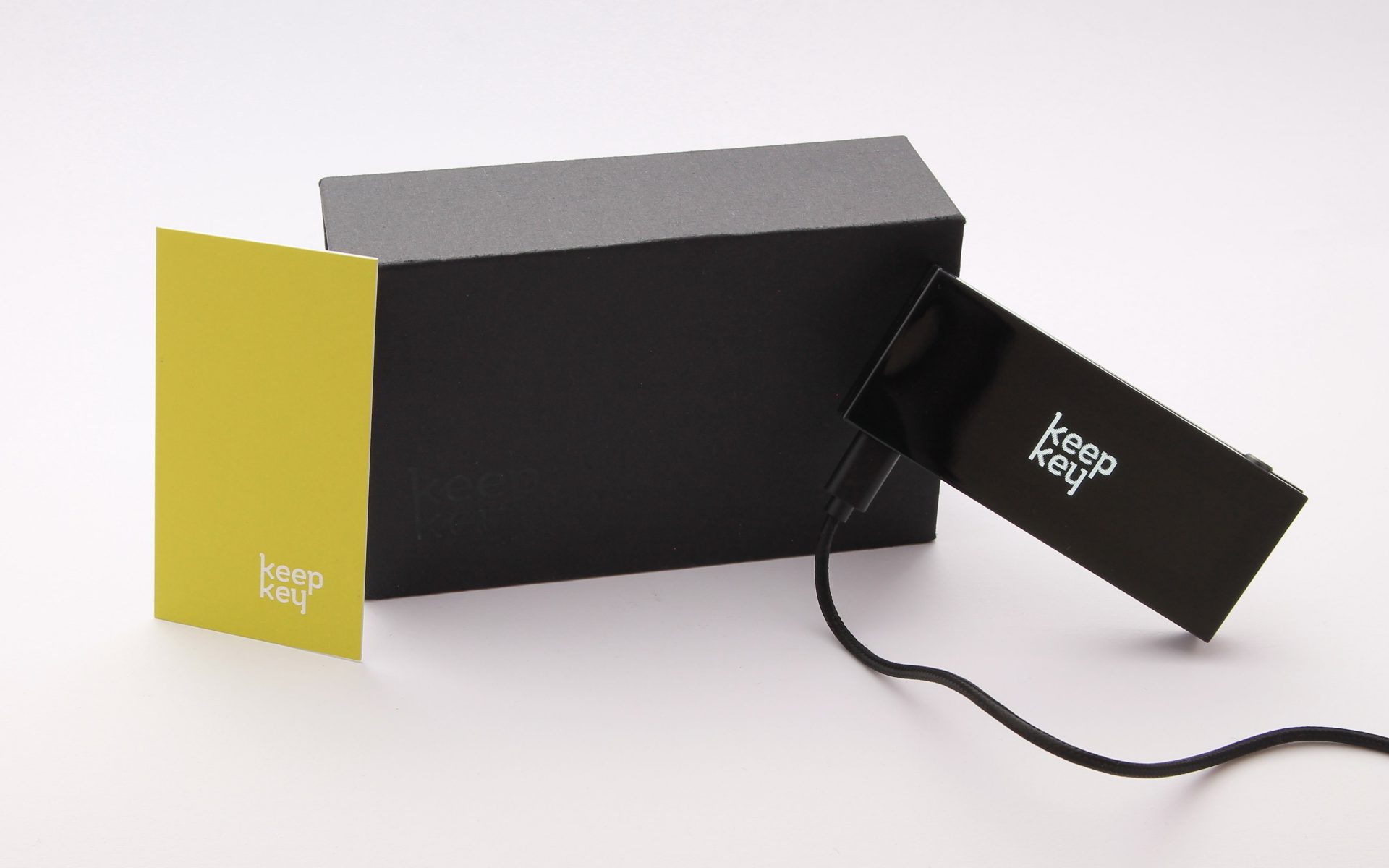 Solid build
The KeepKey is an excellent option for those who value style and substance. Its robust and durable design is sure to impress. Its exterior comprises anodized aluminum and a polycarbonate casing around the screen. The device's weight is heavy, giving it's built with premium materials.
While the KeepKey is more significant than multiple and hardware wallets, it boasts a large 3.12-inch OLED display. This feature makes it easier to read and navigate, even if it's not quite as portable as some competitors.
Despite its minimalist design, the KeepKey still packs in all the necessary features you need in a hardware wallet. It has a single button and micro USB port, making it user-friendly and easy to use.
However, it's important to note that, like many hardware wallets, the KeepKey is not waterproof. You want to make sure not to expose it to water.
Overall, the KeepKey balances style and function, making it an attractive choice for a well-built and user-friendly hardware wallet.
ShapeShift function
One feature that sets KeepKey apart and could be a significant incentive for anyone to purchase it is its integration with ShapeShift.
The Shapeshift integration allows users to manage a good selection of cryptocurrencies directly from their web wallet and seamlessly exchange one type of cryptocurrency for another.
To use the hardware wallet's exchange feature, you must first become a member of ShapeShift. Registration is free and mandatory only for those who wish to use the paper wallet with a built-in exchange function.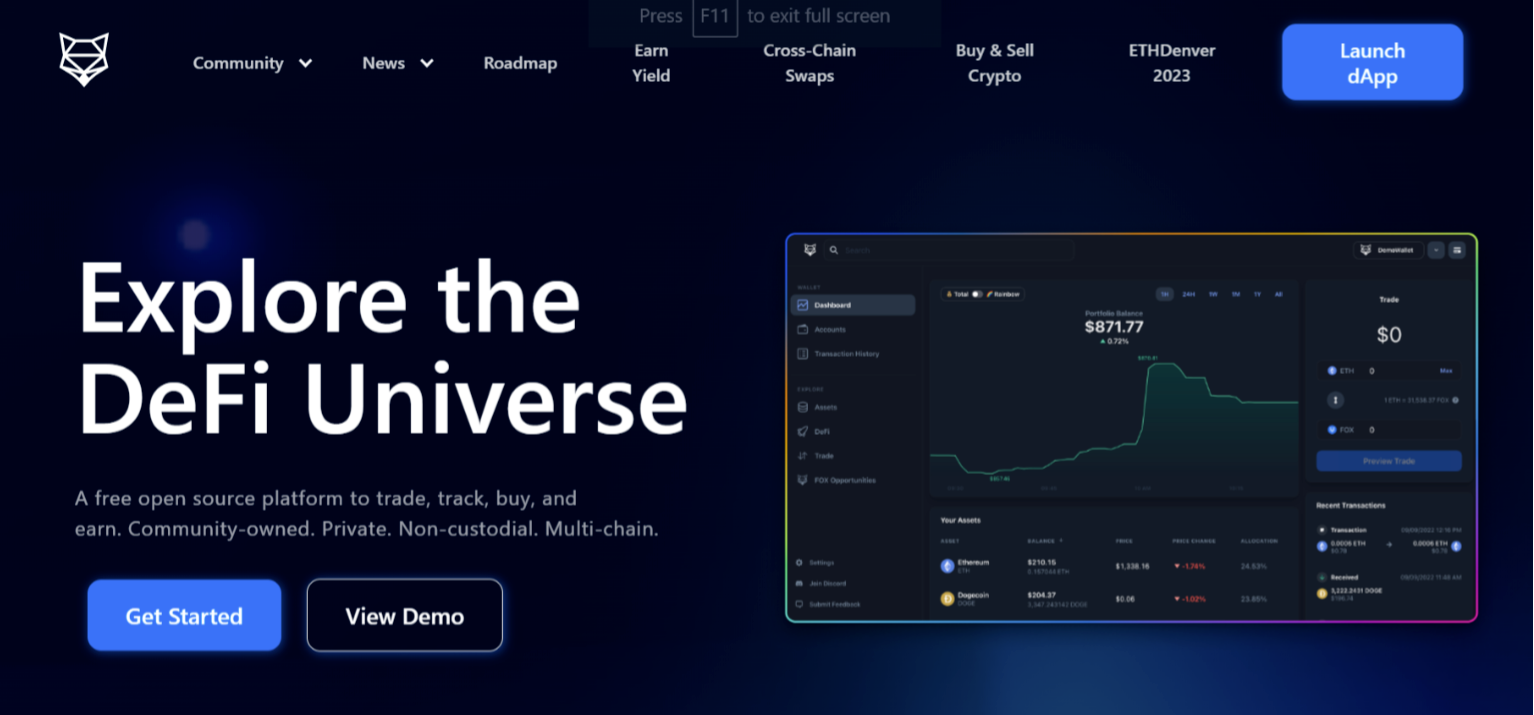 Privacy
One advantage of using a KeepKey wallet is its ability to maintain anonymity for its users without requiring personal identification information.
Unlike other crypto wallets, KeepKey does not store or distribute any information about its users' transactions, ensuring their privacy is preserved. Seemingly, they are aware of the Ledger Hack with the loss of the data of thousands of Ledger users.
However, suppose users use KeepKey with a third-party software wallet like Mycelium or Electrum. In that case, their level of privacy is only as secure as the wallet's software allows.

Customer support
As a user of KeepKey, you can rest assured that their website provides a comprehensive support section to assist with any queries or issues you may have.
The support section covers various topics, from frequently asked questions to troubleshooting guides for hardware, software, and firmware issues.
You can also find detailed instructions on getting started with your KeepKey device. However, if you cannot find the information you require, KeepKey support also offers a personalized support system where you can submit a ticket to their support team.
If you need to get support from KeepKey, the only way to do so is by using Discord. They aim to respond to all tickets within five business days to provide tailored solutions to your problems. It's important to note that while they don't offer live chat or phone support, their ticket system effectively resolves any issues.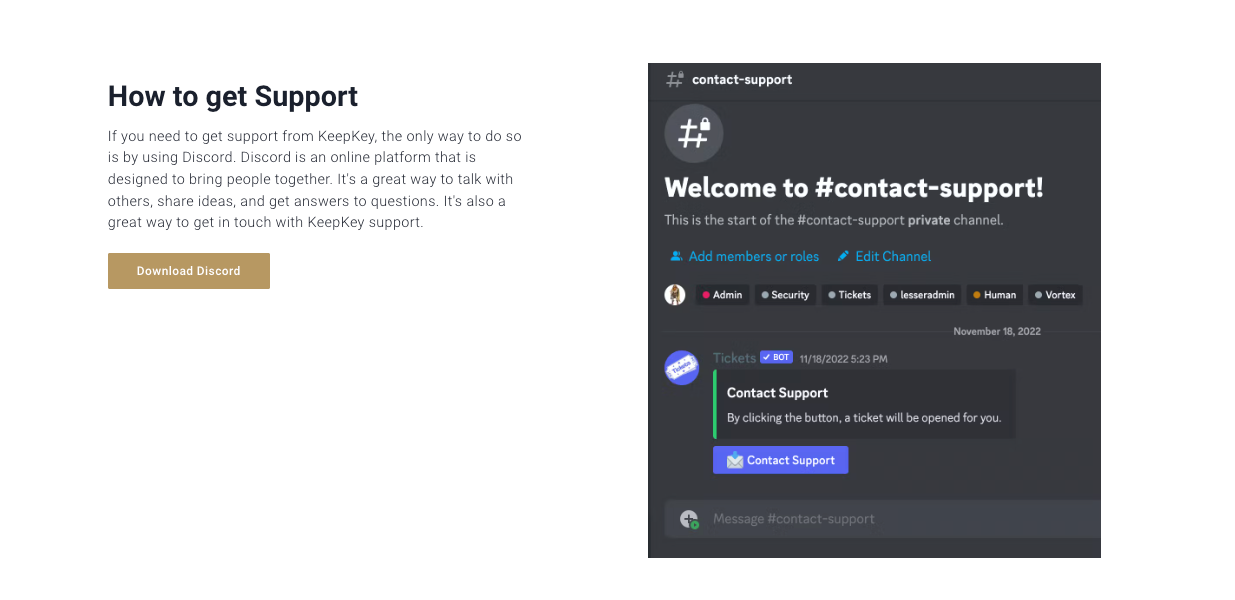 Disadvantages of KeepKey Review
Limited supported cryptocurrencies
Although KeepKey is continuously expanding its cryptocurrency acceptance. As of now, it lacks the multiple currency support that most crypto enthusiasts would want to have.
It still supports some of the major digital assets in the decentralized finance space. Its integration with ShapeShift makes it easier to exchange and transfer crypto assets.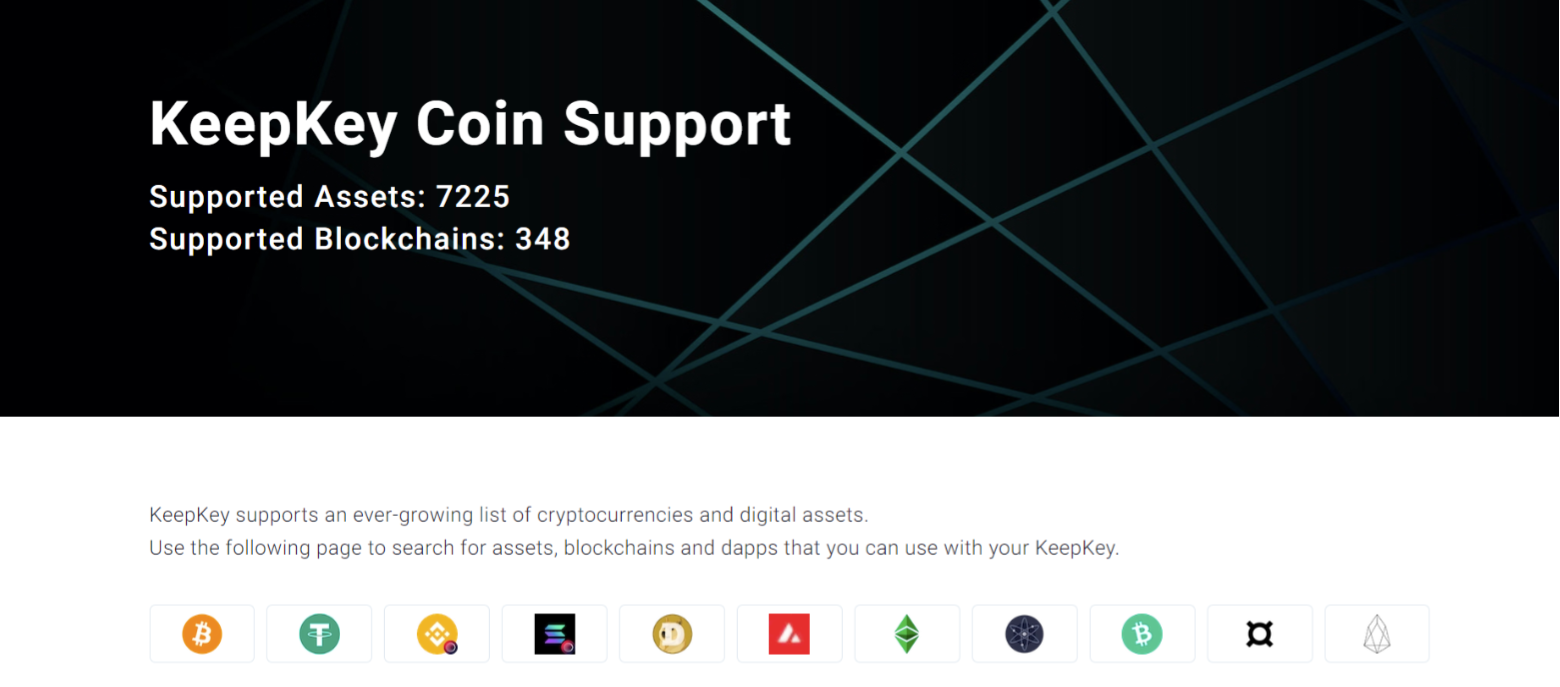 Too big size
Despite its sleek and minimal design, the large hardware wallet makes keeping it on the go quite challenging. Meanwhile, KeepKey's competitors, like Ledger, have a portable design.
It would be better if the team came with a redesigned model that is small and can be easily taken with you everywhere.
No Bluetooth connectivity
KeepKey hardware wallet doesn't offer Bluetooth connectivity. Instead, it is connected to a computer or mobile device through its micro USB port to function.
While this means it's not as convenient to use wirelessly as some other hardware wallets, it also means that the KeepKey can be more secure since it's not vulnerable to potential Bluetooth attacks.
Battery life
The KeepKey hardware wallet doesn't have a battery, so it needs to be connected to a computer or mobile device through its micro USB port to function. This also means you don't have to worry about battery life if you keep it connected to a power source.
However, not having a battery could disadvantage those who want a portable device. Without a battery, the KeepKey must always be connected to a power source, which limits its use on the go.
Nonetheless, the KeepKey's sturdy design and generous storage capacity make it a great option for those prioritizing security over portability.
How to set up a KeepKey wallet?
Step 1: Download the KeepKey Client
Visit the KeepKey website and download the Client App suitable for your operating system.
Step 2: Plug the wallet into the USB port
Connect your KeepKey wallet to your computer or laptop using the USB cable in the box.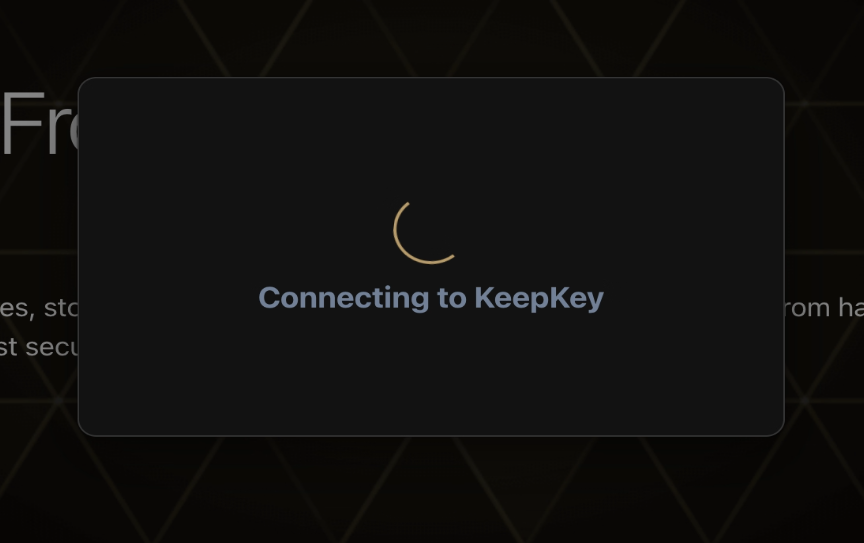 Step 3: Start the firmware update mode
Update the firmware by unplugging the USB cable and holding the button on the hardware device. Once done, plug back the device.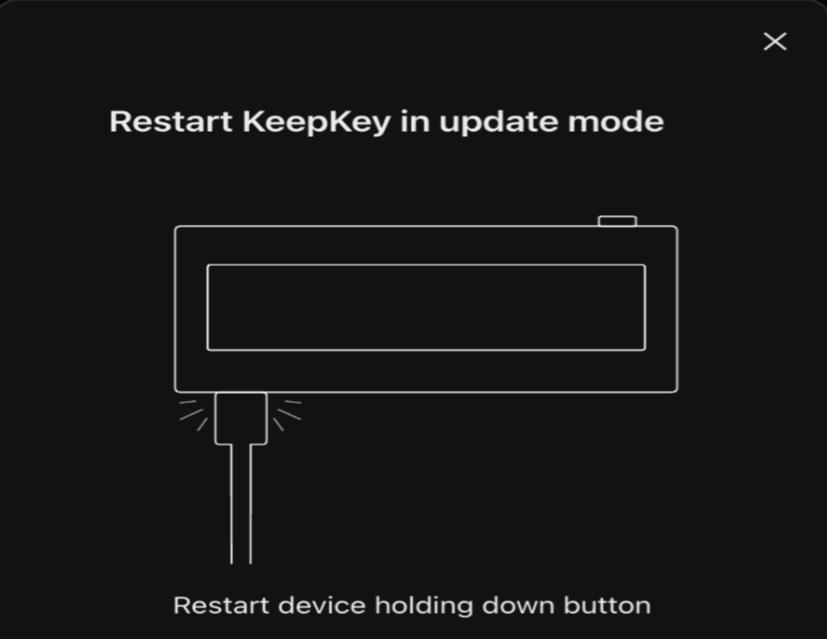 Step 4: Update your device's bootloader
After that, you need to update your bootloader. You will be prompted to unplug and reconnect your device's screen.
Do not disconnect your device until prompted to do so on the device.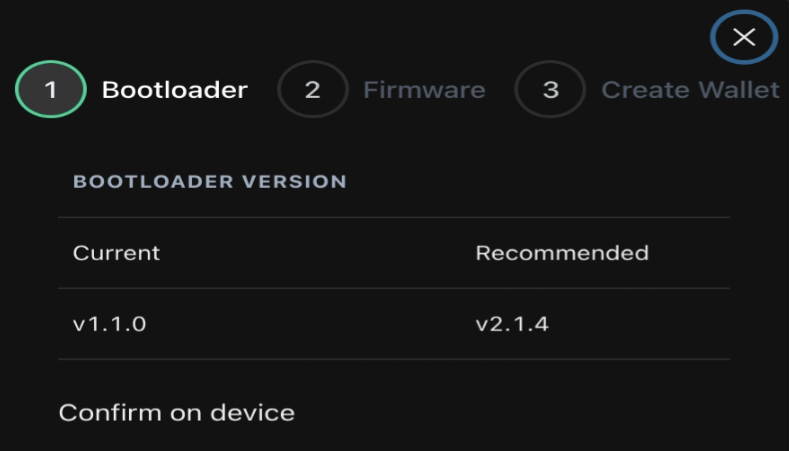 Step 5: Update firmware
Following that, you need to update the device to the latest firmware.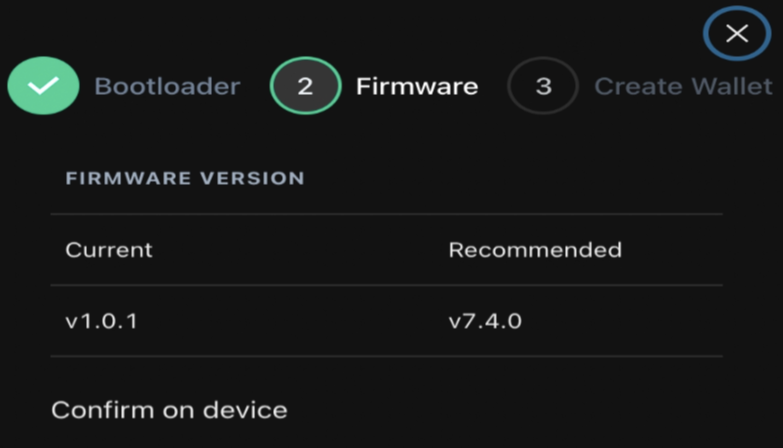 Step 6: Create a wallet
Next up, you need to create a new wallet. Initialize your wallet by generating a new Mnemonic recovery phrase.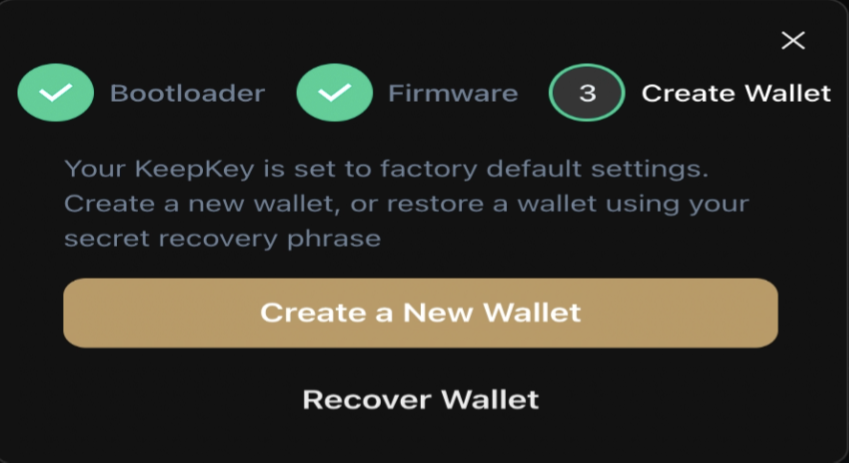 Step 7: Creating a recovery phrase.
You will be given the option to choose either a 12, 18, or 24-word recovery phrase.
Remember to write down the recovery phrase on your recovery sheet card, and make sure to keep it in a secure place. This will come in handy in damaging or losing your wallet and the need to recover the funds.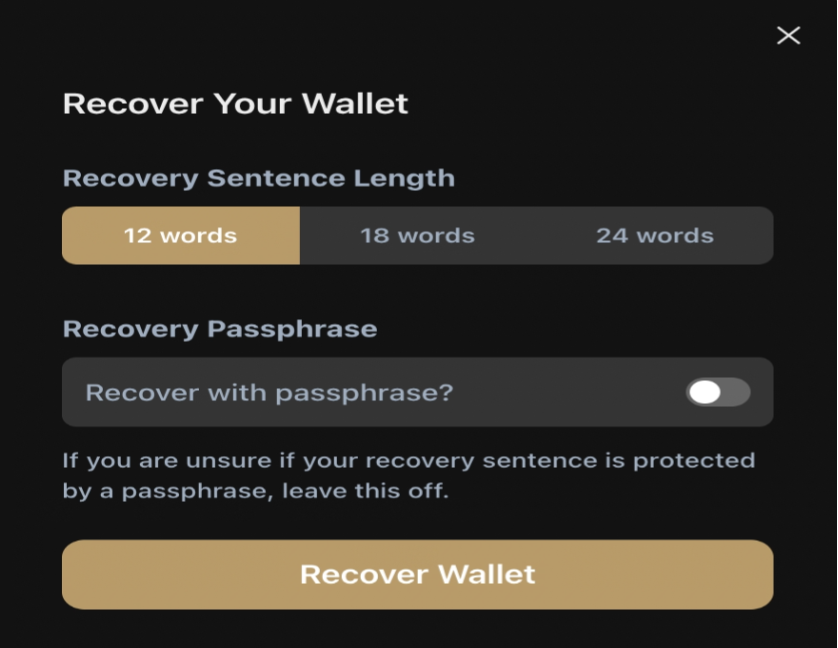 Step 9: Set up your PIN and confirm
Choose a 6-digit PIN using numbers.
Enter your PIN again to ensure it is correct. Remember your PIN or keep it written down in a safe and secure place.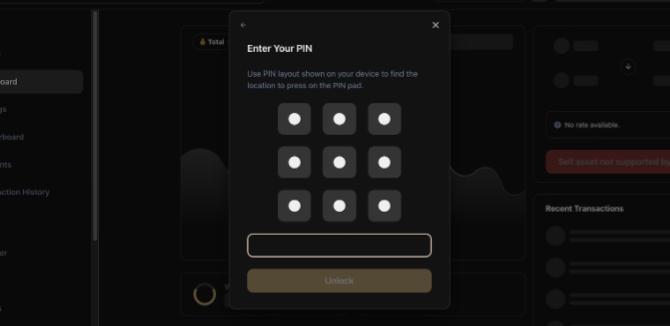 Congratulations! Your wallet is now fully set up and ready to receive and send cryptocurrency.
Keepkey Review: Improvements
The KeepKey hardware wallet is a trustworthy and secure option for storing your cryptocurrencies, but a few areas could be improved to make it even better.
For one, KeepKey doesn't offer Bluetooth connectivity, which can make it less convenient for users who want a wireless connection. Additionally, the wallet only supports a limited number of cryptocurrencies, which could be problematic for those with more diverse portfolios.
Furthermore, the KeepKey is a bit bulky and heavy, which could make it less appealing to users who prioritize portability and ease of use. Although it's still a reliable option for secure storage, these factors could be important considerations for potential buyers.
Conclusion
If you're searching for a secure and user-friendly hardware wallet, KeepKey is worth considering. It boasts a sleek, premium design that's intuitive and easy to use. While it's slightly larger and bulkier than some competitors, the trade-off is a big crystal-clear screen.
One of the standout features of KeepKey is the ShapeShift function. It allows users to exchange currencies easily without leaving the KeepKey device. It features an efficient app for Windows and IOS.
Despite these minor drawbacks, KeepKey has rightfully earned its place as a top hardware wallet. Security is a top priority; users can feel confident that their crypto assets are protected. When considering which hardware wallet to purchase, it's essential to weigh the features that are most important to you. For those seeking a hardware wallet that's easy to use and provides top-tier security, KeepKey is an excellent option.
---
The Trezor Model T natively supports fourteen cryptocurrencies, while the Trezor Model One supports twelve, and both support all ERC20 tokens. Although other cryptocurrencies are supported by Trezor hardware wallets, they must be managed using a third-party wallet interface like Electrum or Metamask.
The Trezor Model T is highly secure and is widely considered one of the safest ways to store cryptocurrency. As a hardware wallet, it keeps the private keys that protect your crypto in cold storage. Since cold storage is offline, it's safe from hackers and other cyberthreats.
Rest assured, Trezor is designed to address this issue! With your Trezor's secret recovery phrase in the form of a 12-, 18-, or 24-word phrase, you can restore your funds on a new device.