Rating

5

Staking

Yes

Supported crypto

70+

Staking APY

5.18%
Our Review
ZenGo is a foremost keyless cryptocurrency wallet. It provides a secured wallet for numerous crypto assets and NFTs. Also, it allows crypto to fiat transactions via credit and debit cards at minimal fees. Its minimalist, user-friendly interface ensures that all functionalities are user-focused. However, a major drawback is its need for cloud storage to activate and recover the account.
Pros
Advanced security integrated.

Keyless wallet.

User-friendly interface.

Great staking APY.
Cons
No desktop version.

Cloud storage needed.
ZenGo 2023 Review: Unveiling Top Features of the Staking Wallet
TLDR
ZenGo is a cryptocurrency mobile wallet that provides keyless transactions, offering extra security to its users. It is famous for its user-friendly interface that eliminates many complexities of trading crypto. This ZenGo Review will examine this platform's good, bad, and ugly.
ZenGo is available in major countries worldwide, supporting over 70 crypto assets and fiat currencies. In addition, the platform offers its users trading support and rewards; new users and referrals get a bonus of $10 to begin trading. Furthermore, ZenGo charges low fees on the transactions carried out on its platform.
A major drawback of the ZenGo platform is its lack of availability for desktop and web; it exists only on mobile devices.
Who Should Use ZenGo?
ZenGo is a great choice for new and expert investors; its unique accessibility, simplicity, and security make it one of the best cryptocurrency wallets.
The ZenGo project was created by Ouriel Ohayon in 2019. It aims to make the crypto economy available and accessible to everyone, allowing users to trade and sell crypto safely without any hassles.
As a keyless transaction wallet, ZenGo prevents thefts or losses by eliminating the need for seed phrases, private keys, and passwords instead of using sophisticated cryptography and biometric technology.
ZenGo Keyless Wallet
Keyless crypto technology is currently the best crypto wallet security system. It involves using a non-custodial crypto wallet structure that eliminates the need for private keys to access the wallet.
Unlike traditional crypto wallets, where users must secure their keys to avoid theft, keyless wallets use Multi-Party Computation (MPC) and threshold signatures. This provides extra security by eliminating the problems associated with private key vulnerability.
Also, MPC cryptography safeguards users' crypto assets even during phone theft or server hack.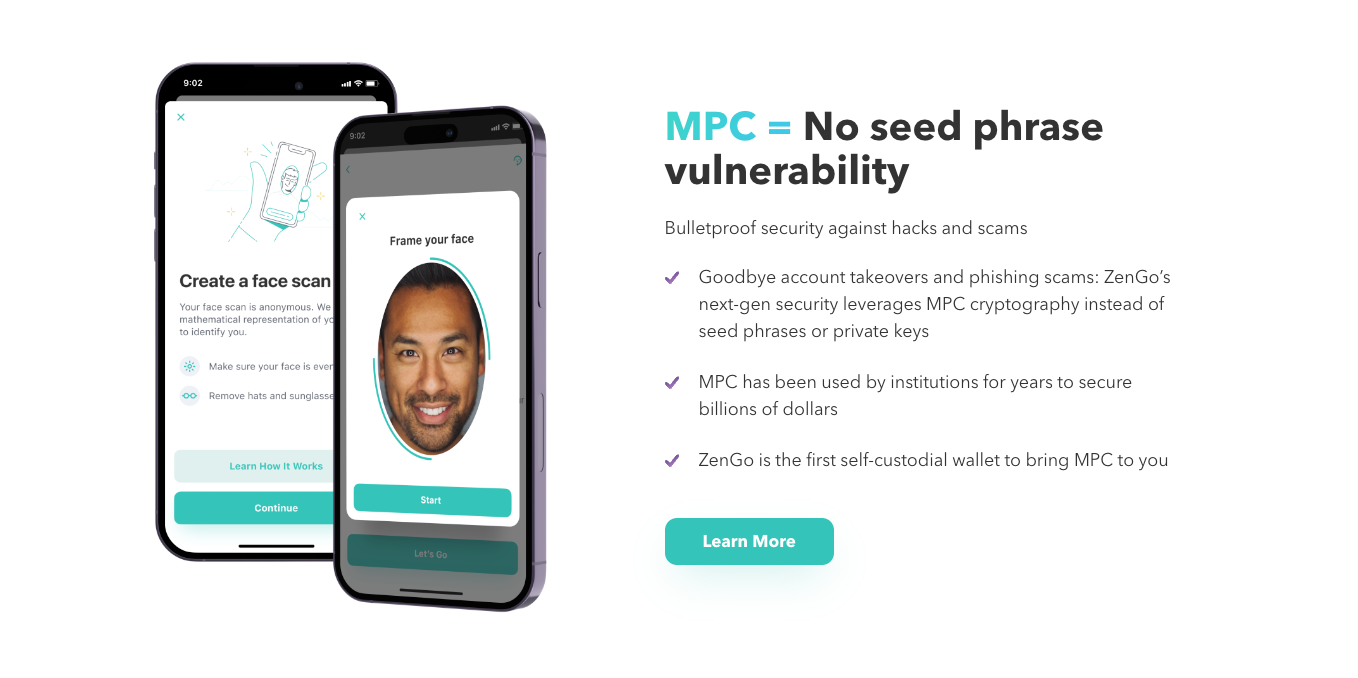 Countries Supported
Since its inception in 2019, ZenGo has expanded its horizons, reaching 188 countries. Other than Pakistan, Sudan, Syria, Zimbabwe, Cuba, Iran, Myanmar, North Korea, Pakistan, and Panama, ZenGo services are available worldwide.
In addition, due to some regulatory laws, ZenGo is unavailable in Texas, the US Virgin Islands, Rhodes Island, and Hawaii.
Cryptocurrencies Supported
ZenGo wallet supports 70+ crypto assets and fiat currencies. Some of these include BTC, EBTC, ETH, BAND, LUNA, CVC, ZRX, AAVE, REP, LINK, CHZ, COMP, DAI, MANA, OKB, MATIC, USDT, UNI, USD, AUD, CAD, EUR, GBP, JPY, KRW, and many on.
What Makes ZenGo a Good Choice?
All-in-one – Supports Crypto Trading
ZenGo is a comprehensive tool for all cryptocurrency needs. It allows users to carry out diverse activities simultaneously in one place. The ZenGo platform also allows the storing, buying, selling, sending, and receiving of crypto assets in one place.
With ZenGo, it is possible to transact in various fiat currencies. Its ease of transaction makes it stand out among the other crypto wallets.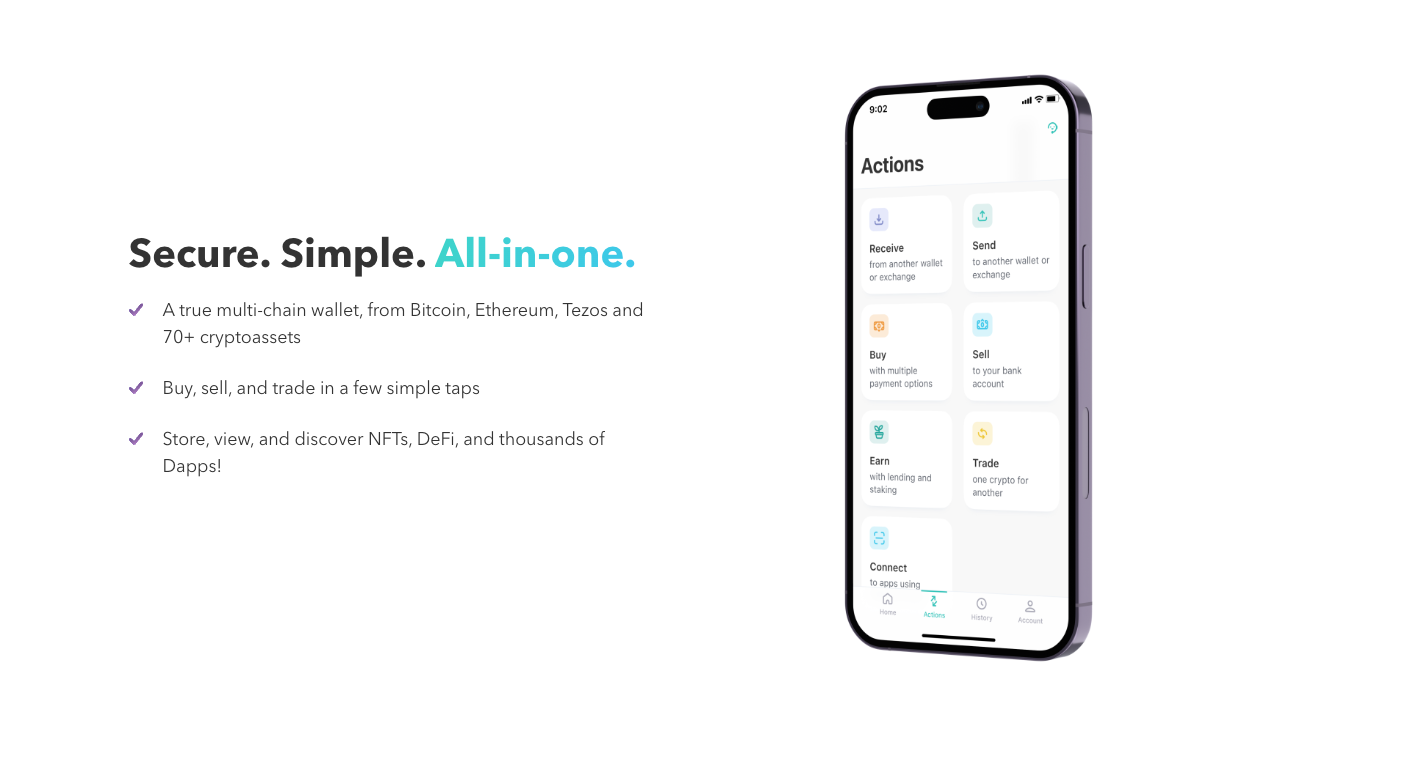 Interests and Rewards
ZenGo offers juicy rewards to its users when they transact and stake their crypto in the app. These rewards are earned on ZenGo by numerous means.
New customers get $10 worth of Bitcoin when they register through a referral code. They also enjoy 0% network fees on their first crypto purchase above $200. Existing users also provide free crypto whenever they refer a new customer.
Another way to earn on ZenGo is by gaining interest in staked cryptocurrency. Although ZengGo has suspended some of its staking services, leaving only Tezos, the platform is working on a feature to incorporate other crypto tokens.
Intuitive Mobile App
With the ZenGo mobile app, available on Android and iOS, users can access their cryptocurrency wallet on the go.
The app has a user-friendly interface, designed simply with crucial wallet features to reach many users. It is the best crypto wallet for newbies and the most comfortable for veterans.
Furthermore, you can share the referral code generated by the mobile app to gain free Bitcoin.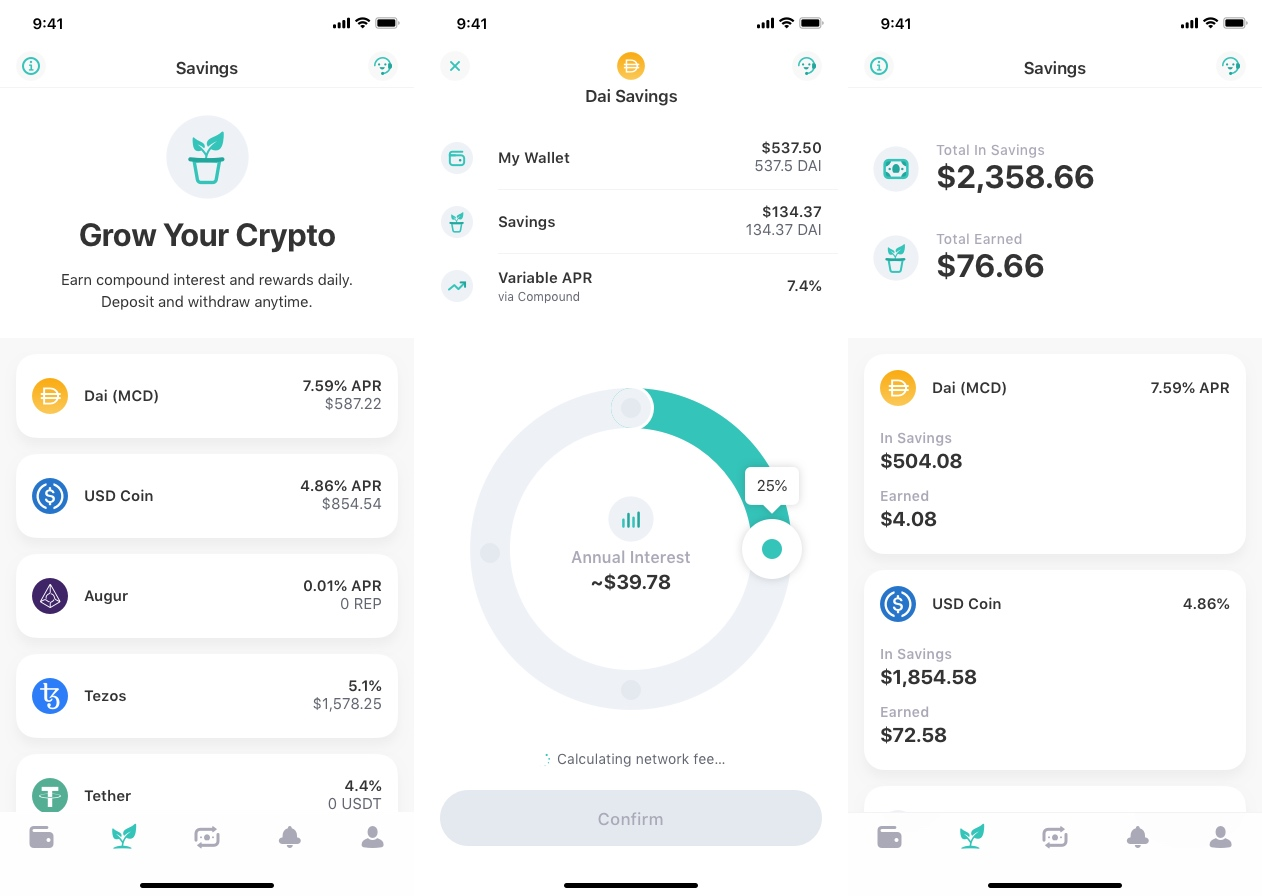 Secured Platform
ZenGo has built a secure wallet with keyless technology that ensures the maximum security of assets by using Multi-Party Computation cryptography and biometric authentication.
This security system matches the distributed encryption keys on the server and users' phones without revealing them to each other to endorse crypto transactions. This feature relieves the user from private key complexities, such as the theft of crypto assets due to phone theft or stolen private keys.
How to open a ZenGo account
Step 1: Visit the Zengo Website
Visit the official Zengo website and scan the QR code with your phone.
Step 2: Download the App.
The ZenGo app is also available on Android and iOS devices. It can be downloaded from either the Google Play Store or Apple Store.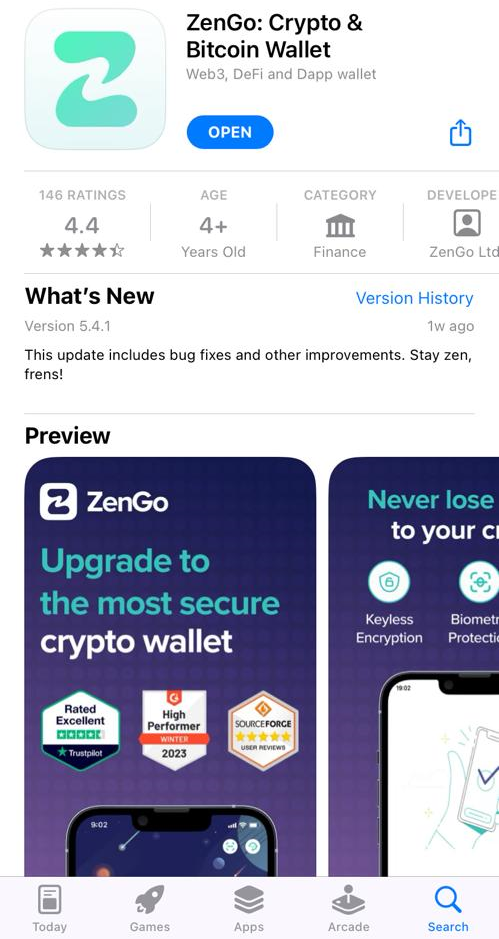 Step 3: Verify your e-mail
The app prompts you to enter your e-mail address. Once done, click [Continue]. You will be sent a verification link to the e-mail address you used to verify.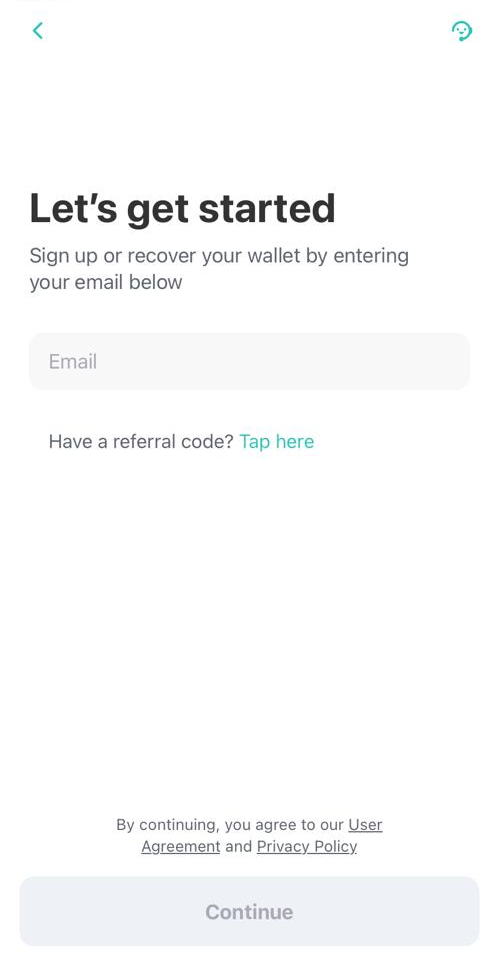 Step 4: Enable your Face ID or Fingerprint ID.
After completing your e-mail verification, ZenGo will request permission to use your phone's biometric security feature to secure access to your account.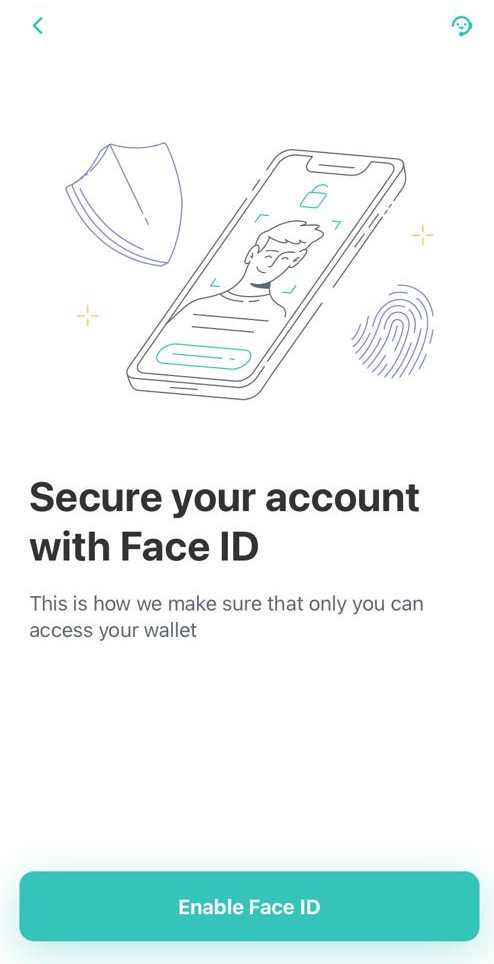 For iOS devices, the system will request Face ID, while for some Android devices, it will request Fingerprint ID.
Step 5: Secure your Wallet
After creating an account on ZenGo, you should secure the wallet by creating an account recovery kit and uploading its details to the cloud. The recovery kit on any iOS device includes e-mail verification, a 3D face lock, and a unique identifier.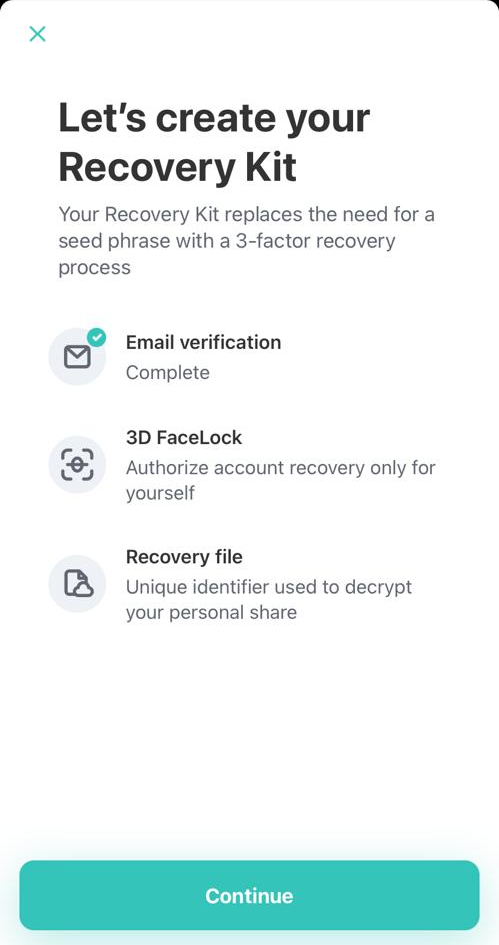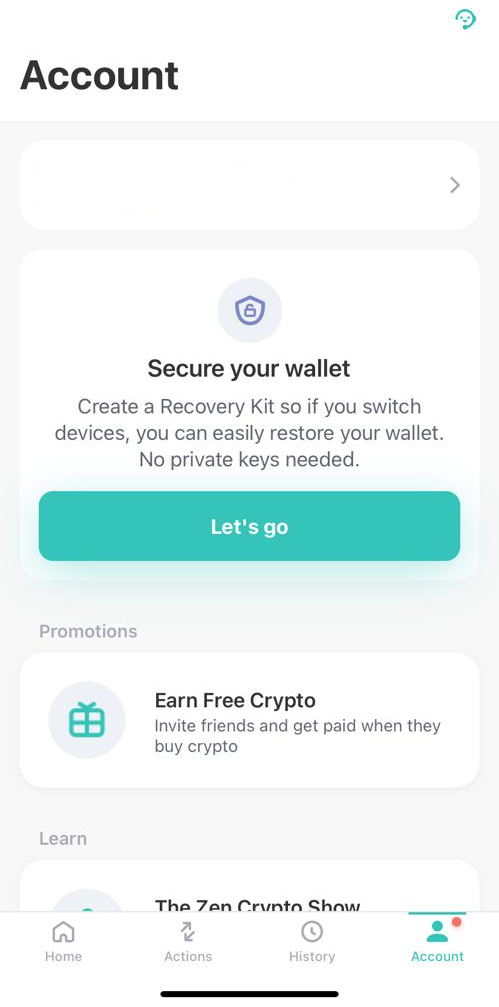 After you upload these, the system will direct you to upload your recovery kit to the cloud.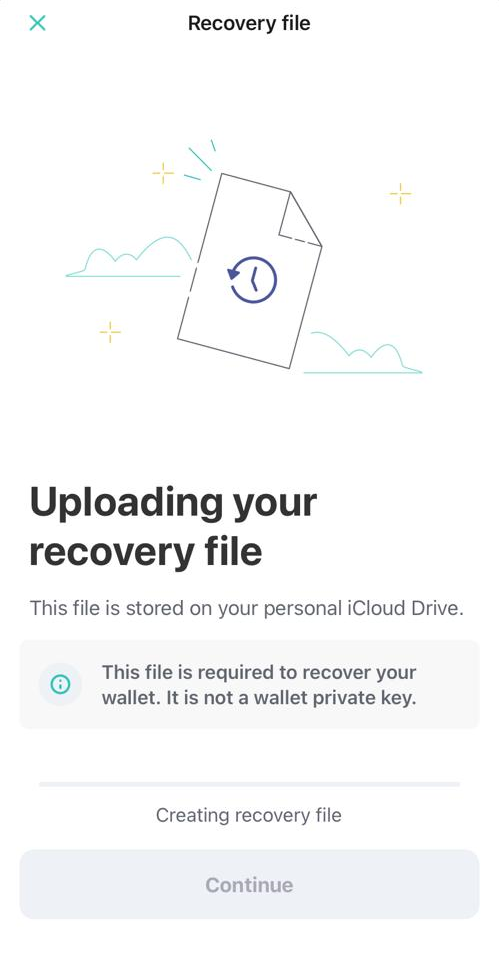 What Actions are Supported by the ZenGo Wallet?
The ZenGo wallet aims to make crypto transactions easier. It allows users to send, buy, sell, earn, store, swap, and receive crypto.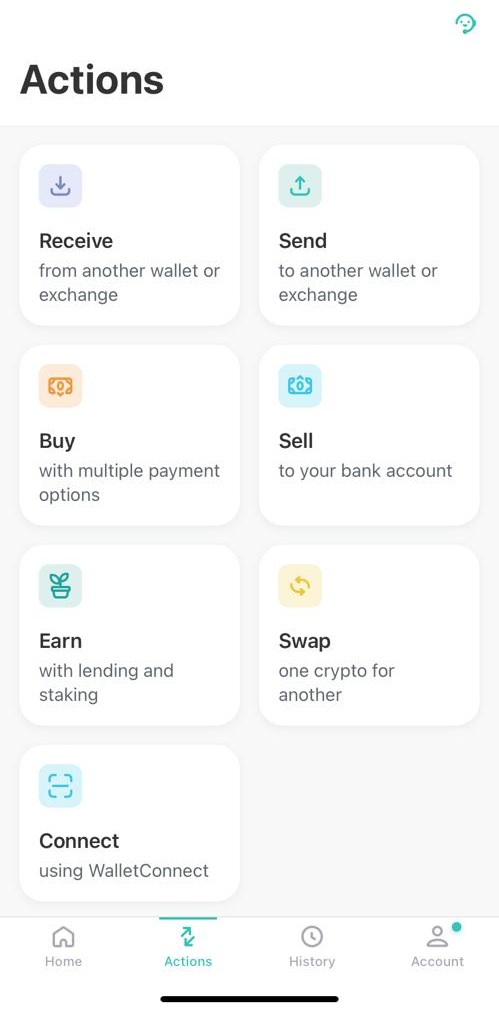 Buying Crypto
Buying crypto is easy with ZenGo as the app allows users to purchase crypto using a credit or debit card; it accepts the MasterCard or Visa debit card. In addition, ZenGo supports payments via Apple Pay.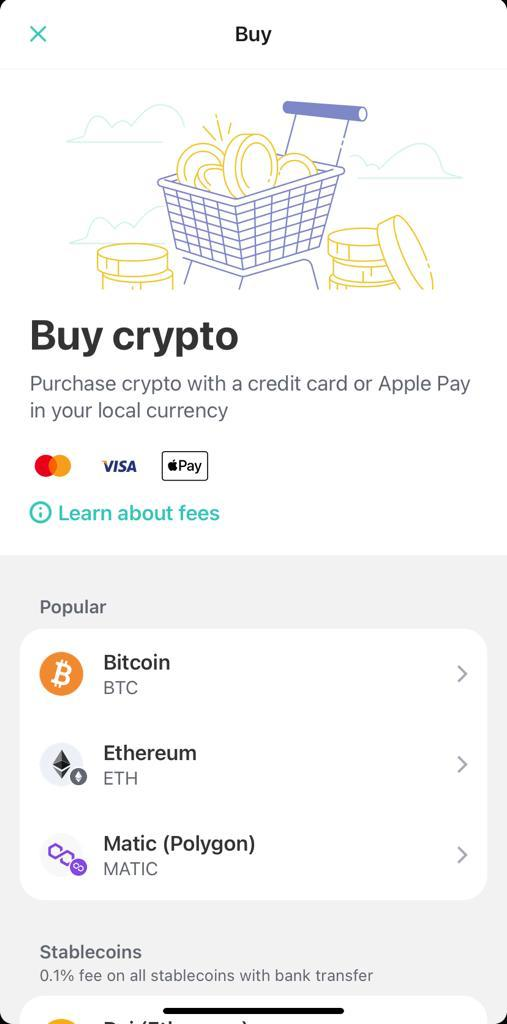 Selling Crypto
Because ZenGo only supports the exchange of Bitcoins for cash, you can sell your assets on the ZenGo wallet by converting them to Bitcoin and, then, the local currency. The transaction only takes a few business days to be completed.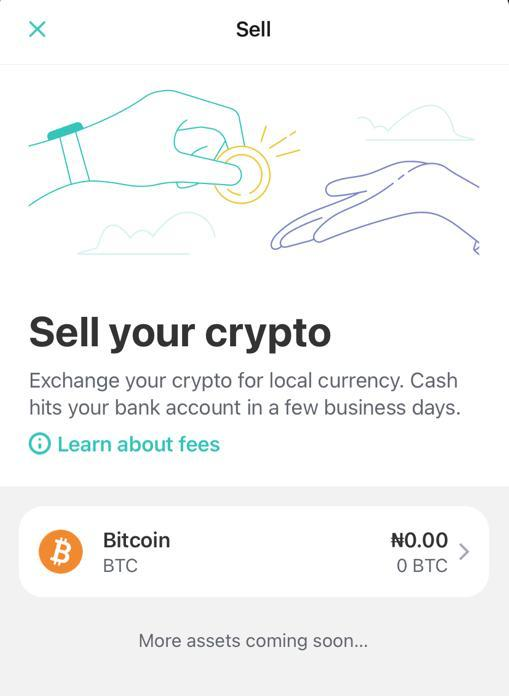 Swapping Crypto
ZenGo allows the easy swapping of crypto assets; the wallet allows users to swap across about 70 assets. ZenGo charges a 0.5% flat fee every time users use the swap feature.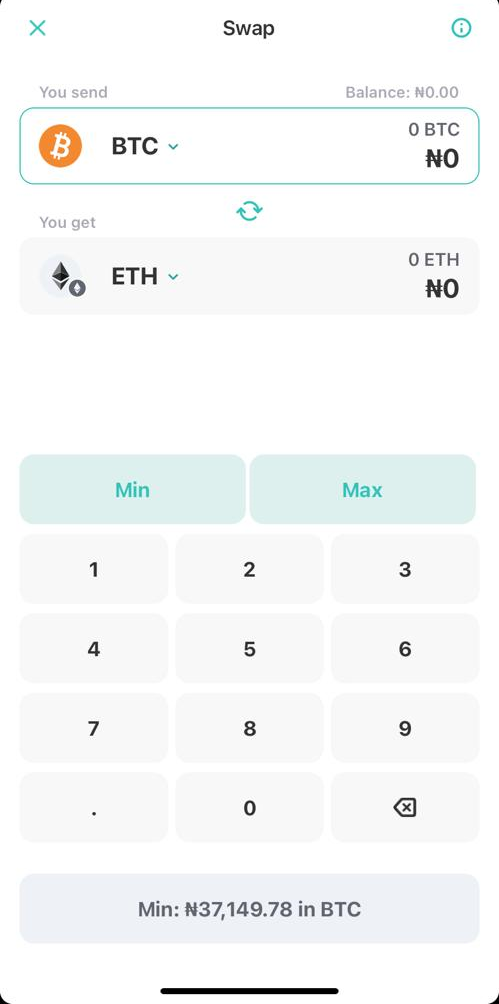 Earning Crypto with ZenGo Earn
"ZenGo Earn" offers a convenient solution for individuals interested in generating additional income simply by holding cryptocurrency. This Zengo review shows that users can earn daily interest and rewards with just a few taps, making it the safest and most straightforward method for earning passive income in the crypto world.
Users can earn as much as 5.18% on the assets staked. For additional details on this subject, refer to the article on their website.
Storing Crypto
With ZenGo, users can safely store polygon assets and other cryptocurrencies. The assets are securely kept in the keyless wallet and can be staked or retrieved when necessary.
Features of ZenGo
Advanced Encryption Technology
ZenGo is a very secure crypto wallet. We implemented the encryption system using advanced Multi-Party Computation, which eliminates the hassles that come with private keys.
ZenGo offers a secure key management system that allows multiple parties to jointly carry out transactions without sharing their respective details. This makes it superior to other crypto platforms.
User-friendly interface
The ZenGo wallet has an easy-to-use interface and a great user experience. It is preferred among crypto newbies as a result of this simple UI. In addition, the transactions on the app are swift, making bank transfers less stressful.
Guaranteed Recovery
ZenGo guarantees the safety and recovery of your wallet even if you lose your mobile device. It is, however, important to ensure that your recovery kit is up to date and uploaded on the cloud. The recovery kit includes the user's registered face ID and a verified e-mail address matrix that matches the user's cloud storage.
Customer support
The ZenGo wallet and website give users access to live chats with customer service representatives. In addition, the wallet has an active Twitter account that provides excellent customer support and responds almost immediately. ZenGo can also be contacted via e-mail with a maximum revert time of 24 hours.
ZenGo Review: Fees
All ZenGo fees are grouped into three:
Crypto to Crypto
Crypto to Fiat
Fiat to Crypto
Crypto to Crypto
The platform charges a network fee for sending crypto to another wallet address outside ZenGo. It also charges a transaction of 0.5% flat rate for network fees on every transaction.
Crypto to Fiat
The minimum amount of crypto assets that can be traded for fiat is 0.01BTC, 0.01ETH, 0.05BCH, 30 USDT, and 30 USDC. ZenGo's payment processing partner, MoonPay, charges 1.99% outside network fees. The maximum daily fiat conversion is €2000, with a monthly limit of €10,000 or equivalent.
Fiat to Crypto
Crypto purchases can be made on ZenGo via debit or credit cards. It accepts payment via Apple Pay and Google Pay. ZenGo charges a fee of about 5.99% on debit and credit card transactions alongside a local currency conversion fee for non-USD/GBP/CAD/AUD currency.
EU residents can make bank transfers to buy crypto with a service charge of 1.99%. The minimum deposit to buy crypto via bank transfer is $125. Stablecoin purchases attract a special fee of 0.01% for bank purchases.
ZenGo Staking
Although crypto staking has existed on ZenGo since 2020, the wallet allows for the staking of only Tezos coins.
How can I use ZenGo staking?
ZenGo provides staking for Tezos (XTZ), with plans to expand the list of staking assets. This is similar to the process of gaining interest in a bank account. With ZenGo, users can keep funds on the blockchain over a period to boost their crypto portfolio.
How to activate ZenGo staking
Earning rewards using your Tezos is a breeze. Just follow these steps:
Ensure you have Tezos in your wallet (you can buy them in ZenGo or transfer them from another wallet or exchange).
Select [Tezos] from the Home screen.
Click on [Actions].
Press the [Earn] button.
Hit the [Activate] button.
How to earn interest from ZenGo staking
Tezos blockchain network operators start paying a daily interest of 3% after 33 days of staking the asset. The rewards are deposited directly into the Tezos account.
ZenGo Review: Limits
ZenGo imposes no transaction limits on the crypto wallet except when using a payment processor like Moonpay. With Moonpay, the minimum payment is $100, while the maximum depends on the verification tier.
There are various tiers of transaction limits that come with their respective verification requirement:
Tier 1: Maximum of €150 per month
Tier 2: Maximum transaction of €20,000 per month.
Tier 3: Maximum transaction of €50,000 per month.
The tier level and the payment processor determine the minimum or maximum amount that can be transacted daily and monthly.
ZenGo NFT Wallet
Non-fungible tokens (NFTs) are currently deployed in art, fashion, sport, collectibles, trading cards, and utilities. The ZenGo NFT wallet offers maximum security to store NFTs with its MPC cryptography.
ZenGo NFT wallet is built to be a multi-blockchain wallet. It currently manages MATIC and Ethereum NFT assets and pushing to accommodate more.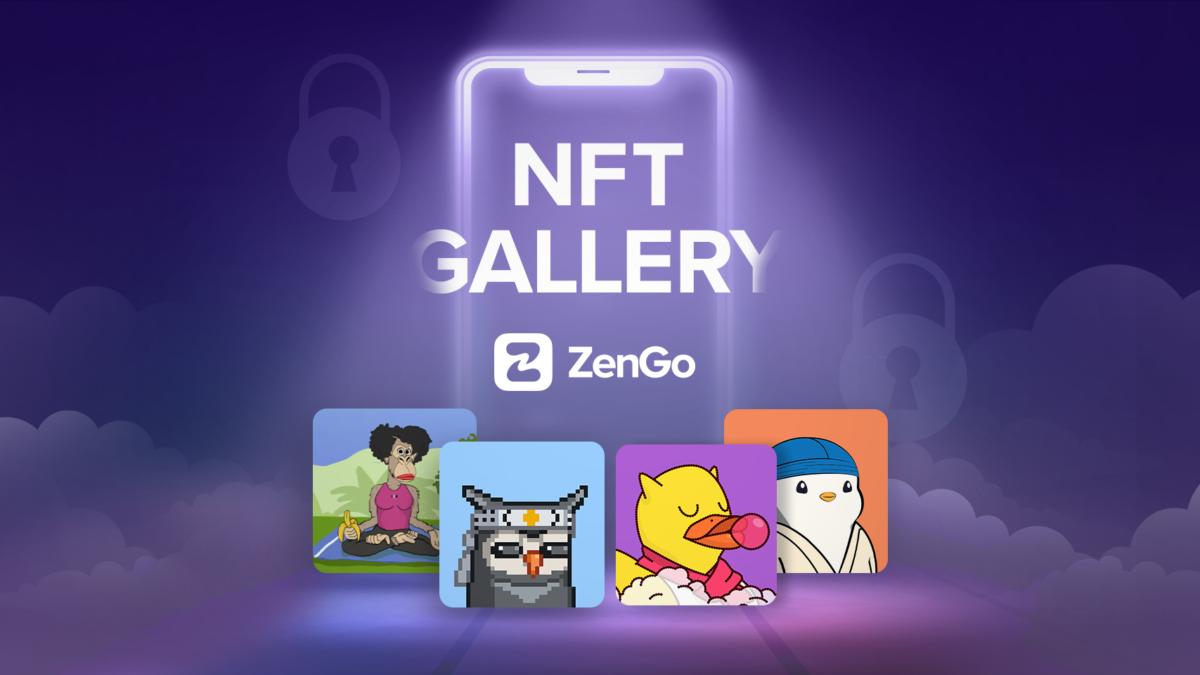 Drawbacks
Lack of Web Availability
The wallet is only available on mobile devices. ZenGo does not have an accompanying website like other crypto sites where transactions can be done.
Requires Cloud Storage
ZenGo users must keep their recovery kit up to date on the cloud to prevent the loss of their accounts and assets. This cloud service could either be Google Drive or ioS storage.
Unavailability in some regions
Although ZenGo aims to reach every country globally, some countries lack the legal and financial backing to ensure cryptocurrency's safe and easy use. ZenGo is, as a result, unavailable in those countries.
Conclusion
ZenGo is an all-in-one crypto mobile app that allows users to store all their crypto assets and NFTs in one place. Because of its keyless technology, ZenGo ensures that all assets and collectibles stored are secured.
The ZenGo wallet utilizes an advanced cryptography technique known as Multi-Party Computation. This allows the server and user's mobile device to carry out transactions without sharing information, thus, eradicating the need for private keys or seed phrases seen in other wallets.
---
ZenGo is a keyless mobile cryptocurrency wallet and the most secure crypto wallet. It protects users' accounts using MPC cryptography, biometric face lock, and a cloud-stored recovery file. In addition, it uses Web3 technology to alert users of malicious attempts to access their accounts.
In addition to being a keyless mobile wallet, providing its users with top security for their digital assets, ZenGo also includes many other benefits. These include a friendly user interface, rewards on referrals and stakes, mobile technology, and swift bank transactions.
ZenGo does not have its coins; however, it has over 70 assets for users to trade, store, or stake. Some of the supported tokens on ZenGo include Bitcoin, Ethereum, Tezos, Binance coin, Shiba, and Polygon.