Rating

4.8

Free version

Yes

Fees

$11.99 - $199

Cources

213,000+
Our Review
Udemy is a versatile e-learning platform suitable for all types of users, including beginners and professionals. Unlike other platforms, Udemy has courses from instructors and offers individual subscription services for flexible learning. While there are pros and cons to Udemy, this review covers all aspects of the program.
Pros
One platform, multiple courses.

User-friendly online learning platform.

Course reviews for informed choices.

Certification from accredited institution.

30-day money-back guarantees.
Cons
No fixed course prices.

Some paid courses are only an hour long.

Some courses only good for beginners.
Udemy Review 2023: The Ultimate Guide to Online Learning
TLDR
Our comprehensive Udemy gives you insights into the pros and cons of Udemy through authentic user reviews, helping you choose the right courses for your personal and professional development.
Udemy offers a wide range of paid courses for learning new skills at affordable prices. Read Udemy reviews and check past students' experiences to find the perfect system.
Udemy certificates may not have formal accreditation, but you can still boost your career with their content. Alternatives like LinkedIn Learning provide subscription plans for unlimited access.
Try Udemy's mobile app for on-demand video lessons on different mobile devices. Learn web design, graphic design, or Python with no prior experience needed. Enjoy additional resources and practice tests to enhance your learning. Remember, Udemy is worth trying for personal growth or as a supplement to a college education.
Who is Udemy Course Good For?
Udemy is one of the leading learning platforms for users of every type. Besides being one of the most extensive online professional skills and course platforms, Udemy is also an excellent option for upskilling.
The platform has been around for a few years and is known for offering quality education without compromising on the affordability and pricing of its courses. It has been around for a few years and offers various courses, from data science and computer engineering to life coaching and mindfulness.
Pricing and Courses
Unlike other teaching platforms, the platform has a fixed price range for different courses. Instead, this online learning platform has independent instructors offering their professional skills. Each instructor sets a price for their individual course.
These courses range from around $10 for basics to over $200 per course for more specialized topics. However, the average price is about $20-30 for Udemy courses.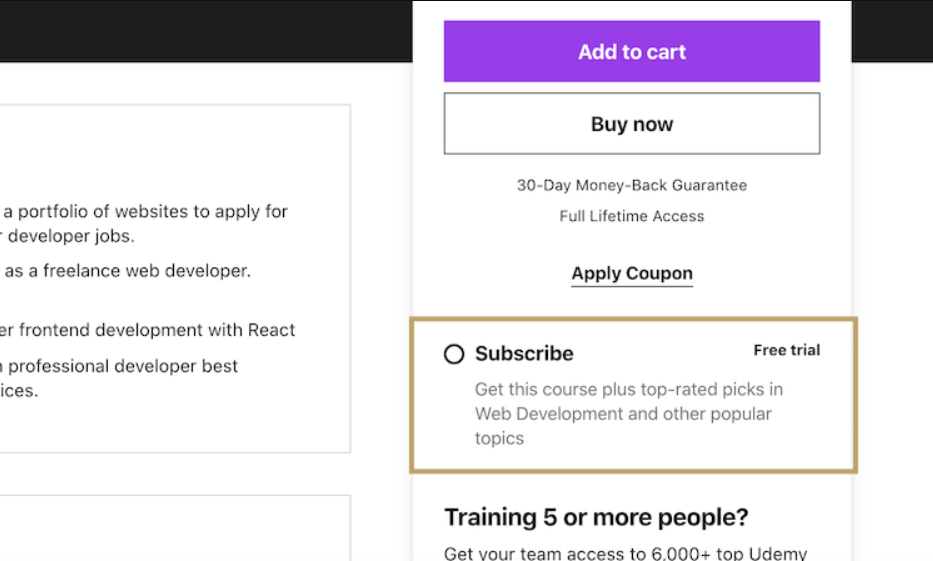 Additionally, users can also access bundled courses from the platform. For instance, if you're interested in taking IT courses on Udemy, you can subscribe to Udemy Pro for $19.99 monthly or get annual access to the learning platform at $240 per year.
The membership cost includes access to purchased courses and IT certification topics like CompTIA, Project Management Professional, and AWS.
Free Courses
What's more? Udemy also offers various free courses that give you a fair idea of the education before starting.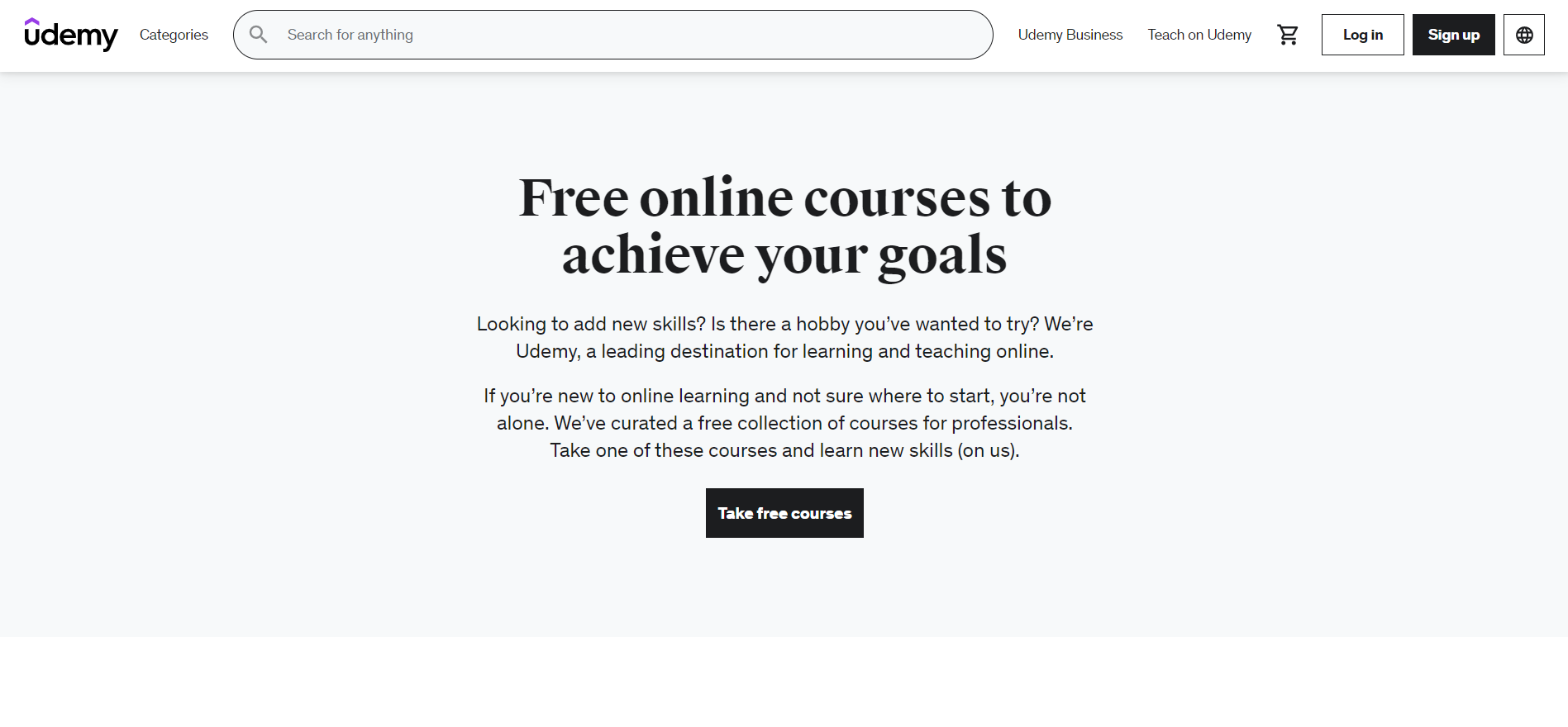 Ideal For Beginners Planning To Learn Popular Courses
Udemy is an excellent destination for students planning to learn beyond their co-curriculum syllabus or preparing for additional examinations. Additionally, it is also an ideal platform for learners who are looking to master a variety of creative skills revolving around computers and design.
Udemy courses are great for learners planning to upskill one skill at a time. Thanks to their unique 'pay-as-you-learn' format, you do not need to worry about drilling a hole in your pocket by subscribing to expensive online courses subscription. Instead, you can pay for a course as you enroll and learn it.
This unique model allows learners to spend only what's needed to get the skills they want to master. Additionally, Udemy courses are also a good option for learners willing to do a bit of legwork in figuring out which courses are tailored for them.
As Udemy itself does not curate the courses, you need to be double sure about your knowledge and selection with any 3rd party teachers. Besides, it would also help to do your research and pay for a course.
Udemy Review: Fees
Udemy is probably one of the unique platforms in the MOOC field, primarily because the platform doesn't limit itself to a subscription service. Instead, learners willing to pay per course could use Udemy.
On average, Udemy instructors charge around $100-200 for a complete course. However, your overall price for the entire course is the key to your learning experience.
For instance, when you purchase access to an introductory coding course, you get the following:
60 hours of video lectures
229 articles
Lifetime access
Mobile and TV access
116 downloadable resources
1 coding exercise
Course Assignments
Certificate of Completion.
On the contrary, Udemy courses that are vast and offer more educational content will take longer time to complete and hence will be more expensive. However, it is important to remember that Udemy does not set individual course prices.
Udemy Review: Top Features & Perks
This Udemy review gives you an insight into the features Udemy has. The platform has been around since 2010 and has worked toward being one of the best destinations for e-learning. The platform offers over 213,000 courses and has over 44 million learners.
In the following section, we've discussed some unique features of the Udemy online platform.
1. Udemy Discount
The discount offered by Udemy on numerous courses is another aspect that makes the platform a great hit among e-learners. In addition, as part of its promotional campaigns, the platform offers several discounts and seasonal offers throughout the year.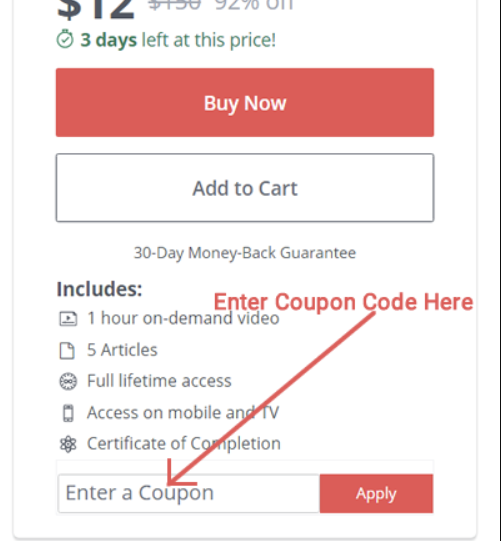 These sales allow you to grab courses at a discount of 10% to 90% off their initial price. Learners are also entitled to additional discounts if the Udemy course instructors put their individual courses on deals
The best time to find these additional course discounts is during major holidays or the beginning of a new academic year for schools and colleges.
2. Udemy App
The Udemy app is by far one of the most flexible offerings of the platform. It connects you to the Udemy ecosystem to continue learning at your own pace. The Udemy app is available across both iOS and Android Play Store.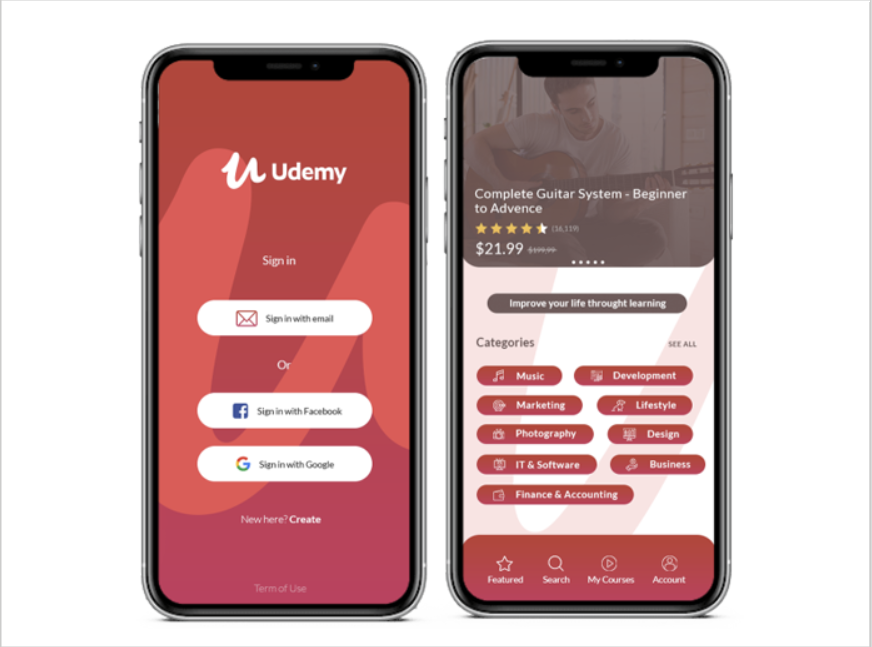 Besides, thanks to their latest download features, you can store modules offline and watch them on your device or use Airplay and Chromecast to watch them on a larger screen.
Talking of the application, Udemy has designed its mobile app with a seamless interface. It's easy to use and is designed to meet the needs of the learners. Moreover, the clean AI supports a seamless experience where you can navigate between courses in the app and play videos and audio smoothly without any technical glitches.
3. An Array Of Udemy Courses
Next, we have the Udemy courses, another striking feature of signing up over the platform. Udemy has 60,000+ teachers who cover 3,400+ topics, making it over 213,000 courses. In addition, all the teachers have something unique to offer their students in their native language, as the platform offers courses in over 75 languages, including Spanish and Korean.
The result has a vast database comprising a wide range of IT and Blockchain content. However, since the Udemy homepage mainly promotes courses for professionals, such as leadership or web development, you might have to find the course that suits you best.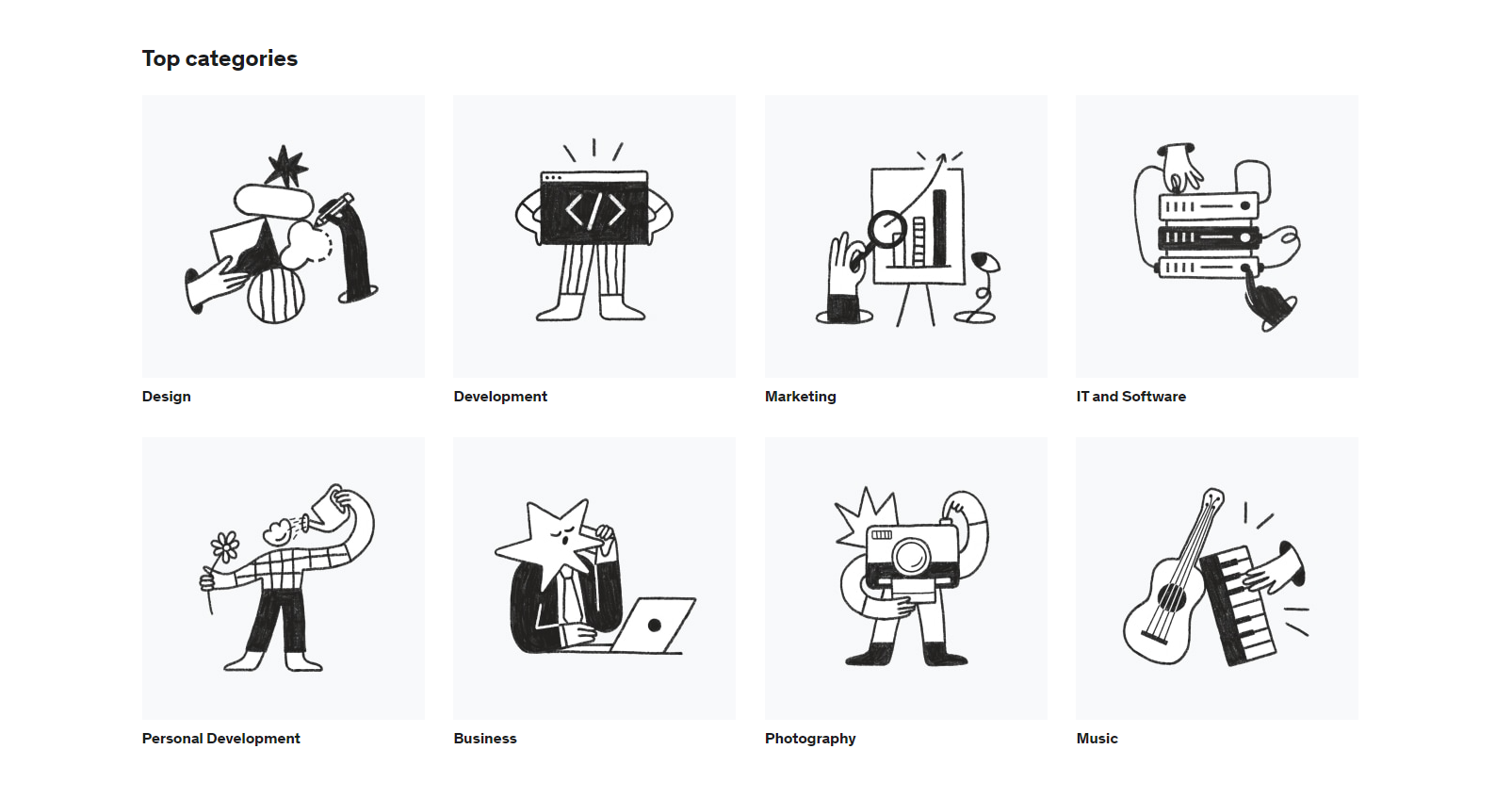 First, you might click 'Top Categories,' revealing an extended view of Udemy's library. Within these categories, you'll find options like Lifestyle and Business, among hundreds of related titles that are more specific to their content.
However, if you're searching for something specific, you can also refine your search using subcategories, ratings, duration, language, price, topic, and features, among other filters.
4. Udemy Feedback
With thousands of courses available for subscription, it's only evident that learners might be confused. Besides, if you're a beginner, you might fail to select and subscribe to worthwhile courses. Interestingly, Udemy has a unique feature called 'Udemy Feedback.'
This public rating system lets viewers know how many students have enrolled in their first course, how many have rated it, and their quality scores. These factors serve as a guide for beginners who are busy finding courses worth their while.
5. 30-Days Money Back Guarantee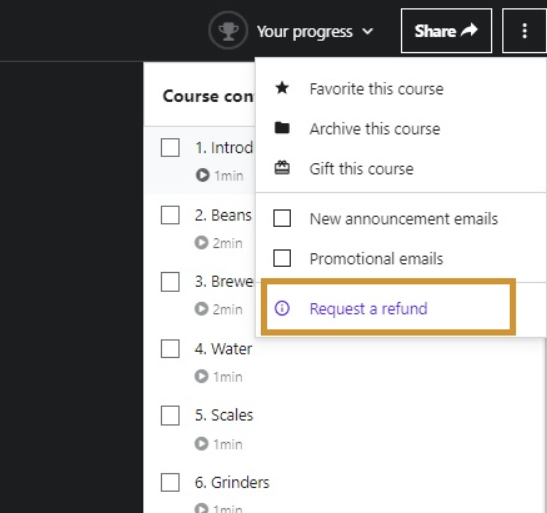 The money-back feature is one of the strong selling points of the Udemy courses. If a course fails to meet a student's expectations, they can claim a refund of their fees. Udemy's 30-day money-back guarantee stands till 30 days from purchase (otherwise, the platform may issue the refund as credits).
On the contrary, if you're a student opting for more than one course on Udemy, you can opt for their 'Personal Plan' or $30 monthly subscription. The plan offers thousands of courses (but not the entire course content library). However, if you're a subscriber, you're exempted from claiming a money-back guarantee but start with a 7-day free trial of their services.
---
Signing up for the platform
To sign up at Udemy, follow this simple step-by-step process. To begin, click on the [Get Started] button.
Udemy is a versatile e-learning platform suitable for all types of users, including beginners and professionals. Unlike other platforms, Udemy has courses from instructors and offers individual subscription services for flexible learning. While there are pros and cons to Udemy, this review covers all aspects of the program.
---
One platform, multiple courses.

User-friendly online learning platform.

Course reviews for informed choices.

Certification from accredited institution.

30-day money-back guarantees.
No fixed course prices.

Some paid courses are only an hour long.

Some courses only good for beginners.
Step 1: Visiting Udemy
To get started, you first need to visit the Udemy website.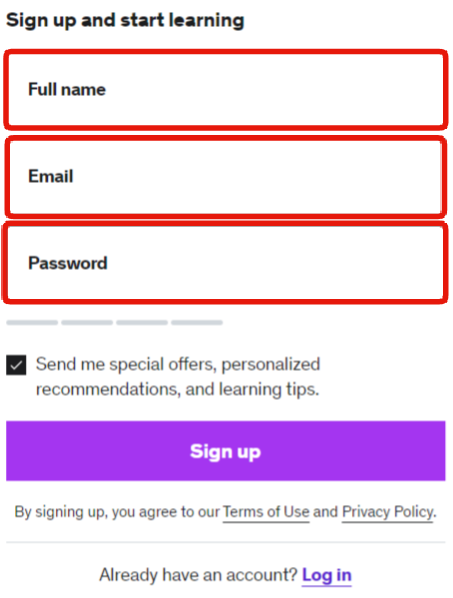 Now that you're on their webpage, click the [Sign up] option in the window's top right corner. Once there, input the necessary details like full name and e-mail, followed by a password to your account.
After you've completed the steps, you'll be sent a confirmation mail in your inbox.
Step 2: Choosing a Course
Now that you've successfully signed up for Udemy, the next step is to explore your options. To get started, click on their homepage's [Categories] section. Once you're there, try leveraging the wide range of filters to refine your search.
To use the filters effectively, try categorizing filters by using stars (look for courses with at least 4.5 stars), the overall time you intend to spend, and your level of expertise (beginner or advanced). Other filters include price, subcategory, language, subtitles, and features.
What's more? While at it, you can also create a wish list for all your potential options to assess them individually later. Additionally, you also have the option to watch a few sample videos and view a course's rating and description. These filters will help you get the perfect course that you want.
Step 3: Make A Payment
In the third step, you must pay for your chosen course. Here, you can choose between paying in full or making discounted payments (if you have a promo code).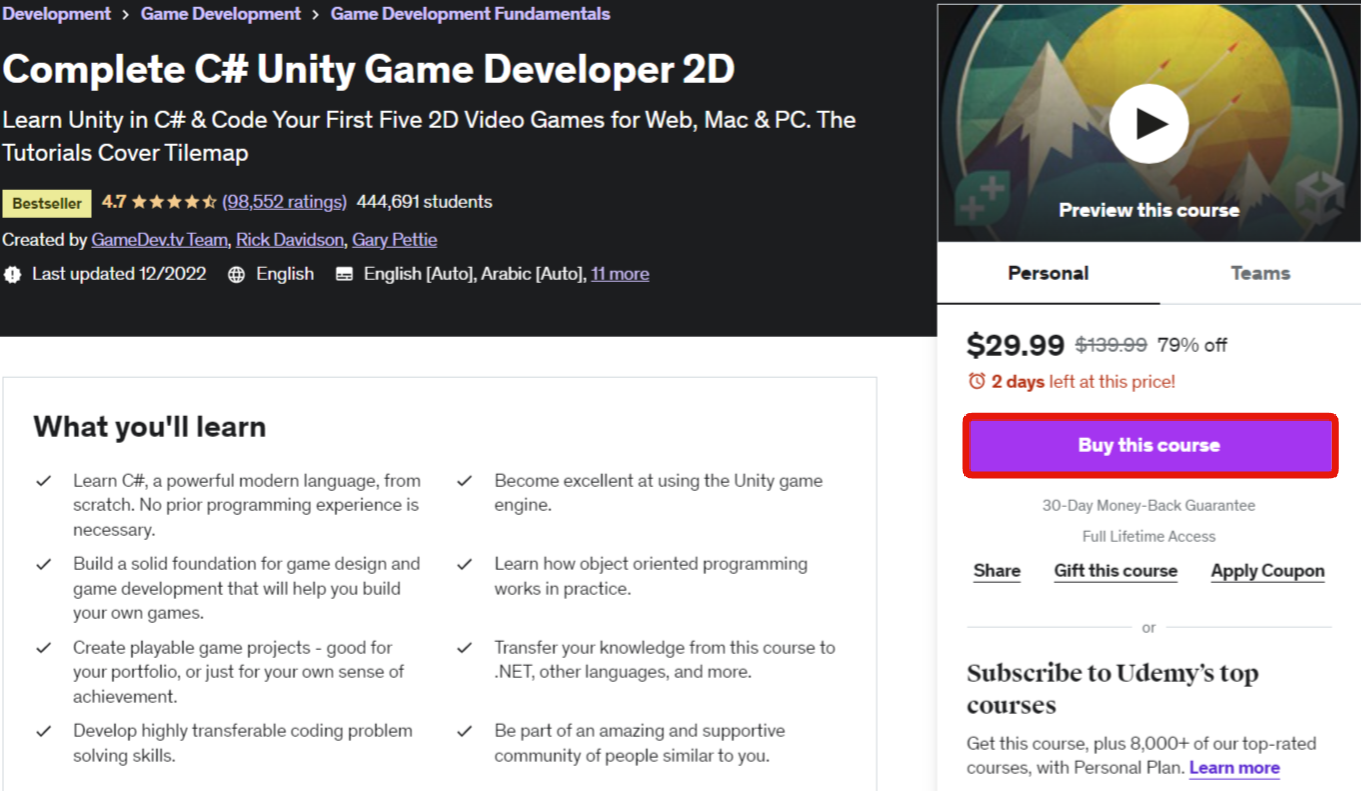 Users also have the option to pay for their selected course using Klarna or Afterpay (services that allow learners to make payments in installments). Other options to pay for your course include credit/debit card or PayPal.
Once you've entered all the details of your accounts successfully, proceed towards paying Udemy by clicking on [Complete Payment].
Step 4: Take The Course
For the final stage, you need to get started with your course. You can start studying by clicking on the [My Learning] section in the top-right corner of Udemy's website.
This section also gives you an overview of all your purchased Udemy courses and the schedule you want to take them. This feature is handy when you opt for more than one course at a time.
---
What Can Udemy Do To Improve?
Introduce A Special Class Of Courses Designed For Certifications
Udemy is a platform designed to support, store, and display a vast collection of courses by individual Udemy instructors. Every personal Udemy instructor has a take on their course and the price range they want to plan.
However, since none of these courses are designed or priced by Udemy, the platform doesn't certify the courses. Therefore, if you're a learner planning to get certified after completing the course, Udemy is not your ideal platform. This is one of the places where Udemy might want to make changes.
As one of the largest e-learning platforms, Udemy could introduce certified courses for users.
Courses Can't Be Used For University Credit
Udemy is a platform that allows almost everybody to become a teaching professional. Moreover, the platform doesn't require users to have any proven certification to start teaching over Udemy.
This is one of the primary reasons that learners can't use course certifications for university credit. So this is one of the primary places where Udemy could introduce a change. The platform could introduce certain courses certified by different universities, allowing students to skip college while holding certificates.
Not All Courses Are Designed For Expert Learners
Being a professional is relatively easy over Udemy. You can become a teacher by signing up for classes on the platform. New teachers also receive great sign-up offers while getting the right to design their own course and put their price tag on it.
However, this also counts as one of the most significant drawbacks of Udemy. Since almost every individual has the option to become a teacher and there's no screening process, looking for quality education becomes challenging over the platform. Not all courses are up to the mark and only focus on beginner users.
Therefore, if you're a professional who wants to upscale, Udemy might not be a good platform for you. However, Udemy could work on this aspect and introduce a standard screening process for teachers and their designed courses.
Udemy Review: Our Verdict
This brings us to the end of our Udemy review. Looking at the different aspects of the platform, it's evident that Udemy is a revolutionary platform that allows users of all experiences to teach and learn over the platform. It is an excellent start for beginners who are starting their careers or for professionals looking for new skills to upscale their expertise.
Now that you know the courses offered on Udemy, their perks, and their downsides, we hope you make an informed decision while signing up for paid courses on the platform. Remember, it's always wise to first research and sign up for Udemy.
---
Yes, Udemy is a popular platform offering various courses on different topics. Affordable prices and user-friendly features suit those looking to learn new skills or enhance their knowledge.
Udemy certificates may not have formal accreditation, but they can help boost your career by showcasing your new skills. While they may not be suitable for college credit, they can demonstrate your commitment to learning.
UIndividual instructors create Udemy courses, so their quality can vary. It's essential to read reviews and check the instructor's instructor bio first before purchasing a system to ensure it meets your expectations.
Yes, Udemy is a legitimate platform with secure payment options. If you are unsatisfied with a course, you can use their 30-day money-back guarantee to get a refund.