Best Crypto Affiliate Programs in 2023: Boost Your Earnings
TLDR
This guide will inform you of the best cryptocurrency affiliate programs for commissions and bonuses. Cryptocurrency affiliate programs enable you to make money from crypto without trading or needing an active account.
The 9 best crypto affiliate programs in 2023 are:
All these platforms have commission rates, revenue-sharing programs, and payout methods. Keep reading to know more about them.
Introduction
Crypto companies utilize affiliate programs to increase their customer base. The company pays the affiliate marketer for every referral they bring. This also applies to trade transactions and coin transfers.
Various cryptocurrency affiliate programs offer different commissions and bonus rates. This guide will inform you of the best cryptocurrency affiliate programs.
A serious crypto investor and an affiliate marketer can earn money from referral trading fees. They encourage people to exchange crypto and make other transactions using their affiliate links. The affiliate company will then pay you trading fees per sale.
Many crypto companies create affiliate programs to increase their sales. Here are the best crypto affiliate programs for you to consider:
1. Binance
Binance is arguably the best crypto affiliate program. The popular cryptocurrency exchange introduced its affiliate program to cryptocurrency affiliate niches with a staggering 50% commission rate every time you sell bitcoin and other crypto assets. However, the company reduced the commission rate to 20-40% a few years later. In this program, you get paid in real time.
Binance's real-time commission payment method gives it an edge over other companies. Additionally, unlike other crypto affiliate programs mainly offering monthly payments, Binance provides a seamless and convenient experience. Moreover, joining Binance's affiliate program is a breeze; you only need to open the Binance page and register your account using your e-mail address.
After registering for the program, you must verify your e-mail address. That way, Binance will know that you are legitimate. However, registering for Binance's crypto referral program has been challenging recently due to a user surge.
Pros
Incredible commission rate
Fast real-time payouts
Cons
It is an in-house crypto referral program
Binance, a leading global crypto exchange, offers a user-friendly interface and low fees for trading a diverse range of coins. Accessible to both institutional and individual investors, it supports advanced trading services, although U.S. options are somewhat limited.
---
Industry's lowest trading fees.

Advance trading options like leverage.

350+ trading options, 150+ for theUS.

Lucrative on-site staking options.
Hiccups in account verification.

Less regulated than some competitors.

The corporate structure is not transparently.
---
2. Bybit
Bybit is an exchange platform for crypto with millions of users worldwide. It features many services, such as automated trading solutions, bots, and marketing trading, which are valuable to affiliate marketers. The Bybit program runs a support system that helps breed competition among affiliates.
It features a leaderboard and offers many bonuses to top affiliates. Bybit pays a minimum of 30% commission to its affiliates. This is one of the highest commission rates you can find today. Thirty percent commissions on recurring transactions can earn you a lot of money.
In addition, the Bybit cryptocurrency affiliate program offers a $90 referral bonus for every new affiliate that joins. That means you can make money simply by becoming a registered company affiliate. You will earn a lot if you provide a lot of traffic for the site.
Pros
High commission rate
Numerous payment methods, including fiat currencies.
Daily payouts
Cons
Restricted withdrawal location
Bybit is a leading futures trading platform globally, offering up to 100x leverage and attracting users who prefer to remain anonymous. With a presence in 180+ countries, it is renowned for its efficiency and unique features in cryptocurrency derivatives trading.
---
The platform offers up to 100x leverage trading.

Strong educational resources.

Diverse markets for traders, spot, perp, and futures.

Risk-free demo accounts to explore all key features.

TradingView integration.
The platform is difficult for beginners to navigate.

It does not offer a quality spot trading feature.

The NFT marketplace is limited in terms of options.

Security is of the gold industry standard.
---
3. Paxful
The Paxful cryptocurrency affiliate program is a platform that offers money to individuals for promoting their platform among their contacts.
This program grants you a 50% commission per sale if it's a direct affiliate. You also get a 10% commission when the person you bring refers another person.
You won't find this beautiful feature on all crypto referral platforms. However, most affiliate programs will only pay you your direct commission. Few companies provide additional commission when the person you connect with refers your affiliate page to someone else.
In addition, this affiliate program offers different types of commission, known as tier 1 and tier 2 commissions. The higher the tier, the better the commission you receive from the company.
Pros
Incredible commission rate
Excellent affiliate support
Cons
It is an in-house affiliate software
Our Paxful review found that it is a legit peer-to-peer exchange for crypto trading. It focuses on connecting buyers and sellers via various payment methods. There are no fees for crypto exchanges for Paxful users, but be cautious of a limited selection of crypto and potential scams.
---
P2P crypto trade.

Free crypto purchase.

350+ payment options.

Trust score system.
Few trading options

Potential for scam.
---
4. Coinbase
The Coinbase affiliate marketing program uses a decentralized currency system. In this program, affiliates will receive a 50% commission rate for every individual they refer in the first three months. However, it's important to note that the percentage of trading fees you receive as an affiliate will gradually decrease after the initial three months.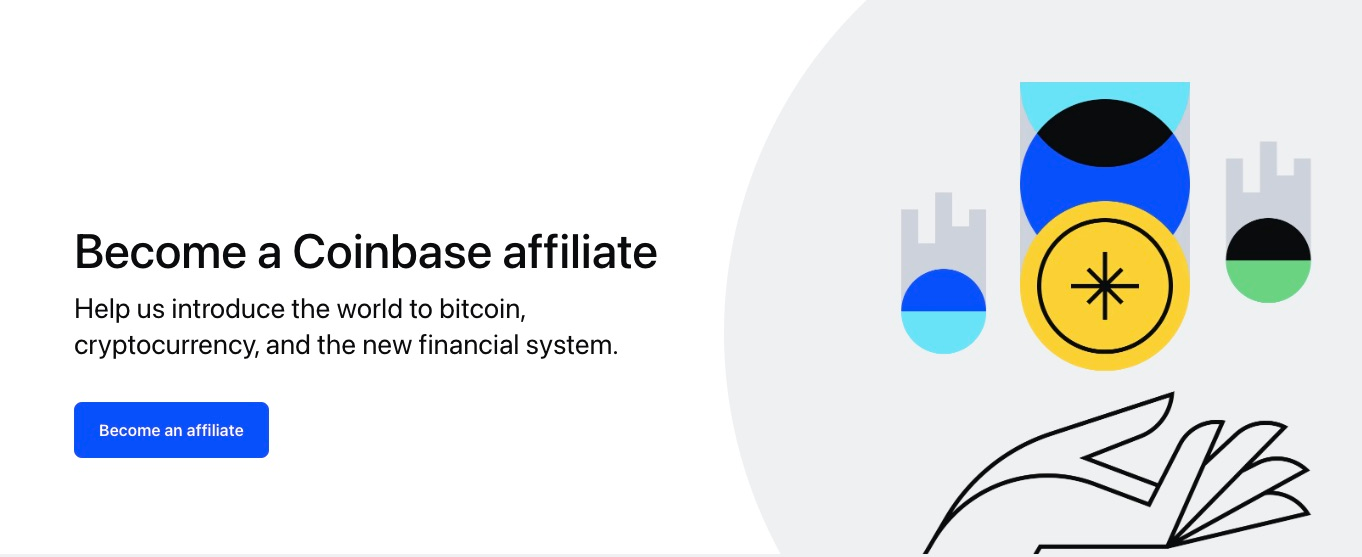 Some cryptocurrency affiliate programs limit the number of people you can refer. However, with the Coinbase affiliate program, you can refer many people to the site. If an individual utilizes the platform well, they can earn a limitless amount.
However, this platform has a minor disadvantage: the need for more payment options. The Coinbase affiliate platform only pays in your local currency, Which means you can earn in BTC on this platform.
Pro
50% commission for the first three months
Con
They only pay in local currency.
Coinbase is one of the largest crypto exchanges in the world and a widely-used platform for buying, selling, and trading over 200 cryptocurrencies. It offers trading solutions for beginner, advanced, and institutional traders alike. Take a look at what makes it an excellent option for individual traders looking to trade in cryptocurrencies and beyond.
---
A wide-selection of coin offerings.

Most secure online crypto platforms.

Top-rated mobile app.

Easy interface and user-friendly.
Expensive and complex fee structure for beginners

Higher fees as compared to other cryptocurrency exchanges.

Slow customer support.
---
5. Changelly
Changelly is a new cryptocurrency exchange platform where you can trade hundreds of cryptocurrencies. It runs an affiliate program you can earn from without depositing any crypto. Furthermore, the process is straightforward, as you only need to share your affiliate link and encourage others to utilize the platform.
For every exchange you make on Changelly, they charge a 0.25% fee. However, after the fee has been deducted, there are no further charges. Everyone can make a living from the Changelly affiliate marketing program. Just advertise the company with your affiliate link.
One of the main benefits Changelly offers is a lifetime 50% commission rate. You pay half the transaction fees when anyone uses your affiliate link to make a crypto exchange. You get paid in the currency your referral exchanges.
Pros
It is a reliable program
Low exchange fees
Cons
Average transaction rates
If you want to trade crypto quickly, Changelly exchange is your best option whether a newbie or a pro. Changelly works in almost 200 countries worldwide and allows you to choose from over 500 altcoins and cryptocurrencies to trade. Some features may vary depending on location, but Changelly makes a strong candidate.
---
Simple user interface.

Accessibility features.

Withdrawal lists.

Fast transaction process.

Wide range of supported assets.
Limited payment options.

Lack of US regulations.

High minimum trades.

High fiat-to-crypto rates.
---
6. Trezor Wallet
Trezor Wallet affiliate marketing offers immense support to its affiliates. Crypto platforms that offer affiliate supply are straightforward to use, and concise Trezor Wallet boasts a special affiliate support team set aside to tend to the needs of its affiliate partners.
If you want a program that provides excellent support tools, Trezor is a great option. They offer a 12 to 15 percent commission rate per sale, Value-added tax, and various charges are deducted from the total selling price instead of your commission.
The support team of the Trezor Wallet affiliate marketing program actively assists affiliates in creating customized content and web tools to attract potential customers effectively. Furthermore, Trezor Wallet offers flexible payment options, allowing affiliates to receive their earnings through Bitcoin or bank transfer.
Pros
Great promotion content
Real-time updates
Cons
Payments can only be made monthly
The Trezor Model T is a high-quality hardware wallet that offers top-notch security for cryptocurrency investors. Trezor is known for its transparency and trustworthiness. The ability to store 1500+ tokens and Non-Fungible Tokens (NFTs) justifies the premium price of $219. However, some users have reported issues with the MicroSD card slot. Trezor Model T is a solid pick to safeguard crypto despite minor concerns.
---
It supports 1400+ crypto assets.

Touch screen for a user-friendly operation.

It supports NFTs storage.
Too expensive when compared to its competitors.

It has limited mobile compatibility.

A bulky design that is quite hard to carry around.
---
7. CoinSmart
CoinSmart has a straightforward commission structure. Anyone can make quick cash from this program. CoinSmart is a well-known crypto exchange company, particularly recognized for its secure platform. Moreover, if you choose to trade with CoinSmart, you can rest assured that your transactions are conducted with the highest level of security.
The affiliate program sports all the necessary licenses and qualifications for crypto exchange. Newbies and experts can use CoinSmart. The program is easy to understand, and you can receive payments as soon as you register.
However, unlike other affiliate programs in the crypto market, Coinsmart pays their affiliate partners a commission of $50 per referral. The main disadvantage is that cash is the only payment method they offer.
Pros
Swift registration process
Simple commission structure
Cons
A limited selection of crypto assets
---
8. Paybis Affiliate Platform
Paybis is one of the best affiliate platforms for a recurring revenue stream through commissions. The program is entirely legitimate but based only in the UK. It is effortless to make a steady passive income with Paybis. Anyone can make money on the platform by referring people to the platform.
Individuals can earn more by referring multiple people to the referral program. Furthermore, you don't only get money from referrals; you also get a specific cut every time your referrals transact on the platform. You can earn hundreds of dollars monthly with the Paybis affiliate program.
The standard commission offered to affiliates by the company per referral transaction is 20%. However, this percentage can gradually increase depending on your affiliate rank. Paybis affiliate program has three rank levels that are decided through traffic.
The more traffic you generate for the platform, the higher your rank.
Pro
It offers recurring commissions
Nice customer support
Cons
Strictly Bitcoin and cash payout options
---
9. SimpleSwap Affiliate Platform
SimpleSwap is a popular exchange platform with over five hundred crypto-related assets. It has a friendly user interface, which is very easy to use and efficient. SimpleSwap provides crypto users and its affiliates with excellent security and privacy options to feel secure when working.
Moreover, creating a SimpleSwap affiliate account is effortless. Affiliates will receive a commission in Bitcoin every time their referrals complete a transaction on the affiliate platform. It's worth noting that Bitcoin is the exclusive payment method for this program.
In addition, this program offers numerous support tools and content to make their affiliate's work easier. The amount individuals can earn from the SimpleSwap affiliate program depends on the traffic they generate for the platform and the number of referral transactions.
Pros
Low minimum withdrawal amount
No limits to payouts
Advanced support and analytical tools
Cons
SimpleSwap's API allows you to integrate your cryptocurrency exchange into your website or app using their user-friendly API. It lets users swap tokens between hundreds of coins with fixed or floating rates, customize affiliate rewards, and earn BTC commissions.
---
Supports 500+ cryptocurrency assets.

Extensive exchange support.

No fees or costs.

Customization and flexibility for developers.

Passive income opportunity.
Limited control and transparency.

Regulatory risks.

Technical and operational risks.
---
What Is A Crypto Affiliate Program?
A crypto affiliate program allows individuals to make steady money through promotions and referrals. Additionally, a crypto referral program leverages the power of affiliate marketing to expand its customer base and reach. It functions as an affiliate network, creating a mutually beneficial relationship between the company and the affiliate marketer. This program allows both parties to maximize their benefits and achieve their goals.
There are many famous Bitcoin affiliate programs, such as the Binance affiliate program, the Paxful affiliate program, and the Bybit program. On crypto referral platforms, you can trade Bitcoin and earn a certain percentage in trading fees. Joining an affiliate program in crypto is relatively easy, and you don't need special qualifications.
Why Join A Cryptocurrency Affiliate Program?
Affiliate marketing is one of the easiest ways to make money through crypto. You must convince people to exchange Bitcoin and make other transactions with your affiliate partner. Individuals can utilize affiliate tools to enhance their performance and boost their success rate.
People with more prominent social media presence can easily make money through crypto referral programs. This is because they can reach more people.
Crypto referral marketing can also help you learn new tricks about trading and crypto exchanges. It needs only minimal effort on your part.
Individuals who own blogs or websites that pull heavy traffic stand to earn a lot from affiliate marketing. They can easily influence viewers to use their referral link when making crypto transactions. Different affiliate companies in crypto also use varying payment methods.
Can You Earn Money Through a Crypto Affiliate Program?
The answer is yes! You can earn a profitable income through a crypto affiliate program. Furthermore, affiliate marketing in the crypto industry is considered one of the simplest methods to earn money through cryptocurrencies. The best part is that you don't have to pay or even create an account to get started. You can earn commissions immediately once you promote affiliate links or refer customers.
A crypto affiliate marketer can earn thousands of dollars from referrals every month. The more people transact through your referral program or link, the more you get referral fees. Hence, if you get more people to use the platform, you get more money. You can easily earn a steady income from your affiliate network and crypto referral programs.
One of the main reasons the masses receive these programs well is that you can join one without spending anything. Imagine making money without investing a dime.
Affiliate marketing is the easiest way to make money from crypto without trading or selling Bitcoin yourself.
Crypto Affiliate Programs: How To Choose
There are many cryptocurrency platforms in the crypto world today. Not every crypto company has an affiliate program. However, most of the famous companies in the crypto niche have one. Here are a few vital factors to consider when choosing an affiliate program.
Payment Methods
The payment method your affiliate partner offers matters considerably when choosing such a program for cryptocurrency. Different companies offer various payment methods to their affiliates. The more payment methods the company offers, the better. However, make sure the program pays in crypto and fiat currency.
Security
Furthermore, peace of mind resulting from enhanced security can greatly improve your productivity. Therefore, when choosing an affiliate program, it becomes crucial to evaluate the security measures it offers carefully. Neglecting the importance of security can expose the company to potential risks, such as hacking or compromise, jeopardizing its operations.
Commission and Bonus
Bonuses and commissions are significant to an affiliate marketer. Various crypto companies offer different commissions for their programs. Avoid any affiliate program that does not offer up to 5% commission per sale. Some crypto referral programs even offer up to 40% commission.
Reliability
When choosing a suitable Bitcoin affiliate program, it is vital to pick a reliable one. Do not pick companies that experience recurring maintenance problems and other issues. It is better to go for crypto companies that have a solid reputation and are reliable. This way, you'll be confident while working.
Support
Some affiliate programs provide more support and extra services to their affiliate partners. Choosing a company that offers you the right tools to assist you in your work is essential. Some affiliate programs offer various plugins and other affiliate tools that support you.
Final Verdict
Affiliate programs in crypto are an easy way to earn a living—many profits from affiliate marketing programs by promoting the platform and encouraging people to transact. Most crypto companies with affiliate programs pay a specific commission for every successful referral you make.
Many cryptocurrency companies today have a referral program with a dedicated affiliate manager to direct affiliates, create awareness, and enlarge their reach.
Various programs offer different commission rates and bonuses from each other. This guide provided information on the best affiliate programs in crypto and their commissions.
---
It is pretty straightforward to get started with affiliate marketing in crypto. Register on the platform's website, and you are ready. Most of the time, once you register, you can start earning immediately.
There is no specific period to wait for commissions, as various affiliate programs have different payment times. Some programs payout immediately, while some require you to wait till the end of the month before receiving payment.
The answer is no. You do not have to invest in crypto before being eligible to be an affiliate partner. 
Most affiliate programs in crypto offer exemplary security for your money. However, some are not, so it is crucial to be careful when choosing.