Gemini VS Coinbase: Is Gemini A Better Alternative?
TLDR
Are you deliberating between the two major cryptocurrency exchanges, Gemini and Coinbase? This is a common decision that many traders face, much like choosing between two reputable financial institutions.
Both Gemini and Coinbase operate in compliance with regulations and have established themselves as trusted exchanges in the United States. However, Gemini may be a more cost-effective option as Coinbase's fees are known to be relatively high, which may not be suitable for new or cost-conscious traders.
That said, Coinbase offers specialized services, such as Coinbase Pro, which caters to experienced traders and institutions. On the other hand, Gemini provides added security features like multifactor authentication, which can safeguard your digital assets and cryptocurrency transactions.
To make an informed decision, weighing each platform's advantages and disadvantages is important. We invite you to read on and compare the features of each exchange so that you can choose the one that aligns best with your trading requirements.´
What differs between the two Exchanges?
Cryptocurrency trading is all about finding the right exchange to suit your needs. Crypto exchanges are online platforms where traders can buy, sell, and trade various cryptocurrencies, such as Bitcoin, Ethereum, and Litecoin.
Unlike traditional stock exchanges, these exchanges work as intermediaries between buyers and sellers. Some exchanges have a limited selection of cryptocurrencies, while others offer a more comprehensive range. For experienced traders, some exchanges provide advanced trading features such as margin trading and derivatives.
In addition to trading, many exchanges allow users to buy cryptocurrencies using fiat money or store their digital assets in a secure digital wallet.
Overall, cryptocurrency exchanges are an essential component of the cryptocurrency ecosystem, and finding the right exchange for your trading needs can make all the difference. When considering exchanges, comparing the features of Coinbase and Gemini can help you decide which one best suits your requirements.
Gemini vs. Coinbase: How the crypto exchanges compare
Gemini and Coinbase are reputable and well-established cryptocurrency exchanges with unique features and characteristics. Now, it's time to look at Gemini vs. Coinbase and see how they compare in different key areas.
Gemini vs. Coinbase: Supported Assets
Gemini does not offer as many cryptocurrency trading pairs as some other exchanges, which can limit the options available to traders. However, Gemini supports the following assets that Coinbase does not:
Orchid (OXT)
Wrapped Bitcoin (WBTC)
Dai (DAI)
USDC
Uniswap (UNI)
Coinbase supports a whole range of assets that Gemini does not, such as
Algorand (ALGO)
Celo (CELO)
Compound (COMP)
Cosmos (ATOM)
Dash (DASH)
Decentraland (MANA)
EOS (EOS)
Ethereum Classic (ETC), and several others.
Gemini vs. Coinbase: Security
Both exchanges store most of their digital assets offline in "cold storage" and use advanced security features and protocols to protect user data. Gemini holds $200 million in insurance coverage, while Coinbase has $255 million in insurance coverage for user funds.
As for security features, Gemini has the edge over Coinbase. While it supports two-factor authentication like the latter, the Gemini platform lets users only withdraw funds in cryptocurrency to certain addresses on their 'allowlist.
Gemini vs. Coinbase: Ease of Use
Coinbase has a user-friendly interface that is easy to navigate. The cryptocurrency exchange offers a simple buying and selling process, making it ideal for beginners. The crypto exchange also has a mobile app that allows users to easily buy, sell quickly, and store cryptocurrencies and NFTs.
Gemini also has a user-friendly interface and a simple buying and selling process for advanced traders. However, the exchange offers many trading options and advanced features for more experienced traders, such as limit and stop-limit orders.
Gemini vs. Coinbase Fees
The fee structure for Gemini and Coinbase can vary depending on the type of trade, the asset being traded, and the user's trading volume.
Gemini fees
Gemini's fees for trading cryptocurrencies on its exchange are generally lower than Coinbase's. Gemini charges a trading fee of 0.35% for both the maker and taker on all trades. However, they offer a volume-based trading fee schedule that can significantly reduce trading fees.
Gemini offers a "30-day trading volume" model, where the trading fee is calculated based on the user's trading volume over the past 30 days. The more you trade, the lower the fees will be. For example, if you traded more than $50M in the last 30 days, the trading transaction fee drops to 0.25%
Fees for withdrawing or depositing funds
Gemini charges a fee of:
1.49% for ACH deposit
0.25% for a wire deposit
$4 for ACH withdrawal
$5 for a wire withdrawal.
Coinbase charges a fee of:
1.49% for ACH deposit
$25 for a wire deposit
$0 for ACH withdrawal
$25 for a wire withdrawal.
Buying and selling crypto with fiat
When it comes to buying or exchanging cryptocurrency or selling crypto with fiat, Coinbase charges a spread of two exchanges:
Gemini doesn't charge any fee for buying or selling crypto with USD, but they charge a fee of 1.49% when buying crypto with a credit card.
Coinbase Unique Features:
Ease of use: Coinbase has a user-friendly interface that is accessible to both experienced and novice traders.
Support for various fiat currencies: The exchange allows users to purchase cryptocurrencies using numerous fiat currencies and direct deposit and withdraw fiat funds, a feature not seen in many other crypto exchanges.
Institutional Services: Coinbase offers institutional-grade services such as OTC trading, Coinbase Pro, and custody solutions for institutional clients, making it more attractive for high-net-worth individuals and institutions.
Compliance: Coinbase is fully licensed and regulated in the United States and adheres to strict security and compliance standards, making it more appealing to institutional investors and traders.
Gemini Unique Features:
Security measures: Gemini has implemented several security measures to ensure the safety of its users' assets and the Gemini wallet, such as cold storage for most of its digital assets.
GUSD Stablecoin: Gemini offers the Gemini dollar (GUSD), a stablecoin pegged to the value of the US dollar, allowing for easy conversion between fiat and crypto and facilitating faster and cheaper transactions.
Institutional Services: The crypto exchange offers various institutional-grade services such as OTC trading, block trading of crypto assets, and a custody solution for institutional clients.
Auction Platform: Gemini has an auction platform that allows for trading large blocks of cryptocurrency, which is helpful for institutional traders looking to sell in bulk.
Low fees: Gemini fees are very competitive, with low trading fees and no deposit/withdrawal fees for most cryptocurrencies.
Gemini Overview
Gemini is a cryptocurrency exchange founded in 2014 by the Winklevoss twins, known for their early involvement in Facebook and subsequent venture into cryptocurrency.
The exchange is based in New York and is fully licensed and regulated by the New York State Department of Financial Services (NYDFS).
Gemini offers trading of several cryptocurrencies, including Bitcoin, Ethereum, Bitcoin Cash, Litecoin, and Zcash. The exchange is known for its focus on security and compliance. It has implemented several measures to ensure the safety of its users' assets, such as cold storage for most of its digital assets and multifactor authentication for account access.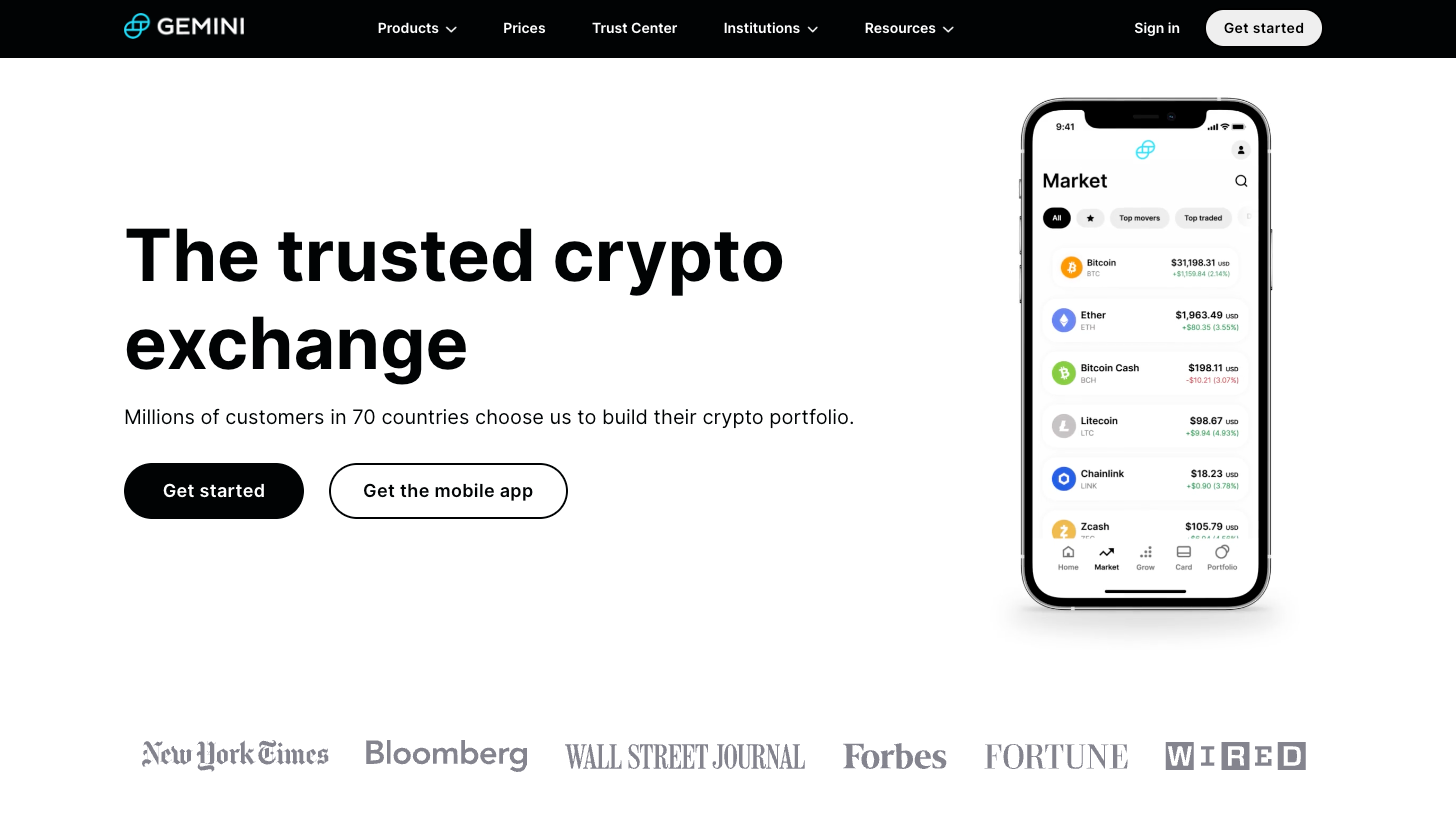 Gemini is a good platform for traders of all proficiency levels due to its effortless and easy-to-navigate user interface. Even if it does not have as extensive token selection as other exchanges, it is a good choice for investors of all levels. It offers basic and advanced features. With its user-friendly interface and fee structure, Gemini makes trading cryptocurrencies more accessible than ever.
---
More than 100 cryptocurrencies.

Available in all U.S. states.

Highly robust mobile app.

Hot wallet insurance and strong security.
Higher transaction fees.

Weak customer service.

Cryptocurrencies like ADA and XRP not supported.
Partnerships
Gemini has previously announced a partnership with the Chicago Board Options Exchange (CBOE) to launch a new cryptocurrency index called the Gemini Crypto Index, which will track the performance of the top cryptocurrencies traded on the Gemini exchange.
In 2021, Gemini also announced a partnership with two organizations: Stack Funds, a leading provider of institutional-grade cryptocurrency index funds, to offer Stack's funds on its platform, and the New York Digital Investment Group (NYDIG) to offer its institutional clients access to NYDIG's Bitcoin lending and borrowing platform.
Gemini is considered a reputable and reliable cryptocurrency exchange for individuals and institutions seeking a secure and compliant platform for trading cryptocurrency and storing digital assets.
---
Coinbase Overview
Coinbase is a cryptocurrency exchange based in San Francisco, California. It was founded in 2012 by Brian Armstrong and is one of the industry's most popular and well-established exchanges.
It allows users to buy and sell cryptocurrency, securely store their crypto holdings, and carry out crypto withdrawals easily. One main feature that sets Coinbase apart from other exchanges is its ease of use.
The platform has a user-friendly interface that is accessible to both experienced and novice traders. Coinbase also offers a variety of educational resources, such as its "Learn" section, which provides information on different cryptocurrencies and blockchain technology.
Another unique feature of Coinbase is its support for fiat currencies. The exchange lets users purchase cryptocurrencies using US dollars, euros, and other fiat currencies. It also provides the option to deposit and withdraw fiat funds directly.
In addition to its leading exchange, Coinbase offers other services, such as its Coinbase Pro, an advanced trading platform, and Coinbase Wallet, a mobile wallet for storing and managing cryptocurrencies and NFTs.
Coinbase is one of the largest crypto exchanges in the world and a widely-used platform for buying, selling, and trading over 200 cryptocurrencies. It offers trading solutions for beginner, advanced, and institutional traders alike. Take a look at what makes it an excellent option for individual traders looking to trade in cryptocurrencies and beyond.
---
A wide-selection of coin offerings.

Most secure online crypto platforms.

Top-rated mobile app.

Easy interface and user-friendly.
Expensive and complex fee structure for beginners

Higher fees as compared to other cryptocurrency exchanges.

Slow customer support.
Partnerships and acquisitions
Coinbase has acquired several companies over the years, such as Earn.com, Paradex, Cipher Browser, Keystone Capital, Venovate Marketplace, and Digital Wealth LLC, which has helped them to expand their offerings.
In 2021, Coinbase partnered with PayPal to allow its users to buy, sell, and hold Bitcoin, Ethereum, Litecoin, and Bitcoin Cash using their PayPal account.
Also in the same year, Coinbase announced a partnership with the Intercontinental Exchange (ICE), owner of the New York Stock Exchange (NYSE), to launch a new company called Bakkt, which will provide a regulated ecosystem for digital assets and cryptocurrencies.
Coinbase is considered an excellent free crypto exchange for newbies because of its intuitive user interface. Its educational resources for beginners solidify its position as a cryptocurrency exchange focused on newbies and those who want a stress-free trading experience.
Conclusion
To choose the best crypto exchange between Gemini and Coinbase, consider your fee preference and how you will make payments, i.e., credit or debit card. These are the two most important factors distinguishing the Gemini platform from Coinbase.
For example, if you prefer using your debit card to get crypto rewards and make payments frequently, Coinbase would be a better cryptocurrency exchange. If you want to pay less in fees and trade crypto coins more frequently, you are better off with Gemini. We hope you now have solid answers to the Gemini vs. Coinbase debate.
Recommended Reads:
---
Yes, both of these top cryptocurrency exchanges are secure. However, you have to do your part to protect your crypto assets from theft.
Coinbase Pro is a digital asset trading platform provided by Coinbase, a US-based cryptocurrency exchange. It offers advanced trading features and a more professional trading experience for cryptocurrency traders. You can access Coinbase Pro with your existing Coinbase account.
Gemini and Coinbase used to have to earn programs, but the Gemini Earn program was suspended last year. So currently, it does not have an earning program.
Yes, both exchanges charge a convenience fee of 0.5% for each transaction you make with an electronic card.