Rating

4.8

Tradable Coins

1000+

Payment Options

Yes

Fees

0.0750%
Our Review
The Crypto.com DeFi wallet provides comprehensive DeFi services including token storage, staking, swapping, and transfers. With full control over private keys, users ensure their funds' security even amidst potential Crypto.com mishaps. This wallet caters to those who prioritize privacy and are adept at secure asset management.
Pros
Best for beginner and advance traders.

Highly secure with advanced safety features.

Offers numerous transfer options.

Great web3 wallet.
Cons
Geo-restrictions in many countries.

Not ideal for new users.

High transaction fees.
Crypto.com Wallet Review 2023: An Honest Look at Pros and Cons
TLDR
Choosing the right wallet to keep your cryptocurrency assets safe can be quite a hassle for new and old users. This review will thoroughly explore all the pros, cons, and different features of the Crypto.com DeFi wallet to help make an informed decision.
The Crypto.com wallet offers a non-custodial solution for managing your digital assets. It allows storing coins, swapping, earning interest on tokens, and interacting with decentralized apps (dApps). Unlike the custodial app wallet, this wallet grants you complete access and control over your private keys.
Accessible through a browser extension or mobile app, the Crypto.com DeFi Wallet allows for anonymous wallet creation. It supports storage for over 700 tokens, facilitates swapping more than 300 tokens, and enables rewards earning on 25+ tokens. Additionally, it provides storage and transaction capabilities for NFTs on the Ethereum and Polygon blockchains.
Who should use the Crypto.com wallet?
For advanced users
Some users may find many advanced features offered by Crypto.com wallet a little complicated to understand. On top of that, the lack of comprehensive educational resources and helpful tips within the platform makes it difficult for beginners to gain knowledge while navigating its different options.
Additionally, user feedback indicates that customer support could be improved, further detracting from the platform's suitability for beginners. But if you prefer assistance managing your wallet, it may be worth exploring alternative wallet options that ensure more robust customer service for those just starting in this realm.
However, if you understand the crypto space, you will find this DeFi wallet feature helpful in improving your trading experience. It is also perfect for those using Crypto.com exchange, as the DeFi wallet offers hassle-free integration.
Seamless global reach
Currently, Crypto.com provides its services and supports transactions in more than 100 countries worldwide. Due to varying rules and regulations across different nations, the Crypto.com DeFi wallet is restricted in most parts of the world.
Additionally, access to certain features may vary across countries, with some having limited access to what is readily available elsewhere, like the physical card feature.
Here is a list of some restricted nations:
Afghanistan
Bangladesh
China
Iran
Russia
Venezuela
Pakistan
New York (United States)
Major disadvantages
Even though the DeFi wallet has numerous positive points, one disadvantage to consider when choosing the Crypto.com app as your primary crypto wallet app is its comparatively higher fees.
Crypto.com employs a maker-taker fee structure, which means that spot trading fees vary based on your transaction volume within 30 days. For instance, if your volume is less than $250,000 in 30 days, the starting transaction fee for both makers and takers is 0.0750%.
Nevertheless, the platform provides fee discounts to users who stake and sell a certain amount of CRO, the native token of the Crypto.com ecosystem. The more CROs you stake and sell, the greater the discount you can enjoy on your trading fees.
What makes Crypto.com wallet a good choice?
Here are some outstanding features that make it an excellent wallet choice:
Interactive interface
The user interface of the Crypto.com DeFi Wallet is designed with user-friendliness and simplicity in mind. It features an intuitive layout, allowing users to easily navigate through different sections, such as wallet balances, transaction history, staking options, and swapping functionality.
Interestingly, the intuitive layout shows relevant information clearly and provides convenient access to critical features.
With its user-centric design, the Crypto.com DeFi Wallet aims to offer a seamless and enjoyable user experience for managing digital assets and engaging with DeFi services.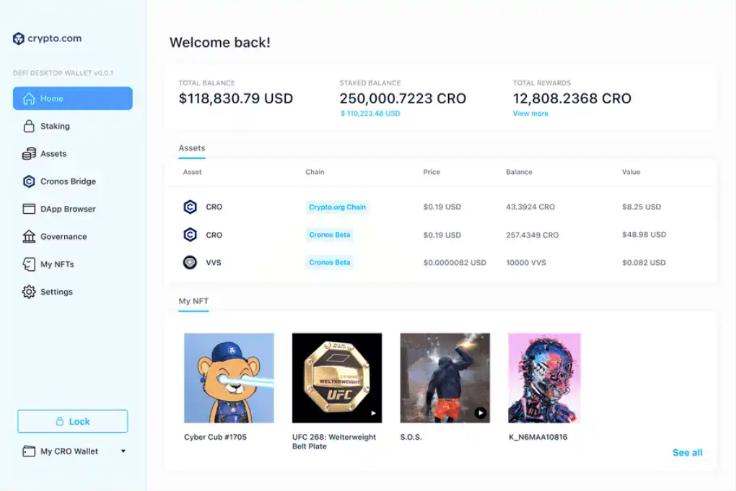 Diverse crypto support
The Crypto.com DeFi Wallet supports a wide range of cryptocurrencies and tokens. You can store popular cryptocurrencies like Bitcoin (BTC), Ethereum (ETH), Binance Coin (BNB), and Cardano (ADA), among others.
Additionally, the wallet supports various ERC-20 tokens and tokens from other blockchains, expanding the selection of assets that users can store and transact with.
With its extensive crypto support, the Crypto.com DeFi Wallet provides users with flexibility and convenience in managing their diverse digital asset portfolios.
Privacy and anonymity
The Crypto.com DeFi wallet offers the convenience of anonymous wallets, allowing users to create multiple wallets and conduct transactions without their real identity being linked. This feature is handy when making donations or purchasing digital services while avoiding targeted advertisements.
Furthermore, privacy is a fundamental right, especially as more essential services move online, increasing the risk of identity breaches. Maintaining anonymity provides a layer of protection in an increasingly digital world.
Practical browser plugins
The DeFi wallet is accessible through a browser plugin compatible with Chromium-based browsers like Google Chrome, Microsoft Edge, and Brave. This lets users create wallets and engage with protocols, dApps, and other wallet addresses directly from their desktop web browsers.
For even greater accessibility, mobile apps for iOS and Android devices are available, ensuring users can carry their secure crypto wallets wherever they go.
Powerful dApp browser
The Crypto.com DeFi Wallet offers seamless integration with various dApps, enabling users to effortlessly send and receive tokens between the wallet and the dApps.
These dApps encompass various functionalities like blockchain games, decentralized exchanges, NFT marketplaces, lending platforms, etc. Some well-known examples include:
OpenSea: A popular marketplace for purchasing and selling NFTs.
Axie Infinity: A treasure-hunting game that provides token rewards.
Uniswap: A decentralized cryptocurrency exchange.
Serious Dice: A dice game that allows for betting.
By connecting the DeFi Wallet to these dApps, users can engage in diverse activities within the decentralized ecosystem.
---
Registering your DeFi wallet with Crypto.com
Setting up a Crypto.com DeFi wallet is a straightforward process. Here are the key steps to follow:
The Crypto.com DeFi wallet provides comprehensive DeFi services including token storage, staking, swapping, and transfers. With full control over private keys, users ensure their funds' security even amidst potential Crypto.com mishaps. This wallet caters to those who prioritize privacy and are adept at secure asset management.
---
Best for beginner and advance traders.

Highly secure with advanced safety features.

Offers numerous transfer options.

Great web3 wallet.
Geo-restrictions in many countries.

Not ideal for new users.

High transaction fees.
Step 1: Download the app
To start registration, you must first download the app from the Crypto.com DeFi wallet page.
You will see a [Download App] button on top of the page; click it to download the compatible version with your device.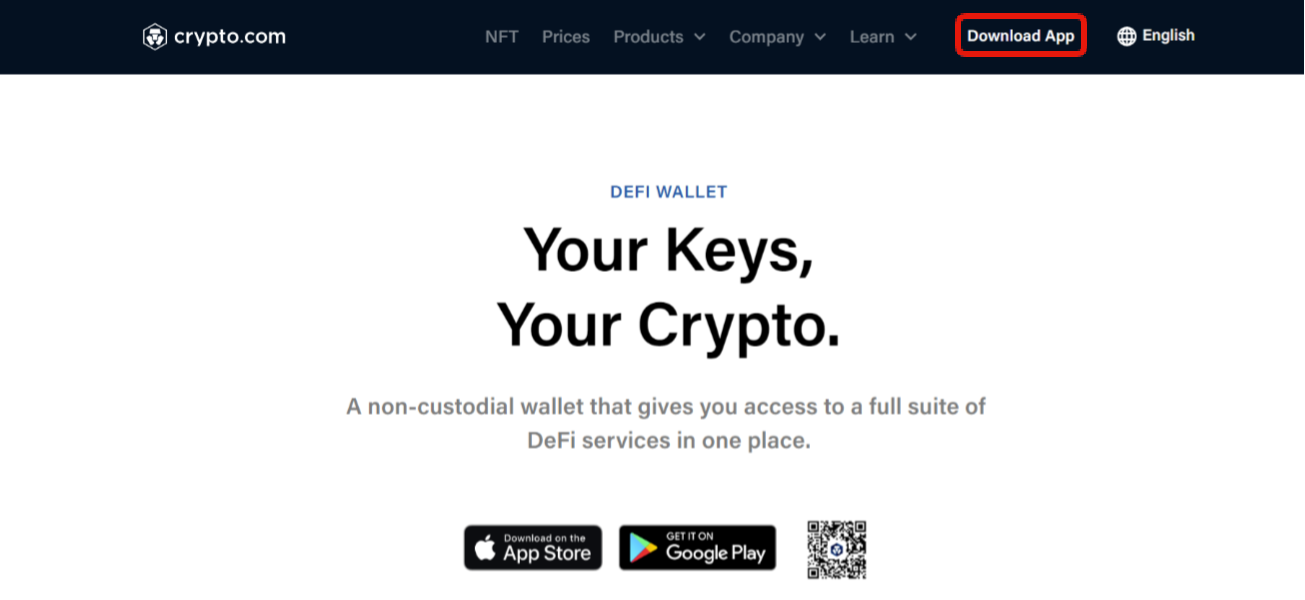 Step 2: Open app
Once you have downloaded the app or extension, open the app to start the process. As soon as you start the app, you will see a [Create a New Wallet] button. Tap it.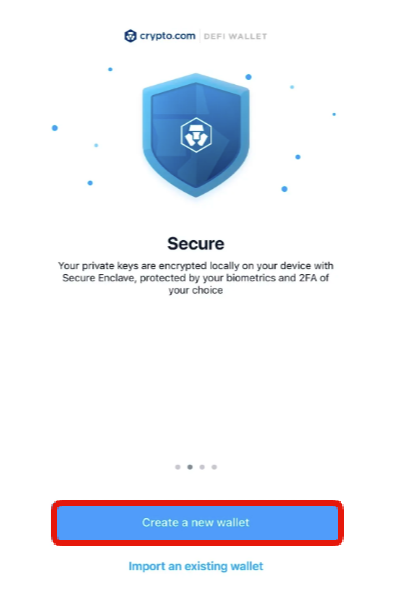 Step 3: Set passcode and seed phrase
After that, you will be asked to set a passcode and seed phrase. Click [Reveal My Recovery Phrase] and note it somewhere safe.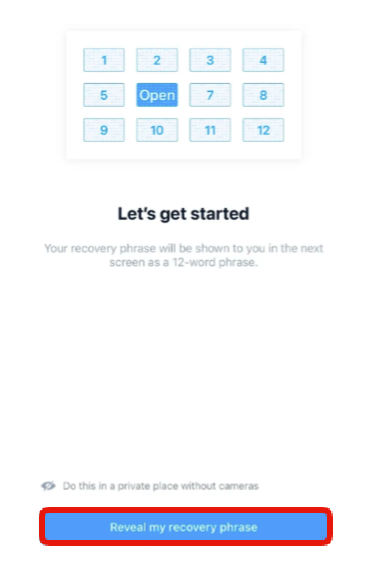 Step 4: Finish the process
Once done, you will be asked to confirm your recovery phrase. Fill in the required boxes. Click [Continue] to finish the process.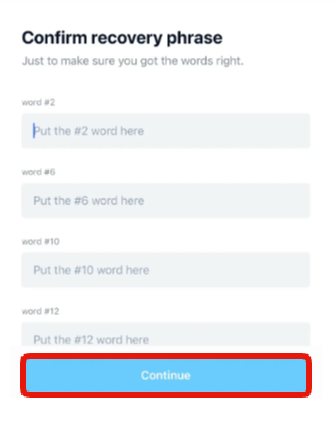 Congratulations! You have successfully created your DeFi wallet account with Crypto.com.
Other key features
State-of-art security
With Crypto.com's non-custodial wallet, you're in the driver's seat as it offers you complete control over your assets. It ensures a trusted way to keep your digital tokens safe and accessible whenever needed.
As part of its user-centric approach and commitment to funding security, the wallet requires you to record a 12-word phrase diligently. Moreover, the Crypto.com wallet also comes with two-factor authentication as an extra security wall. Interestingly, the wallet includes a valuable feature that allows you to erase all records of its existence manually.
To ensure the safety of your funds, this process requires you to enter portions of your 12-word phrase as verification that you have backed up your funds. It's worth noting that if you remove the wallet without securely backing up your phrase, your funds will be permanently lost.
Thankfully, the application ensures that you have correctly documented the phrase before allowing you to remove the wallet from your device.
Swapping with DeFi wallet
Swapping tokens is a crucial feature of the Crypto.com DeFi wallet, allowing you to exchange over 300 tokens across multiple blockchains using different protocols, including cross-chain swaps.
Some countries have regulatory restrictions on token swapping, but cross-chain bridge protocols enable swaps between blockchain networks. Popular trade pairs include BTC from the Bitcoin blockchain to ETH on the Ethereum blockchain.
To initiate a swap on the DeFi Wallet, navigate to the [Swap] tab and confirm your non-geo-restricted status. Choose the blockchain network and tokens for the swap, and review the estimated exchange price. The wallet assigns a specific protocol based on your selection.
It's crucial to consider slippage, the potential difference between expected and executed swap values due to token volatility. To mitigate losses, the Crypto.com DeFi wallet allows you to set a preferred slippage tolerance (1%–49.9%). And if the token falls below this threshold, the swap is automatically reversed.
Each swap transaction incurs a gas fee, which varies in amount. The 1-inch V4 swap protocol carries a 0.3% service fee, while other integrated swapping protocols have no network fee or additional charges.
Explore and store NFTs
NFTs (non-fungible tokens) are unique digital records stored on a blockchain, such as Ethereum or Polygon. With the Crypto.com DeFi wallet, you can securely store NFTs by receiving them at your wallet address like any other cryptocurrency.
Multiple marketplaces are supported, including OpenSea, Ebisu's Bay, and the Crypto.com NFT marketplace. OpenSea, being the most renowned marketplace, offers a vast collection of high-quality NFTs like art, domain names, music, photos, trading cards, and sports highlights.
When you make an NFT purchase, it will be transferred to your DeFi wallet address and visible in the NFTs tab. OpenSea charges a 2.5% service fee, but there are no withdrawal or additional gas fees when paying through the Crypto.com DeFi wallet.
Each NFT in your Crypto.com DeFi wallet is assigned a rarity ranking based on Crypto.com's scoring algorithm and data from Rarity Sniper, a leading NFT scoring platform. This ranking indicates the relative uniqueness of an NFT within its collection and helps determine its value.
Dedicated ETH gas fee calculator
When doing transactions on the Ethereum blockchain, users must pay a gas fee to compensate miners for processing and validating the on-chain transactions. These fees can vary widely due to network congestion, making it challenging to predict the exact amount.
The Crypto.com DeFi Wallet offers the ETH Gas Meter tool to address this. It provides an overview of the current Ethereum Network traffic, categorizing it as Slow, Average, or Fast, along with estimated network fees.
However, for more precise fee estimates based on the Ethereum network load, the 1-inch protocol within the wallet offers a similar feature with enhanced accuracy.
Earning or staking
The Crypto.com DeFi wallet provides multiple ways to earn rewards from your digital coins and tokens. Staking involves locking tokens on a blockchain, validating transactions, and earning additional tokens. Tokens like Ethereum, USDC, CRO, Algorand, Binance Coin, Cardano, Polkadot, Avalanche, and Pax Dollar offer to stake with varying annual returns.
Staking Crypto.com's native token, CRO, allows flexibility in lock-up periods, with longer commitments yielding better returns. Rewards accrue daily and are paid weekly.
Another option is lending tokens through decentralized exchanges. Participating in DeFi protocols like Aave and Compound allows you to earn interest like a traditional bank account.
Different tokens offer varying interest rates, with high-demand tokens like Bitcoin and Ether typically offering the highest rates. The Crypto.com DeFi wallet integrates directly with lending protocols, providing full access to various options and facilitating peer-to-peer lending without intermediaries.
Cost & Fees
There are no additional fees for storing or moving funds within the Crypto.com ecosystem. However, it's important to mention that all transactions operate on-chain. If there is congestion in a particular blockchain like Ethereum, it may cost $5 to $50 for a single transaction.
Since transaction costs vary across blockchains, defining the exact cost beforehand can be challenging. Nevertheless, the Crypto.com DeFi wallet offers a convenient Ethereum gas tracker.
This tool lets you stay informed about the current ETH fees. It enables you to select optimal times when the network is less congested and make more cost-effective transactions.
Potential improvements
Even though Crypto.com is a user-centric platform and improves its features, here are a few points we think need improvement.
No cold storage
The Crypto.com DeFi Wallet is a hot wallet, as it retains and stores the keys to your digital assets on an internet-connected device under your control. However, a cold wallet offers an offline storage solution for those seeking additional security.
Thankfully, to cater to users who prefer a combo of online and offline storage, the DeFi Wallet is compatible with Ledger, a well-known cold wallet option. This integration allows users to leverage the benefits of both hot and cold wallets, enhancing the overall security of their crypto assets.
Limited browser compatibility
Another aspect we would suggest is focusing on enhancing accessibility as a critical area for improvement in the Crypto.com DeFi Wallet. The development team can expand the wallet's reach to a broader audience by prioritizing cross-platform compatibility.
It could involve optimizing the wallet's performance on various browsers, operating systems, and mobile devices, ensuring a seamless user experience across different platforms. By making the wallet accessible to more users, Crypto.com can effectively cater to the needs of a diverse user base and increase the adoption of their DeFi services.
Crypto.com Wallet: Our Verdict
The setup process for the Crypto.com DeFi Wallet is simple, allowing you to manage your tokens after that effortlessly. You can store numerous crypto assets and easily swap them for others with a single click.
For those interested, you can earn interest through asset staking or lending, giving it a bank-like experience.
Controlling your assets can be overwhelming. Keep that in mind before making a wallet your default. If there is a hack or theft, you have no recourse. Rest assured, the app incorporates reliable security features to assist users in safeguarding their decentralized crypto wallets.
---
Yes, the Crypto.com DeFi Wallet is designed with security in mind, offering users control over their private keys and ensuring the safety of their funds.
Yes, the Crypto.com Mobile App Wallet is safe, implementing various security measures, including seed phrase, 2FA, and biometric, to protect user assets and provide a secure environment for managing cryptocurrencies.
The Crypto.com DeFi Wallet charges fees for transactions on the blockchain network. These fees vary depending on the specific blockchain and network congestion but are typically competitive and transparent.