Rating

4.7

Free Trial

None

Price

0.05% trading fee

Trial period

None
Our Review
Established in 2019, the crypto trading platform is the first to introduce built-in trading bots for investors and traders. The exchange is integrated with 16 automated trading bots for free! The user-friendly interface, innovative mobile app, and low trading fees have all contributed to the increasing popularity of the Pionex exchange.
Pros
16 built-in trading bots with detailed tutorials.

Aggregates liquidity from Binance and Huobi.

120 different cryptocurrencies.

Trading fee of 0.05% on each transaction.

Easy-to-use mobile app.
Cons
Limited flexibility to modify the built-in bots.

No demo account

No desktop app is available.

No withdrawals in fiat currency.
Pionex Review 2023: Analyzing the Benefits of Trading with Bots
TLDR
This comprehensive review will analyze how Pionex became the fastest-growing trading platform. The short answer: because of its suite of free crypto trading bots!
Bots such as Smart Trade Bot, Grid Trading Bot, Trailing Sell Bot, Spot Futures Arbitrage Bot, Martingale Bot, and others give users all the tools to create customizable automated strategies.
The bots help streamline the process of trading cryptocurrencies and allow users to participate in various trading strategies without needing constant monitoring.
Pionex has a meager trading fee of 0.05% compared to other major exchanges. The attractive fee-sharing system in Pionex allows users to earn passive income and legitimate profits.
The easy UI, manual trading, availability of a mobile app, and excellent customer support are other beneficial attributes of Pionex.
However, there are certain downsides to using the Pionex trading platform. Firstly, Pionex does not have a demo account. It means users will be trading real funds while using the trading bots on Pionex.
Overview of Pionex trading service – Is it safe?
Pionex is a 100% safe crypto trading platform. It is headquartered in Singapore, where over 100 expert employees are busy providing trading services to millions of Pionex traders around the globe.
BitUniverse backs Pionex and has received investment from prominent Chinese corporations, including ZhenFund, Shunwei Capital, and Gaorong Capital.
Pionex is authorized by the MSB (Money Services Business), listed with the Financial Crimes Enforcement Network (FinCEN). This enables traders residing in the United States, including its 48 states and territories, to buy and sell on the spot exchange platform.
Remarkably, this sophisticated crypto-trading platform boasts an extensive community too. The official Telegram group of Pionex has accumulated around 15,000 members, and it also encourages communication on Discord by fostering a dynamic community with over 4,500 members. Additionally, the official Twitter page has managed to attract more than 15,000 followers, which is particularly impressive given that Pionex is a newcomer in the crypto world.
Who Can Benefit From Pionex?
Pionex is a cloud-based software that currently serves more than 100,000 users worldwide. The automated trading bot is compatible with all major web browsers, including Chrome, Firefox, and Safari. The Pionex mobile app makes the trading bot accessible to iOS and Android users.
The app handles a trading volume of $5 billion each month. Investors and traders can trade over 120 cryptocurrencies, including BTC, ETH, USDT, BNB, BUSD, HUSD, etc.
Pionex is a great choice for every user.
The Pionex free trading bots simplify the trading process for novice users. It consolidates the liquidity from two crypto giants, Binance and Huobi, by closely tracking the ticker price.
Cryptocurrency market beginners can benefit from the Coping Trading option available on Pionex. It allows them to mimic the trading techniques of successful investors.
Pionex is also considered an excellent platform for experienced traders because it lets them earn maximum profit without obliging them to perform round-the-clock supervision.
It is also reliable for high-volume traders. They can access all the trading bots through the mobile app using any device. They can also benefit from Pionex's Market Maker Program.
What Makes Pionex A Good Choice?
Pionex has an intuitive and straightforward user interface. Besides having a visually appealing outlook, the automated trading platform has incredible features that make trading more manageable for every investor.
The services and features that contributed to making Pionex a world-renowned crypto trading bot in a short period are listed below:
Intuitive User Interface
Pionex has a very easy-to-navigate interface that is responsive on all devices. A quick drop-down menu at the top of the screen gives you instant access to Pionex's primary features, including the Trading desk, market, and the option to purchase crypto.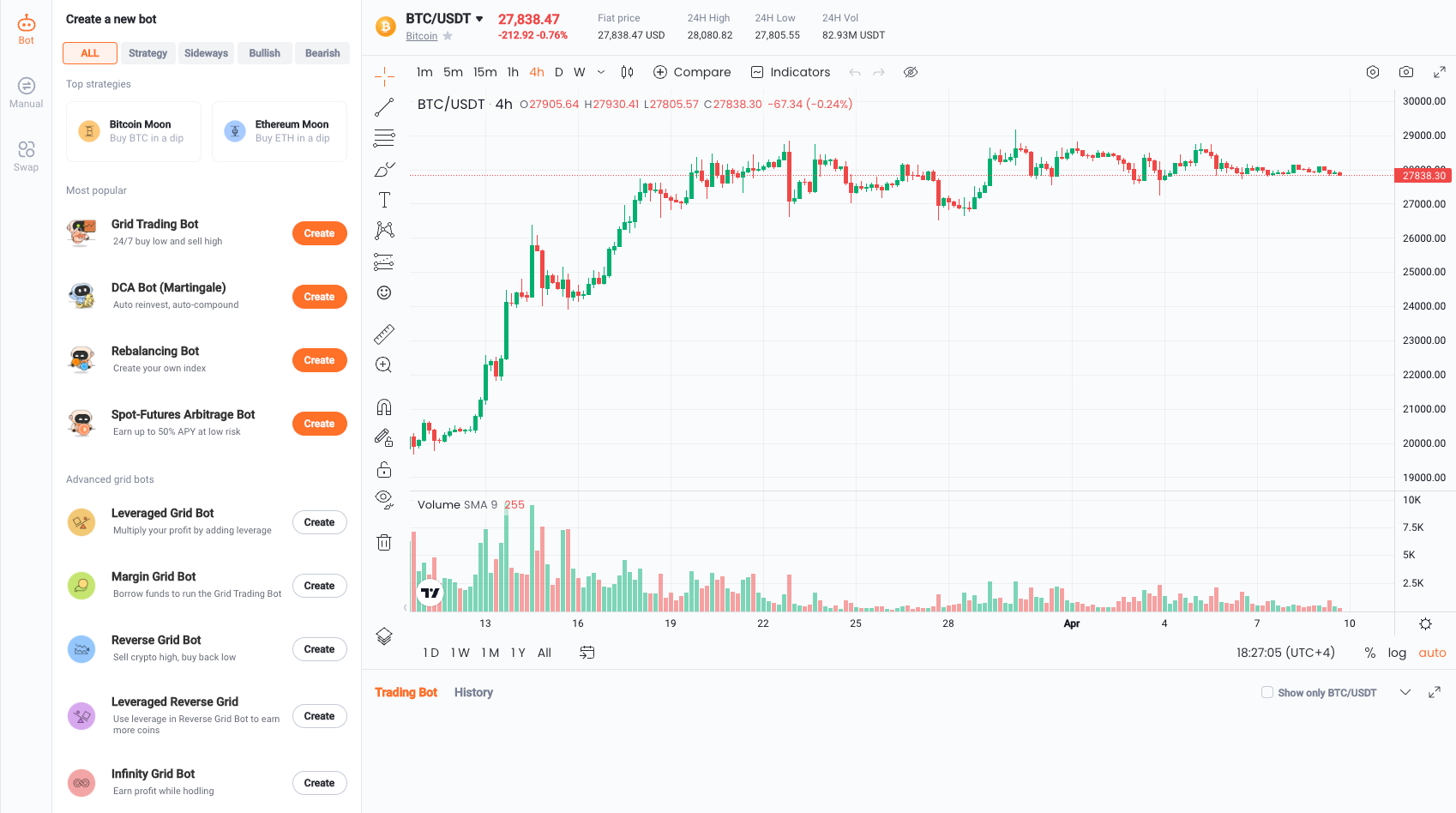 On the trading screen, the charts and order windows appear in the middle of the screen, whereas the order book and transactions are on the left. Under the Market option, you can trade on the spot or go for leverage trading.
Users of Pionex can switch from manual trading to automated trading bots using the same trading terminal.
Other key features that give users a smooth trading experience include:
Light and dark mode.
24h live price ticker.
Full-screen charting mode.
Instantly swap between the coins.
Flexibility to customize the interface.
Watchlists, favorites, and live coin holdings.
TradingView Charts.
Support Manual Trading
Although Pionex is primarily designed for automated trading bots, it also provides the capability for manual trading, similar to a traditional cryptocurrency exchange. You can buy and sell your coins using a limit or a market order, with the reference currency being USDT.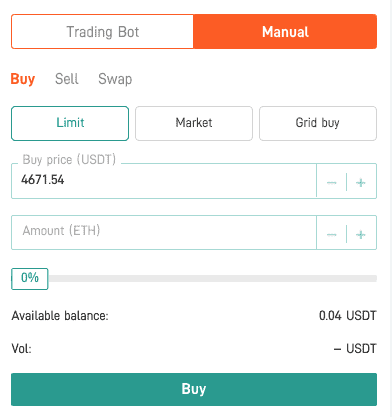 Pionex Mobile App
Pionex has successfully accommodated all its users. Apart from being an excellent web-based trading platform, Pionex has also designed a fully functional mobile app. The Pionex mobile app is freely available for both Android and iOS users.
The Pionex has the best UI/UX interface and facilitates investors to keep trading while on the go. It allows you to create grid trading bots, track strategy statistics, and get real-time news from any device to maximize earning potential.
Cooperative Customer Service
Piomex has designed an excellent customer service system to better reach out to all its customers. There is a detailed FAQ section on the Pionex website. You can find answers to certain queries through the FAQs.
Users can reach out to the customer support team via Live Chat. The Live Chat function is available from 00:00 – 13:00 (UTC+0), but the Pionex platform aims to adjust this feature to 24 hours shortly. The customer support agents at Live Chat are smart, friendly, and helpful. They have all the knowledge about the Pionex trading bot and will give you a satisfactory answer without delay.
Pionex Affiliate Program
The Pionex Affiliate Program encourages investors to bring more users to the trading platform. Becoming a part of the program demands an extremely low fee from all its users.
It also has no additional charges for using the in-built trading bots. Its fees are highly competitive within the industry and access to all traders, regardless of their monthly trading volume. This sets Pionex apart from other exchanges that may have higher fees or require a minimum monthly volume for low-fee trading.

Leverage Trading Available
Leverage trading is a common phenomenon in the crypto market. The trading technique involves borrowing money to increase your buying power, to maximize returns on a successful trade. For instance, if you use 5× leverage, you can enjoy 5 times more profit if prices move positively.
Pionex supports 3× leverage on BTC, ETH, BNB, and XRP. Use the leverage tokens on Pionex and enjoy more profit. However, the potential for higher profits is always accompanied by increased risks. So, be sure to play it on the safe side.
Note: Due to strict laws, investors and traders living in the US are not allowed to use Pionex leverage tokens.
Low Trading Fee
It also has no additional charges for using the in-built trading bots. Its fees are highly competitive within the industry and access to all traders, regardless of their monthly trading volume. This sets Pionex apart from other exchanges that may have higher fees or require a minimum monthly volume for low-fee trading.
The Market Maker Program
Pionex has devised a separate program for high-volume traders. You can apply for Pionex's Market Maker Program as a high-volume trader.
To become a market maker member, you should at least have $300,000 in USDT in your Pionex account or have cryptocurrency coins or tokens in your Pionex wallet with a net worth of $300,000 or more.
Under this program, you are not liable to pay the marker fees, whereas the Taker fees remain 0.05% of the total trading amount.
The Market Maker Program accepts applications only during the first days of each month and, once approved, requires a continuous minimum account balance of $300,000.
If you are rejected from the program due to a low account balance, you cannot apply for the Market Maker Program for 30 days.
Does Pionex Have A Demo Account?
The major drawback of using Pionex is that it does not have a demo account. Investors cannot test and analyze all those free trading bots before investing. However, Pionex has detailed tutorials for all its crypto trading bots. The tutorials give users a detailed rundown about each trading bot simplifying the trading process for all users.
Best Crypto Trading Bots On Pionex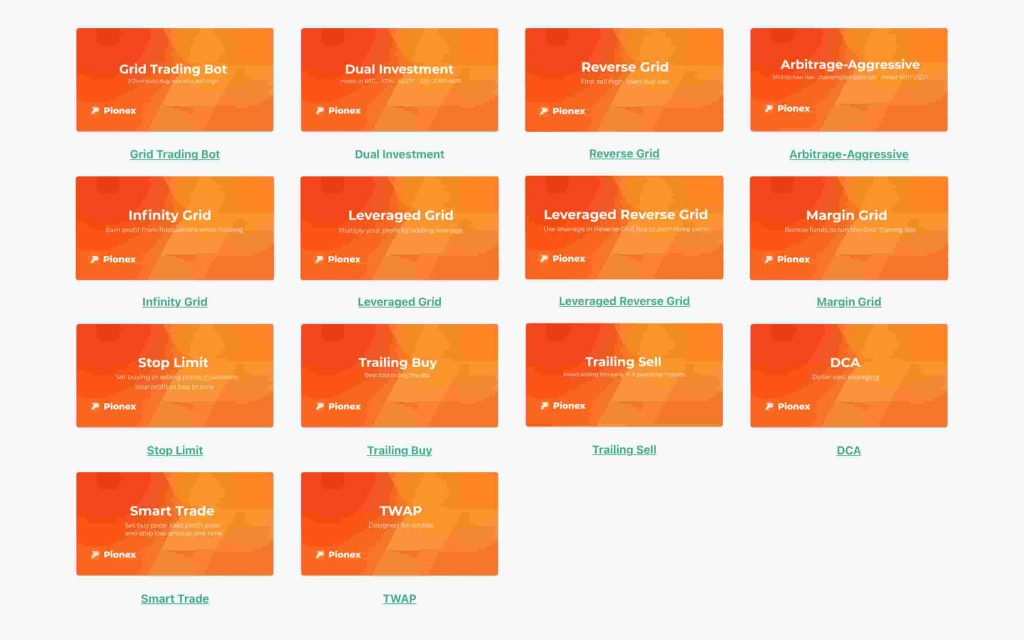 The trading bot selection on Pionex makes it different from other crypto exchanges in the market. It gives you 16 trading bots that buy and sell during certain market conditions.
The most popular free trading bots on Pionex.
Grid Trading Bot
The Grid trading bot is a tool that utilizes automated buying and selling of assets based on predefined price points. It buys an asset when the price reaches a specified "low" level and sells it when it reaches a designated" high." This feature allows users to take advantage of market fluctuations and gain profit the easy way.
Arbitrage Bot
When utilizing the spot future arbitrage bot, users can profit from the price differences between the current spot price of a cryptocurrency and its current price in the Binance futures market. With a $50 deposit, this bot promises to generate a 15 APR return with minimal risk.
Smart Trade Bot
This sophisticated bot is highly suitable for breakout traders in a trendy market. The bot follows a simple strategy where you set a trigger price and allows the bot to follow the market trend until a predetermined maximum trailing stop price is reached. Traders can take advantage of the upward market movement while mitigating risk with a trailing stop loss.
Rebalancing Bot
This bot allows you to HODL several cryptocurrencies for the long term.
Martingale Bot
The purpose of this bot is to capture profit from price fluctuations by buying an asset through a dollar-cost average strategy. The bot then aims to sell them at a higher price adjusted at 0.5%,1%, or 2%.
Leverage Grid
Leverage grid bot is almost similar to grid trading with a slight twist. Using this bot, you can apply leverage to your investment, ultimately increasing your profit margin.
DCA Bot
Dollar-cost averaging (DCA) bot follows one of the simplest trading strategies. The DCA bot enables users to purchase at specified intervals using fiat currency. The intervals supported by Pionex range from 10 minutes to one month.
Infinity Grid Bot
With the Infinity Grid bot, you will never have to worry about the price exceeding your established range. The bot ensures that the total number of assets stays constant while the price of the assets continues to increase as it buys low and sells high.
How to Set Up Your Pionex Account
Setting up an account on Pionex is simple. Users require basic knowledge and understanding to get started with Pionex.
Follow these quick steps to set up your Pionex account.
Step 1: Visit the Pionex Website
Go to the official Pionex website and click the [Sign-Up] option in the middle of the screen or top right corner.
Step 2: Enter details
In the next window, you must sign up using your e-mail address or phone number. It's best to use your e-mail to create your Pionex account. Click [Sign up].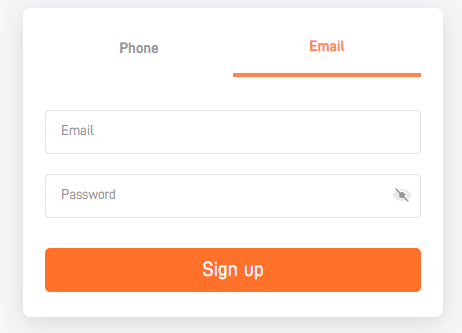 Step 3: Verify your e-mail
An e-mail verification code will be sent to your e-mail. Enter the code and click on [Confirm] to proceed further.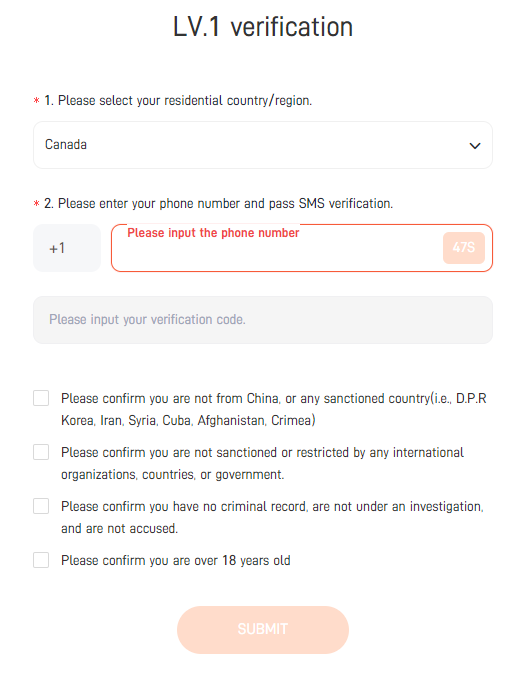 Step 4: Complete KYC
Complete the Know Your Customer (KYC) authentication process. Click on the [Verify] option to complete the process.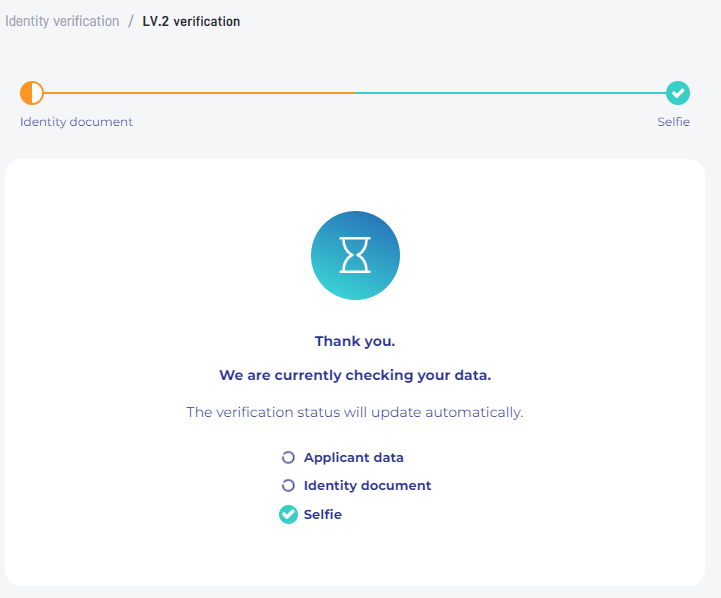 Step 5: Buy or Deposit Crypto
After completing the verification process, you can buy crypto using a credit card or deposit cryptocurrency from other exchanges into your Pionex account.
Step 6: Choose the Pionex trading bot
When you have enough assets in your Pionex wallet, choose the Pionex trading bot and start trading. It is that easy!
Pionex Trading Fees
Pionex operates under a maker-taker fee structure, where a fee is charged when placing trades that either "add" or "remove" liquidity from the market.
A maker fee is applied if a pre-existing order does not immediately match your trade. On the other hand, if an existing order immediately matches your trade, a taker fee is charged.
Currently, the maker and taker fees at Pionex are set at 0.05% of the total trade value. They are deducted from the available balance in your account deducted from your account's available balance withdrawals.
Crypto and fiat deposits
You can deposit various major cryptocurrencies and, recently, fiat currency through credit card deposits. However, there is a fee of 3.5% for European deposits and 4.5% for non-European deposits.
Coinbase and Binance have regulated gateways that enable global users to transfer assets into a Pionex account. To ensure the safety of assets during the transfer, it is important to follow the clear online instructions the broker provides on moving assets through various gateways.
Customers can only withdraw crypto using the Pionex account. It does not support fiat withdrawals.
Pionex has varying withdrawal rates for each coin. Providing KYC information will expand your withdrawal limits. The withdrawal fee for Pionex is 0.0005 BTC for each BTC withdrawal.
---
In a single trading pair, users can run up to 30 bots. If you require additional bots, you can run them on a different pair or re-evaluate them already in operation.
Pionex leveraged tokens offer high exposure and have optimized their rebalancing mechanism by utilizing variable target leverage instead of fixed and constant leverage.
Pionex does not have a minimum deposit requirement, but each trading pair does have a minimum order volume. This means some pairs may allow you to set up a grid bot with over 50 USDT, while others may require more. To work around this, choose a coin requiring fewer grids and adjust the range accordingly. For instance, mBTC has a minimum order volume of 0.1 USDT or 0.01 MBTC, making it a practical option.