Rating

4.3

Tradable Coins

80+

Fees

0 - 0.50%

Payment Options
Our Review
Bitstamp, with its user-friendly interface and reasonable fees, offers a good start for beginners despite a limited choice of 80+ cryptocurrencies. Though seasoned users might seek more coin diversity, Bitstamp does provide advanced order types. Moreover, it supports debit and credit card transactions in fiat currencies like USD, GBP, and EUR.
Pros
Easy-to-use platform for beginners and pros.

Competitive fees compared to other crypto exchanges.

Long history of supporting cryptocurrency users.

Earn rewards with crypto staking
Cons
Limited list of supported currencies.

KYC for fiat currency, deposits, and withdrawals.

No margin trading or lending features.

2015 hack resulted in the loss of $5.2 million
Bitstamp Review 2023: Is It the Right Platform For Your Trading?
TLDR
This in-depth review of Bitstamp's features and drawbacks, and see if it's the right exchange for you.
For investors mindful of fees, Bitstamp represents a compelling option with 0.5% commission rates. Its user-friendly platform is also a strong selling point, catering to novice and expert traders. It supports 80+ cryptocurrencies and offers access to popular altcoins too.
Additionally, the exchange has features like instant orders, limit orders, and stop orders. Bitstamp makes it quite easy to trade and take advantage of price fluctuation. Unlike its competitors, it offers phone support that helps easily resolve any potential issues.
Bitstamp surely caters to the needs of new users. However, it still falls behind its competitors in advanced trading features like margin trades and lending. The platform doesn't have a rewards card that allows users to easily use their digital assets without withdrawing them.
Who should use Bitstamp?
Overview
Bitstamp was established in Slovenia in 2011 and has expanded its operations to various significant financial hubs globally. This includes the United Kingdom, the United States, Luxembourg, and Singapore. The Bitstamp office is based in New York, and the platform has gained over 4.4 million users worldwide.
Bitstamp facilitates trading over 80 popular cryptocurrencies, such as Ethereum, Bitcoin, Uniswap, Stellar Lumens, and Litecoin. However, following the FTX and Celsius incident, the exchange suspended all FTT and CEL trading pairs, canceled existing orders, and disabled new ones.
The exchange offers active trading platforms. However, due to its relatively short list of supported currencies, it might be more suitable for novice and occasional traders. Bitstamp has come a long way since its inception and has established itself as a reputable and secure cryptocurrency exchange.
For new users
This state-of-the-art trading platform is an excellent choice for new users to start their journey in crypto trading.
The crypto exchange has earned a reputation for its dedicated customer support and multiple account options. With meager trading fees, it indeed outranks other crypto exchanges.
Overall, Bitstamp provides a straightforward cryptocurrency trading experience with its easy-to-use platform and accessible customer service options. While it may not be the best option for advanced traders, it is excellent for beginners and casual traders. For them, it is a reliable and user-friendly advanced trading platform.
Geographical availability
Bitstamp's extensive list of supported countries demonstrates its commitment to being a truly global cryptocurrency exchange. The crypto exchange can be used in the U.K., the E.U., and the U.S. (most states).
Some other supported countries include Switzerland, Norway, Monaco, Montenegro, Serbia, Turkey, China, Singapore, New Zealand, and Japan, among others.
Bitstamp Review: Top Features & Perks
Diverse crypto support
Bitstamp is a cryptocurrency exchange that provides access to over 80 cryptocurrencies for trading. While other exchanges may offer more options, Bitstamp's selection is diverse enough to cater to most investors.
You can buy and sell popular cryptocurrencies like Bitcoin (BTC) or explore smaller projects. Additionally, Bitstamp offers a crypto-staking program called Bitstamp Earn. This allows you to earn rewards on cryptocurrencies. Payments are done monthly or at the end of each governance period (end of the quarter).
Currently, Bitstamp Earn supports Ethereum (ETH) and Algorand (ALGO) with competitive rewards rates.
Interface and trading experience
Trading crypto on Bitstamp exchange is beginner-friendly as it has a simple and easy-to-use platform. Thanks to its intuitive interface, it is pretty easy to navigate around different features.
Whether you want to explore advanced trading or withdraw funds, you can easily do it. It's a great place to start for newbies who want to buy and sell cryptocurrencies.
Dedicated mobile app
If you're a trader who likes to be on the go, you'll like the Bitstamp mobile version. These apps can be downloaded for free from either the Apple App Store or the Google Play Store.
The mobile app lets you access your bank account and trade directly from your smartphone. This allows you to manage your investments on the move. Whether you're using an iPhone or an Android device, Bitstamp covers you.
Bitstamp offers a user-friendly interface for beginners and Tradeview charts for experienced traders. It allows easy viewing of transaction history and free sending/receiving of cryptocurrencies.
It also offers features like disabling the app remotely, private mode, and switching between sub-accounts.
Low fees
Bitstamp is a reliable cryptocurrency exchange with a straightforward and transparent fee structure. Unlike other exchanges that may charge confusing or hidden fees, Bitstamp's trading fees are based solely on your 30-day trading volume.
One of the best things about Bitstamp's fee structure is that the highest trading fee is only 0.50%. This is for traders with less than $10,000 in 30-day trading volume. So, as your trading volume increases, your Bitstamp fees will decrease, which makes it an attractive option for active traders.
This is significantly lower than the fees charged by other popular exchanges. Aside from the trading fees, the Bitstamp platform charges additional fees based on your platform usage.
For instance, credit card payments and debit card purchases incur a 5% surcharge, separate from any fees charged by your bank or credit card provider.
Furthermore, while crypto and other ACH transfers and deposits from U.S. banks are free of charge, each cryptocurrency is subject to a withdrawal fee.
Security
It is imperative to exercise caution while investing in cryptocurrencies, regardless of your experience level or the platform you choose to buy crypto on.
Bitstamp is no exception, having experienced a security breach in 2015 that resulted in nearly 19,000 Bitcoin (BTC) lost. However, Bitstamp has since improved its security measures and reimbursed affected users for their losses.
To enhance security, Bitstamp stores most of its digital assets offline in cold storage. In addition, all credit card purchases are insured against many crime-related cases.
Bitstamp is committed to ensuring the security of its users' accounts. It does this by providing traders with two-factor authentication (2FA).
This involves assigning a password sent to the trader's mobile device. To maintain the highest level of security, Bitstamp requires traders to change this password every 90 days.
Customer service
If you need to contact Bitstamp's customer support, you can submit a ticket and expect a response within 24-72 hours.
If you're in a bind, there's also a U.K. phone number that you can call for emergency support. While Bitstamp doesn't offer live chat support, you can contact the e-mail support team anytime.
---
Trusted Partners
5.0
4.7
4.3
---
Opening a Bitstamp account
You can easily open a Bitstamp account by following these simple steps.
Step 1: Visit Bitstamp website
To start registration, navigate to the Bitstam website using any internet browser on your laptop, mobile, or desktop.
At the right of the main page, you will see the [Get Started] button.
Step 2: Enter details
Fill in your name, Email and confirm your date of birth. Once done, click [Continue].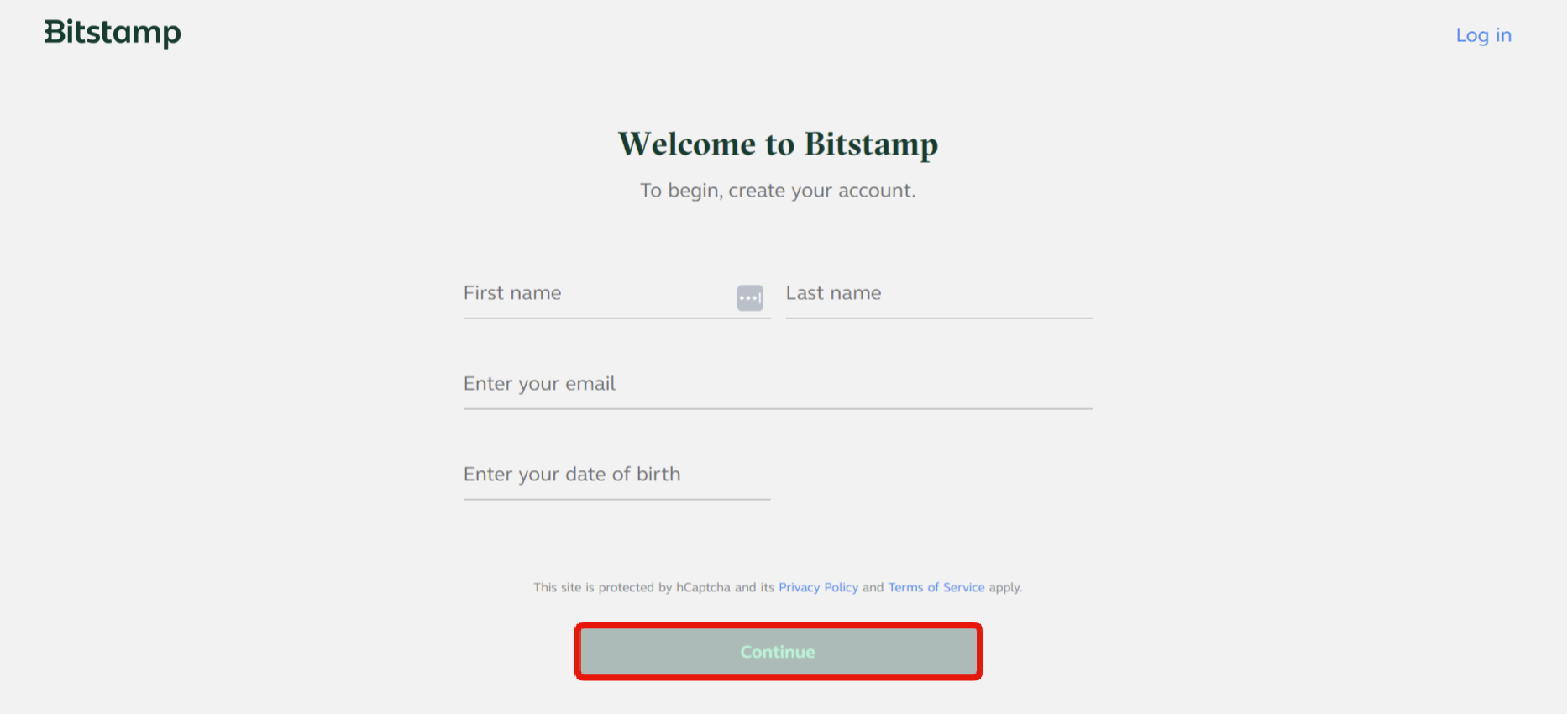 Step 3: Confirm your country
Following that, you will be taken to the page where you must confirm your [Country Of Residence].
Select your country from the drop-down menu and click [Continue].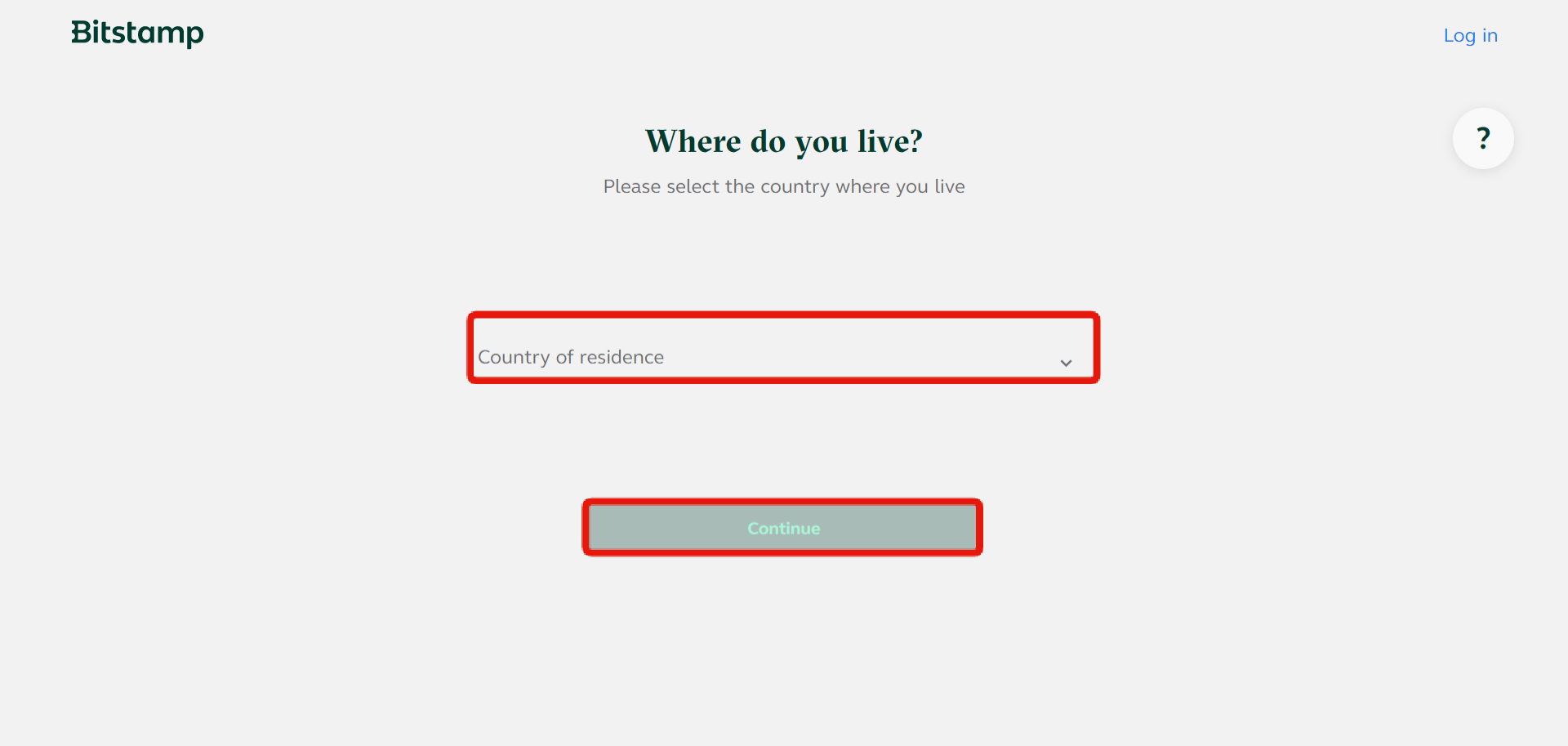 Step 4: Confirmation Email
After that, you need to confirm your e-mail address. Once done, you are good to go!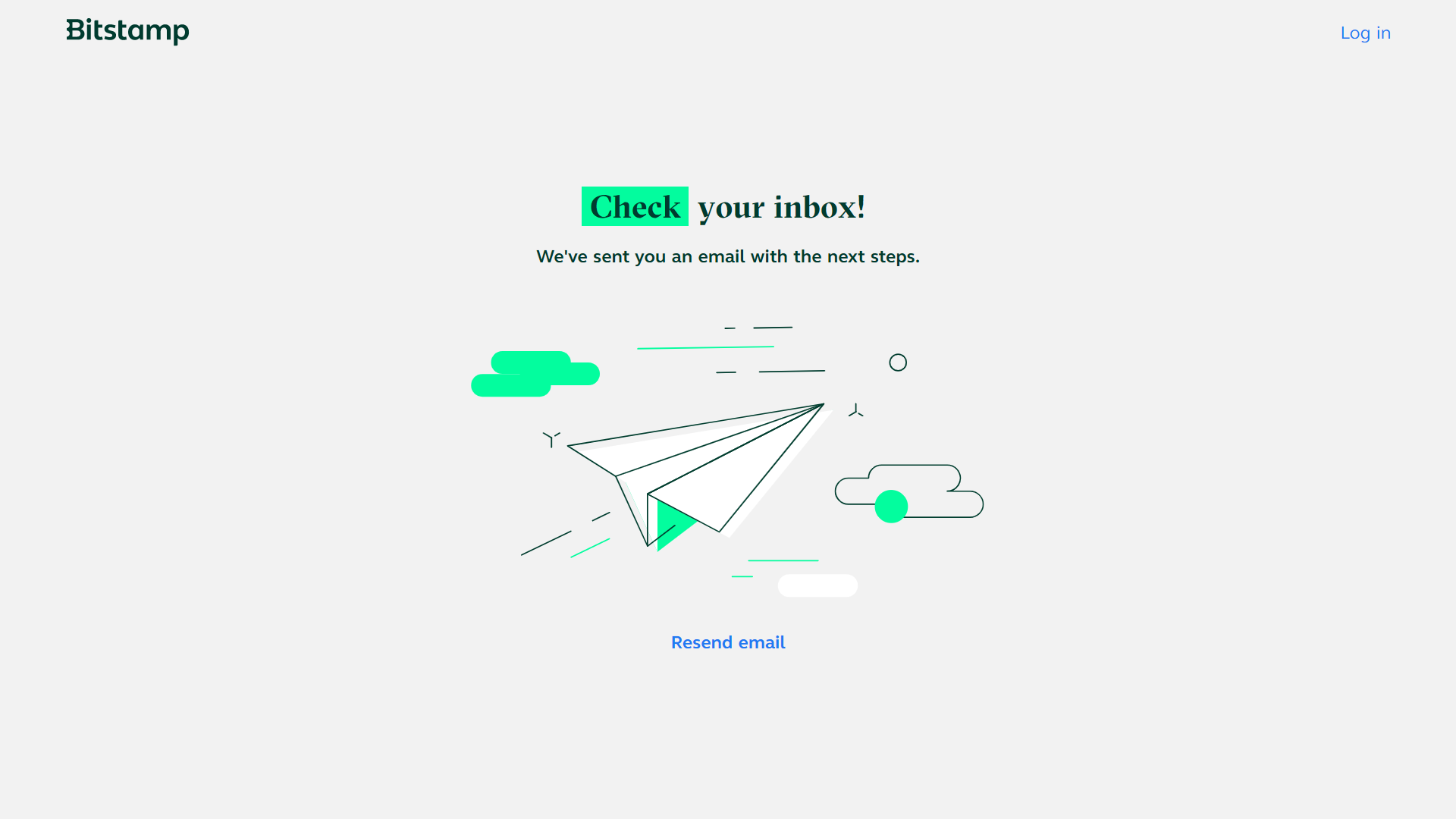 Congratulations! You are done creating an account and starting trading cryptocurrencies at competitive rates.
---
Bitstamp Review: Is It A Good Choice?
If you're looking for a reliable cryptocurrency exchange that provides essential services and reasonable fees, Bitstamp is worth considering.
Although the platform doesn't support advanced investing strategies such as margin trading, it offers an instant buy-and-sell platform that is easy to use and allows quick cryptocurrency purchases.
In addition, Bitstamp provides several order types, including limit orders, market orders, stop orders, trailing stop orders, and fill-or-kill orders. This may interest more experienced traders looking to capitalize on short-term price fluctuations.
One aspect that sets Bitstamp apart from other exchanges is its phone support, a rarity in most cryptocurrency exchanges. This feature can be handy for traders who prefer to speak with a support agent directly.
Major drawbacks
Security
Cryptocurrency exchanges have been grappling with significant security issues recently, with several well-known platforms falling prey to cyberattacks in the past few years.
Bitstamp has claimed to have improved its security measures since a hack in 2015. However, there is still a need for more stringent security measures.
Advanced trading feature
In terms of advanced trading options, Bitstamp seems to be lacking. The exchange only provides staking options for two coins – ETH and ALGO – and does not offer lending or margin trading opportunities.
Furthermore, Bitstamp does not offer a rewards card, a feature that some other exchanges provide, which enables customers to use their crypto as collateral or as a means of payment for brokerage services.
To access advanced trading options, Crypto.com and Kraken are among the top-ranked exchanges.
To sum up, cryptocurrency exchanges must prioritize the security of their users' assets, particularly in light of the increasing frequency of cyberattacks.
In addition, exchanges must offer a range of advanced trading options to meet the needs of their users. Cryptocurrency exchanges can foster greater user trust and confidence by adopting such measures.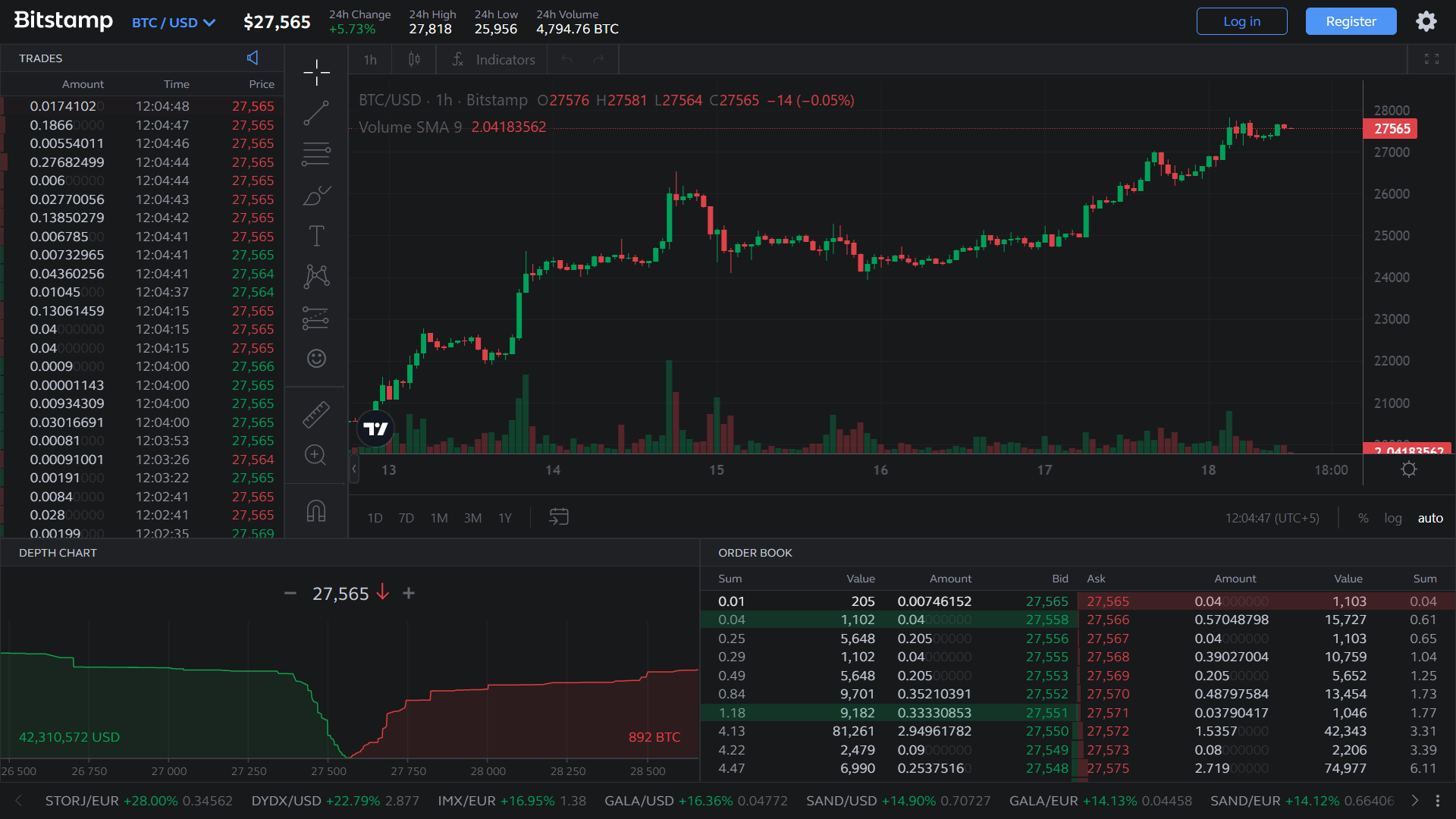 Bitstamp Review: Our Verdict
Bitstamp is a trusted name in cryptocurrency exchanges, recognized for its leadership in Luxembourg and global reach. While the discussion initially focused on European clients, it now offers its services to traders worldwide, making it a versatile and accessible platform for buying and selling various cryptocurrencies.
One of the Bitstamp platform's key strengths is its user-friendly interface, which allows for easy deposits and withdrawals via multiple payment methods, including bank accounts, debit cards, and credit cards. Moreover, traders can access various educational resources and trading tools to help them make informed decisions and stay ahead of the curve.
---
Bitstamp, a prominent US crypto platform, is noted for its relatively high fees.
Both Bitstamp and Coinbase offer hot wallets, mobile applications, and ensure that 98% of the account funds are stored in secure cold storage. While Coinbase is user-friendly for beginners and caters to active traders with its advanced features, Bitstamp primarily appeals to seasoned investors, but can be a bit complex for novices. Hence, Coinbase often becomes a preferred choice for many.
Bitstamp prides itself on its superior security measures, making it one of the most secure cryptocurrency platforms. It safeguards 98% of assets in offline cold crypto storage, the safest kind of crypto storage due to its immunity to hacker attacks.
Furthermore, Bitstamp ensures 95% of the crypto assets are stored securely offline in Class III vaults that offer bank-grade security. This offline storage provides an added layer of protection against cyber threats. The remaining 5% is kept online to facilitate quick and efficient transactions.