Rating

4.5

Tradable Coins

170+

Fees

0.2%

Payment Options

+ 3
Our Verdict
Bitfinex, a leading global crypto trading platform, supports various coins and facilitates easy trading. While it caters primarily to advanced traders with its intricate charting tools and high liquidity, it also accommodates new users through demo account features.
Pros
Lower trading fees than its competitors.

Margin trading, derivatives, and advanced order.

Paper trading.

Robust mobile app.

Suitable for newer traders.
Cons
History of regulatory missteps and fines.

Questionable involvement with Tether.

Not available in the United States.
Bitfinex Review 2023: Uncovering Pros & Cons
TLDR
Bitfinex is undoubtedly regarded as a well-reputed exchange among traders worldwide, recognized for its high volume and advanced trading features. This detailed Bitfinex review will focus on all its features and security measures it has taken over the years.
It is designed to make crypto trading inclusive. It supports various trading pairs between cryptocurrencies and fiat and features such as margin trading, limit and stop orders, and over-the-counter (OTC) trades.
With a demo account and an intuitive interface that is easy to navigate, Bitfinex has become popular among new adaptors.
Bitfinex has emerged as a much safer and user-friendly exchange after the 2016 cyber attacks.
Why Should You Use Bitfinex?
Users interface for new users
Bitfinex makes trading cryptocurrencies a breeze thanks to its user-friendly design and exceptional features. You can also customize all features and options to enhance your trading experience.
Even If you're new to the platform, you can start with a free demo trading account that lets you test your strategies with play money. The platform's robust mobile app makes it easy for new and old users to trade digital assets without hassle or lag.
Bitfinex's active trading platform boasts a range of standard features, such as advanced charting tools, order depth charts, order book views, and quick access to buying and selling supported currencies.
But that's not all. Bitfinex also offers automated algorithmic trading, a robust API for developers, historical pricing data through Bitfinex Terminal, margin trading, and derivatives trading.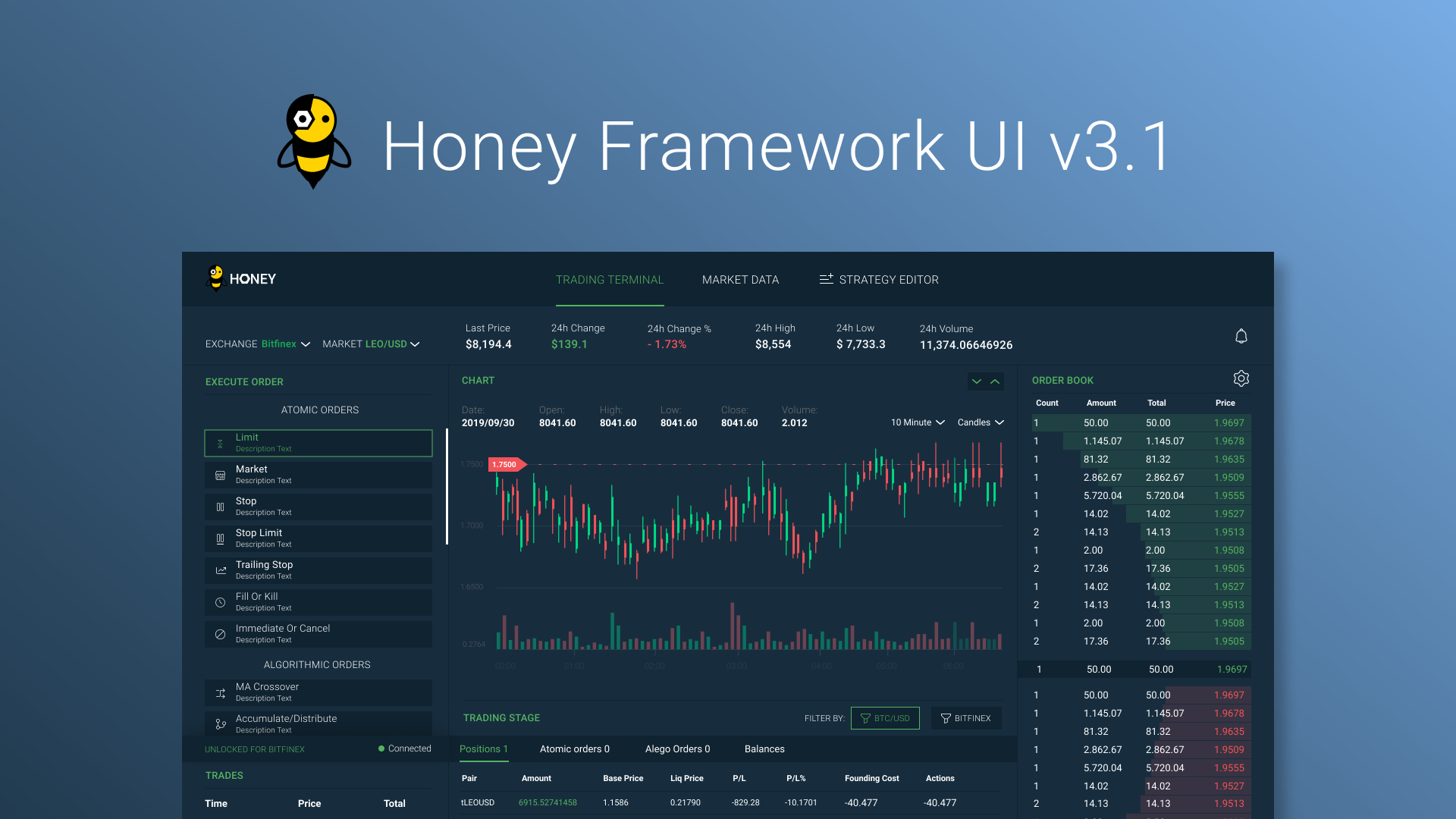 Bitfinex security and safety
This exchange strongly emphasizes security and safety, prioritizing its customers' protection. This focus is not solely due to the platform experiencing consecutive hacks in its early days but rather stems from a commitment to safeguarding client funds.
To achieve this, Bitfinex utilizes a cold storage system, storing 99.5% of user accounts and funds, which is geographically dispersed and includes a multi-sig feature. In addition, traders must undergo a two-level authentication process when logging in and making withdrawals.
To ensure the highest level of security for both assets and private information, the platform has implemented multiple layers of protection. These include two-factor authentication (2FA) and Universal 2nd Factor (U2F).
Bitfinex has also implemented DDoS protection to protect its servers from cyber attacks. Besides that, there is an IP addresses whitelist that helps ensures only authorized devices can access your account.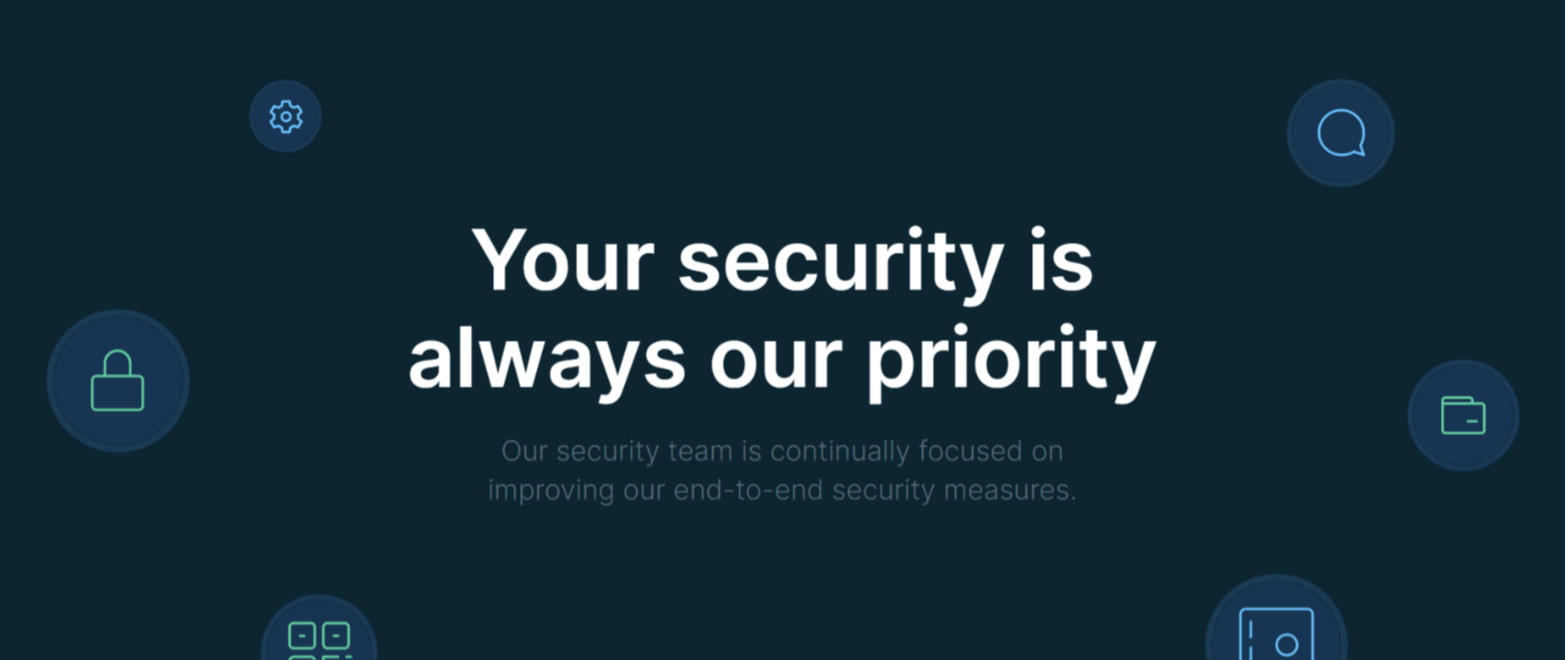 Easy account creation
The signing up process for Bitfinex is relatively straightforward, albeit somewhat time-consuming. Interestingly, the verification requirements are minimal unless you trade with fiat currencies.
To make the experience even better, the platform's website has an interactive interface optimized for mobile use, offering quick navigation and hassle-free trades.
Finally, Bitfinex listened to its users who wanted to trade on the go. It offers mobile apps, providing convenient access to the platform from virtually anywhere.
Payment methods and supported coins
Bitfinex supports fiat currencies like the United States Dollar, Euro, and British Pound, but these can only be processed through wire transfers. However, deposits and withdrawals are easy, cheap, and hassle-free on crypto exchanges. The platform supports Tether (USDT), an unofficial quasi-fiat token pegged to the US dollar's value.
The crypto exchange offers free deposits and reasonably priced withdrawals for over 80 digital assets, including Bitcoin, Ethereum, Zcash, Monero, Dash, Ripple, Iota, Litecoin, and EOS. But you must undergo KYC verification for Tether usage and quick crypto withdrawals.
Nevertheless, even those who only provide an e-mail address can still use the Bitfinex services. The platform also offers direct access through a Tor hidden service.
When withdrawing funds from Bitfinex, the exchanges require a minimum waiting time of 12 hours. Given all the provided details are correct, it will be completed in an hour or two. If you need to withdraw cryptocurrencies quickly, Bitfinex requires transaction verification specifically for USDT usage.
Bitfinex stands out from other exchanges worldwide because of its extremely low fees. Currently, they charge a maximum withdrawal fee of 0,2% per trade, which is something to smile about. Interestingly, the larger your trading volume, the less you'll pay.

KYC requirements and geographical availability
For trading on the Bitfinex exchange, you don't need any KYC verification if you prefer using cryptocurrencies. But that's not the case with fiat currencies, as completing a lengthy ID verification process is mandatory.
The documentation strictly depends on the type of registered account. Additional documents may be required for corporate accounts, while for private account holders, proof of residence can be enough.
You can use Bitfinex to easily exchange Bitcoin now if you live in almost any country worldwide, except for a handful like Bolivia, Bangladesh, Ecuador, and Kyrgyzstan. Unfortunately, US residents can't access Bitfinex since they stopped offering services there in 2017. This is because the US has stringent regulations around crypto trading that Bitfinex cannot meet.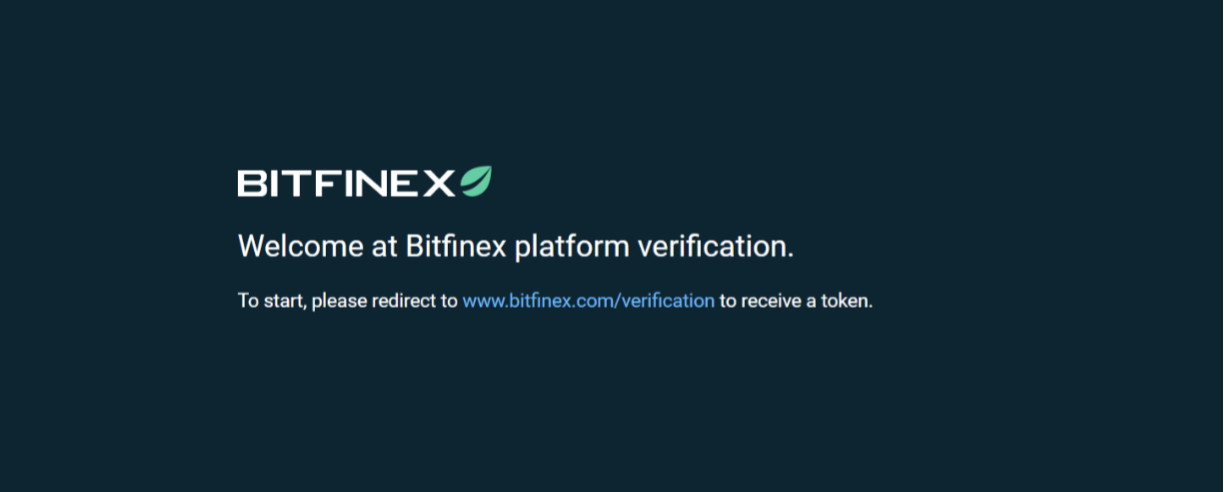 ---
How To Open An Account On Bitfinex
Thanks to its brilliant interface, creating an account on Bitfinex is a breeze. Even for new users and first-time traders.
Here are a few simple steps for a hassle-free account registration process.
Bitfinex, a leading global crypto trading platform, supports various coins and facilitates easy trading. While it caters primarily to advanced traders with its intricate charting tools and high liquidity, it also accommodates new users through demo account features.
---
Lower trading fees than its competitors.

Margin trading, derivatives, and advanced order.

Paper trading.

Robust mobile app.

Suitable for newer traders.
History of regulatory missteps and fines.

Questionable involvement with Tether.

Not available in the United States.
Step 1: Navigate to the Bitfinex website
To start the account registration process, navigate to the Bitfinex website on your desktop or mobile phone.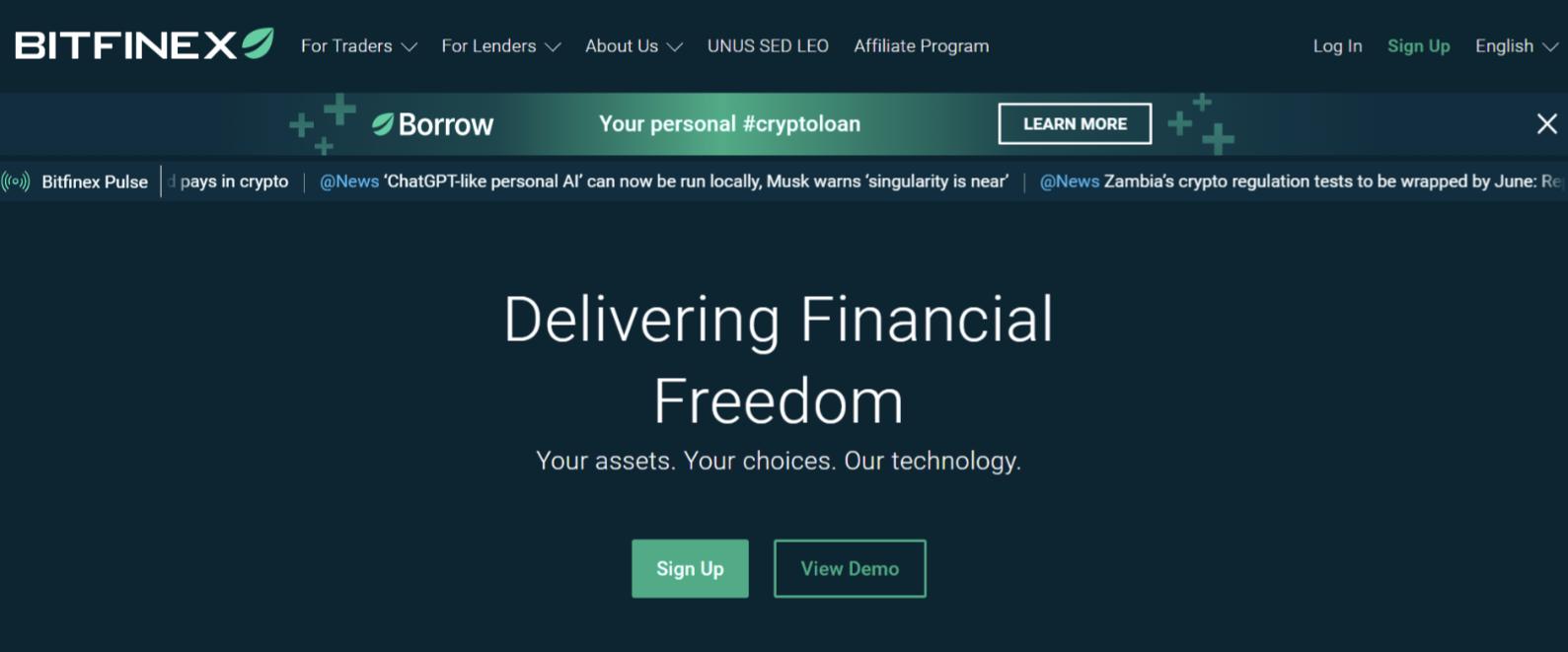 Step 2: Start the signup process
Once you are at the main landing page, you will see a [Sign Up] button in the center of the page. Select it to move ahead.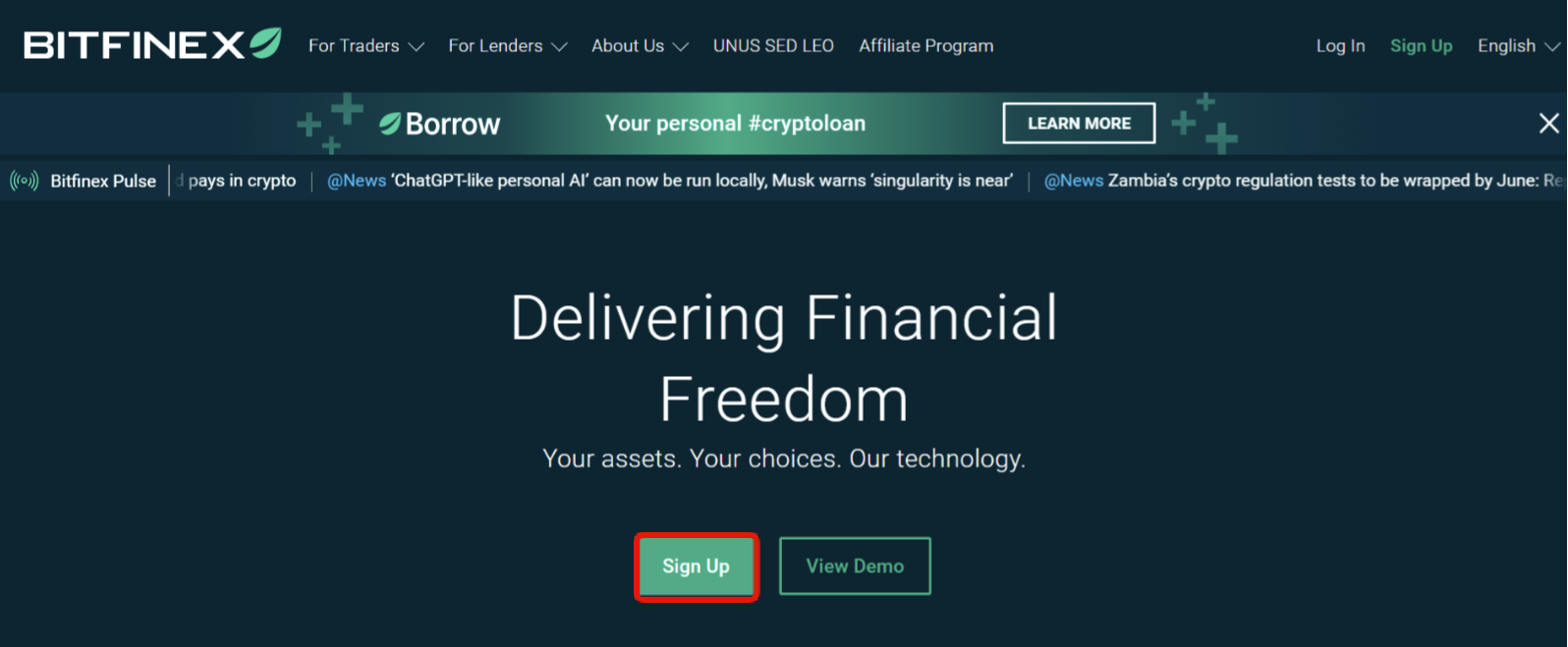 Step 3: Create an account
After clicking sign up, you will be taken to a new sign-up page. You must find the required information here, including e-mail, username, password, and residence. When done, click [Sign Up].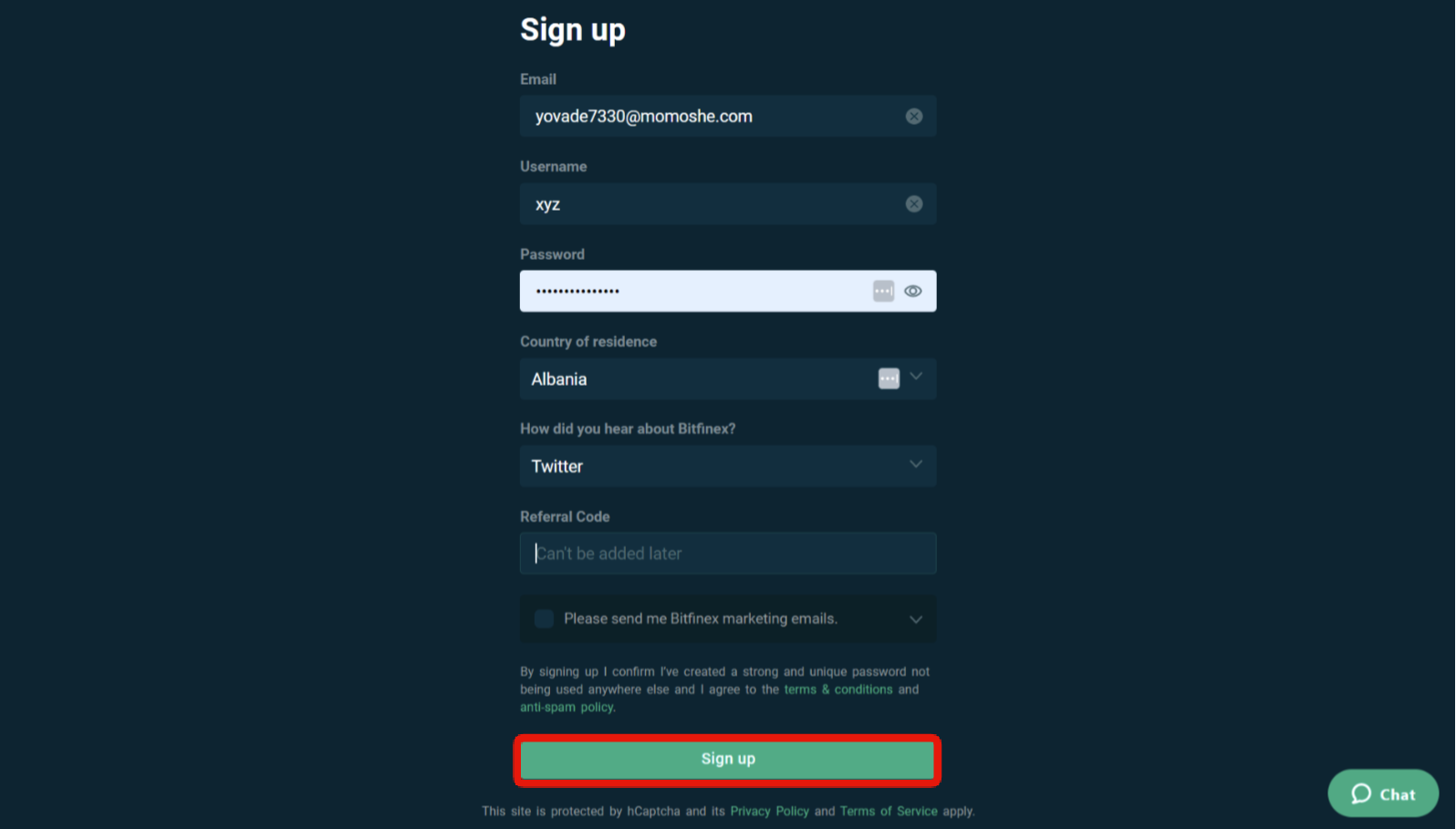 Step 4: Initiate two-factor authentication
After signing up, you will get a Google verification code. Enter it in the designated box and click the [Enable] button.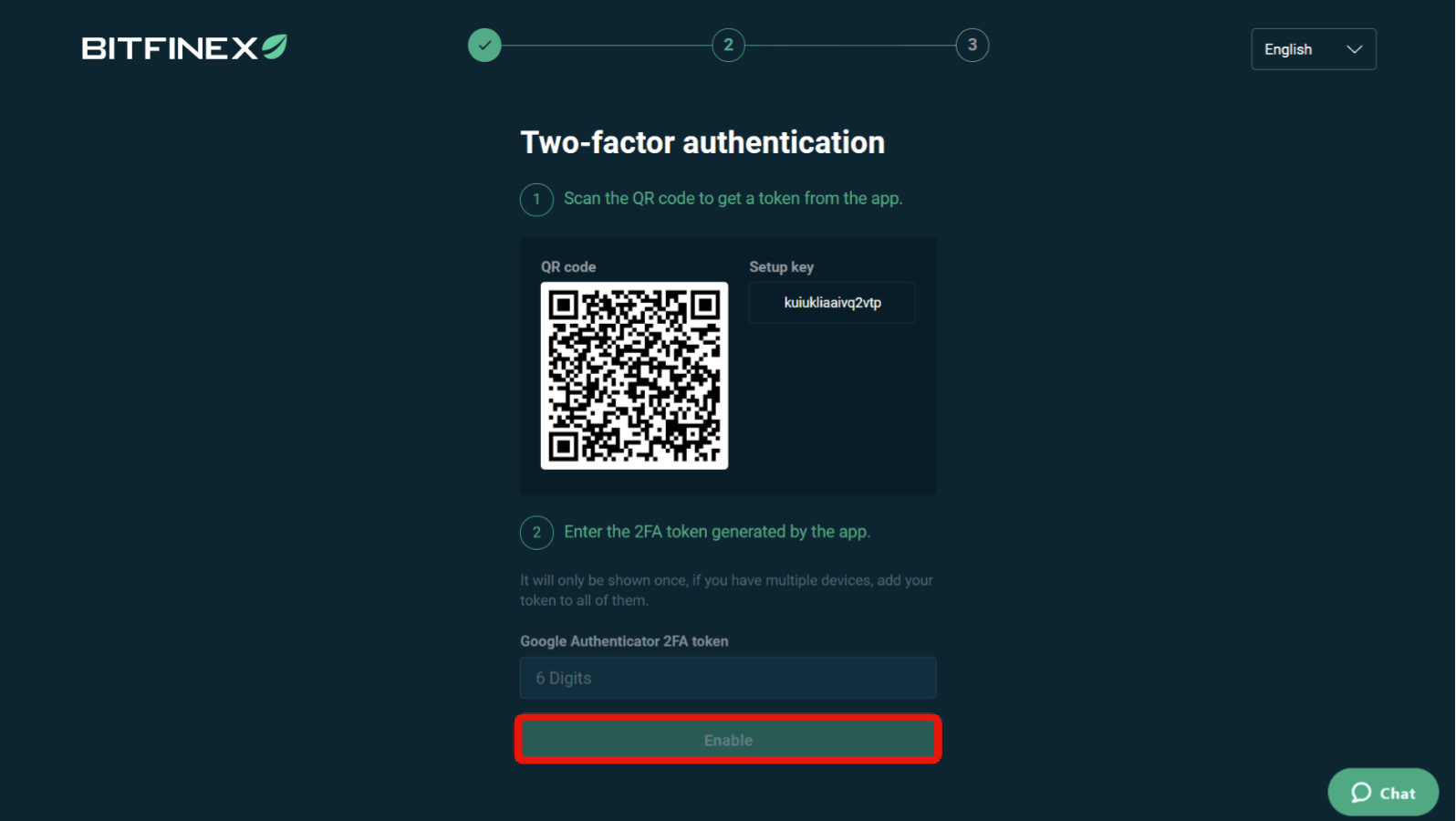 Step 5: You are all set!
Hurray! You have completed the account opening process. Now, log in again to start exploring different features.

Bitfinex features
Advance order types
Bitfinex's exchange account offers multiple advanced order types with high liquidity, making it easy for users to trade digital currencies such as BTC, ETH, L, XRP, LTC, EOS, NEO, and others, with minimal slippage.
Unlike its competitors, the platform offers the 'Scaled Order' tool for repeatedly entering multiple orders. It helps automate the process and allows users to focus on their trading strategies rather than manually entering orders.
Besides that, with the advanced charting tool to visualize orders, price alerts, and trade positions, it is easy to modify order properties with a simple tap.
Moreover, the platform has professional connectivity, partnering with corporate accounts and professional traders to provide users with a fast and convenient trading experience.

Lending and Staking
Bitfinex offers lending and staking services that make it easy for users to lend or stake their own cryptocurrency assets and holdings without needing technical expertise to operate staking software. The process is automated on Bitfinex.
Moreover, the platform has a peer-to-peer feature called Bitfinex Borrow, allowing traders to borrow funds from each other using their cryptocurrencies as collateral.
Borrowers can use the funds for any purpose, and they can customize the loan duration and interest rates according to their requirements. However, the amount available for borrowing depends on the trader's account balance, collateral type, and an overall limit of $250,000.
Specific requirements must be fulfilled to be eligible for the loan, but no credit check is necessary, unlike traditional banks.

Margin Trading and Margin Funding
Bitfinex allows its customers to take advantage of margin trading and lending. With up to 10x leverage, traders can use P2P margin funding market funding to increase their buying power.
Users can quickly enter a funding order and start trading more flexibly by setting their desired amount and preferred rate and duration.
The popular exchange Bitfinex offers margin funding, providing traders with a secure way to earn interest on fiat currencies and digital assets.
Traders can customize the rate and duration of the funding to their liking and even utilize the "Auto-Renew" feature to renew offers upon expiry automatically.
This allows traders to access the funds to trade with leverage without worrying about constantly using margin accounts and managing their margin funding offers.

Derivatives trading
Bitfinex gives its users the option for derivatives trading. This feature lets traders speculate on asset or derivative prices without buying or selling.
To execute a trade, traders need only collateralize their derivatives account using their USDT holdings. This feature offers a unique opportunity for traders to profit from market fluctuations without the need for significant investments or selling assets.

Over-the-counter services
With an efficient over-the-counter (OTC) trading service, Bitfinex caters to those interested in making large cryptocurrency trades worth $100,000 or more while maintaining privacy. The OTC service is designed to match buyers and sellers securely and ensure confidentiality during transactions.
Customer Support
Bitfinex stresses ensuring its platform is trader-friendly, so it boasts one of the most efficient support teams in the cryptocurrency trading industry. Even though the exchange offers round-clock support, it's unfortunately only available via e-mail.
We felt it could be a significant inconvenience for traders, so the platform should develop a more robust option. The exchange ensures that all queries are addressed within 12 hours of being raised.
Although traders can ask general compliance-related questions on a separate Telegram channel, any account-specific queries must be submitted through the official support ticket system to avoid potential security breaches or issues.
It's important to note that Bitfinex does not entertain private messages, and traders should not share their passwords with anyone requesting them.
Room for improvement
If you plan on registering a trading account with Bitfinex, it's essential to understand that account verification is a significant aspect of the forum. This stretched process can take up to 6 to 8 weeks to finish.
While Bitfinex's thorough attention to detail is commendable, it's understandable that some users may find this comprehensive verification duration problematic. To enhance the overall user experience, we suggest that Bitfinex explores ways to expedite the verification process.
To enhance the speed of transactions, we suggest that Bitfinex explore ways to speed up bank transfers and withdrawals. At Bitfinex, wire transfers can take up to 10 days to complete fiat money withdrawals.
On the other hand, crypto withdrawals take up to ten hours. It would be critical for Bitfinex to consider solutions enabling faster withdrawals and enhancing the overall user experience.
Conclusion
Bitfinex is a supreme cryptocurrency exchange that delivers a wide range of supported coins for traders to buy and sell. The platform is best suited for advanced traders who are experienced in using advanced charting tools and require high liquidity volumes. Given its complex features, we think Bitfinex may not be the most appropriate place to start for people new to crypto trading.
Additionally, Bitfinex fell victim to a prominent hack, resulting in a loss and causing customers to lose confidence in the platform. Yet, Bitfinex has since taken steps to regain trust, reimbursing all stolen user funds. This move has helped restore customer confidence. Despite the hack, Bitfinex remains the largest exchange in terms of trading volume and offers some professional features.
---
Yes, the Bitfinex exchange lets traders borrow funds from other users by providing their digital assets as collateral. The exchange acts as a facilitator and enables borrowers and lenders to transact with each other. So, rather than going through traditional lenders, users can borrow funds from other users in the network. It helps make borrowing more faster and more efficient.
Bitfinex allows free deposits and charges reasonable fees for withdrawals of over 80 cryptocurrencies, including Bitcoin, Ethereum, Monero, Dash, Ripple, Iota, Litecoin, and EOS. But to use Tether and access quick crypto withdrawals, you must complete the KYC verification process.
Yes, Bitfinex is a safe platform for trading cryptocurrencies. The exchange employs multiple security measures to create a safe and dependable trading environment, like storing nearly 95% of clients' funds in cold storage. Bitfinex safeguards its crucial data in a secure server that is under the watchful eye of an on-site security team and reinforced with DDoS protection.
While it faced the second-largest cryptocurrency hack in history, it has since repaid all involved users, showing its trustworthiness. But we recommend that U.S. residents be cautious as the exchange is not licensed in the country, which could lead to potential withdrawal holds.

It's worth noting that no exchange is as safe as an external wallet, so if you're not trading or actively trading it, consider withdrawing your crypto from Bitfinex into your own wallet.