Rating

4.5

Tradable Coins

250+

Fees

0.8 - 1.2%

Payment Options

+ 10
Our Review
Uphold is a secure, transparent digital asset exchange, ideal for no-hassle transactions. With no-fee transactions for assets over $100, it sets itself apart. Furthermore, its debit card facilitates instant cryptocurrency conversions, adding user convenience. However, it's important to note that equity trading isn't available on Uphold in the US and Europe.
Pros
Cross-asset trading in one platform.

Good educational content.

Transparent fee structure.

Easy user interface.
Cons
No advanced trading features.

Weak security as it has been hacked.

A less appealing mobile app.
Uphold Review 2023: Pros and Cons of this Crypto Platform
TLDR
In our thorough Uphold review, we will examine whether the platform succeeds in delivering a comprehensive trading service that meets the diverse needs of its user base.
Uphold is an efficient yet easy-to-use cryptocurrency exchange and could be your ideal choice. The outstanding selection of cryptocurrencies on the platform makes it stand out among its peers. Users can purchase and trade in numerous asset classes and earn rewards through staking.
Although Uphold lacks advanced trading features, its variable spreads provide a balanced cost structure. Additionally, fiat currency and precious metal trading are enabled on the platform, and opening an account is seamlessly simple.
Unfortunately, there are no volume discounts available for larger purchases, even though these could greatly benefit traders, but this should not be enough to deter users from using Uphold.
Who should use the Uphold?
Fees, tradable coins, and other features.
Uphold offers a comprehensive platform for trading and investing in cryptocurrencies. With over 250 tradable coins and tokens, this service has options for experienced investors and those new to digital currencies.
Plus, with no maker or taker fees, users can easily buy and trade without costly fees getting in their way. Other features of Uphold include fiat currency support and multi-coin integrations, making trading across different coin types simple and easy.
Uphold is also known for having marginal transaction fees; using a debit card or credit card comes with a 3.99% fee.

Beginner friendly
Uphold's user interface is intuitive and straightforward, so you don't have to be a tech expert to make trades. Customers can securely purchase crypto seamlessly with the help of Uphold's desktop platform or mobile app, available for Android and iOS users. No complicated processes are necessary, simply download the app and start trading instantly.
With Uphold, traders of all levels can securely and conveniently store or send their currencies. Its user-friendly interface ensures that novices have the control they need to explore digital trading with ease. These features combine to make Uphold an ideal trading platform for new and experienced users.
Geographical availability
It has opened up a world of possibilities in global finance by providing support to 184+ countries across different traditional cryptocurrencies and compliance. With its proprietary technology, Uphold makes international transactions faster and easier than ever before.
This allows businesses worldwide to benefit from frictionless Foreign Exchange, foreign transaction fees, and cross-border remittance services, quickly and securely transferring funds between member countries no matter where their offices may be located.
Currently, Uphold is restricted in some countries like Anguilla, Antarctica, Armenia, Azerbaijan, Barbados, and Bouvet Island.

Biggest drawback
Despite having a wide selection of options for currencies, Uphold falls short regarding the number of different cryptocurrencies available, with only around 250 options.
Still, Uphold has its advantages as an easy-to-use trading platform, perfect for those just starting their crypto trading journey.
What makes an Uphold a good choice?
Excellent cryptocurrency selection
This review reveals that Uphold ensures its selection of cryptocurrencies complies with regulations and standards. Users have less to worry about when selecting coins they want to invest in.
Furthermore, Uphold offers ongoing support for selecting the most appropriate cryptocurrency. All these features make Uphold an excellent option for those who want to expand their cryptocurrency portfolio safely and securely.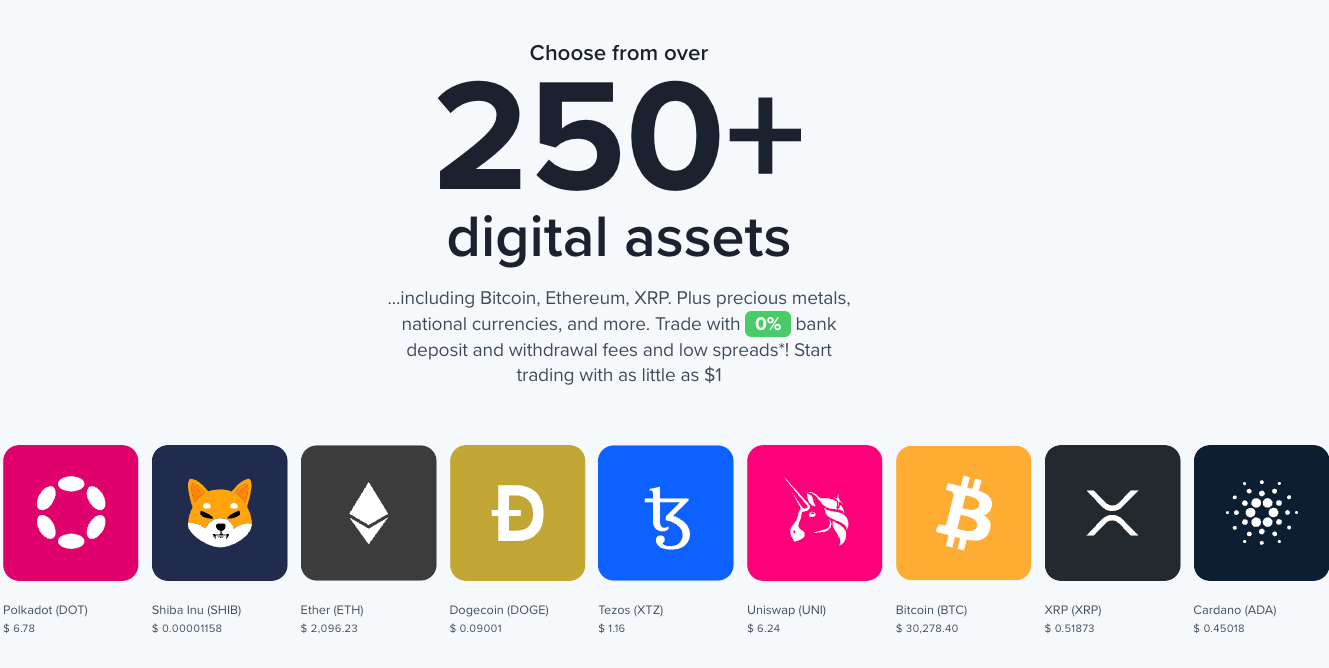 Earn rewards with crypto staking
Staking cryptocurrency and other assets on Uphold is a great way to earn rewards with minimal effort. As with any asset, the value of crypto assets can go up or down. There can be a substantial risk of losing all your money buying, selling, trading, or holding crypto assets.
With the convenience of Uphold's proof-of-stake platform, you can quickly capitalize on the many benefits associated with PoS-based blockchain networks. That way, you ensure that your coins are put to work for you.
Rest assured that your funds are safe and secure with all the safety measures Uphold has in place. Uphold's staking feature is an excellent option for anyone looking for an easy way to generate passive income in cryptocurrency.
Ability to buy and trade across asset classes
Selecting the correct investments can seem overwhelming, but Uphold equips you with all the digital assets to make wise choices. With this service, users have the power to purchase and exchange across various asset classes, thus giving them the freedom to take charge of their financial pursuits.
Uphold is a secure platform designed to help all types of investors, from beginners to veterans alike. Uphold makes no representation and assumes no liability as to the accuracy or completeness of the content of this publication, which has been prepared by the partner utilizing publicly available non-entity-specific information about Uphold.
Rather than leaving their finances up to chance, users are given the opportunity and resources needed to make informed decisions that can further strengthen their mutual funds. This comprehensive approach offers an accessible arena for individuals and businesses looking for successful investments.
No-fee transactions for assets over $100 in value
Uphold sets itself apart from other cryptocurrency exchanges by not charging any fees when users withdraw funds with a value of over $100. This user-friendly perk makes it easy for users to broaden their portfolios without worrying about excessive charges.
Additionally, Uphold has minimal deposit and withdrawal fees for funds compared to its competitors, so you can rest assured that your investment will stay within the platform and support your financial growth.

No mandatory KYC
While Uphold doesn't mandate KYC verification for depositing or trading, it's mandatory if you intend to withdraw your funds. It's advisable to complete the verification process before depositing any money, as it's better to avoid trading and encountering problems later on.
0% trading commissions
Uphold is a good platform for traders; with 0% trading fees and commissions on BTC, users can confidently transit to the ever-changing crypto markets without incurring additional trading fees. This provides an advantage to new and experienced traders looking to maximize their profits and minimize costs.
With Uphold, you will no longer feel the burden of shrouded costs and can prioritize wisely with your funds. This offers users a much higher mastery over their investments and transactions.
---
Trusted Partners
5
4.7
4.3
---
Opening an Uphold account
Opening an account on Uphold is relatively easy. Provide necessary information, such as your name, e-mail address, phone number, and government-issued ID, which is required for verification. Follow this review's easy step-by-step guide for hassle-free account registration.
Step 1: Sign up on Uphold website
To create an account on Uphold, visit their website and click the [Sign Up] button on the top right corner of the homepage.
Step 2: Enter the e-mail and password
After clicking sign up, you'll be brought to the signup page, where you must enter your e-mail address, a strong password, and your country of residence. When done, click [Next].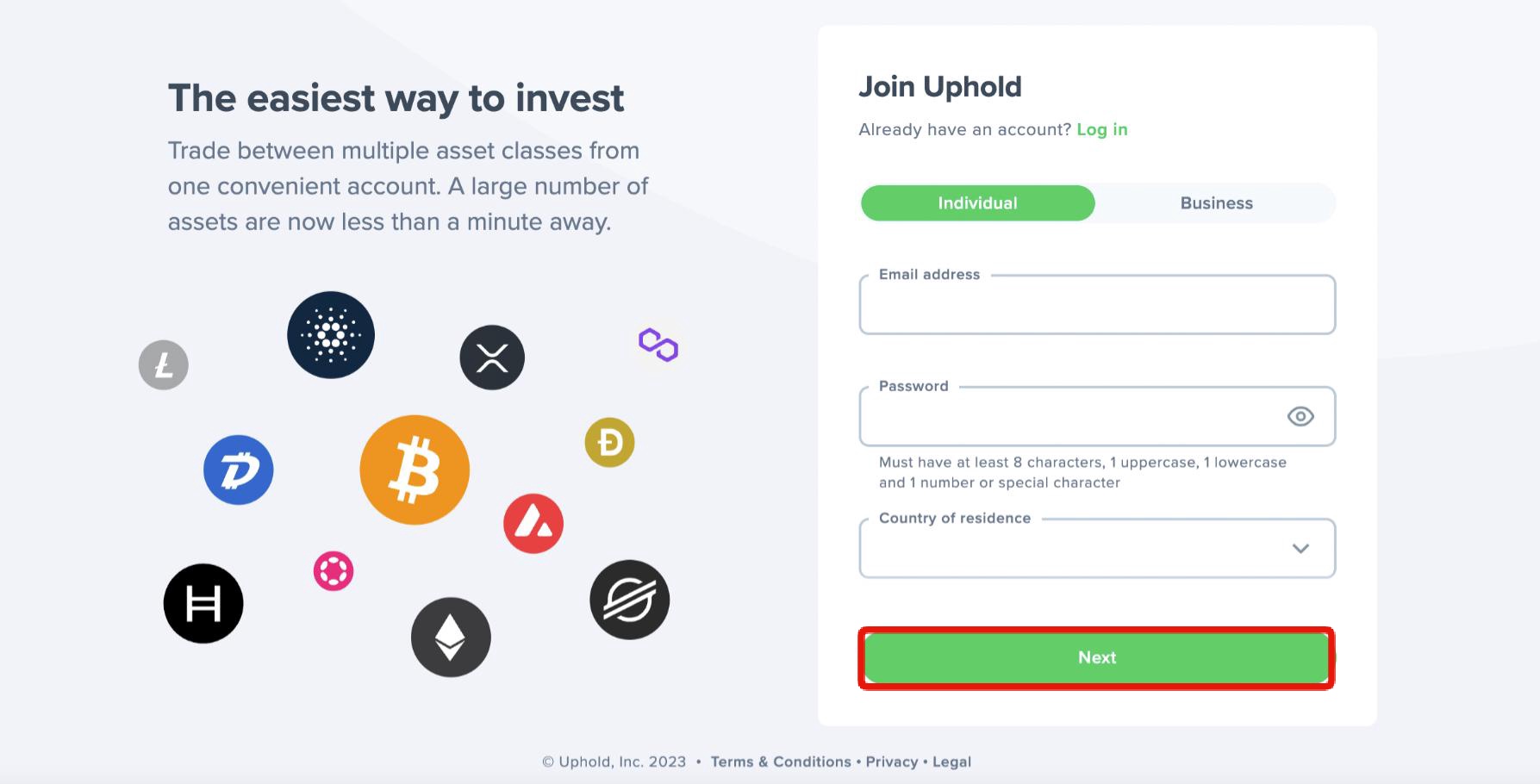 Step 3: Add personal details
After that, enter your legal name, date of birth, and phone number, to continue. Once done, click [Next].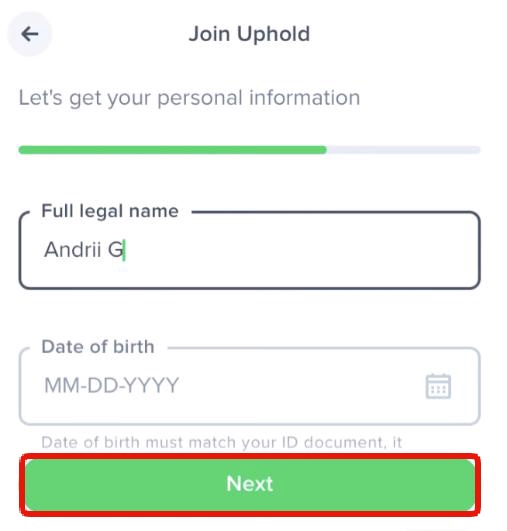 Step 4: Verify e-mail
After providing the required details, confirm your e-mail by clicking [Open mail app].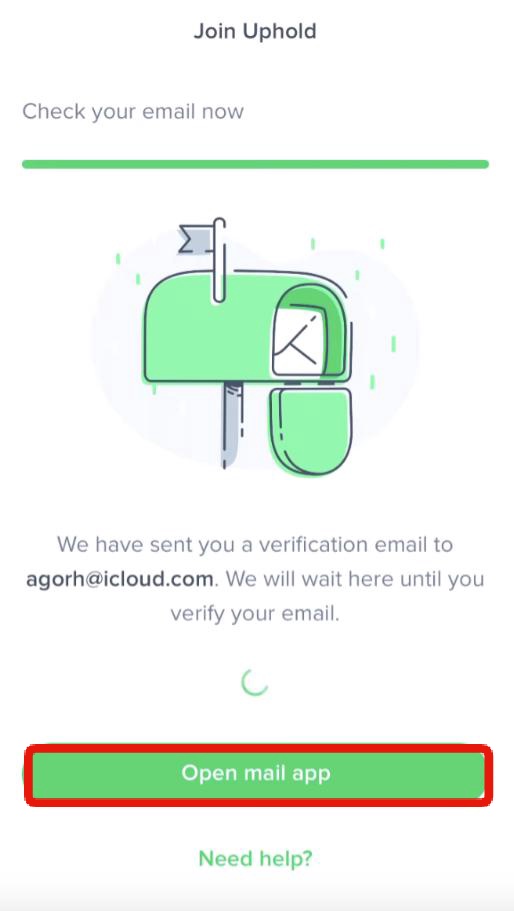 Step 5: Fund your account and start trading
Once e-mail verification is done, your account will be created successfully.
All you need to start trading is to fund your brokerage account or bank account through different available methods, and you can then purchase cryptocurrency.
Congratulations!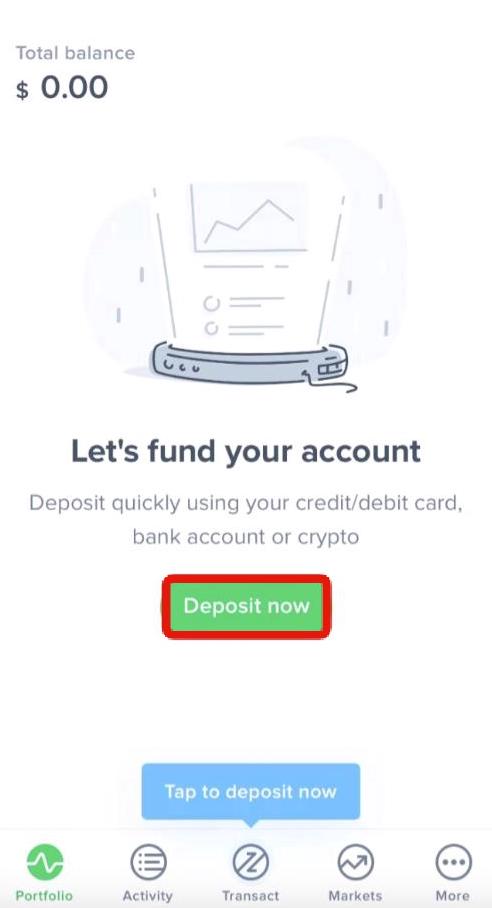 Disadvantages of Uphold
No advanced trading features
For traders who need to stay ahead of the game, Uphold can be a setback. It lacks essential tools and charts for properly executing specific strategies, such as arbitrage or technical trading. That's why professional and active traders may find it hard to rely on this platform for their trades, as these features can make all the difference when trying to keep up with speedy markets.
With the most comprehensive market data continually evolving, Uphold must keep up with the demand for more detailed and sophisticated data analysis via charts. Otherwise, it may find itself lagging behind other trading services.
Variable Spread
Even though Uphold may not be the most affordable option, its variable spread rate can range from 0.2% to 3%, depending on the exchange asset and current market conditions, making it an appealing choice for certain investments.
With more mainstream currencies, Uphold traders can expect to pay a spread of withdrawal fees of 0.8% and deposit fees – of 1.2%. However, with lesser-known cryptocurrencies, the broker's fee could be drastically higher than expected – creating an obstacle that may prevent users from profiting from their investments.
No volume discount for larger purchases
Many crypto investors seek exchanges that offer a bonus or volume discount for more significant transactions. Unfortunately, Uphold' crypto exchange is not one of those exchanges. Although Uphold Exchange has competitive rates and a comprehensive display of services and features, it does not offer any discount associated with more noteworthy purchases.
Although this fee is a minor issue, Uphold Exchange offers investors a safe and fast way to invest in cryptocurrencies. Therefore, users must factor this expense into any major investments they plan on making.
Unavailable equity trading for U.S. and Europe
U.S. and European users are unable to trade in equities through Uphold. This can be a significant limitation for traders who trade multiple assets to diversify their investments. There are plenty of opportunities for profit in cross-asset trading between the stock market and foreign currencies, which may not necessarily be replicated in other investments.
Nevertheless, Uphold offers access to many other assets and features, making it an excellent choice for those looking for an easy solution to digitize their financial portfolios.
Uphold features
Allows trading of fiat currencies and precious metals
Uphold Exchange is revolutionizing the financial landscape, offering optimal freedom and flexibility to customers. Not only are users able to capitalize on cryptocurrency options, but they can also transition between fiat currencies and the precious metals markets with ease. This unparalleled benefit empowers traders when determining the best investment for their money.
Uphold Exchange has revolutionized the way investors diversify their portfolios. With many options, such as cryptocurrencies, major world currencies, and even gold and silver, at your disposal, Uphold Exchange provides unprecedented access to today's financial markets like never before. It is truly remarkable what modern technology can do!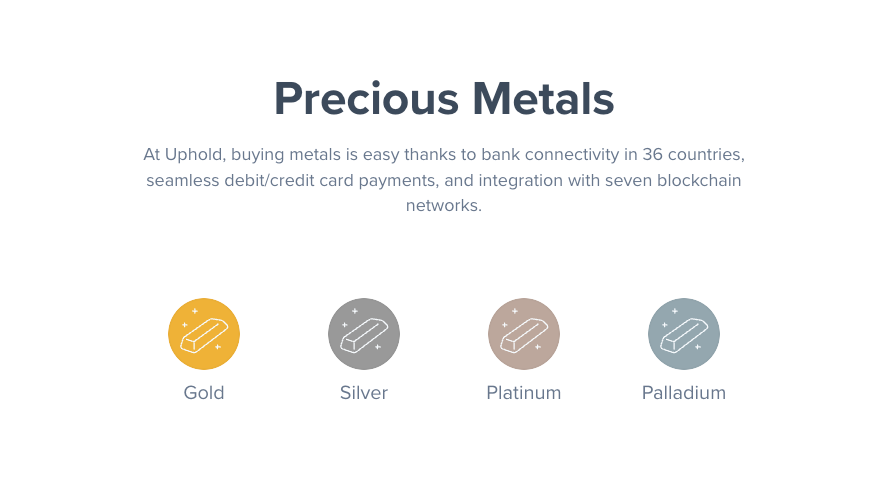 Top-notch security
This review conducted a security check, and Uphold Exchange values security highly. Committed to keeping user assets safe and secure, they use sophisticated encryption, layered defenses, 24/7 monitoring, regular audits, and penetration tests. Uphold maintains a robust due diligence process for employees and third-party vendors and hosts a bug bounty program for those discovering system vulnerabilities.
Individuals can further safeguard their accounts with two-factor and appropriate identity verification before engaging in trades or withdrawals. You can make trades immediately once you create a linked bank account and fund your trading account from a bank account or credit card without waiting for the funds to clear.
These measures demonstrate Uphold Exchange's commitment to providing its users with the highest level of security available in a cryptocurrency exchange today.
Numerous earning/yield opportunities
Uphold offers users a bountiful selection of options to generate robust yields on different types of investments. Investing in reputable asset classes, such as digital currencies, commodities, precious metals, and cash equivalents, can yield significant returns for Uphold investors.
Additionally, Uphold is unique in that it offers earning options through its automated trading and syndications with partner firms.
This means that investors who lack the time or knowledge to manage their portfolios can set up private deals that offer more passive yield-earning potential than ever before.
Fast account setup with low deposit minimum
Uphold Exchange provides a feature of fast business account creation and setup with a low deposit minimum amount which helps users to get started in the stock trading market more efficiently.
This feature has many advantages, like quick activation of an account, a smooth registration process, and flexibility when depositing an initial sum.
The low deposit minimum also allows users to kick off their trading easily, leading to greater confidence and enthusiasm from the user's end. Therefore, this feature makes Uphold Exchange stand out from other markets in terms of convenience for users who can opt for this service without hesitation.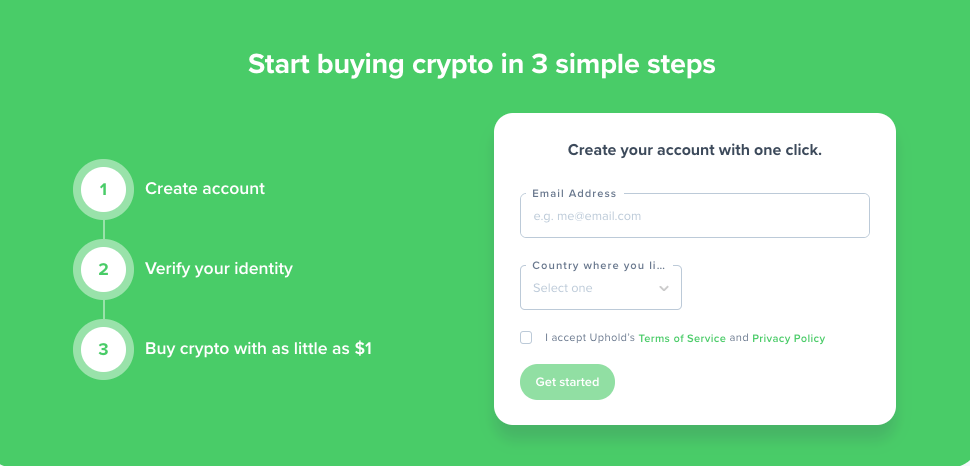 Time-saving
The uphold exchange account is a lifesaver, allowing users to store, monitor, and manage their financial asset portfolio in one location. No more extra hours needed for dealing with separate accounts or navigating tedious administrative procedures– Uphold has made managing finances much more accessible!
Rather than wasting precious time, Uphold allows you to make your investments go further and maximize efficiency. By joining Uphold, you have made a wise choice – it is one of the quickest asset exchange services.
Additionally, its easy-to-use interface ensures that even novices can instantly understand how to use it.
Offers Staking Rewards
On this platform, users can stake their eligible cryptocurrencies and earn annual percentage yields that can be up to 25%. This varies depending on the cryptocurrency.
Ethereum earns up to 7%, while Tezos (XTZ) and Solana (SOL) may be higher. Some cryptos require minimum amounts for those who want to start staking, so check the information for each one on Uphold's site.
Update: Uphold has suspended its staking service in the United States following industry guidance from the SEC. This doesn't affect staking for customers outside of the US.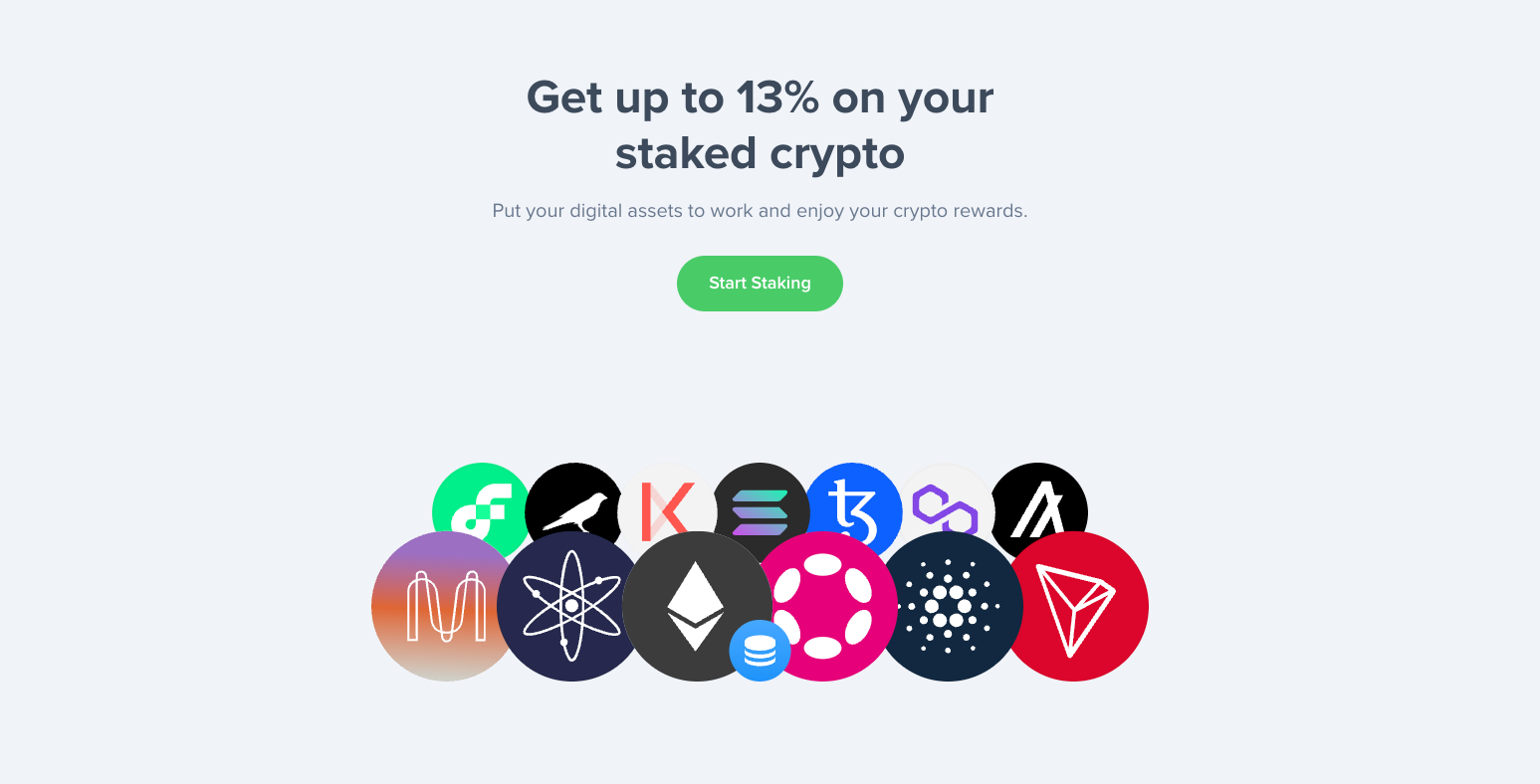 AutoPilot Feature
Uphold's AutoPilot feature is incredibly beneficial and revolutionary for acquiring cryptos, offering total autonomy. Instead of manually ordering transactions or attempting to time the market correctly, users can now automate their crypto purchase processes so they don't miss out on opportunities.
With this groundbreaking technology at your fingertips, you will lose money and never have to worry about missing another chance to send money again.
For example, if someone wants to build up a crypto portfolio, they can set up a recurring transaction through the AutoPilot feature that coincides with their paycheck.
This ensures they buy at regular intervals, at amounts they can afford, and in alignment with their investment goals. Undoubtedly, Investing in cryptocurrency got much easier with Uphold Exchange's AutoPilot feature.
Debit card
The Uphold card offers unparalleled spending flexibility, allowing users to switch from crypto to national currencies to precious metals in a snap. With the card, users can access over 50 million merchants and virtually all ATMs worldwide, anywhere Mastercard is accepted.
This card offers the unique advantage of being a debit rather than a prepaid one. This accessibility permits you to pay promptly while enjoying all the benefits of crypto payments. Moreover, its broad acceptance makes it even more attractive and convenient for users.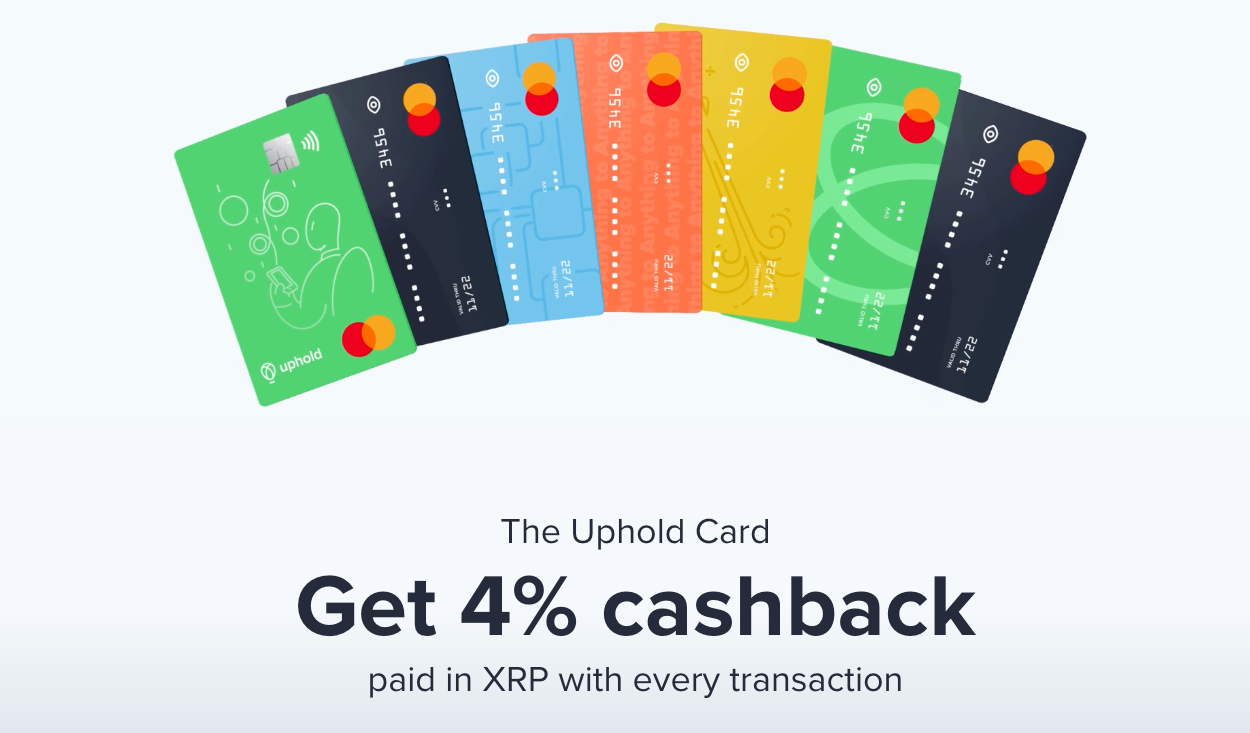 Improvements
Uphold's mobile app offerings are far from satisfactory for customers, with both Apple and Android versions receiving lukewarm reviews. Uphold Disclaimer: Assets available on Uphold are different per region. The average rating is under four stars. Customers have been airing grievances about outages, no linked bank accounts, bank account transfer restrictions, and poor response times to customer service requests.
If Uphold is to retain their clients and users in the long run, it must modify the mobile app's design. These changes must consider every aspect of user experience when navigating the Uphold application, from its simple interface to quick customer service team interaction.
Doing so will benefit Uphold Exchange and its users in the long run by encouraging trust and loyalty with existing customers while bringing in a new wave of users.
Summary
To summarize this Uphold Review, if you are seeking a straightforward platform offering an extensive spectrum of assets, Uphold is an excellent option to consider. It permits investments in different asset classes, making it the only option for those looking to invest across various markets.
Despite some drawbacks, such as limited trading features and variable spread, the advantages far outweigh the disadvantages. If you're seeking a crypto exchange that provides fast account setup, reasonable security measures, and incentivized staking rewards, then Uphold is worth your consideration.
Uphold's multi-asset trading platform allows buying, selling, and trading cryptocurrencies and traditional assets like stocks and commodities. With its proprietary technology and partnerships with leading financial institutions, Uphold provides an unparalleled, seamless, and secure trading experience in the industry.
Uphold Exchange takes security very seriously. It protects your asset's information with robust safety measures like multi-factor authentication and advanced encryption. In addition, Uphold has a team of experienced security professionals who monitor the platform 24/7 to detect and prevent any potential threats.
Start by signing up for an account and complete the verification. Once done, deposit funds in your wallet using your preferred payment method.